FYI
Vinyl Shortages Can Be Fixed, Compact Music Boss Writes
An open letter to FYI Music News: Yesterday, Today, and Tomorrow: Life in Music Retail
Dec 01, 2021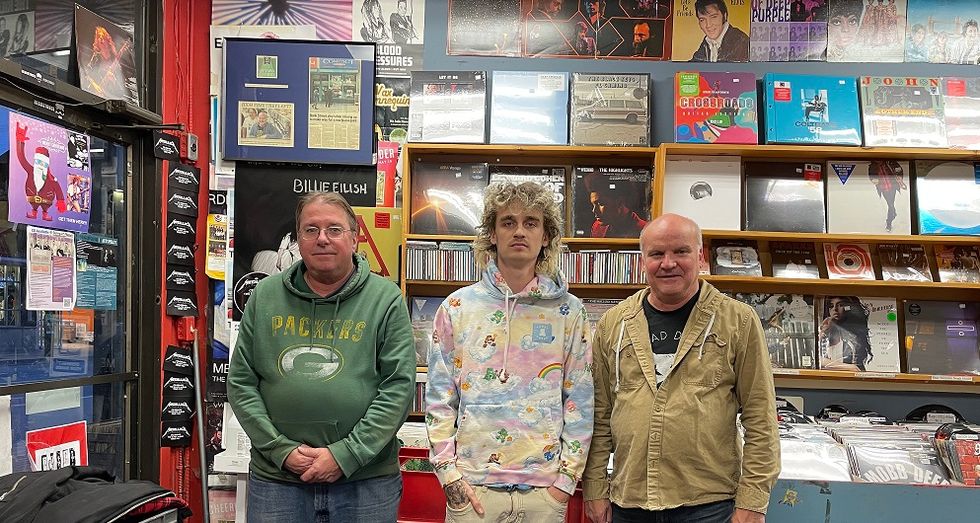 By External Source
An open letter to FYI Music News: Yesterday, Today, and Tomorrow: Life in Music Retail
---
Music fans in Ottawa have come to know Compact Music as a fixture in the capital city for 18 years. In fact, it is the city's longest-running independent record shop in the city.
Owned by Ian Boyd with his brother James and son Alex working behind the scenes and serving customers at its Bank Street store. Ian loves music as much as he loves selling music. He's still starry-eyed when talking about his proprietorship, but as the trade has come to know, he isn't one to pull a punch when he feels his enterprise is being short sold, as he explains in the following open letter today that is co-penned with son Alex..
I'm Ian Boyd, owner of Compact Music in Ottawa.
I love music and have loved being a part of the music industry in Canada for 43 years. The joy we get to bring our customers when we help them discover a new artist they love or find that one record they've been searching for, is something I will always enjoy.
Sadly, I fear we may be headed in the wrong direction. Decisions continue to be made behind the scenes that will hamper the growth of our industry in the long run.
In 2007, one of our stores had a small vinyl section. Sales had been increasing through '06 and '07 - but not to the point where our second store was prepared to jump into the vinyl market, as CD sales remained strong.  Every time the downtown store wanted to step out on a title, they had to talk to me. In November 2007, I received a call from Tyler Clarke, our store manager. He wanted to buy 25 copies of Radiohead's  In Rainbows on vinyl with a release date of January 2: just after Christmas. I was skeptical because selling 25 units of any new vinyl release in January would be a hit record for a small shop like ours. Nonetheless, I told them to place the order. 
They sold 28 copies in 20 days without having any other vinyl titles in stock.  
Now everyone knows Radiohead is a strong brand, but for me, that was an eye-opener! We had heavily underestimated the number of turntables in the market, and I realized that I was leaving money on the table.
My brother and I quickly decided to work out a deal with one of the larger Canadian vinyl distributors and placed around 250 vinyl albums at the front of the store. By February 1, both stores had started to sell vinyl. We noticed an immediate difference in our sales and felt validated in our belief that vinyl was still a physical asset.  If handled correctly, it would become a major component of our annual revenue. Slowly, but surely,  we increased our vinyl section routinely as sales increased.
Despite iTunes and digital music downloads impacting CD sales in the market, we found an increase in CD sales. This didn't surprise me as our big box competition was dropping the format in stores across the world, which meant more customers in ours. But it still freaked me out: because we need the big guys.  They help generate traffic at malls, acting as a catalyst for people who wouldn't regularly walk into a record store discovering something they musically love. 
Fast forward to 2013: Vinyl sales had been steadily increasing over the past five years, but not enough to carry the business.  Spotify had just arrived in Canada, and word on the grapevine was that it would spell the end of the compact disc. CD sales had already been sliding due to digital consumption, and a lack of diverse titles in the large chain stores. The industry was adjusting to the pullback in physical sales. 
Candidly, we thought it was "curtains." 
Vinyl sales were getting better, but they weren't save-the-day good. We had to make adjustments. Luckily, we had a strong customer base who supported us and we persevered. We weren't ready to give up on that  "Little Shop in the Glebe" just yet.  We catered to those who couldn't find the albums they wanted anywhere else and steadily increased our vinyl selection. In 2016 Jack White, Adele and Leonard Cohen all had new releases and we recorded our best fall in six years. At this point, vinyl took up almost half our floor space and accounted for 40% of sales. We felt as though the industry and ourselves had turned the corner.
Things were looking up. 
Today,  vinyl accounts for 85 % of our sales and it's increasing. Spotify -  which I once feared would put us out of business - is now a crucial listening post that customers use in making their buying decisions. It has become the new radio - with people discovering more music than ever before. While the artist compensation package Spotify offers is tough to accept, it is nonetheless one of the most important sales tools at retail's disposal. Fifteen years ago,  sales reps,  reviews, and radio were our most important sales tools. Today, we're no longer serviced by sales reps. Turn on the radio and they're still playing Seven Nation Army and music reviews have mostly lost their relevance. It's no wonder the consumer uses Spotify/Apple Music and Amazon Music as their main tool to discover music.
What else is there?
Today, customers thumb through their phones looking for their next purchase. This year we had the best July, the second-best September and October in 43 years. While we look forward to expanding vinyl sales,  we're still not prepared to abandon the CD.
When Taylor Swift released Evermore on vinyl, I had a friend of the store requesting it for his 13-year-old.  I always enjoy selling kids' music because I know it's the start of their collecting journey!  The next day, four more parents came in and purchased copies with their children. Sure, the kids are listening to it on a Crosley turntable in their rooms, but the important thing is they are digging vinyl. By the time these youngsters have entered the workforce, they'll have component-driven stereo systems in their home or apartment.  Pretty exciting times for us dedicated music retailers. 
Rightly, or wrongly, the majors have chosen to centralize their vinyl production for the entire world. Right now we're really feeling the negative effects of this decision.
If we're not pressing in Canada, Canadian retailers will continue to face issues like these with new releases. The demand for vinyl has never been higher and I would think that it's the money maker for the majority of most independents: stores, artists, and labels.
It's embarrassing.
As a retailer that prides itself on providing customers with the best experience possible, we're placed in a difficult position. There has to be another way. We need vinyl production to be decentralized. We have manufacturing plants right here in Canada. Why not use them?
There are a number of pressing plants in the USA and Canada looking to press records. If the majors don't want to warehouse the product, then drop-ship directly to stores from the plants.
We're just small independent music retailers, and we don't have all the answers or solutions, but we hope things do not continue as they currently are. We have just begun getting our customers back.  Not being able to provide them with the best service could alienate them again.
Best of luck to my colleagues at retail and to all the Indie and major labels this Christmas. We are preparing for a record period, with or without the number of vinyl hit albums we could sell.