FYI
KROY: Defender
Dynamic electro-pop with strong chorus and hooks.
Oct 10, 2023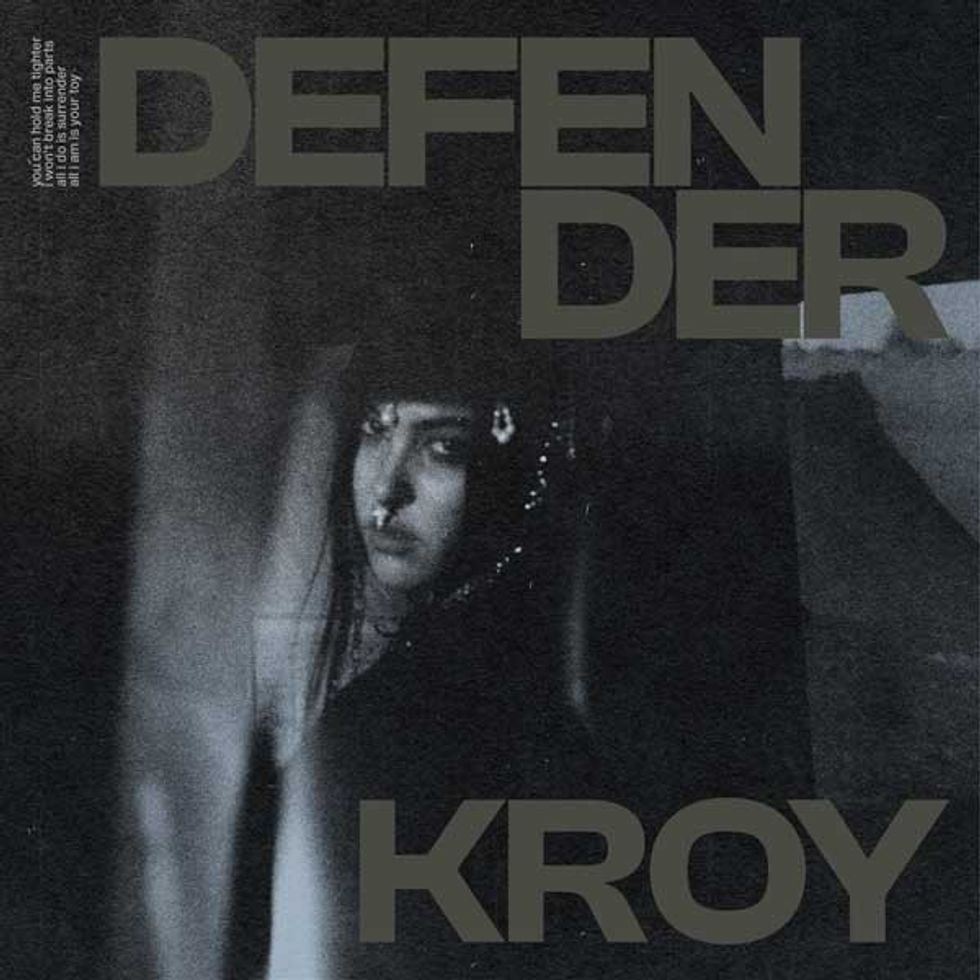 By Kerry Doole
KROY - Defender (Lighter Than Air): KROY is the stage name of singer/songwriter/composer Camille Poliquin, an artist described as. Montreal's queen of electropop. As one half of the duo Milk & Bone, she has won a Juno Award (2019), and a Félix Award (2019), and has been twice long-listed for the Polaris Music Prize (2015 and 2018).
---
She is planning a second solo album, following her acclaimed 2016 debut, Scavenger, preceded by this new single, Defender, which arrives with an eye-catching video from director Adrian Villagomez.
In a label press release, Poliquin explains "I knew I wanted to write about the DEFENDER. It being my favourite car definitely has a lot to do with it, but the imagery around the name of the car is also very inspiring to me. The idea of being at the wheel of such a powerful beast, both being protected by it, but also controlling its movements brings me feelings of power and independence. 
"Feeling vulnerable and fragile most of the time, I feel like I need to have someone who will take charge and figuratively protect me from the outside world. But, I do love it when the balance shifts and I am back in the driver's seat, taking the role of the protector. Being with someone you trust so much and you are so compatible with that your chaos just matches up. When you're feeling uneasy and need reassurance you can both show up for each other, but become partners in a heist if the desire occurs."
From a slow opening, the track picks up in pace and groove. The clean production, nice dynamics, and strong hooks and chorus should make this a commercial contender.
Poliquin's press release notes that "her new work features dark pop melodies inspired by love, death, robots, space and the deep ocean," so we're keen to hear more.
She released her first songs under the alias KROY in 2014 and was quickly dubbed the next Montreal indie pop sensation. A year later, she began to create music with Laurence Lafond-Beaune as Milk & Bone, and together they spawned two critically acclaimed albums and one EP: Little Mourning (2015), Deception Bay (2018) and Dive (2019).
On top of the success of KROY and Milk & Bone, Poliquin has crafted music for two Cirque du Soleil shows and several feature films with Laurence Lafond-Beaune, including the theme song for King Dave for which the pair earned a nomination at the 2017 Canadian Screen Awards. Camille also wrote the original music for the 2019 documentary Sisterhood, and her solo songs have been placed in multiple major international TV shows. 
Links
Publicity: Ken Beattie, Killbeat
Management: Lighter Than Air - michael@lighterair.com & audrey@lighterair.com