FYI
It's Been Tough But It's A Go, Says Junos Boss Allan Reid
CARAS president and CEO Allan Reid spoke with Karen Bliss on Friday.  The wide-ranging conversation includes a few surprises, such as the surprising increase in Juno submissions, how CARAS and the CBC have managed to pull off the show and all the auxiliary events during lockdown, and how they are tying Canada's live music venues into the broadcast.
May 31, 2021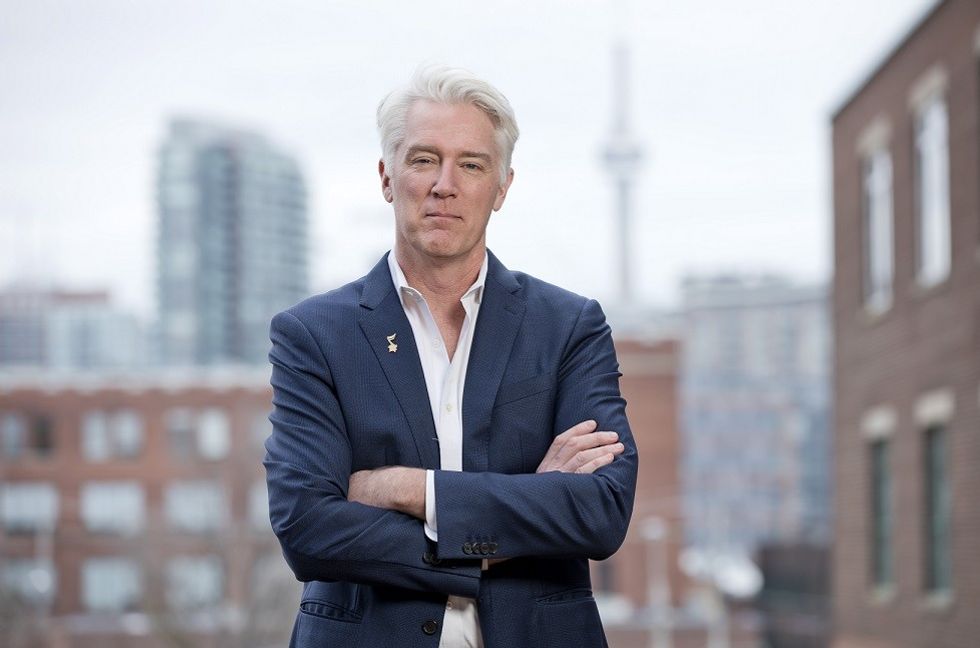 By Karen Bliss
March 2020, the cancellation of the 49th Juno Awards in Saskatoon signaled the beginning of the pandemic in Canada. In June, the Canadian Academy of Recording Arts & Sciences (CARAS) played a bit of catch up by producing an online, and-the-winners-are show with no hoopla. They could not delay the 49th to this year. The 50th anniversary of the Junos simply has to be staged in the correct historical year. Even if a pandemic made it frustrating and disappointing, CARAS  had to roll with the punches, the closures and uncertainty, and move ahead with the scheduling of the golden milestone — June 6.
---
There have been many online Juno-themed events leading up to the television broadcast on Sunday and this week's events include Junior Junos, Juno Stories From The Studio, and Advance x Juno Talks: The Influence of Black Music. More info on the events here.
As usual, the bulk of the award winners will be named at a separate celebration, June 4, at the virtual Opening Night Awards, hosted by CBC's Angeline Tetteh-Wayoe. Performers include Crown Lands, Klô Pelgag, Tobi, and the 2020/2021 Allan Slaight Juno Master Class winning act Monowhales. In addition to the 37 awards, Pegi Cecconi will receive the Walt Grealis Special Achievement Award, and Gary Slaight will receive the MusiCounts Inspired Minds Ambassador Award, presented by the Canadian Scholarship Trust Foundation.
Saturday, Jim Cuddy hosts the virtual edition of the always entertaining Songwriters' Circle, this year featuring Rough Trade's Carole Pope, Dan Hill, Deborah Cox, and July Talk's Peter Dreimanis and Leah Fay, who take turns performing and sharing stories about their songs.
And on the Sunday's Juno Awards, produced by Insight, Jann Arden will be inducted into the Canadian Music Hall of Fame, and The Tragically Hip will receive the Humanitarian Award, presented by Music Canada. Performers include The Hip with Feist, Arden, Justin Bieber, Jessie Reyez, Ali Gatie and Tate McRae, JP Saxe with Julia Michaels, Kardinal Offishall, Maestro Fresh Wes, Nav, and William Prince featuring Serena Ryder. The show will air nationally (8 p.m. ET/5 p.m. PT) on CBC TV, CBC Gem, CBC Radio One, CBC Music, CBC Listen; globally on CBCMusic.ca/junos; and CBC Music's TikTok, Facebook, Twitter and YouTube pages.
On Friday, CARAS president and CEO Allan Reid talked with FYI Music News about the surprising increase in Juno submissions, how CARAS and the CBC have managed to pull off the show and all the auxiliary events during lockdown, and how they are tying Canada's live music venues into the broadcast.
Are you as busy now, as if it was in-person?
Let me start by saying yes, definitely as busy. Everybody on the team, even though we don't have physical in-person events, all of that work has to go into creating new virtual events. There's a ton of work in advance of all these events to put things together in a different way.
How were able to plan the Junos amid the pandemic and ever-changing restrictions?
It's obviously been an incredibly challenging year. After the cancellation last year. I don't think anybody thought for a minute that we would be in a similar situation coming to the 50th this year. It has definitely been a challenging circumstance, but we felt it was still really important to make sure that we honour the safety, as well as all the nominees for this last year.
One of the things that we found really interesting leading up to the Junos this year was our submissions. We weren't sure as we started into this year what was going to happen with artists submitting. Are they going to still put their records out because there was no touring available to them? Are people going to hold back and wait to put their records out? What we saw was that more artists were making submissions than we've ever had in our history.  It was incredible. That spoke to how the artist community changed. They weren't touring, but they still needed to create and make recordings, and they wanted to be recognized for them. That was one of the nice things, to see; so many new projects coming through was gratifying.
You obviously want to give the 50th anniversary of the Junos the respect and grandeur and importance that it deserves. Some of the things I'm sure you were like, "Damn, we can't do that now," but others, like the commemorative postage stamps, could be done with or without a pandemic.  What are some of the other things you were able to move ahead with?
The biggest thing we're not able to do is gather people. From an industry standpoint, that's what the Junos does every year; this is the one time our entire industry gets to come together. And doing that virtually is not the same as having everybody at a gala dinner and in the arena for the big show. So how do we do those pieces? One of the other key things is in 50 years, there's so much to cover. You can never do it on a broadcast; there's too much to talk about. So, a lot of what we did has been in lead-up. There's a number of different content pieces that we used to help celebrate the 50th.
The first one is one called Archival Revival that we did in partnership with the Government of Canada and the Commemorate Fund, along with TD bank. It started about 25 weeks ago. We started going back through all of the old Juno shows and bringing moments back to life and putting them up online on Facebook. That series has had over 4 million views so far.  It's been great to see Canadians digging into these incredible moments in our history.
CBC on Sunday, prior to the broadcast, will do a thing called Music Day where they dedicate a lot of time to the national broadcast, but also in the regular radio programming that will really be dedicated to Canadian artists.  The CBC has created a couple of really great shows. One is called My Junos Moment, which also exists online.  Here, we present interviews with a number of Canadian icon artists, taking them back to a moment when they were on the Juno stage. They literally sit down with an iPad and watch. A great example of that is k.d. lang watching back in '87 when she was nominated for most promising female vocalist and running out in her wedding dress to accept the award. It's so great to be able to relive and talk about that moment from 30-plus years ago. All those are available right now, but they'll also be turned into a one-hour special leading into the broadcast.
Juno Week's in-person events typically include the songwriters circle, autograph sessions, a music festival, charity hockey game, and tons of parties. For this virtual Juno Week, you're kicking it off with an invite-only 50th anniversary reception, with an interactive cocktail demo (of the Junos Johnnie Walker Highball by 2021 Diageo World Class Canada Bartender of the Year James Grant) and networking.
Yes, for academy delegates, nominees, and our sponsors.  We are using Remo, a virtual interactive event platform that allows you to watch the main presentation and then also connect with people at tables for private or group conversations. But it kicked off a little while ago. We started with Junior Junos, a partnership with the Toronto Public Library. That was a very early lead-up starting to happen, but, yes, in Juno Week, the virtual reception will be our official kickoff.
When did you realize you can't keep holding out hope, enough of this, the Junos has to be all virtual?
As far as all virtual, we'd had our original date in March and we pushed to May and the pandemic made these things very challenging to try to schedule. As you can imagine with a show of this magnitude, there's lots of people involved and the safety of everybody was also really important. Then the third wave hit and we had the lockdown in Ontario, but we saw this across the country as well. We wanted to make sure we were operating with an abundance of caution and doing everything within the protocols that allowed us to be able to still mount this show, which was, again, no small feat. We'd hoped to have a lot more of a live opportunity, but the pandemic just made us all realize that was highly unlikely. So, we had to start moving to more of a pre-taped version of the show.
When we realized that we weren't going to be at [Toronto's] Scotiabank Arena for the big show, we thought how do we do the show this year? We didn't know it at the time that we would be in the third wave of a stay-at-home order, which obviously has made things even more challenging to film. But, as we were figuring this out, we also wanted to make sure that we were supporting the live music sector and our artist community because they've been so devastated by the pandemic. And so, a lot of what you will see [on the broadcast] will be honouring the live music sector, and in solidarity with them and just acknowledging the challenge they've had.  You'll see a number of venues highlighted throughout the show.
Now we're at a point where vaccinations hopefully will start to help [our industry] reopen quicker. We're seeing this now around the world, and certainly here in Canada, the light at the end of the tunnel. This reminder of how important live music is to what we do is really important to the Junos as well.  You see that referenced in the show in a few different ways.
The Grammys did that too, filming from different venues and recapping their histories. Are some of the performances shot at these Canadian venues?
Exactly. And CBC has done a couple of great pieces to continue this narrative. On Music Day on CBC TV, there's a show called If These Walls Could Talk, having artists talk about some of their favourite venues across the country and telling the stories of some of these iconic halls. There's also an interactive map that CBC Music created with about 50 venues across the country. You can go across this interactive map and see where these venues are and read about their history.
Is that Juno related?
It is in the sense that it's tying into this Juno timeframe. It's not necessarily tied to where our performances are coming from. But it's part of the overall conversation about supporting live music.
Are any of the performances coming from Scotiabank Arena?
No, none at all.
The broadcast is two hours.  How do you balance a retrospective of 50 years with the 2021 nominees and then the importance of having people of colour and women and a balance of genres from classical to pop and indigenous? How on earth do you do all that in two hours?
That's a good question. [Laughs] Every show's a major balancing act when you're trying to give as much representation to as many areas that you want to help celebrate. It is a big challenge. It's an incredible year of music. Obviously, with superstars like The Weeknd and Justin Bieber as top nominees, and others including JP Saxe and Jessie Reyez, the other top nominee this year, we wanted to find ways to honour those nominees and give them the opportunity to perform and have their music seen and heard by everybody. We also have chosen to do a couple of special moments this year. Jann Arden's Hall of Fame was not recognized last year, so Jann is our Hall of Fame inductee. And a big part of how we address the 50th is inviting artists to participate from our past history. So, Jann being inducted by Anne Murray, someone who's incredibly dear to her, is a bit of a tip of the hat to the people who came and made this industry what it is. And you'll see that with The Tragically Hip with Feist performing as well, and having Alex [Lifeson] and Geddy [Lee] from Rush giving The Hip the Humanitarian Award. And then we have the rap tribute. That was something that we've been looking at for quite a while. It's the 30th anniversary of the rap category at the Junos and the 30th anniversary of when Maestro Fresh Wes won that first award. So how can we give a history of rap, especially as it has become one of the most consumed genres of music in the world? We really felt that was an important piece to bring into this year's show.  
Separately, we've announced a number of the people who will be in the show (from the Junos' back pages), from Shania Twain and to Jim Cuddy, to Ed Robertson [of Barenaked Ladies] and Buffy Sainte-Marie. There are so many names that are iconic to this country and we wanted to try to make sure we get as many people into the shows as we possibly could.
What will people see on the Friday night at what would normally be the gala dinner where you give out the bulk of the awards?
It's called the Opening Night Awards because there is no gala dinner this year; everyone's going to be home having their own, so we changed the name to reflect that this year. We'll be handing out 37 awards on that night, along with two special achievement awards, one recognizing Pegi Cecconi with the Walt Grealis Special Achievement Award. Pegi was not able to receive that honour last year in Saskatoon. And Gary Slaight is receiving the MusiCounts Inspired Minds Ambassador Award. We will also have six performances in this virtual show.
Last year, when you did the online Junos, no one could do thank you speeches. It was just the announcement of the nominees, then winner. Will there be thank yous this year?
That is a key piece. There will be live acceptance speeches happening both in the Opening Night Awards, as well as on the broadcast. We've been contacting all of the nominees for Opening Night Awards and they're all aware that there's an opportunity to get your moment to say 'thank you' to friends, family, and colleagues. When we did this last year for the Junos 2020, we didn't have that opportunity; what we did do though is we contacted the winners who oftentimes filmed their reactions when they won, so we ended up releasing a lot of those moments after the fact. We definitely felt it was important [this year] to try to give artists the opportunity to accept their award and to recognize and thank the people who have got them there.
So that is the live part. You'll be crossing your fingers it all goes smoothly.
It's pre-taped performances, as well as some live acceptances.
Are you continuing to celebrate the 50th anniversary of the Junos up until the 51st next year?
I won't give you that information quite yet because there will be some announcements on the Opening Night Awards.