FYI
RIP: Music Man Bobby Gale
Bobby Gale carried pop music's heart, soul and conscience wherever he went and that all came to a screeching halt after a fatal highway accident Friday night. Pictured here with famed UK guitarist/producer Chris Spedding.
Apr 14, 2019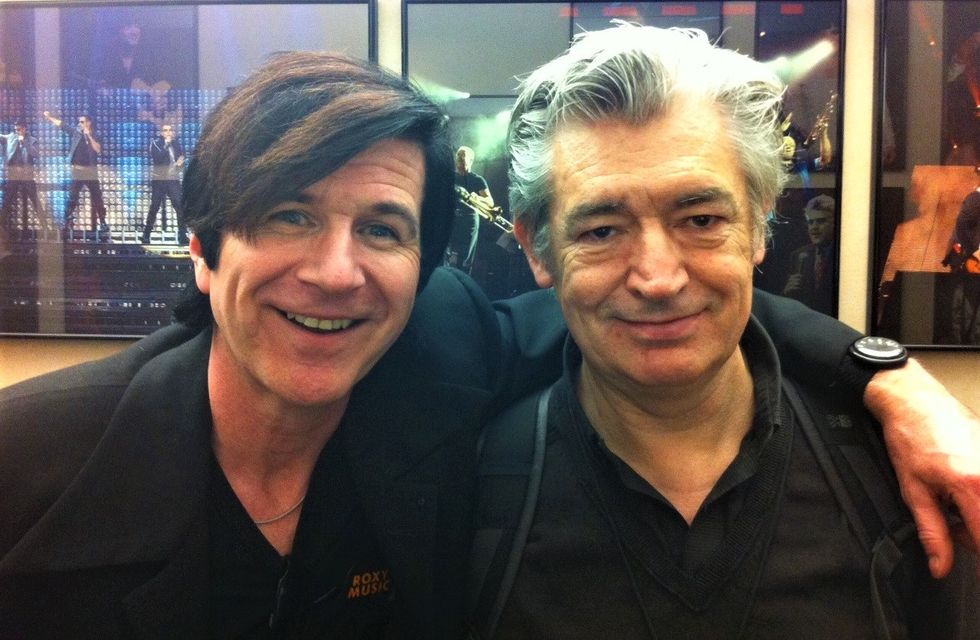 By FYI Staff
Bobby Gale carried pop music's heart, soul and conscience wherever he went and that all came to a screeching halt after a fatal highway accident Friday night.
---
Reaction to the news of the popular Canadian broadcast and music industry veteran's death has been fast and voluminous as many have taken to Facebook to mourn his loss, and add to his legacy.
The details broke early on Saturday (April 12) when professional associate and longstanding friend Jim Jj Johnston reported on Facebookthat Bobby had run out of gas Friday night and was struck and instantly killed by a tractor trailer that hit him while he was carrying a gas can back to his car.
The Canadian Pressreports the OPP saying that the truck driver remained at the scene, and they're not considering any charges.
Gales' colleagues at 99.3 County FM in Prince Edward County paid tribute to the broadcasting veteran on the station's website and eulogized him in a tribute on air Sunday.
He spent the majority of his career working directly, or indirectly, with radio, including stints with CHOM-FM Montréal, CJOM Windsor, W4 Detroit, Q107 Toronto, and Q94 Winnipeg. For the past four years, Gale was producing and hosting the weekly, three-hour live show Sunday Glide on 99.3 County FM, the English-language community radio station located at Picton in Prince Edward County, which sits between Toronto and Kingston in Ontario.
In 1980, Gale started a decade-long career as the PolyGram promotions and publicity rep for Ontario and Manitoba. He went on to start his own independent radio promotions company plug (MUSIC) Inc. in 1992, and later Global Live Artist Direction (GLAD), providing artist management, media relations, and bookings.
Gary Slaight, who hired him away from CHOM in Montreal to join the Q107 team in Toronto, described him as "unique," and a "gale force who was a great communicator with velvet pipes and a deep knowledge of music."
His overwhelming passion for pop music was instilled in him by his mother when he was a boy living in Windsor, ON. His notable ability to win converts into believing in the acts he represented in large part must have come from the Bob Ansell school of promotion when he was with Polydor (later to become PolyGram and now part of the UMG family). Ansell's legendary ability to argue facts like a criminal defense lawyer could be off-putting, but it also helped both men win the day on many occasions when it came to creating space for newer acts competing against name-brand acts on radio playlists.
According to Johnston, Bobby Gale's mother has said there will be no funeral or celebration of life, and that his ashes will be buried in the family plot around Windsor where he grew up. He was 62 years of age at time of death.
A comprehensive feature about Bobby Gale, written by Martin Melhuish, can be found in the FYI archive; meantime, we have canvassed some of our readers to reminisce about that "gale force" champion whose legacy survives beyond his grave.
 Jim JJ Johnston
As we all know, Bobby had quite the infatuation with Bryan Ferry from Roxy Music. Going through an old prize closet at one of the radio stations I worked at, I came across one of those '80s silk jackets with Bryan Ferry's picture silkscreened on the back. I immediately said that I would keep that for Bobby for when I saw him down the road. He had moved to Prince Edward County and was operating his business from there. Next time I came home for the coast, the coat came with me and I took him out to lunch. I came in with the wrapped package and said I had something special for him. I told him I would give it to him after lunch. It drove him crazy, and he literally begged me to give it to him but I made him wait till lunch was over. Then he opened it, his eyes went wide and he laughed for a half an hour, or at least long enough to have another drink.
Bobby and I knew each other for 45 years. We had some mighty conversations over the years, some of them very testy as we can all testify. That was because he was true to the tunes. Very passionate about the acts that he promoted and never took 'no' for an answer. 
He was so happy to be back on radio when we started up County-FM and, as a volunteer, he faithfully delivered his 'Sunday Glide" show every Sunday and gathered a great following.
God bless you Bobby and thank you for everything you did for all of us. Rest in peace brother
Andy Kim
I was Best Man at Bobby Gale's Wedding.

I met Bobby Gale in 1980.
I had met a lot of people by then but never a Bobby Gale.
His soul was born and raised in the Arts.
He always said his mom gave him the freedom to create.
He created Bobby Gale.
We traveled Galaxies together.
Almost every month or two he'd send me a list of songs he needed me to listen to. Artists and songs I would never had heard of if it wasn't for Bobby Gale.
I stayed at his home when in Toronto and he stayed in my home
when he came to LA.
Generous & disciplined. Loved you or didn't. Always honest and passionate.

I was spending time with him in Toronto celebrating his birthday when he said 'I have a surprise for you'.
He was busy that September day & asked if I'd meet him on Queen Street near Spadina.
We went for a walk, and I could feel his joy of keeping a secret.
We walked into a place I'd not been in before, The Horseshoe Tavern.
It was jammed with people that knew Bobby, so I stood leaning against stage right waiting for something to happen.
The Rolling Stones is what happened.
So surreal it was almost a dream.
Bobby Gale was and is so surreal he was almost a dream.
BC singer-songwriter Michael Behn
It's terrible! I heard earlier and was stunned. I'm sure there are Luxurious hotels and good wine at the big gig in the sky. You're always remembered!
Rob Braide
Bobby and I were co-Music Directors at CHOM in 1978. He was doing pm drive, and I was 22:00 to 02:00. He was brought in to raise the professionalism bar amongst the on-air staff. Pretty sure it was our fearless leader, John Mackie, who hired him. He had lots of radio experience and mixed some laid back but clearly top 40 chops on top of a more interesting and eclectic music mix than was available anywhere else in Canada.

To say Bobby was a Bryan Ferry fan would be a sharp understatement. He was a super fan. Even dressed the part.

The music he played on CHOM was edgy, mostly British and leading edge. I remember some of the record stores were pissed at him because they could not get their hands on the imports he was playing and folks were coming in to ask for them.

Gary Slaight hired him away from us and moved him to Q 107 where he put in some of his best years.

I've known a lot of music fans in my life but really can't think of a more devoted one than Bobby. If there's a rock and roll heaven he'll be the leader of the band. And they'll be looking great!!!!

Lots of love old friend.
Ross Davies
The news of Bobby's passing came as a complete shock. It's still hard to believe that he's no longer with us. 
I first heard of Bobby when I was the Program Director for CHUM-FM and one of our competitors, Q-107, had hired Bobby for their evening shift.  The rock wars were on. 
Bobby brought this cool, hip sound to Q along with his very obvious knowledge and passion for the music. It's that passion that took him into the music side of the business where I first got to know Bobby when he worked for Polygram. 
He was a true professional, and his knowledge of the radio side made him very easy to deal with. He understood and respected both sides of the business. He was, to this day, a complete music nut who cared not only about the music, but the artists and all of us working in the business. The Canadian music industry has lost one of the good ones. It's a very sad day.
Mary Ann Farrell, TO Live VP, Marketing & Communications
Music, concerts and people and places connect the dots of my life calendar.
On August 19th, Joann Kaeding, Sheila Kay and I were on the 401 heading back to Toronto from Prince Edward County (PEC), and we were listening to Bobby Gale's show on CountyFM 99,3.
The next day, late afternoon, the phone rang and it was Bobby Gale wanting concert set times for the show that night at the Sony Centre. We had Beach House playing that night.
I mentioned that we had heard him on the radio the day before, remembering him, that I had bought a house in the County, that we must get together.
We talked about Jeff Lynne who he had just seen the night before at the ELO concert in Toronto, and how excited and impressed he was with the show.
And then Bobby went on to talk about producers, recording sessions, and I was so impressed with his recall, his knowledge and pulling names out of the air that I had long forgotten about.
His passion and interest for music was clearly evident.
20 minutes later, Bobby was still considering whether he should make the drive back into Toronto and check out the show.
We never did get together, but I have continued listening on Sunday afternoons.
It will be quiet tomorrow.
Kerry Doole, journalist
Over the last few years, Bobby invited me to guest on his Sunday Glide show on 99.3 County FM a handful of times as we discussed some fave new tracks. Always a fun time and it was great to see Bobby back in a role he truly loved. He was justifiably proud of the show, one that harkened back to the glory days of FM radio, when jocks were free to play whatever turned them on musically. Bobby loved unearthing new talents he could give exposure to, and corralled both new and established artists for on-air interviews on his weekly show.
He also often recruited me to write bios and one-sheets for the artists he was working with.  I was always struck by just how hard he worked on behalf of his clients.
Bobby was, of course, the biggest Roxy Music and Bryan Ferry fan I've ever met. It's great that he was around to see his favourite band inducted into the Rock Hall of Fame recently.
This is such sad news. RIP Bobby. You will indeed be missed.
Karen Gordon, Writer/Broadcaster,  Formerly, Manager, Central Region,  Promotion/Publicity, PolyGram Records 
I'm a bit frozen right now from the shock of the news. 

What I can say is that he was a complicated guy.

Fell in love with radio at a really young age — I think 14 — and because he had that voice early, as I understand it, devoted himself to radio for a while. But his real life was music.
He was one of those people for whom music was everything.
More important I think than anything.
And of course, everyone knows about his obsession with Bryan Ferry.
I think that he saw Bryan as the epitome of everything that an artist, and perhaps a man can be. 
I'm still taking this in. It doesn't feel quite real to me.
Joey Scoleri (aka Joey Vendetta)
Our industry uses the words passion and excitement far too often when they are not warranted.
Bobby Gale was someone who was always so emphatic with his passion. I will never forget that because there were so many times when he was promoting a record to me that didn't fit, but somehow he always made it seem like it could or should, and that's because the guy loved the music probably more than anyone I've ever met.
He will be greatly missed and I hope people remember him for how real he was.
Roberta Harrison - Wild Strawberries
Bobby was SUCH a music lover and always so supportive. Years ago when we first worked with him he found out about our cover version of "Tainted Love" and gave us his vinyl copy of the 12-inch Soft Cell single! A true fan of music. 
David Freeman, Beggars Group Canada
On Friday, Bobby drove 4 hours to see one of his new passions, Aldous Harding, at a small venue in Montreal called La Sala Rosa. 
He didn't have to and most of us wouldn't have bothered, but Bobby needed to connect with the artist that he had become enamoured with. 
He even bought a t-shirt at the merch table because that's the kind of supporter he was.
A consummate music man.
Mario Lefebvre  - Montreal artist manager
Bobby had a lot of friends in Montreal. It started at CHOM in the late seventies and his Polygram functions a few years later 
Always interested in all types of music, French or English, Bobby was the quintessential music guy. We all loved his passion and his Bryan Ferry look.
Jim Kerr, Simple Minds (as posted on the group's FB page)
One of our first music industry supporters, I recall Bobby mostly from those early 80's days in Toronto, not so long after he joined Polygram as a "promo guy."
Back then Simple Minds were still finding our way in North America and needing all the support we could muster. Luckily, we got plenty of that from Bobby Gale and many others in Toronto who went out their way to show much love for our music.
He was desperately committed to getting airplay for those early Minds tracks, and I have vivid memories of being in the car with Bobby as we travelled to the various radio stations with hope in our heart. I also recall stopping at his house back then and meeting his young family.
A true music nut, his love for Roxy Music in particular, was even bigger than mine. This he would show by allowing me to listen to various Roxy bootleg recordings as we put in considerable miles covering snowy Ontario.
After many years had passed, it was a great delight to meet him once again not so long ago, when he visited us backstage in Montreal. That gave me the chance to look him in the eye and say thanks for all that he had done for Simple Minds.
My thoughts are with Bobby's family and friends.
Bob Lefsetz, Lefsetz Newsletter
I got a DM this afternoon that Bobby Gale was killed in a car wreck, last night coming home from a gig in Montreal.

I met Bobby the first time I went to Toronto, in '89. He'd graduated from being a deejay to working promo for Polygram. Bobby was so passionate, and the kind of guy I connected with, that I could talk to.

But then his wife left him and his bank account was nearly empty...

But Bobby soldiered on. Never losing the passion. Always working independent records. Going back to radio, sending me the playlist. I won't say Bobby was ecstatic, but he was devoted, he still believed. God, if I knew he was gonna pass I would have had Bryan Ferry call him. Bryan was his idol; he fashioned his look to imitate him, all these years later, still.