FYI
R.I.P. CanCon Warrior Stan Klees: 1932-2023
Stan Klees, a Canadian music industry architect who championed Canadian talent along with Walt Grealis, inspired Canadian content regulations, co-founded what would eventually become the Juno Award
Sep 26, 2023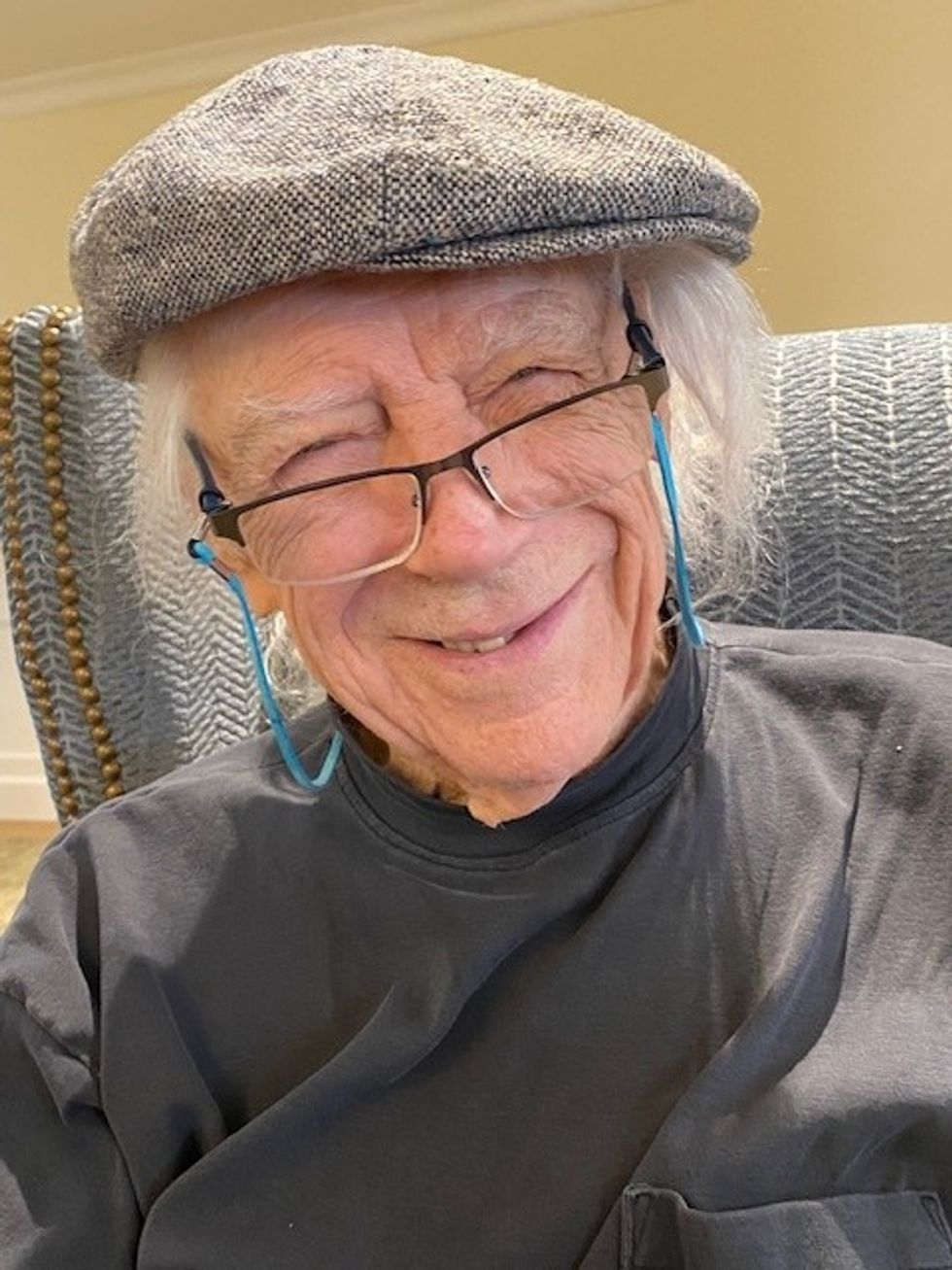 By Nick Krewen
Stan Klees, a Canadian music industry architect who championed Canadian talent along with Walt Grealis, inspired Canadian content regulations, co-founded what would eventually become the Juno Awards, and created the MAPL logo to help qualify Canadian content, has passed away.
---
Klees, who died in his sleep Friday, Sept. 22, of natural causes, was 91.
Born in Toronto on April 29, 1932, Stan Klees was bitten by the radio bug in his early teens, dropping out of Central Tech High to host a radio program on CKLB when he was 16 in the late 1940s and later hosting Teens and Tunes five days a week on CHUM.
As he revealed in an interview, Klees met his lifelong business partner Walt Grealis during a stroll at the CNE.
"One day I was walking in the Exhibition, and this Toronto policeman nodded 'Hello,'" Klees recalled. "He looked familiar. He lifted his hat, and I saw his red hair. I gave him my phone number, and he said, "I'll be in touch.'"
As Klees became further involved in the music business, heading Canada's Astral Records in 1960, former RCMP constable and Toronto policeman Grealis was a sales rep at Labatt Breweries and looking for a new challenge.
At Klees' urging, Grealis applied for a promotion position at Apex Records and eventually moved to London Records.  It would be a role that Klees would often repeat during their partnership – playing the role of the catalyst behind Grealis and some of the most influential decisions that would disrupt the Canadian music industry for the better.
In 1963, Klees also started his own Tamarac label, eventually joining a consortium known as Red Leaf that included Duff Roman's Roman Records and Art Snider's ACT Records. Some of the artists he signed and produced included Little Caesar & the Consuls, Jack London & the Sparrows (the future Steppenwolf), The British Modbeats, Magic Cycle, Jayson King and Big Town Boys.
After Klees produced a hit for the Consuls' with Hang On Sloopy, later pilfered by the U.S. band the McCoys to great success south of the border, he became immersed in a seven-year libel suit with then-CHUM Music Director Bob McAdorey, who dismissed Klees' productions as "inferior." Klees won the case.
As Walt Grealis became more immersed in the Canadian music industry, he noted the lack of a support system for homegrown talent, especially when it came to radio airplay, which relied on U.S. and U.K. hitmakers to stock their playlists.
A social visit from WKBW Buffalo DJ George "The Hound" Lorenz led Lorenz to suggest to the duo that Canada needed its own radio tip sheet, something that hadn't existed to this point.
"He said, 'What you need is an East-West dialogue in Canada that would connect the music industry,'" Klees recalls. 
On February 24, 1964 – at Klees' behest, RPM Magazine was born, typed on a piece of paper that was folded in half.
"The first one only had four pages, and we mailed it out to 50 stations," Klees recalled. "It contained information about which radio stations were adding songs, record companies and the product they were promoting, and a little bit of gossip."
For the next 1700 weeks until it ceased publication in 2000, RPM Weekly offered a platform to fledgling and established Canadian artists, championing them in every issue.
That initial year of publishing also introduced a reader's poll to determine the first recipients of the RPM Gold Leaf Awards.
"We'd thought it'd create interest in Canadian artists," Klees told author Larry LeBlanc in an interview for the book Music From Far and Wide – Celebrating 40 Years of the Juno Awards. "At that time, there wasn't a great deal of interest in Canadian artists. There were very few artists. You really couldn't call them recording stars. There were a handful."
The initial winners, which included Terry Black as the top male singer, Shirley Matthews as the top female singer, and Esquires as the top group, were feted by Walt and Stan at a wine-and-cheese party held in a rented basement.
Not content with simply writing and reporting about Canadian artists, the duo began to lobby to change the rules. "I did a study in RPM called 'Legislative Radio,' which was a 10-part series, and it addressed the CRTC with a bunch of proposals that would make Canadian content viable," Klees told Amplify's Julijana Capone. "When I finished it, I regretted doing the whole thing because I learned that none of these things would work at all and didn't make any sense to the industry. But the seed had been planted."
Newly appointed CRTC Chairman Pierre Juneau took Klees' proposals into consideration, and in 1971, the CRTC introduced Canadian content regulations into radio vernacular: Canadian radio stations had to incorporate 30 percent Canadian content into their hourly programming during peak hours.
To assist programmers and artists in determining what qualified as CanCon, Klees created the MAPL logo, which is still utilized by Canadian labels and talent today.  Under CanCon rules, a record has to qualify under two of the four points – M (music): the music is composed by a Canadian;  A (artist): the music or lyrics are performed by a Canadian; P (performance): the musical selection was recorded in Canada, or L (lyrics): the lyrics are written by a Canadian.
The year before CanCon came into effect, RPM hosted the first formal celebrations of their Gold Leaf Awards ( RCA and Ed Preston were named Top Record Company), which eventually evolved into the Juno Awards. Held at Toronto's St. Lawrence Hall, Klees' mother, Sabina – a restaurateur – provided the sandwiches and the liquor.  
Klees designed the metronome-shaped trophy for the ceremony hosted by CFRB broadcast George Wilson.
"The first person to receive an award was a country artist named Diane Leigh," Klees recalls. "She just stood there and giggled."
Klees also founded the Canadian Independent Record Production Association in 1971, co-founded the RPM-sponsored music industry convention called Three Days in March and helped represent Canada at MIDEM in France.
In 1974, Grealis and Klees sold the Juno Awards to the Canadian Academy of Recording Arts and Sciences (CARAS).
The same year the Junos were first televised – 1975 – formed the Canadian Academy of Country Music Advancement, which eventually evolved into the Canadian Country Music Association.
Before the year closed, RPM inaugurated the Big Country convention and the Big Country Awards, the forerunners of Canadian Country Music Week and The Canadian Country Music Awards, respectively.
In 1995, Klees was inducted into the Country Music Hall of Fame and, six years later, was recognized along with Walt Grealis with a SOCAN Special Achievement Award. 
Grealis died of lung cancer in 2004. A year later, Klees accepted the Canadian Songwriters Hall of Fame Legacy Award on both their behalf.
In his final interview, conducted in 2021 with The Independent Free Press' Melanie Hennessey at his Georgetown, Ontario residence, Stan Klees was ecstatic to receive the Guardian Award from SOCAN.
"To be recognized with the Guardian Award is an acknowledgment of decades of work," said Klees in the article. "It makes me smile."
Klees will be laid to rest at Mount Pleasant Cemetery in Toronto alongside long-time friends Walt Grealis and Lori Bruner, a former RPM Weekly employee and former Polydor Senior Manager Regional Promotion.