FYI
Music News Digest, Oct. 28, 2021
Elizabeth Shepherd and Michael Occhipinti form a new duo (pictured), The TD Music Connected Series returns, and Andrew Joseph Stevens wins the Harmonize Mentorship. Also in the news are the Cavendish Beach Music Festival, PASSPORT: Music Export Summit, Good Lovelies, Shad, Mad Ones, Hugh's Room Live, Dala, CIMA, Amazon Music, and farewell Mort Sahl.
Oct 28, 2021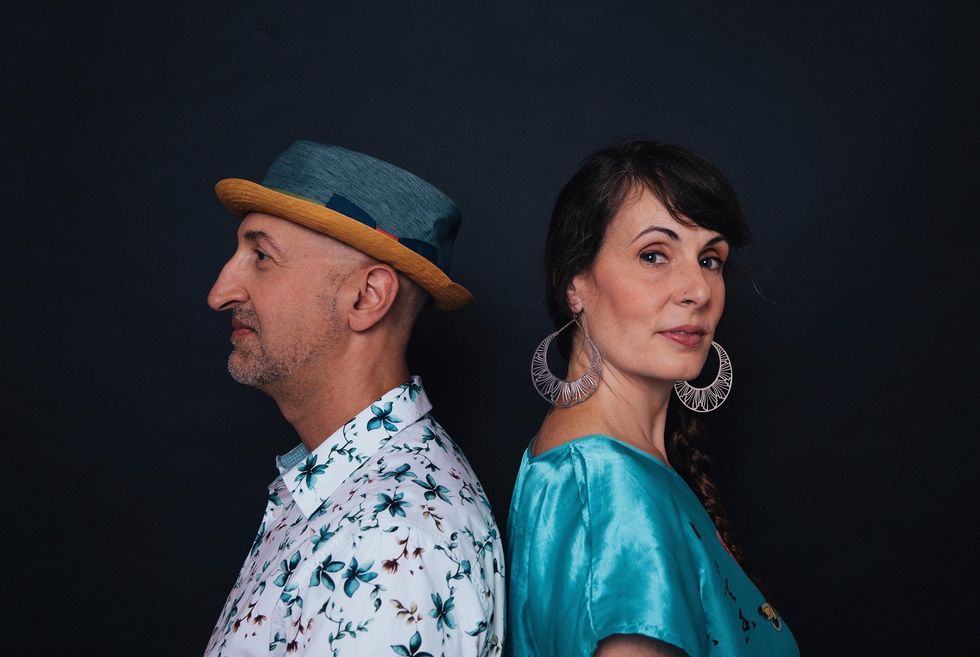 By Kerry Doole
Guess you could call this a super-duo. After all, members 
Elizabeth Shepherd
 (Montreal) and 
Michael Occhipinti 
(Toronto) have 15 Juno award nominations between them, and the two talents have now teamed up to form 
ES:MO
. A debut album titled 
The Weight of Hope
 comes out on Oct. 29. Vocalist/songwriter Shepherd has twice been long-listed for the Polaris Prize, while guitarist/composer Occhipinti has performed with artists including DVSN and Bruce Cockburn and released acclaimed albums with NOJO, The Sicilian Jazz Project, and under his own name. The pair's first single is a cover of Any Other Way, a signature tune for '60s Toronto legend Jackie Shane. The ensemble plays dates in Nova Scotia and BC through Nov., then a Hugh's Room Live show in Toronto, Dec. 2. Check the itinerary
here
.
– The TD Music Connected Series, presented by Canada's Music Incubator (CMI), returns for its second year, running from this week to the end of Feb. 2022. The series will now feature 65+ individual performance airings from a diverse set of artists across Canada — each performing in a different venue or space that holds cultural or personal significance to the artist. The lineup spans all genres and includes Cartel Madras, Tyler Shaw, Earlybird, Vivek Shraya, Nimkish, AMALIA, Kaia Kater, Bebe Buckskin, Leela Gilday, respectfulchild, Aaron Paris, and many others. More info here
---
– The imagineNATIVE Film + Media Arts Festival's winner of the 2021 Harmonize Mentorship is Andrew Joseph Stevens. The Mentorship includes a grand prize of a $10K cash contribution from Slaight Music, $10K worth of in-kind equipment rental from MBS Equipment Company, and in-kind support from Nagamo and Universal.
– The Cavendish Beach Music Festival has announced its 2022 return with multi-platinum country star Luke Combs as the first headliner named. Atlantic Canada's largest multi-day outdoor music festival will kick off with Combs on July 7, running to July 9. Additional performers will be announced leading up to the event. More info here.
– PASSPORT: Music Export Summit is a collaborative professional development program, providing custom training, networking opportunities and ongoing mentorship for self-managed artists, artist managers and music companies who are actively doing business internationally or are export-ready. It is developed and delivered by Manitoba Music, Music Nova Scotia and Canada's Music Incubator, supported by FACTOR and the Government of Canada. The application deadline here has been extended to Nov. 12.
– Juno Award-winning folk trio Good Lovelies have revealed details of their 2021 Christmas Tour. The annual Ontario trek begins Dec. 8 in Kenora, closing out with the group's headlining premiere at the revitalized Massey Hall in Toronto on Dec. 20. More tour info here. 
– Toronto rapper Shad has announced an extensive (21 dates) North American tour, beginning in St. Catharine's on April 29 and concluding at Toronto's Longboat Hall on June 16.  Tix will go on sale today (Oct. 28) here. The tour will promote his current and very well-received album TAO.

- Ontario rockers HotKid and Mad Ones are teaming up for joint shows at Hamilton's Casbah (Nov. 4), Windsor's Photog Lounge (Nov. 5), Toronto's Baby G (Nov. 26), and Montreal's Barfly (Dec. 3).
– As recently reported in FYI, Hugh's Room Live has partnered with the El Mocambo to hold occasional shows there. Dione Taylor was there last night (Oct. 27), Paul James plays on Nov. 6, Alfie Zappacosta is in on Nov. 24, and Madison Violet performs on Dec. 14. HRL has come to a similar arrangement with another Toronto venue, 3030 (Dundas Street West), and they'll co-present a show by Dala there on Nov. 5. Tix here.  
On Nov. 4 (1 pm ET), CIMA and Amazon Music present a webinar, Amazon Music for Artists, designed to help artists use the platform to their advantage. Three Amazon Music team members will participate. Free registration here.
RIP
Mort (Morton Lyon) Sahl, a Montreal-born political satirist whose biting wit and uncompromising intellect broadened the world of conventional standup comedy, died Oct. 26 in Mill Valley, California, age 94.
Sahl's family moved to Los Angeles when he was 7, and he graduated from USC in 1950.
In 1953, when Sahl first appeared at the Hungry i, a San Francisco folk singer's hangout, he was an unknown with little stage experience. But his rapid-fire monologues about politics, social trends and fads quickly earned him the nickname "Rebel Without a Pause."
In 2011, his live 1955 recording Mort Sahl at Sunset was cited as the first standup comedy album and named by the Library of Congress to the National Recording Registry. Sahl placed 40th on Comedy Central's list of the 100 greatest standup comedians of all time, revealed in a 2005 special.
Sahl's fame began to soar when he co-hosted both the Academy Awards show and the inaugural Grammy Awards ceremony in 1959. A year later, he was on the cover of Time.
He even had small roles in '60s films, but it was his standup work that remained relevant. The Daily News called Sahl's 1987 one-man show — his return to Broadway after 30 years — "not so much an evening of yucks as it is an evening of reality, and that's almost as scary as it is hilarious."
Read the full Variety obituary here.