FYI
Music News Digest, April 29, 2021
Nile Rodgers (pictured) and Chris Blackwell will star at CMW, Hot Docs offers some prime music-themed films, and Sakamoto Agency helps launch GPS Promotion. Also in the news are Blue Rodeo, New Skool Rules, International Jazz Day, Hugh's Room Live, Jazz Niagara, Primus, NWC, Indie101, Opera Atelier, Dvsn, Bryce Clifford, Gary Kendall, Elephants and Stars, and farewell Markus Klinke, Denny Freeman, and Al Schmitt.
Apr 28, 2021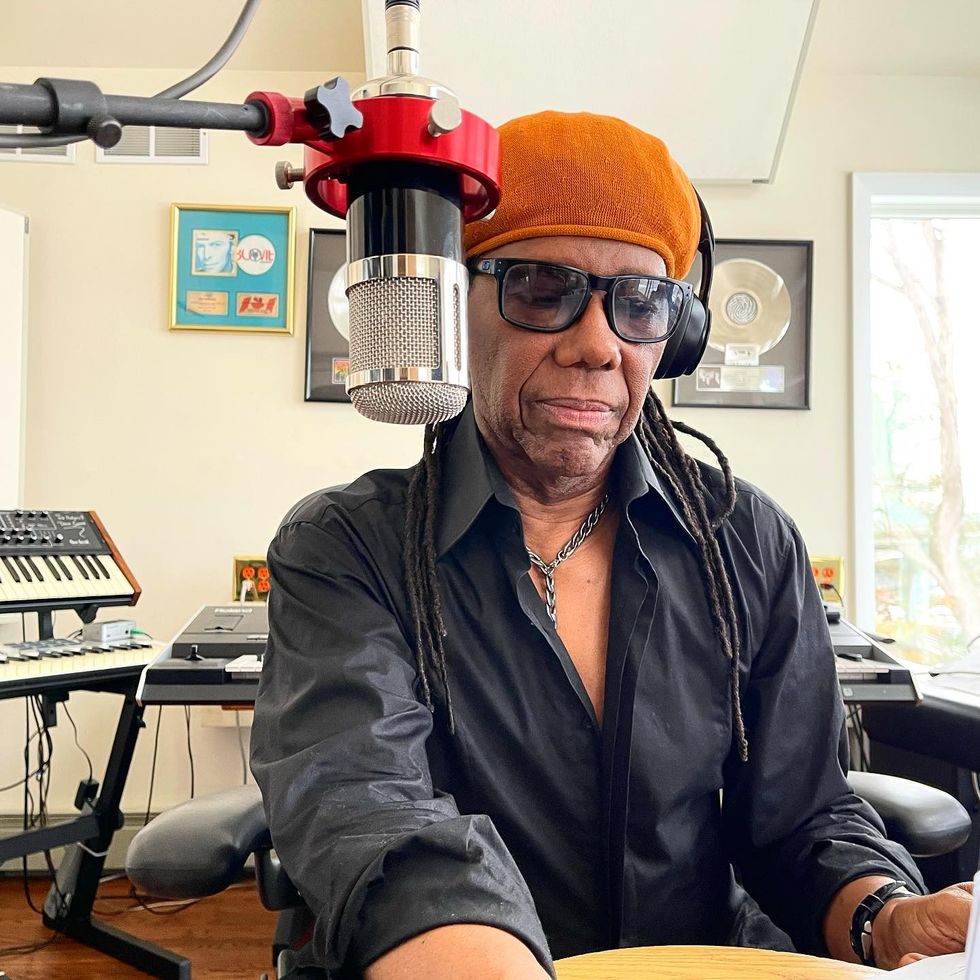 By Kerry Doole
Canadian Music Week (CMW) is fast approaching, running from May 18-21, in virtual form of course. Sure to be a highlight of the conference and festival is an Exclusive In-Depth Conversation with Nile Rodgers and fellow superstar producer Timbaland, hosted by Merck Mercuriadis. Rock Hall of Famer Rodgers works closely with Mercuriadis at Hipgnosis, and is sure to offer some compelling insights.
---
Also not to be missed is a Keynote Interview with Chris Blackwell, the legendary founder of Island Records, conducted by Wayne Jobson. Another notable entry on the schedule is a timely panel discussion entitled Allies in Music: Can the industry fix the future by addressing its racial past?, moderated by Portia Sabin. For more information and registration, go here.
– Due to new Ontario guidelines, the Blue RodeoLive, Online and Lost Together live-stream show has had to be rescheduled again, to May 28 at 9 pm EST. It is streamed from Toronto's Danforth Music Hall, and there'll be an encore presentation on  May 30 at 3 pm EST. Ticket info here.
– Sakamoto Agency (CAN) and GrassRoots Promotion (USA) recently announced a partnership in creating a new radio and online promotions company, GPS Promotion. Headquartered in Canada and led by radio veteran and artist Tera Lee Flaman, GPS Promotion services both Canadian and US radio markets, tastemakers, and digital media on behalf of emerging and established country acts, from either side of the border. More info here.
– The internationally popular Toronto-based Hot Docs fest of documentary films begins online this week, running April 29 to May 9. This year's edition seems to have the strongest lineup of music-themed docs yet. Already attracting advance attention are the Canadian-made FANNY: The Right to Rock, an in-depth look at the pioneering '70s all-female rock band Fanny, and The Sparks Brothers, a profile of pop cult faves the Mael brothers. Directed by  Edgar Wright, it recently made a splash at Sundance. Other titles include Summer of Soul (...Or, When The Revolution Could Not Be Televised) (the debut film from Ahmir "Questlove" Thompson),  Poly Styrene: I Am a Cliché (on the X-Ray Spex frontwoman), 7 Years of Lukas Graham, Rockfield: The Studio on the Farm (a look at the famed Welsh recording studio), and Watch the Sound With Mark Ronson. Ticket and streaming info here.
– CIMA and MusicOntario are heading back to New Skool Rules, the largest international Hip Hop, R&B, Rap, Soul, & Reggae conference, this year– virtually. The trade orgs have arranged for some Canadian artists to showcase (list TBA). In addition, there will be business events and networking opportunities. This year the conference will take place from May 28-30. More info here 
– Hugh's Room Live celebrates International Jazz Day virtually on April 30 (8-10 pm ET) with streamed performances from a formidable list of artists. They include Kellylee Evans & Michael Shand, Sammy Jackson, OKAN, Nathan Hiltz and Melissa Lauren, Eliana Cuevas and Jeremy Ledbetter, Genevieve Marrantette and George Koller with host Jaymz Bee. April 30 at 8 pm. $15. Tix here.
– Another Jazz Day live-stream is being presented by Jazz Niagara, April 30, 7- 8.30 pm on Facebook and YouTube. Artists featured are James Bryan, Chris Northington and DeeAnn DiMeo, and, live from Holland, Cuban jazz pianist Abel Marcel. For a full list of the many Jazz Day events across Canada, go here.
– Popular US prog-rock band Primus has made no secret of its love of Rush. The group has just announced dates of a tour in which it will play Rush's 1977 opus, A Farewell to Kings, in its entirety at every show. The band postponed the dates last year due to the coronavirus pandemic. The trek starts Aug. 10 in Boise, Idaho, before wrapping in Phoenix, Arizona, in October. Wolfmother will open all of the dates.Tickets are available now at Ticketmaster.com. Source: Rolling Stone
– On April 29, at 1.30 pm, NWC presets a free live webinar on Artist Management, hosted by Mike Raine, Editor-In-Chief of Canadian Musician.  Register here.
– Last week's Indie101 online conference has been hailed by the organisers as "our biggest and best online conference yet, in terms of attendees and engagement. Over 6000 messages were sent amongst our attendees over the 5 days."
– Opera Atelier has announced May 27 (7 pm ET) as the new date for the online presentation of Handel's The Resurrection - fully-staged and filmed at St. Lawrence Hall in Toronto, in strict compliance with provincial health and safety regulations. The Resurrection marks the Canadian premiere of Handel's first acknowledged operatic masterpiece and will feature some of the country's finest interpreters of Handel's music: Soprano Carla Huhtanen, Soprano Meghan Lindsay, Mezzo-Soprano Allyson McHardy, Tenor Colin Ainsworth, and Bass-Baritone Douglas Williams. Tickets here.
– Hit Toronto R&B duo dvsn has signed a management deal with Atlanta-based record label LVRN,  Billboard reports. The tandem of singer Daniel Daley and producer Nineteen85 will remain signed to Drake's OVO Sound label. Last year, dvsn released their third album, A Muse in Her Feelings, followed, in Jan. by the deluxe edition, Amusing Her Feelings. According to LVRN, the group has already started working on new music with revered Atlanta stars Jermaine Dupri and Sean Garrett.
– The deadline for entries into The Steinway Piano Competition is tomorrow (April 30). The prestigious nationwide contest is for those 18 and under. Info here.
– Hamilton roots rockers Bryce Clifford & Brother Superior present a streamed concert tomorrow (April 30) at 8 pm ET. The one-hour set was filmed at local venue The Mule Spinner with a small crew on a late night at the end of 2020. Free tix available through Eventbrite here. It will also be streamed on Clifford's YouTube page.
–  Available exclusively to Creative Manitoba members, the Arts Admin Coaching program provides access to personalized one-on-one coaching with arts professionals. It runs May 1 – June 30, with registration opening here May 1.
– Downchild bassist and producer/composer Gary Kendall has revisited his earlier album, Dusty and Pearl and, with the help of L. Stu Young, has remixed and remastered some prime cuts. These are now out as an EP, Dusty & Pearl Revisited Volume One. An impressive guest list includes Jay Douglas, Suzie Vinnick, Judy Brown, John Mays, Johnny Wright, and John Dickie, with Douglas featured on this track.
– Ontario indie rockers Elephants and Stars have put out a video for Car's Running, Let's Go, the first track on the sophomore release, Dreamland. The album is produced by Toronto rock god Ian Blurton.
RIP
Markus Klinke, a record label marketing and A&R executive and producer in Canada and Germany, died on April 18 as a result of heart attack. He was in his '50s.
The German born Klinke was a drummer in rock band Crack Jaw in the 1980's, and its 1985 debut album, Nightout, received a 30th anniversary reissue in 2015. 
Upon moving to Toronto in March 1990, Klinke worked as the A&R head of Quality Special Products in Toronto, and helped that label break through with a series of hit compilation albums in the dance market. Two collections, Pirate Radio Sessions Vol. 4 and Destination Dance Floor, both sold platinum in Canada in the mid '90s. 
In 1995, Klinke partnered with dance music DJ/entrepreneur Chris Sheppard and William J. Genereux to form Pirate Records & Music, a Quality distributed label. Along with fellow record label execs Dominique Zgarka and Vince Degiorgio, Sheppard and Klinke are credited by industry observer Larry LeBlanc as the prime movers in Canada's dance music industry at the time.
Klinke is described by Dominique Zgarka as a "genius" marketer and the "godfather" of compilations in Canada. Zgarka told FYI that "When I think of you, Markus, all I can say is 'Thank You' ...for all that you did with pop dance music in Canada over the many years, and for all the times we saw each other, hung out together & worked with one another in the music/entertainment industry."
Other industry peers from this time expressed their affection for Klinke on social media.
In June 1996, Klinke moved back to Germany for the position of Senior A&R head at German dance music label ZYX Music. He later became that company's Global Licensing Manager.
After retiring from the music business, Klinke became a proficient painter. Sources: Larry LeBlanc, Billboard, Vince DiGiorgio, Dominique Zgarka, Facebook
International
– Denny Freeman, the soulful, musically deep guitarist and multi-instrumentalist whose presence has been foundational to Austin over the last 50 years, died on April 25, at age 76, after being diagnosed with cancer only weeks ago.
Freeman was part of the Austin blues scene that helped usher the staple genre's local re-emergence in the early seventies, playing alongside Stevie Ray Vaughan in Paul Ray & the Cobras. Four decades later, the gentle-natured guitarist's graceful melding of blues and jazz would anchor Bob Dylan's Modern Times album.
Born in Orlando and raised in Dallas,  Freeman began playing guitar at age 14 and, while in high school, played in a rock band called the Corals. In 1970, Freeman moved to Austin.
It was here with vocalist – and eventually famed DJ – Paul Ray, he catalyzed the Cobras – a band that set the stage for ensuing local breakouts Fabulous Thunderbirds and Stevie Ray Vaughan to put Austin blues on the international map.
Freeman and W.C. Clark, with Angela Strehli, maintained an influential combo called Southern Feeling in the seventies. The Austin Chronicle reports that "the following decade, Freeman's musicality maintained an evergreen occupation of the Antone's stage, anchoring a house band in which he backed touring bluesmen like Albert Collins, Otis Rush, Lazy Lester, Eddie Taylor, and Hubert Sumlin. At that point, the legendary Austin club had become a Mecca for authentic blues and its owner considered Freeman on equal footing to the genre's best.
Antone's posted this on Facebook: "It's hard to put into words just how much Denny Freeman meant to all of us here at Antone's. To us, Denny was more than a great musician. He was family for nearly half a century. He was a leader and mentor, an unsung hero, and a friend. And had it not been for the Dallas exodus to Austin in the early 70s, led by Freeman, Vaughan, Bramhall and Ray, would our music scene ever have taken off?"
The primarily Austin resident – he lived in Los Angeles from 1992 through 2004 – Freeman has a co-writing credit on a Blondie song, Boom Boom in the Zoom Zoom Room from 1999's NoExit. He also co-wrote the Percy Sledge song Love Come Rescue Me and is immortalized on the monumental 1988 collaborative release Big Guitars From Texas, in which he leads two songs.
He toured in Taj Mahal's Phantom Blues Band for a stint, contributing to the Grammy-winning 2000 live album Shoutin' in Key, and was then recruited by Bob Dylan for his touring band, 2005-09. Freeman contributed to the acclaimed Dylan album Modern Times.
Since resettling permanently in Austin in 2011, Freeman remained a staple at Antone's, the Continental Club, and the Saxon Pub venues, in such outfits as No Name Band and BlueJazz.  Sources: Austin Chronicle, Antone's
– Al  (Albert Harry) Schmitt, a Lifetime Achievement Grammy Award winning recording engineer and record producer, died on April 27, age 91.
Schmitt got his break working at Apex Recording Studio in the '50s, where he was mentored by legendary engineer Tom Dowd and ended up unexpectedly engineering a session with Duke Ellington.
In 1958, he moved to Los Angeles, ending up at RCA in 1963. There, he engineered albums for everyone from Henry Mancini to Sam Cooke, also working on film scores with Alex North and Elmer Bernstein. The Schmitt-engineered version of Henry Mancini's Moon River, co-written with Johnny Mercer, and its associated album won two Grammy Awards in 1961, as well as an Academy Award for Best Song with its appearance in the film Breakfast at Tiffany's. The following year, Schmitt won his first Grammy for engineering Mancini's Hatari! soundtrack.
After leaving RCA in 1966, Schmitt struck out on his own, producing albums for Jefferson Airplane, Eddie Fisher, Glenn Yarborough, Jackson Browne and Neil Young.
Over a dazzling seven decade career, he worked with such notable musical figures as Sam Cooke, Frank Sinatra, George Benson, Barbra Streisand, Steely Dan, Ray Charles, Connie Francis, Michael Bublé, Dee Dee Bridgewater, Duane Eddy, Al Jarreau, Diana Krall, the Jefferson Airplane, Natalie Cole, Thelonious Monk, Elvis Presley, Tony Bennett, Madonna, Michael Jackson. and Quincy Jones.
Among his most recent projects were Willie Nelson's That's Life, released in February, and Diana Krall's fall 2020 release This Dream of You, which he and Krall put together from sessions they worked on with the late producer Tommy LiPuma.
Among his 20 Grammy Award triumphs are wins in the engineering category for such albums as: George Benson's Breezin,' Steely Dan's Aja, Toto's Toto IV, Natalie Cole's Unforgettable, and Diana Krall's When I Look In Your Eyes. Additionally, he won a pair of Latin Grammy Awards for Luis Miguel's album Amarte Es Un Placer in 2000.. Schmitt has won more Grammy Awards than any other engineer or mixer, even being awarded a star on the Hollywood Walk of Fame.
The TEC Awards Hall of Fame inducted Schmitt in 1997 and he was honoured with a star on the Hollywood Walk of Fame in 2015 for his work as a pioneer of recorded music. In 2006, Schmitt received a Lifetime Achievement Grammy.
He also has his own signature plugin, developed by Leapwing Audio. Sources: Larry LeBlanc, Celebrity Access, Music Radar, Variety