FYI
Music News Digest, April 17, 2019
Alexisonfire (pictured) adds support bands,  Hillside announces lineup, and Aretha honoured. Also making news: VivaFest, J Mascis, On The Grand, ticketing laws, Steven Van Zandt, CD Baby, and farewell Joe Terry. Video added.
Apr 17, 2019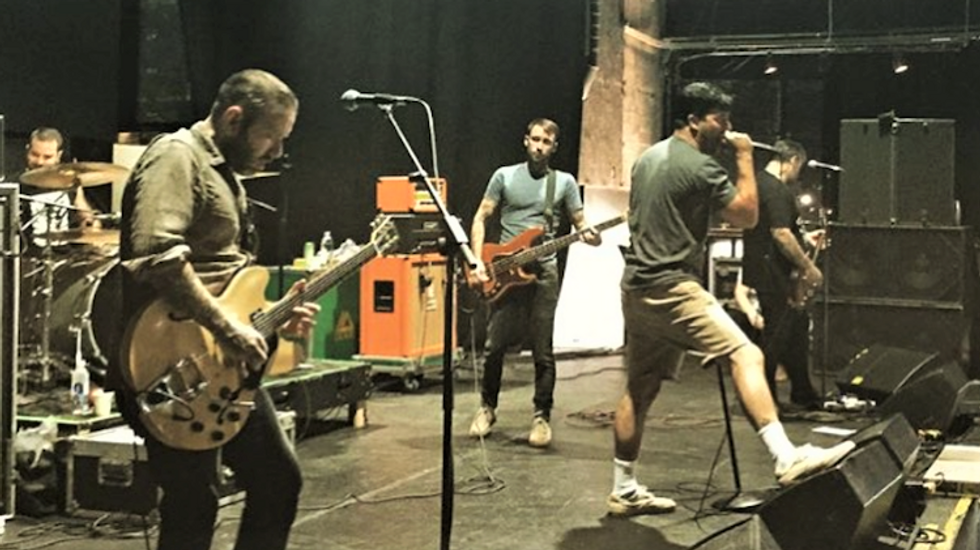 By Kerry Doole
Alexisonfire has announced support acts for its upcoming June headline shows. Glassjaw and The Dirty Nil will perform the first night at AoF's Toronto's Budweiser Stage shows (June 15), with Quicksand and Moneen filling in for the second night (June 16). The Dirty Nil also open Alexisonfire's LA show on June 13. This new AoF video came out yesterday.
---
– Hillside Festival's July 12-14 lineup at Guelph Lake Island is to include Steve Earle & the Dukes, Fucked Up,  Bruce Cockburn, Snotty Nose Rez Kids, Skydiggers, Foxwarren, Jenn Grant, Alan Doyle, Ellis, Fast Romantics, Burning Hell, Ellevator, Haviah Mighty, Ian Blurton's Future Now, Richard Reed Parry's Quiet River, John Southworth, Orville Peck, and Wild Rivers. Full info and tix here
– Aretha Franklin will be honored with a posthumous Pulitzer Prize Special Citation, the organization announced Monday (April 15). Along with Franklin, opera composer Ellen Reid is named as this year's recipient of the Pulitzer Prize in music. "Congratulations to @Aretha Franklin and her family and friends," the Pulitzer Prize account tweeted to make the announcement, using the hashtags #QueenofSoul and #Respect.
The Pulitzer Prize jury occasionally awards Special Citations with previous recognition given Hank Williams, Thelonious Monk, John Coltrane and Bob Dylan. Franklin is the first woman to earn the honor since the  awards were estabished in 1930. Source: Billboard
– NAC Presents, LULA Music & Arts and Axé WorldFest have teamed up to present VivaFest, happening May 24-26 at the National Arts Centre in Ottawa. The inaugural world music-themed event a concert lineup that includes Kobo Town, Aline Morales, and OKAN.
– Acting on behalf of the Honourable Pablo Rodriguez, Minister of Canadian Heritage and Multiculturalism, Neil Ellis, MP (Bay of Quinte) was in Wellington, Prince Edward County, on April 15 to announce that the Government of Canada is investing $10K in The Festival Players of Prince Edward County and $10K in The Prince Edward County Chamber Music Festival. The grants were made through the Canada Arts Presentation Fund.
– Dinosaur Jr. frontman J Mascis is a major Neil Young fan. He has announced via his Facebook page that he's changing the date of a summer solo show in Berlin that clashes with a Young gig.  Mascis posted this:  "Hey Berlin, we heard Neil Young is playing on July 3rd. Like you, J would love to be at that show, and rather than compete with the Godfather of Grunge, we're moving the Festaal Kreuzberg show from July 3 to June 3oth." Source: Live For Live Music
– Guess who is banging on the door, asking for quiet?  Following multiple noise complaints from Burton Cummings, a Moose Jaw fitness studio is moving. Kyra Klassen, who owns Dance Fitness with Kyra, says she's ready for a fresh start and the studio is changing locations May 1. She is facing six noise bylaw charges, filed after Cummings' complaints. Source: CP
– The team behind Ever After Music Festival, Beyond Oz Productions has announced the second annual On The Grand summer mini festival line-up, set for Bingemans, Kitchener, ON. Running June through August, the series features Yellow Claw, ZiA, Queensryche, Skid Row, Great White, MC Hammer, Sisqo, Sean Paul, Biz Markie and many more. Fest themes encompass EDM, country, metal, reggae, and a '90s ThrowbackHammer's House Party. Tix now on sale here
– The Ontario provincial government is scrapping part of a law that would have capped ticket resale prices at 50 percent above the original face value. The PCs paused implementation of that section of the Ticket Sales Act — brought in by the previous Liberal government — shortly after the election last year. Now, as announced in its new budget, it is cancelling the rule, claiming it was unenforceable. Source: CBC News
– Longtime Springsteen accomplice Steven Van Zandt has resurrected his Little Steven and the Disciples of Soul project, with a new album, Summer of Sorcery, out May 3. The first album of all new material from the group in 20 years, it is preceded by the new single "A World of Our Own." In a Rolling Stone interview, he described the Spector-influenced track as the "girl group entry of this album." The band plays a pair of shows in Los Angeles and Asbury Park May 4 and 8, respectively. Canadian dates begin at London Music Hall, July 2, followed by shows in Ottawa, Quebec City, and Toronto.
– CD Baby has announced a new partnership with Audible Magic – a specialist in digital content identification, licensing, and monetization – to increase content protection for artists and labels.  CD Baby will use Audible Magic's RightsRx™ service to identify content rights conflicts before delivery to a Digital Service Provider (DSP).
RIP
Joe Terry (born Joe Terranova) a founding member of Danny & the Juniors, died on April 15, age 78.
Danny & the Juniors shot straight to the top of the charts in early 1958 with their biggest hit ever, the gold-selling "At the Hop," though they reached the charts again with eight more singles through 1963, notably the Top 40 charters "Rock and Roll Is Here to Stay," "Dottie," and "Twistin' U.S.A." 
Joe Terry and Frank Maffei continued to rock and roll across the country as Danny & the Juniors in the years following.
Alan Rubens, Chairman of the Philadelphia Music Alliance, hailed Terry as "a true legend and a true Philadelphian who was part of making our city's music heritage as great as it is." Terry was a member of that city's Walk of Fame.