Pop
Friday Music Guide: New Music From Drake, André 3000, Tate McRae and More
Check out the must-hear releases of the week.
Nov 17, 2023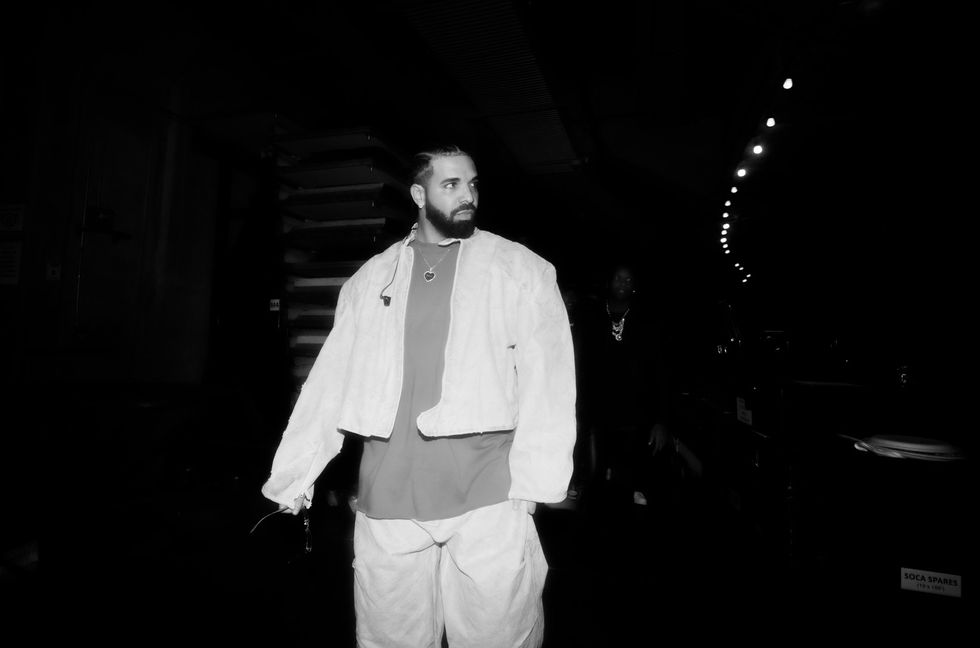 Courtesy OVO/Republic Records
Billboard's Friday Music Guide serves as a handy guide to this Friday's most essential releases — the key music that everyone will be talking about today, and that will be dominating playlists this weekend and beyond.
This week, Drake wakes up in the Scary Hours, André 3000 upends every expectation, and Tate McRae's stock continues to rise. Check out all of this week's picks below:
---
Drake, For All The Dogs Scary Hours Edition
After releasing his 23-track album For All The Dogs last month, Drake suggested a forthcoming pause in studio output — and apparently, that break is already over. The six new songs on For All The Dogs Scary Hours Edition were recorded over the past week, and feature some of Drake's most vital, vociferous rhyming this side of Her Loss: "Red Button" name-checks Taylor Swift and Ye, "You Broke My Heart" goes ballistic on an ex over opulent soul production, and on "Stories About My Brother," he begins with, "We'll get to the vacation later." Pure hip-hop fans will be glad that Drake delayed his break for these Scary Hours.
André 3000, New Blue Sun
The song title "I Swear, I Really Wanted to Make a 'Rap' Album but This Is Literally the Way the Wind Blew Me This Time" says it all: the long-awaited studio return of André 3000 is not anything close to his OutKast past, but instead an instrumental project defined by his rapturous flute-playing and mercurial nature. New Blue Sun is daunting — the majority of its songs stretch past the 10-minute mark — but in the way that great art should be; André is not bound to any preconceived notions of his musical identity, and because of that, New Blue Sun can leave the ground.
Tate McRae, "Exes"
One of the primary reasons why "Greedy" has become a breakthrough hit for Tate McRae is the confidence exuded across the track: at a time when tons of pop hits are either confessional or self-deprecating, McRae wields her persona against her doubters like a sharpened sword, and "Greedy" crackles as a result. That self-belief translates to new single "Exes," another instantly likable piece of rhythmic pop (Ryan Tedder once again lends a production hand) defined by McRae literally laughing after dropping, "Oh, I'm sorry — sorry that you love me."
Ozuna, Cosmo
"Vocation," Ozuna's new single with David Guetta, will naturally receive a ton of attention as new album Cosmo is unveiled — the club track comes across as massive in both sound and commercial prospects. Yet "Vocation" only scratches the surface of what sounds like a multi-hit crossover effort from the Puerto Rican star, with songs like "Baccarat," "100 Squats" and the Jhayco team-up "Fenti" showcasing Ozuna's melodic instincts and unending charisma over slick, fast-paced production.
Sabrina Carpenter, Fruitcake EP
"A Nonsense Christmas," a festive spin on Sabrina Carpenter's viral hit "Nonsense," sets the tone for this giddy holiday collection from the ascendant pop star, who spends six tracks showcasing her vibrant sense of humor and having a blast with the format. Not many other Christmas collections will have lyrics like "F–k the jet, send the sleigh," but winking pop full of hummable hooks and quotable lines is Carpenter's specialty, and the Fruitcake EP makes for a sumptuous treat as the holiday season comes into view.
Editor's Pick: 2 Chainz & Lil Wayne, Welcome 2 ColleGrove
One week after Rick Ross and Meek Mill released a joint project, two more hip-hop elder statesmen have linked up to share the ball, toss off some braggadocio and generally have some fun before 2023 wraps up. 2 Chainz and Lil Wayne's 2016 project ColleGrove came at a time when Weezy was embroiled in label disputes, so he was only credited on a handful of tracks; its sequel, Welcome 2 ColleGrove, is both relieved of that behind-the-scenes drama and notably looser, with two masters of the sex-metaphor punchline in their element as guests like Usher, 21 Savage and Fabolous drop by to hang.