Awards
After the 2023 Billboard Music Awards, Who Is the All-Time Biggest Winner?
These two chart titans are now tied for the most career wins at the BBMAs.
Nov 20, 2023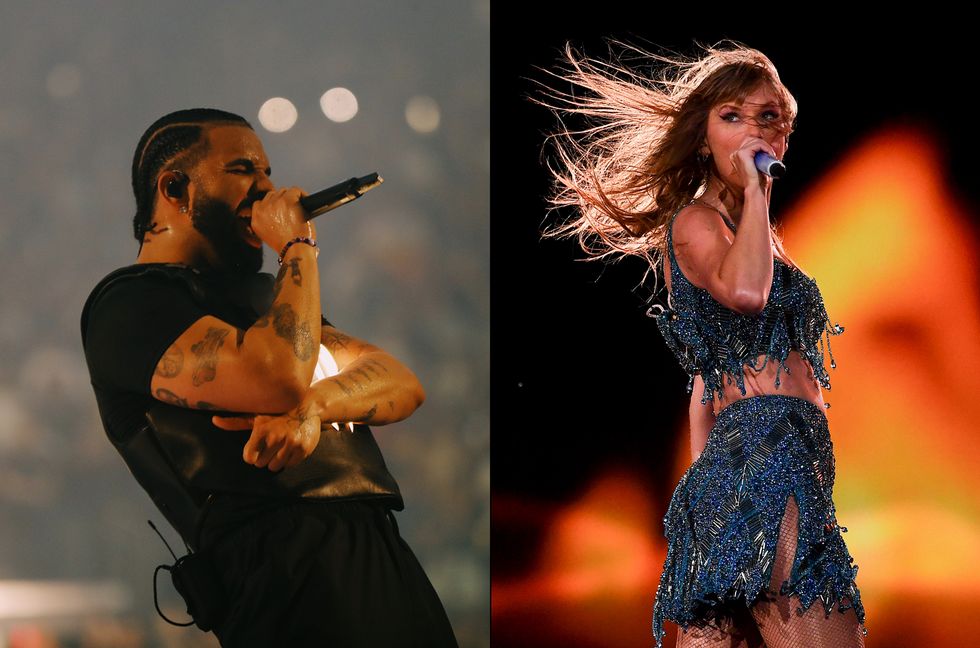 Courtesy OVO/Republic Records; Marcelo Endelli/TAS23/Getty Images for TAS Rights Management
Taylor Swift and Drake both had good nights at the 2023 Billboard Music Awards on Sunday (Nov. 19). Swift won 10 awards, which brought her career total to 39. Drake won five awards, which brought his career total to – would you believe? – also 39. As a result, the two chart titans are tied for the most career wins at the BBMAs.
Swift won top artist for the third time at this year's BBMAs, having previously won in 2013 and 2015. That ties Drake for the most wins in this category. He took that title in 2017, 2019 and 2022.
---
Swift won top Billboard 200 artist for a record-extending sixth time. Drake has won that award three times.
Both artists have won top Billboard 200 album twice. Swift won that award with Red in 2013 and 1989 in 2015. Drake won with Views in 2017 and Scorpion in 2019.
Swift's 10 awards this year constitutes her best showing at the BBMAs to date. She previously won eight awards in both 2013 and 2015.
Drake's best year at the BBMAs to date was in 2017, when he won 13 awards. He came close to that mark in 2019, when he won 12 awards. This is the second year in a row in which he has won five awards.
The two artists have been chart rivals since they debuted in the 2000s. Swift first hit the Billboard 200 in November 2006, nearly three years before Drake made his debut in October 2009.
On the Billboard 200, their stats are pretty evenly matched. Both have had 13 No. 1 albums and 16 top 10 albums. If you look at total weeks at No. 1 on that chart, Swift is far ahead: 65 weeks to 35 weeks.
On the Billboard Hot 100, Drake is ahead, with 13 No. 1 hits, compared to 11 for Swift, and 76 top 10 hits, compared to 49 for Swift. If you look at total weeks at No. 1 on that chart, Drake is way ahead: 56 weeks to 33 weeks for Swift.
Drake acknowledged Swift's chart potency in the lyrics to "Red Button," the opening track from his surprise Scary Hours 3 EP, which dropped on Friday (Nov. 17) as part of an expanded edition of his recent For All the Dogs album.
"Taylor Swift the only n—a that I ever rated/ Only one could make me drop the album just a little later/ Rest of y'all I treat you like you never made it/ Leave your label devastated/ Even when you pad the stats, period, I never hated," he raps on the song.
Last year, Drake bumped the release of Her Loss, his collab album with 21 Savage, which was originally scheduled for Oct. 28, 2022, to Nov. 4, seemingly to avoid competing with the second week of Swift's Midnights. The strategy worked: Her Lossbumped Midnights out of the No. 1 spot on the Billboard 200 – though Swift, being Swift, reclaimed the top spot the following week (and held it for six nonconsecutive weeks, compared to just that solitary week for Her Loss).
Will Swift or Drake break their tie and pull ahead at next year's BBMAs? Stay tuned. It's unlikely that any other artist will overtake them anytime soon. The No. 3 artist on the all-time BBMAs leaderboard is Justin Bieber with 26 wins, followed by The Weeknd with 22 and Garth Brooks with 20.