FYI
Tonight's Online Kitchen Party Fundraiser Has An All Stars Cast
May 06, 2020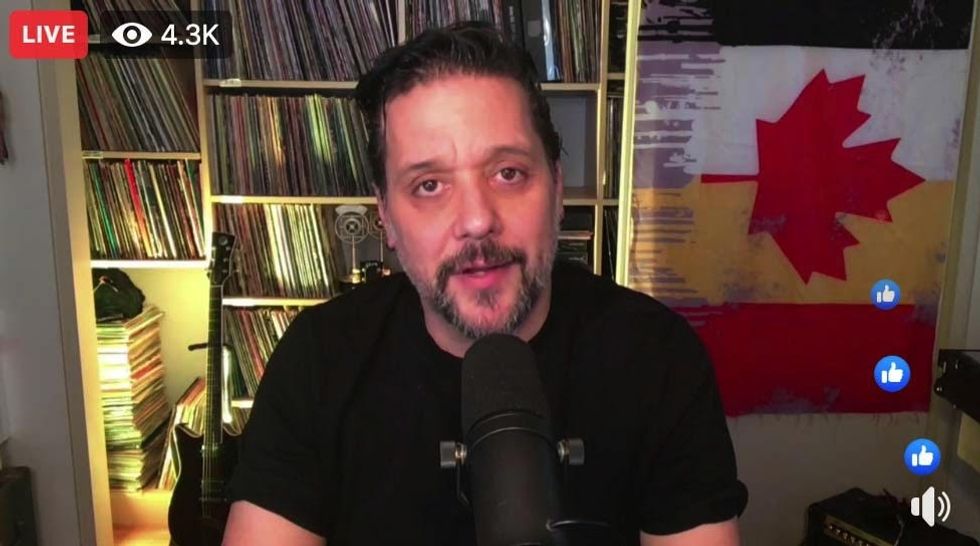 By Karen Bliss
Canada's Great Kitchen Party – Home Edition returns for an encore, tonight (May 6 at 8 pm EST) on Facebook Live, to encourage Canadians coast-to-coast to order food from local restaurants and then sit back and enjoy performances and food-related greetings from notable Canadians from musicians to Olympians. 
---
Every Wednesday, if you didn't know, is now #TakeOutDay, since the covid-19 pandemic necessitated stay-at-home orders.
The first three shows, viewed more than 700,000 times, raised $165,000 from individuals and companies for Goodfoodfund.ca, the Community Food Centres Canada (CFCC) charity which invests in low-income areas starting by providing access to healthy food. Maple Leaf Centre for Action on Food Security matched the amount for a total of $330,000.
"I must tell you that we put out an invitation to over 50 of our musician friends to be a part of this and every one of them came back and said, 'I'm in,'" Canada's Great Kitchen Party co-founder Stephen Leckie, said near the end of last week's webcast.
The fourth Home Edition will benefit MusiCounts, the charity arm of the Canadian Academy of Recording Arts & Sciences (CARAS) that provides musical instruments to schools and community programs. Jackson-Triggs winery is the matching sponsor, kicking it off with $20,000 to start.
Hosted by CBC Music's George Stroumboulopoulos, from his home in downtown Toronto, the past three kitchen parties have featured music by Jim Cuddy and sons Sam Polley and Devin Cuddy; Barney Bentall and son Dustin; Colin James; Tom Cochrane; Randy Bachman and son Tal; Loverboy's Mike Reno and wife Catherine St. Germain; The Tenor's Fraser Walters and wife Kelly Levesque; Barenaked Ladies' Ed Robertson; the husband/wife duo Whitehorse; Johnny Reid; Sarah Slean; Alan Doyle; Jully Black; and Sam Roberts — many returning each week.
"If you're able to, order some takeout today from your favourite local spot," said Strombo on the webcast. "These places that we rely on so much during regular times, well they need us now during these difficult times. They need to be able to rely on us. When you order from a restaurant tonight, we are showing them and everybody who works in that chain that they matter to us. That chain being the farmers, the dishwashers, the chefs, the delivery people, the restaurant owners, we are there for them today."
Last Wednesday was supposed to be the third and final edition, but at the end, as expected, he announced it would be back May 6.  "I think we should keep going," he said. 
Set to appear are The Jim Cuddy Band, Tom Cochrane, Ed Robertson, Barney Bentall, Alan Doyle, Geddy Lee, Raine Maida and Chantal Kreviazuk, Chilliwack's Bill Henderson; Danny Michel, 54.40's Neil Osborne and daughter Kandle, Serena Ryder, Glass Tiger's Alan Frew, Ashley MacIsaac, The Tenors, Mary Walsh, Ron MacLean, Col. Chris Hadfield and more.
"I think it's a great thing," said Cuddy during the April 29 webcast with his sons. "We've all made our living in the service industry at one time or another and we have a great appreciation of restaurants, and what they do for our social hub, and the advancement of food culture. We feel for them right now. I know they're having a rough time."
After ordering your takeout, one is encouraged to tag the name of the place in the comment section of the Facebook page, as well as to plonk it into Canadatakeoutmap.ca, which Strombo checks out a few times during the broadcast as it becomes more and more populated.
Viewers were also asked to donate directly to GoodFoodFund.ca (as noted, this week it will be MusiCounts), if they had the means.
"If you can make a donation, you can provide nourishment, provide hope of course, you will get a tax receipt and thanks to The Maple Leaf Centre for Action on Food Security, your $10 becomes 20; your 50 becomes a hundred dollars. That is meaningful change," said Strombo, namechecking companies which also donated, Neal Brothers, the Moffat family, Shine The Light On, Whole Foods. Dare Canada. Kicking Horse Coffee, and TMX.  "Over $135,000 matched for a total of 270,000 [dollars]," said Strombo, of the amount that went up in the days following.
Presented by Deloitte, the production costs for Home Edition (the segments are pre-recorded) are covered by Foodies Unite, created by foodservice giant Sysco, which uses its network to "support the continuity of food supply across Canada, help heal the Foodservice industry, help our customers, and help fight hunger through food relief partnerships to serve communities most in need."
Canada's Great Kitchen Party – Home Edition is the brainchild of the long-running Canada's Great Kitchen Party. Since 2006, the social enterprise has raised $16 million for Canadian athletes, and in the last two years has specifically focused on music, food and athletics.
"Home Edition is actually very, very new," said another co-founder Karen Blair. "Stephen and I have been very passionate and very interested in building community for a lot of years, over 15 years. And that's what Canada's Great Kitchen Party is. It's a celebration of Canadian excellence for Canadian culture and food and sport and music. And we've enjoyed sharing that journey with so many people who have helped us build the whole concept."
Monies raised from its 12 culinary competitions nationwide and international trips with Canadian musicians and athletes are committed to three charities, B2ten, supporting amateur athletes; MusiCounts; and CFCC. 
"Chefs and restaurants have been such an integral part of Kitchen Party, so we're delighted to support Takeout Day," said the third co-founder Lisa Paskin during the April 29 webcast. "We want our restaurants to survive this pandemic, restaurants in every city and every town across our country, just as we want our amazing Canadian wineries, breweries, distilleries to survive and thrive."