FYI
The Tin Pan Alley Of Folk Takes Over Montreal
During Folk Alliance International in Montreal, every showcase room, stairwells, and the nooks and crannies of the main lobby of the Fairmont Queen Elizabeth were crammed with musicians and singers and writers working out new and old songs. Pictured: Colina Phillips and Edgar Breau
Feb 25, 2019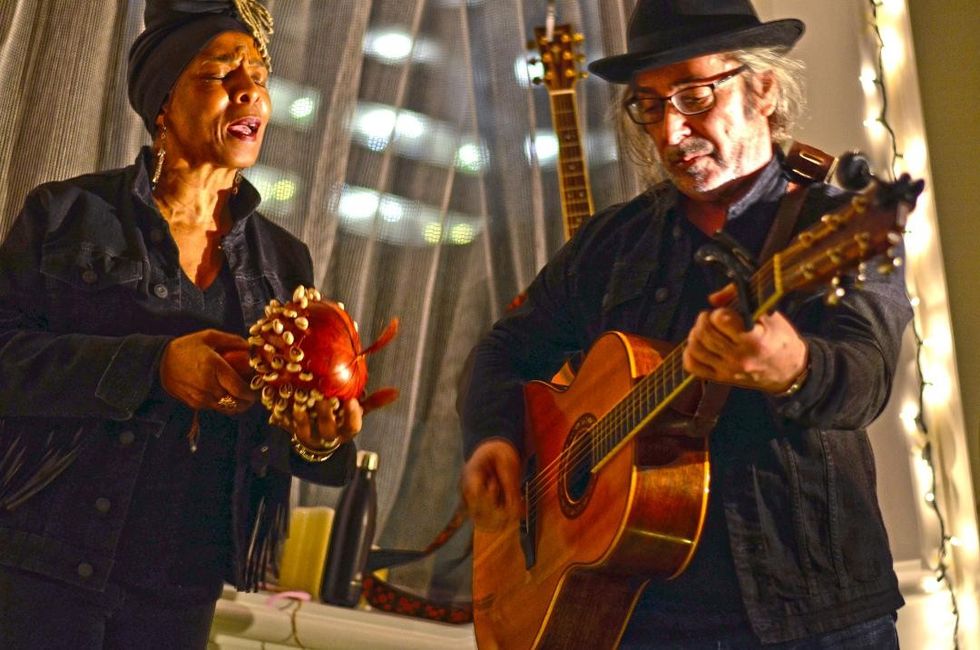 By Ellen Davidson
"It was the Tin Pan Alley of the folk music world," says artist/songwriter Rae Billing, from Hamilton, Ontario. And there couldn't be a more apt description of the 31st Folk Alliance International convention, held recently in Montreal at the Fairmont The Queen Elizabeth. In every showcase room, stairwells, and the nooks and crannies of the main floor lobby, musicians and singers and writers were working out new and old songs. In a lot of cases, they had never met before, but this was the world's largest gathering of all types of folk music, and they weren't going to miss the opportunity to jam with people who had flown halfway across the world or come in from three blocks away.
---
It was a remarkable balancing act that Folk Alliance pulled off, and in a hotel that had not hosted the event before. A steep learning curve for all then, including the musicians. But everything started on time, ended on time and delivered the goods. If there were hiccups, they were swiftly and efficiently dealt with.
"What I loved about it was the camaraderie that developed almost from the beginning," says Treasa Levasseur, the Canada rep for Folk Alliance. "There was a significant increase in delegates, the highest we've ever had in Canada, and it certainly exceeded expectations. A highlight for me? The first-ever global Indigenous summit, organized by ShoShona Kish, a well-known organizer, musician [Digging Roots], producer and activist from the Anishinaabekwa community. It was brilliantly curated, with a great love for the past and both eyes squarely focused on the future."
The event also recognized the issues of mental health and addiction, something acknowledged by the music industry for decades but only addressed relatively recently. Before 2019, the stressors that accompany performing were accepted as part of the admission fee, but organizations such as the Folk Alliance have taken solid steps towards creating safety nets as well as pro-active advocacy.
And generally, the private showcase rooms … those 21st century Tin Pan Alley corridors … were filled with musical denizens who were well-behaved albeit boisterous, excited, and charged with enough energy to power the hotel itself if necessary.
Storming between floors via service elevators and stairwells because the usual bank of elevators just couldn't keep up with close to 3,000 delegates, the performers, managers, and bookers tracked the acts they wanted to see with military precision. A little of Montreal there, some Inuit one floor up. Interspersed were flinty Americana, jump-up blues, Cajun fiddle and accordion, and traditional folk, among dozens more. Any outfit was welcome as well, from South American gauchos, to airy gowns perfect for helicopter dancing if there'd been any room to demonstrate, to myriad cowboy hats, whether one qualified or not. Everyone was accepted with open arms and open tuning.
The air is so quiet now. Time to make your own music. Practice for the 32nd Folk Alliance International next year in New Orleans from January 22 through 26.
International Folk Music Award 2018 Winners:
*Album of the Year: Rifles & Rosary Beads by Mary Gauthier
*Song of the Year:  "The President Sang Amazing Grace" by Zoe Mulford, recorded by Joan Baez
*Artist of the Year: I'm With Her
Spirit of Folk Awards: Alfredo Caxaj, Ellen Hamilton, Gilles Garand, Matt Smith, Michael Wrycraft, ShoShona Kish, Sonny Ochs and Sofia Rei
The People's Voice Award: Buffy Sainte-Marie
The Clearwater Award: Hillside Festival, Guelph, ON
Folk DJ Hall of Fame Inductees: Bob Harris, Matt Watroba, Wanda Fischer.
Lifetime Achievement Awards: Leonard Cohen (Legacy), Joni Mitchell (Living)
*Finalists for the 2018 Album, Song and Artist of the Year awards are based on U.S., Canadian, and International industry year-end lists as well as Folk DJ airplay. Winners are determined by the voting membership of Folk Alliance International, and the results are announced annually.