FYI
Snotty Nose Rez Kids, Dan Mangan Win At The Prism Prize
The prestigious and lucrative 2023 Prism Prize for Canadian Music Video of the Year went to Snotty Nose Rez Kids' Damn Right, directed by Sterling Larose (pictured). Dan Mangan and director Lester Lyons-Hookham won the fan-voted Audience Award for Fire Escape.
Jul 10, 2023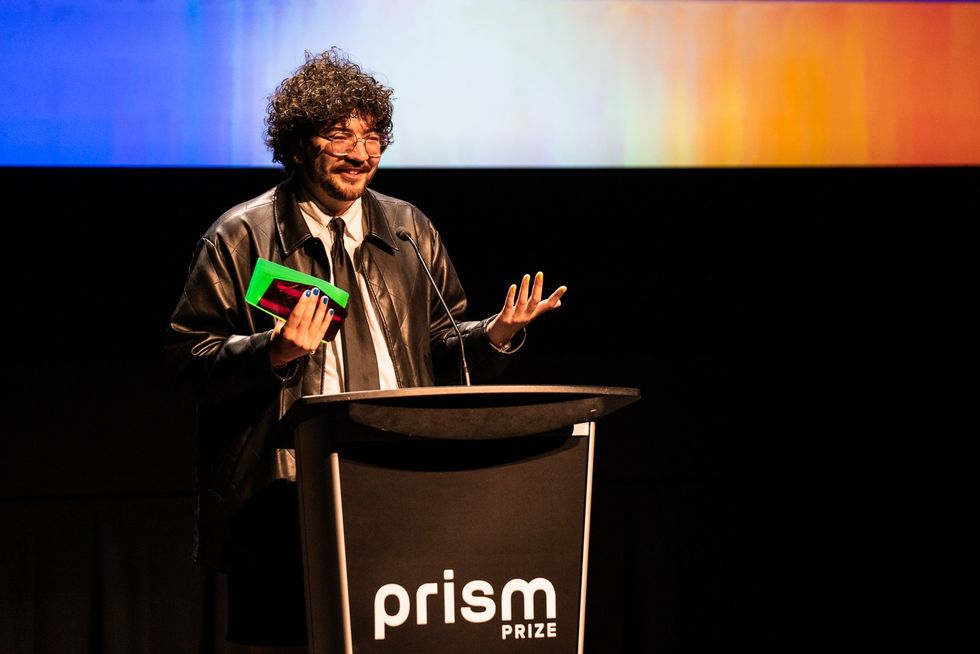 By FYI Staff
Snotty Nose Rez Kids' Damn Right, directed by Sterling Larose, was named Canadian Music Video of the Year at the 2023 Prism Prize live screening and award show that took place at the TIFF Bell Lightbox in Toronto on July 6. The video for Fire Escape by Dan Mangan, directed by Lester Lyons-Hookham,  took home the fan-voted Audience Award
---
The annual Prism Prize, an annual awards event that recognizes outstanding artistry in music video production, features a $20,000 Grand Prize for the Canadian music video of the year, selected by a jury of more than 135 creatives from the Canadian music, film and media art scenes. The $5,000 Audience Award is supported by Stingray.

The 2023 Prism Prize screening and awards presentation, hosted by stand-up comedian Moe Ismail, paid tribute to the artistry showcased within the Top 10 Canadian music videos of the year which explored themes of racism, discrimination, violence, sexuality, heartbreak, justice, and self-expression. 

"The deeply engaging music videos that were created by the 2023 Prism Prize Top 10 artists and directors prove that the artform continues to reach new heights, and we are thrilled to have celebrated their incredible work at the 2023 Prism Prize," said Louis Calabro, Vice-President, Programming & Awards, at the Academy of Canadian Cinema & Television and the Founder of Prism Prize. 

In addition to the Grand Prize and Audience Award, the 2023 Prism Prize live screening and awards presentation celebrated the 2023 Special Award recipients, who are honoured for their achievements and contributions to the music industry, both in Canada and abroad:
Canadian singer-songwriter, Nemahsis, was presented with the Hi-Fidelity Award (supported by FACTOR, the Government of Canada and Canada's Private Radio Broadcasters), established to recognize recording artists who utilize music videos in innovative ways;
Montreal-based director Aimé Irabahaye was awarded the Lipsett Award, established to celebrate a unique approach to music video art;
Montreal-based photographer and director Adrian Villagomez was granted the Special Achievement Award (supported by The Slaight Family Foundation) established to recognize an exceptional contribution to music video art on the world stage;
Award-winning Toronto-based director, Sara Elgamal, was given the Willie Dunn Award (supported by Telefilm Canada), presented to a Canadian trailblazer who has demonstrated excellence within the music, music video and/or film production communities. As the recipient of this award, Sara received a $2,500 honorarium and was asked to select an emerging Canadian creative to spotlight during the Prism Prize live screening and awards presentation and to be the beneficiary of $2,500; she selected Toronto-based producer Roya Del Sol.
All other creative teams from the Top 10 will receive complimentary memberships to the Academy of Canadian Cinema & Television, courtesy of Telefilm Canada. All Prism Prize Award recipients, including the Grand Prize, Audience Award, and all Special Award winners, will receive equipment rental grants in the amount of $2,500, courtesy of partners at William F. White International Inc. 

To watch music video work from this year's Special Awards recipients and Top 10 finalists, as well as hundreds of other eligible videos from years past, visit PrismPrize.com.