FYI
Music News Digest, Oct. 3, 2018
The Re:Wind fundraiser (pictured) is a smash hit, Barenaked Ladies get their Day in Toronto, and Juno submissions open. Others in the news include CIMA, MusicOntario, Sheepdogs, Led Zeppelin, CMAOntario, Whitehorse, Myriad3, Jess Moskaluke, Basement Revolver, Don McLean, Max Kerman, TBS, Slim Jim Phantom, and farewells to Kim Larsen and Charles Aznavour. Videos supplied for your enjoyment.
Oct 03, 2018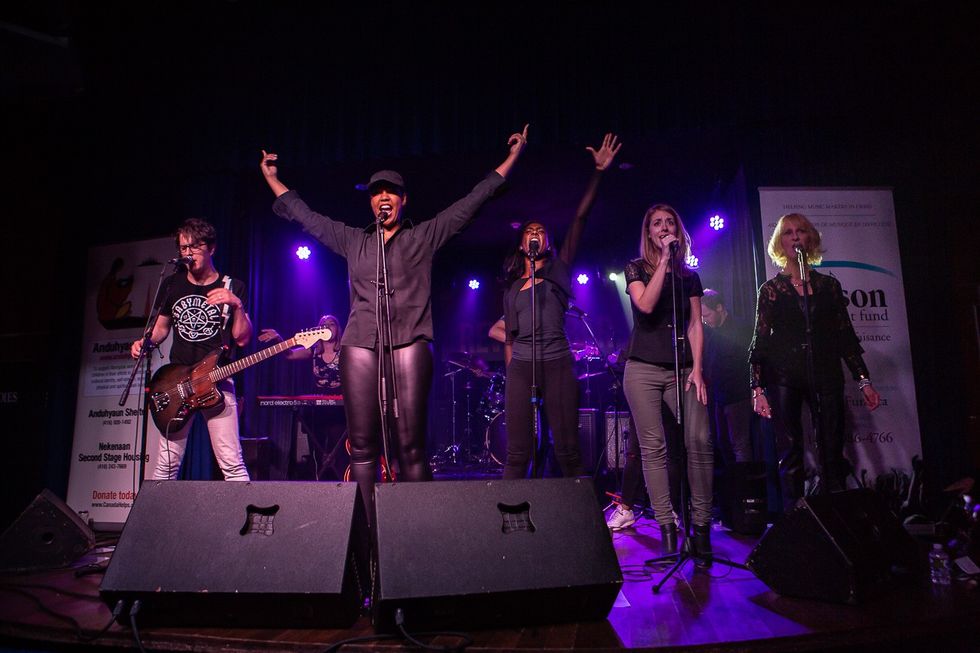 By Kerry Doole
Last week's Re:Wind, Re:Sound's 6th Annual Fundraiser Concert in Toronto raised the spectacular sum of $36,130. The funds raised this year will go to Unison Benevolent Fund and Anduhyuan Inc. The event, presented under the theme "Celebrating Women in Music" and held at Revival Bar, lifted the six-year fundraising total to more than $100K.
---
This is the third year in a row that Re:Sound has supported Unison, which provides counselling and emergency relief services to the Canadian music community. For the first time, this year a portion of the funds are directed to a second organization, Anduhyaun Inc, which supports Indigenous women and children in their efforts to maintain their cultural identity, self-esteem, economic, physical and spiritual well-being.
Attendees at Re:Wind were entertained by an all-star showcase of musical talent, featuring performances by staff bands from Re:Sound (joined by surprise guest Andy Maize from Skydiggers), SOCAN Music, Canadian Musical Reproduction Rights Agency, Sony Music Canada, and from the floor, DJs Music Canada.
– The City of Toronto officially proclaimed October 1, 2018, as Barenaked Ladies Day in commemoration of the band's 30th Anniversary. Mayor of Toronto John Tory stated in the proclamation that "Although they have achieved commercial success selling 15 million albums and winning eight Juno awards, Barenaked ladies have remained humble and true to their Canadian roots on the world stage." The press release omitted the fact that back in 1991, the staff of then-Mayor June Rowlands banned the band from performing at the city's annual NYE show at Nathan Phillips Square, City Hall based on their name, one they found offensive!
– The Canadian Independent Music Association (CIMA) & MusicOntario are holding their AGM in Toronto on Thursday (Oct. 4), and is extending an invite to all interested. The event features the election of a new Board of Directors, live music from Witch Prophet and Megan Bonnell, a special guest speaker, an industry presentation from Muzooka, and food and beverages. It takes place at The Hideout on College Street, from 4 pm. RSVP for the AGM here . List of board nominees here 
– The Canadian Academy of Recording Arts and Sciences (CARAS) is now accepting submissions for the 2019 Juno Awards, with a Nov. 9 (5 p.m. EST) deadline. To be considered for nomination for the 2019 Awards, national music release dates must fall between the eligibility period of Sept. 1, 2017, and Nov. 9, 2018. Submit here
– Ottawa will host the 2019 CMAOntario Festival and Awards, the first time it has taken that role. Announced yesterday by the Country Music Association of Ontario, the annual three-day fête takes over various venues in Ottawa from June 14-16.
– The Sheepdogs drummer Sam Corbett announced Monday on the band's social media platforms that he was diagnosed with cancer this summer. The concerts the band had to cancel "for a medical emergency" were so Corbett could have surgery to remove a tumour, he said. He has begun further treatment and is optimistic about his recovery. The band is continuing to tour the US and then Europe with a substitute drummer. Source: Saskatoon Star-Phoenix
– At least seven people were hurt at a festival in Central Park, New York City, on Saturday when a loud noise sparked a mass panic. The New York Daily Newsreports that "The Global Citizens Festival on the Great Lawn was in full swing about 7:30 p.m. when a security barrier fell and made a loud popping noise — one many thought was a gunshot. Scores of people scrambled out of the concert area, pinning a handful of people against a fence." Coldplay's Chris Martin came onstage to calm the crowd after the panic. Others on the fest bill included The Weekend, John Legend and Cardi B.
– One of rock's most classic tracks, Led Zeppelin's "Stairway to Heaven" is headed back to court. Back in 2016, Led Zeppelin won a court case after they were sued by the estate of late Spirit guitarist Randy California for allegedly lifting from his obscure 1968 instrumental "Taurus" for the opening chords of "Stairway." Last Friday, a federal appeals court in San Francisco ruled that trial wasn't fair, so the case is going to a retrial. Source: Bloomberg
– A Christmas party on Oct. 1 may seem a mite strange, but there was a method to Six Shooter Records' madness. They were keen to spread the word on an upcoming Christmas album from Whitehorse (title and release date TBA). The SS Toronto offices were decorated festively, mulled wine was on offer, and Luke and Melissa from Whitehorse delivered a fine new original holiday tune alongside a couple of classics. Luke told FYI he's not the biggest fan of the genre, but cited a Chieftains Christmas record as a fave. Industry types spied included Jake Gold, Julien Paquin, Jesse Kumagai, Jude Coombe, Susan De Cartier, Kate Boothman. Nick Krewen, and Neville Arbuckle.
– Myriad3 is a Toronto-based trio whose adventurous take on jazz has been warmly received on tours of Japan and Europe. They do have a Juno nomination at home but deserve wider recognition. The group's fourth album, Vera, has just been released on Alma Records, and the lads play Jazz Bistro in Toronto tonight (Oct. 3). Recommended.
– Those craving a fall fix of Xmas music will be pleased to hear that Juno and CCMA Award-winning country star Jess Moskaluke is releasing a Yuletide-themed album,  A Small Town Christmas, on Friday, via MDM Recordings/UMC. The 9-song release includes collaborations with Cassadee Pope, Paul Brandt, Hunter Brothers and The Lovelocks. She plays holiday shows at Painted Hand Casino, Yorkton, SK, on Nov. 29 and Toronto's Harbourfront Centre, Dec. 11.
– Hamilton indie-rock trio Basement Revolver is turning ears with a recently-released album, Heavy Eyes. The group has been playing Canadian shows and starts an eight-date UK tour tonight (Oct. 3). Here's a brand new video.
– You won't find him in the charts these days, but the catalogue of famed singer/songwriter Don McLean ("American Pie," "Vincent") still packs a potent punch. He recently signed a third extension to his ongoing administration deal with Universal Music Publishing Group, worth some $4.5 M (US). McLean's relationship with UMPG goes back to 1990, and he states that "Universal has done a great job at getting my songs in movies and TV shows, and they are a first class, worldwide organization."
– The popular Mike on Much podcast is moving to the screen, with eight episodes to begin streaming on CraveTV later this year. The show is the creation of writer/producer Mike Veerman, Arkells frontman Max Kerman, and YouTube producer Shane Cummingham.
– The office of the Toronto Blues Society (TBS) was severely damaged in flooding in August. Things are back to near normal there, but the org is seeking donations to help cover costs. 
– Toronto rockabilly fans are excited by a Cadillac Lounge gig this Saturday. It is headlined by Slim Jim Phantom of the Stray Cats, and a band featuring Jennie Vee and Jamie Jameson, with T.O.'s best rockabilly band, The Royal Crowns, opening up. Cool stuff, daddy-o. Caddy owner Sam Grosso promises "guaranteed satisfaction or your money back."
RIP
Peggy Sue Gerron, the woman who inspired Buddy Holly's 1957 classic, "Peggy Sue," has died at the age of 78.   
Gerron met the Texas rocker  in Lubbock in the mid-Fifties when he was a budding musician and she was still a high school student at Lubbock High (Holly's alma mater). She once recalled to the BBC that their first encounter occured when Holly, running late for a gig, accidentally knocked her over.
Several weeks later, Gerron was on a date with her future husband, Crickets drummer Jerry Allison, when they ran into Holly and his date. "[Holly] started laughing, Jerry asked him what was so funny, and he said 'I've already overwhelmed your Peggy Sue,'" Gerron remembered.
One version of the story behind the hit song "Peggy Sue" is that Allison persuaded Holly to change the trak's original title of "Cindy Lou" to impress Gerron. Source: Rolling Stone
Kim Larsen, termed Denmark's most beloved singer, died on Sept. 30 at age 72, from prostate cancer.
He has been one of Denmark's most popular artists since the 1970s and has sold millions of records. He has been termed that country's Elvis.
Larsen first found fame fronting the band Gasolin', then went solo in 1978. In 1984, he co-wrote and starred in the film Midt om natten. He also wrote and played most of the music on the soundtrack, among the best-selling Danish albums of all time.
In 2006, Larsen declined the Knight`s Cross of the Order of the Dannebrog, saying that he disapproved of the notion of bestowing personal honours. Four years later, he performed for Queen Margrethe on the occasion of her 70th birthday. Source: Celebrity Access
Charles Aznavour (born Shahnour Varinag Aznavourian), the actor and singer known as the 'Frank Sinatra of France', died on Oct. 1, aged 94.
Aznavour, who was born in Paris to Armenian parents, sold more than 100m records in 80 countries and had about 1,400 songs to his name, including 1,300 he wrote himself. He was sometimes described as the French answer to Frank Sinatra because of his stirring, melancholic style.
He left school aged nine to become a child actor and went on to have a successful parallel acting career, most notably appearing in François Truffaut's new-wave classic Tirez Sur le Pianiste (Shoot the Piano Player), Claude Chabrol's Les Fantômes du Chapelier (The Hatter's Ghost), and the 1979 Oscar-winning film adaptation of Günter Grass's The Tin Drum.
His singing career was forged in occupied Paris during the second world war, performing in cabarets as his parents secretly worked with the resistance, hiding Jews, communists and others in their apartment. Aznavour opened for Édith Piaf at the Moulin Rouge, and the famous singer was an early adviser.
He is one of the most celebrated exponents of the French "chanson" form – easy-listening songs with vivid lyrics, rich in storytelling, emotion and humour.
His biggest hit in English was "She," a 1974 romantic ballad in which Aznavour confronts the equal joy and strife in a relationship, nevertheless declaring "the meaning of my life is she". It spent four weeks at No 1 in the UK singles chart and was also recorded in French, German, Italian and Spanish.
The song was a moderate hit again in 1999 when it was covered by Elvis Costello for the soundtrack to the film Notting Hill. Aznavour's only other solo hit in the UK was with "The Old Fashioned Way," which reached the top 40 in 1973.
Over the years he recorded duets with the likes of Sinatra, Elton John, Céline Dion, Bryan Ferry, Liza Minnelli, and Sting, as well as the classical tenors Luciano Pavarotti and Plácido Domingo.
The French president, Emmanuel Macron, tweeted: "Charles Aznavour was profoundly French, deeply attached to his Armenian roots and known throughout the world. He has accompanied the joys and pain of three generations. His masterpieces, the tone of his voice, his unique radiance will long survive him." Source: The Guardian