FYI
Music News Digest, Nov. 6, 2019
Oscar Peterson (pictured) and D.O.A. earn the Slaight Family Polaris Heritage Prize designation, ren signs to Geffen, and Johnny Orlando and Shawn Mendes earn EMAs. Also making news are CMTF, Bill King, SATE, Brad Machry, Neil Young, Indie Week, Gord Bamford, Aphrose, Hilario Duran, and farewell Kelley Looney. With video.
Nov 06, 2019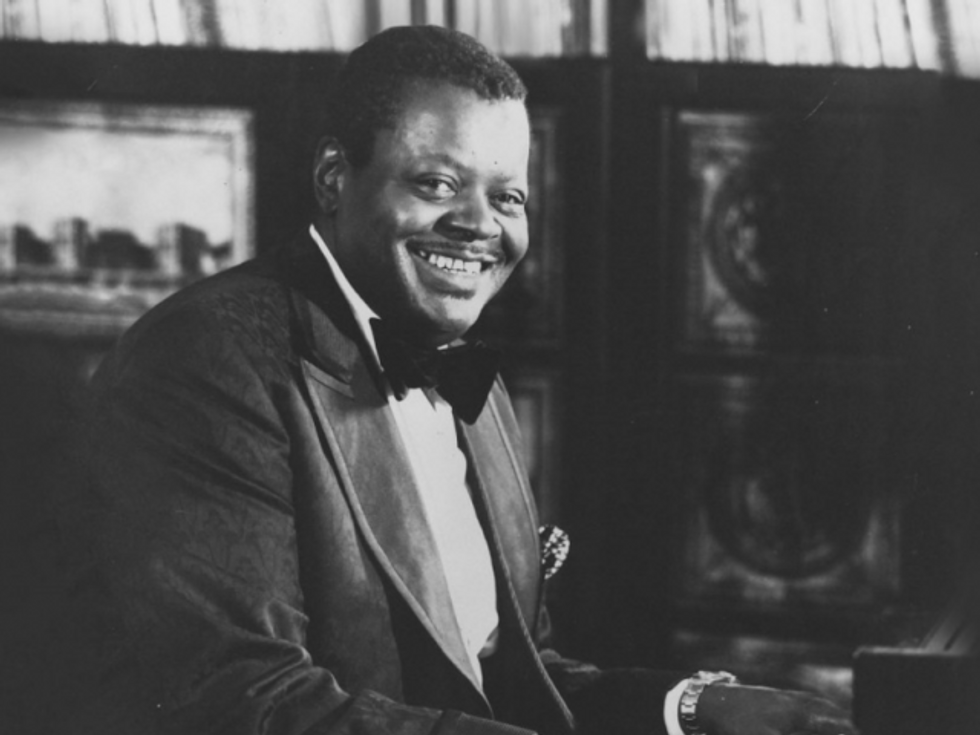 By Kerry Doole
The Polaris Music Prize has announced the Oscar Peterson Trio's Night Train and D.O.A.'s Hardcore 81 albums as the 2019 recipients of the Slaight Family Polaris Heritage Prize designation. D.O.A.'s genre-defining 1981 hardcore punk album was chosen over 11 other nominated albums in the Re:Sound-supported Heritage Prize public voting category, which ran from Sept. 17 - Oct. 18. A 10-member Polaris Heritage Prize jury selected the 1963 album by the legendary jazz pianist Peterson and his trio made up of music media and historians.
---
Gary Slaight, President and CEO of Slaight Communications, offered congratulations to the winning artists. "You've created important memorable recordings that have had a lasting impact on the musical landscape. I have tremendous appreciation for the work that has gone into creating these timeless albums," he stated. Past Slaight Family Polaris Heritage Prize winners include Leonard Cohen, Joni Mitchell, Neil Young, Alanis Morissette, Peaches, Glenn Gould, Dream Warriors and Harmonium. The Prize is viewed as a Hall of Fame for Canadian albums released in the pre-Polaris Music Prize era.
– Could 17-year-old Toronto singer/songwriter ren be the city's next breakout star? Geffen Records thinks so, as Billboard reports that the famed label has just signed her. She created an online buzz and high streaming numbers with two singles earlier this year, waves and mind games. Ren releases her first single through Geffen on Nov. 13.
– Multi-platinum Canadian popsters Walk Off the Earth are striding atop the charts. The group's new album, HERE WE GO!,  bows at #1 on Nielsen's Pop Album Chart, #3 on Canada's Top Albums Chart, and debuts in the Top 5 on Billboard's Album Sales Chart. The album, the band's fifth studio effort, marks its first major release in over 4 years and follows the unexpected loss of band member Mike "Beard Guy" Taylor late last year.
– Move over Shawn and the Biebs, there'a new Canuck heartthrob in town. Pop singer and songwriter Johnny Orlando took home his first-ever MTV Europe Music Award (EMA) Sunday night in Seville, Spain for Best Canadian Act. Fellow noms for the fan-voted gong award included Shawn Mendes, Avril Lavigne, Carly Rae Jepsen, and Alessia Cara. Past winners in the category include Shawn Mendes (2016-18) and Justin Bieber (2013-2015). Following Orlando's win, he co-presented the final award of the EMA broadcast for Best Video with model and designer Leomie Anderson, which was taken home by Taylor Swift for ME! ft. Brendon Urie of Panic! At The Disco.
Mendes had a fine night though, winning the coveted Best Artist Award in beating out Taylor Swift and Ariana Grande. A full list of winners here.
– The Canadian Music Therapy Fund's second annual UN-GALA was a major success, raising $40K. Held at Propeller Coffee in Toronto, the event featured Skratch Bastid, k-os, and Matata 6.
– On Saturday (Nov. 9), popular music biz veteran Brad Machry (True North) celebrates turning 40 by throwing a party (open to the public) at This Ain't Hollywood in Hamilton. This features sets from two powerhouse vocalists, Carole Pope and SATE, and the night doubles as a wrap party for the Hamilton Film Festival and a launch for Moonlight Desires' new EP At The Movies, comprising covers of '80s movie theme songs. Tix for the fun event here
– Cinemascopeis an evening of original compositions inspired by the big screen from pianist/composer/musical renaissance man Bill King at Toronto's Roland Inspiration Centre (1179 King St. W.) on Nov. 14. Attendance is free but you are urged to donate to the Daily Bread Food Bank by bringing a non-perishable food item or making a cash donation online here. RSVP here 
– In the wake of reports about falsehoods being posted on Facebook, Neil Young is musing about leaving the platform. In a statement at Neil Young Archives, he says, "We keep looking at Facebook and wondering if we should be using that at all, given the latest news. It's a problem we face together. FB gives you more than you want, and it's not all good. A lot of it is very bad misinformation about political campaigns and ads that are outright falsehoods. These are fine with Facebook, but not with NYA. If we were to leave Facebook with our social outreach we would lose communications with millions. If we continue to be on Facebook, we are conflicted about who we are."
– After tallying over 13K votes, Indie Week has named the four finalists for its Best of the Fest contest: Bo Welland (Can), Free But Sharp Pain (Japan), Luxe (Can), and Piqued Jacks (Italy). The finalists will perform at the Indie Week Canada 2019 Awards Show on Nov. 17 at Toronto's Mod Club Theatre and will be judged by a panel of international music industry reps, with one band being crowned the Best of the Fest. Also playing the show are Nikkis'sWives and South Korean band TRISS, 2018's Best of the Fest.
– Canadian country star Gord Bamford has announced a partnership with Peavey Mart, MainStreet Hardware and TSC Stores parent company, Peavey Industries LP. The 5-year collaboration begins Jan. 1, 2020, and will provide heightened opportunities to both Bamford and Peavey Industries to connect with rural fans and customers in communities across the country. Peavey Industries' three brands will have a presence on Bamford's next grassroots Canadian tour and will assist with fundraising opportunities for the Gord Bamford Foundation.
Toronto-based indie soul artist Aphrose releases a new album, Element, on Friday (Nov. 8), launching it with a hometown show at Burdock tomorrow. She recently opened a tour by Moon vs. Sun ( Raine Maida and Chantal Kreviazuk). Here's her new single, Weak.
– The 2019 Etobicoke Jazz Festival runs Nov. 7-10 at The Crooked Cue. An A-list lineup includes Hilario Duran, Robi Botos, El Negron, Roberto Occhipinti, Lorne Lofsky, Laura Fernandez, and Pat Labarbera. Tickets here 
RIP
Kelley Looney, Steve Earle's long-time bass player, died on Nov. 4 at the age of 51. No cause of death has been reported. Looney contributed to Earle's breakthrough album Copperhead Road and had been with Steve Earle and The Dukes since 1996.
Earlier in his career, he played with Eddy and Billy Joe Shaver, Joe South, Connie Smith, The Thieves, Tom Kimmel, and Deana Carter. In 2014, Looney released his first solo album, Black Sheep Blues. Source: Heavy