FYI
Music News Digest, May 3, 2021
Cory Marks (pictured) is certified gold, the Westward Music Festival announces its schedule, and Canadian artists showcase at The Great Escape. Also in the news are The Damn Truth, CIMA, Indie Weekly, Mike Renaud, CMTF, Sean Ono Lennon, Sina Bathaie, Men Without Hats, Cœur de pirate, IASPM-Canada, and farewell Wendy Gilmour and Anita Lane.
May 03, 2021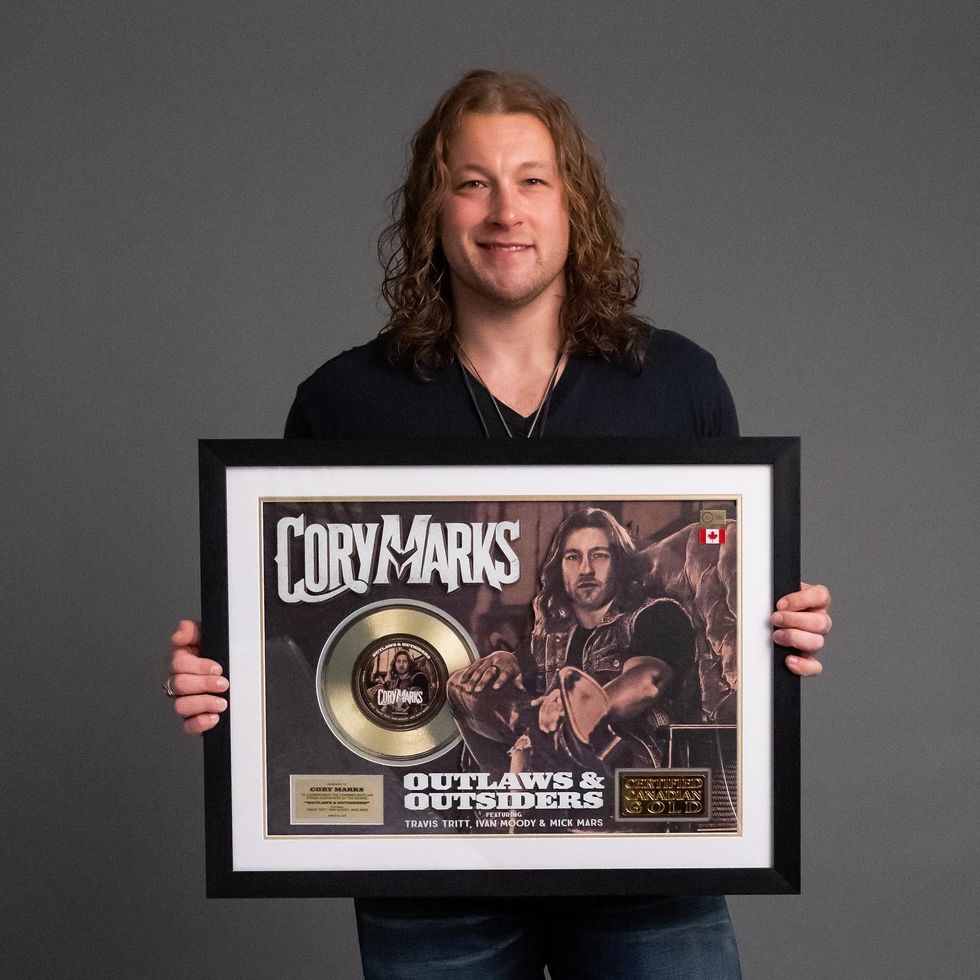 By Kerry Doole
Last week, BC's Westward Music Festival announced the first wave of its 2021 lineup. Depending on the covid situation at the time, plans call for the fest to take place from Sept. 8 to 13 at various venues in downtown Vancouver. That list includes the Vogue Theatre, Biltmore Cabaret, Biltmore Ballroom, Fox Cabaret, Imperial, and Rickshaw Theatre. Performers announced include BBNO$, Bryce Vine, Sylo Nozra, , Night Lovell, Haviah Mighty, Deante' Hitchcock, Odie, French 79, Brownies & Lemonade Afterparty featuring K?D, Turbo, Bye Felicia featuring Kandy Muse, Robotaki, Chad Vangaalen, Balming Tiger, Nyssa, DaysOrMay, Sam Lynch, and Cam Blake. Ticket info here. Source: Georgia Straight
---
– CIMA is partnering with Manitoba Music, Music BC, MusicOntario & Music Nova Scotia to present The Great (Virtual) Escape to Canada House showcase shortly. It will take place on May 13 or 14 (date and time TBC). The four Canadian artists who will showcase during Canada House at The Great Escape 2021 fest are iamtheliving, Laura Roy, Rayannah, and Witch Prophet. The virtual festival channel is free here.
– Canadian country-rock artist Cory Marks has just been certified gold in Canada for his breakout single Outlaws & Outsiders, featuring Ivan Moody of Five Finger Death Punch, Travis Tritt and Mick Mars of Mötley Crüe. A global hit with over 33 million streams worldwide and featured in the SNO BABIES soundtrack, the successful crossover track launched Marks' rise to fame in both the US and Canada over the past year.  Marks' new single, Blame It On The Double, featuring Tyler Connolly of Theory of a Deadman and Jason Hook, and produced by Kevin Churko, is a rockin' remake of a song that first appeared on Marks' debut album Who I Am. 
– The next Indie Weekly webinar tackles the timely topic of blockchain. Held tomorrow (May 4) at  4 pm EST, the session is entitled Contextualizing Blockchain Technologies and Their Possibilities for Musicians & Content Creators, and features Mike ('Parkside') Renaud of Hidden Pony simplifying and contextualizing Blockchain, Cryptocurrencies, NFT's, AI, and more, using his lens as a successful artist development and music manager. He will also be speaking about The Token Of Gratitude initiative.  Free registration here
– The Canadian Music Therapy Foundation (CMTF) has announced that its recent Song Session for the Frontline 90s Edition raised over $30K. It was sponsored by RX Music, Music Canada and Slaight Music. If you missed the live event, you can watch it here
– Sean Ono Lennon has written and directed I Am the Egbert, a series of innovative animations using the Spotify Canvas medium to visually accompany the 11 album tracks and three singles of the Enhanced Spotify release of John Lennon/Plastic Ono Band – The Ultimate Mixes. Ono Lennon worked closely with the Toronto team behind the Emmy Award-winning, Oscar-nominated 2007 animated short, I Met The Walrus, about his father John Lennon. That group includes producer Jerry Levitan, illustrator James Braithwaite and Director of Animation Josh Raskin. Ono Lennon described the project on Instagram recently.
–  On May 4 and 5, MusicOntario, Music Publishers Canada, and CIMA are jointly presenting a two day web workshop entitled Trans In The Music Industry: Where To Start. The event is designed with, by and for Trans folks to foster access to information, community, and opportunity in the industry. Participants and speakers include T. Thomason, Erin Carroll, Ronnie Ali, Amie Therrien, Trisha Carter, Kim Temple, Linda Bush, Mavis Harris, Erin Kinghorn, and Lucas Silviera.  More info here.
– Acclaimed Toronto santur player and composer Sina Bathaie recently released a new single and video, Shades. He informs FYI that "I'm working on my third album, creating a new sound incorporating electronic element along with traditional instruments and sounds from the Middle East." Stay tuned.
– The pandemic lockdown situation across the country has made the return of drive-in concerts this summer more likely. Just announced is a show by Men Without Hats at Calgary's Grey Eagle Drive In on May 28. Dance safely!
– On Friday, Montreal singer/songwriter Cœur de pirate released a surprise instrumental album, Perséides. It features her playing piano on original compositions  inspired by cities in Quebec that she visited and that left a mark on her in her youth. 
– On June 16, the IASPM-Canada 2021 Conference presents an online seminar entitled The Covid Crisis and Changing Business Models for the Atlantic Canadian Music Industry. Featured guests include Nigel Kearns & Duane Nardocchio (CBMIC), Chris McDonald, and Simon McKerrell. More info here.
– Hotly-tipped Montreal rock band The Damn Truth has been making a splash across the pond, and has just announced its first UK tour. It will be in Feb. 2022, presented by Planet Rock Radio (where the group is on the A playlist) and The Gig Cartel, one of the UK's big concert promoters. The trek is in support of King King, but will also include some headline shows. The Damn Truth's only UK show to date was at the 02 Academy Islington in 2019, and it helped fuel the British excitement.
RIP
Wendy Christine Gilmour (nee Leppard), an East Coast artist manager, died on April 24, after a long battle with cancer.
Gilmour was born in London, ON, and moved to Nova Scotia with her family in 1980. After working at Halifax's IWK Health Centre in Radiology for 15 years, she began a career in the music industry. She started by designing websites and expanded into artist management.
She handled acclaimed folk artist Lennie Gallant, and worked with Sons of Maxwell, Dave Gunning, George Canyon, Bruce Guthro, and more. On Facebook, Gallant posted: "A wonderful supporter of music from the east coast and a great person to have in your corner in this business. I was fortunate to have her in mine for many years."
Two years ago she returned to the IWK in the ENT Department.
If you wish to make a donation in her name please consider the Canadian Cancer Society or any charity of your choice. Sources: DonaldWalker.ca, Lennie Gallant.
International
Anita Louise Lane, an Australian singer-songwriter who was briefly a member of The Bad Seeds with Nick Cave and Mick Harvey, and collaborated with both bandmates, died in April, at age 61. A cause of death has not been reported.
Anita Lane met Nick Cave in the late 1970s, leading to their work together with the Birthday Party in the early '80s. Lane wrote the lyrics to A Dead Song (from 1981's Prayer on Fire) and also wrote lyrics for two songs on 1982's Junkyard. In addition, she co-wrote several of Cave's career-defining songs, including From Her to Eternity and Stranger Than Kindness. Her solo debut, the 1988 EP Dirty Sings, featured performances by Cave and members of the Bad Seeds.
After working with Lane in the Bad Seeds, Mick Harvey produced Lane's two full-length albums: 1993's Dirty Pearl and 2001's Sex O'Clock. Lane continued to contribute to Bad Seeds records up through 1995's Murder Ballads. Shortly after the news of her death, Nick Cave published a tribute to Lane, terming her "the smartest and most talented of all of us, by far." 
Sources: Pitchfork, Rolling Stone, Variety