FYI
Music News Digest, July 9, 2020
BreakOut West 2020 (pictured) announces a Home Edition, Dine Alone and Dallas Green raise big bucks for BLM charities, and CIMA and Music Publishers conduct an important survey. Others making news include Spotify, Emanuel, This Ain't Hollywood, John Cody, Natalie MacMaster and Donnell Leahy, The Rivoli, Purity Ring, The Bros. Landreth, Kathleen Edwards, Steve Waxman, Graeme Williamson, Julien Corriveau, Lindsay Ell, the Senator Restaurant, Comedy Records, and farewell Ennio Morricone, Nick Cordero, and Charlie Daniels. With video.
Jul 09, 2020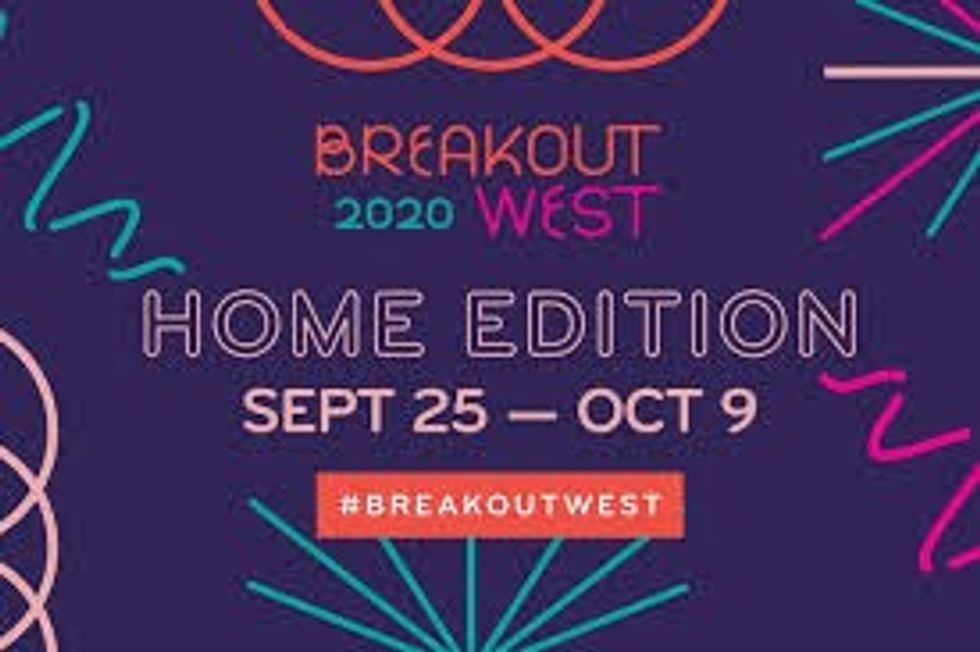 By Kerry Doole
The latest annual festival and conference forced to go virtual is BreakOut West 2020. It had been set to take place in Winnipeg from Sept. 30 - Oct. 4, but covid-19 issues have brought about the change. The online version (Home Edition) will bring attendees a 15-day immersive online experience that provides artists and industry with the opportunity to expand their careers through informative keynotes and panel discussions, mentorship meetings, networking mixers, wellness moments and new music discovery. 
---
BreakOut West: Home Edition will kick off on Sept. 25 with the Western Canadian Music Awards. The winners of the artistic and industry categories will be named during a special live-streamed event. Passes for BreakOut West: Home Edition are $50 each, with discounts for members of the Western Canadian Music Industry Associations, SOCAN, CIMA and CLMA members. Visit breakoutwest.ca/registration to purchase passes. 
– Dine Alone Records and Dallas Green (City and Colour/Alexisonfire) raised$175K together with the help of artists and friends across the industry—Alexisonfire to A$AP Rocky, Daniel Caesar to The Tragically Hip, P!nk to Alice in Chains, celebrity chef Matty Matheson to the Letterkenny cast—through a special raffle, with 100% of proceeds to be donated to various charities in support of the Black Lives Matter movement. The label virtually opened its doors from June 25 to July 5 to raffle dozens of items donated by various artists. The full list is available here. All contributions raised from the raffle will be split evenly and donated directly to the following organizations: Black Lives Matter (Toronto), Black Lives Matter (Global), NIA Centre For the Arts, The Bail Project, and Black Women in Motion (Toronto).
– Yesterday (July 8), Spotify announced its emerging artists' program in Canada, RADAR,  which had rolled out globally earlier this year. The first Canada-based RADAR artist for the launch is R&B act Emanuel, who released his first EP, Session 1: Disillusion, on Juneteenth. Emanuel is also currently Apple's Beats Artist of the Week. Graduates of Spotify's past emerging artist programs include Lil Baby, Rex Orange County, Daniel Caesar, King Princess, and Jorja Smith.
– CIMA and Music Publishers Canada are conducting a survey to collect data on the severity of the impact the covid-19 virus is having on Canadian music companies and artists. This will help the orgs as they lobby the government for a broad-based, long-term relief package for the Canadian music industry. All answers will remain confidential and will be shared in aggregate only with key decision-makers in government. The deadline to complete the survey here is July 24. 
– Famed Hamilton music bar This Ain't Hollywood shuts down in early August, but its patio is currently open on weekends. Starting tomorrow (July 10),  it hosts the "Fan"tasy Show (listening parties) featuring music from fave local artists, including Terra Lightfoot, Dinner Belles, Harlan Pepper, Monster Truck, and The Dirty Nil. A pay-what-you-can donation goes to Hamilton indie record stores. A cool idea from a club that has always had a big heart. E-mail info@thisainthollywood.ca for table RSVP.
– Acclaimed Canadian singer/songwriter/musician John Cody continues to face major health challenges and has further surgery scheduled in August. A GoFundMe campaign to assist him financially has been set up, with a $5K goal. The Quebec government allows disabled citizens one crowdfunding campaign per year without penalization, which means this campaign expires Aug. 4. Learn more and donate here. Read an earlier FYI feature on Cody here.
– A reminder that the 2020 East Coast Music Awards take place on July 11. The celebratory two-hour special airs at 9 p.m. AT on CBC TV in Atlantic Canada and on CBC Gem across the country. The show will also be available on demand on CBC Gem following the broadcast. 
– Natalie MacMaster and Donnell Leahy are known as heads of Canada's First Family of Fiddlers, and between them, the married couple has four Juno wins, a Grammy, 21 ECMAs, and hundreds of thousands of albums sold, plus seven musical children who perform as the MacMaster Leahy Kids. The pair is now giving the public a writing opportunity with an invitation to finish a melody they've started temporarily called the Covid Co-Write. The finished result will be included on an upcoming duo album. Entries in MP3 or WAV format for Covid Co-Write close July 31. Send to covidcowrite@gmail.com
– The Toronto live music scene is abuzz with the news that one of its fixtures, The Rivoli, is up for sale, for an asking price of $499K (for the business, not the building). The current owners reportedly hope that new buyers can keep the bar/resto/music club going along the current lines. Stars to have graced the Riv's stage include Adele, Iggy Pop, Drake, and Kids In the Hall. Read an earlier feature in FYIhere.
– Toronto electro-pop duo Purity Ring (Megan James and Corin Roddick) has announced its rescheduled North American tour dates for Spring 2021. These dates are in support of the electronic duo's recently released new LP, Womb. The new album debuted at #1 on the Billboard Electronic Albums chart and top 20 on seven Billboard charts. Purity Ring is also sharing a rare acoustic performance of "sinew" off Womb that was captured during the quarantine. The 24-show North American tour includes dates at Toronto's Phoenix (April 29) and Vancouver's Vogue (May 12).
– The Royal Winnipeg Ballet (RWB) and The Bros. Landreth have joined forces on a new video performance. The clip for The Bros. Where Were We from their 2015 Juno-winning debut album Let It Lie, features brand new choreography exploring feelings of loneliness and isolation brought on by social distancing guidelines brought on to reduce the spread of covid-19. Inspiration for the project came from RWB Second Soloist Liam Caines, who sought to interpret the feelings of loss and separation that many experienced after the Manitoba Provincial Government declared a state of emergency on March 20. 
– Kathleen Edwards continues to preview material from her keenly-awaited new album, Total Freedom, out on August 14 via Dualtone Records. The Ottawa-based roots songstress describes her new single, Hard On Everyone, as "me, waking the fuck up. And exiting. Written on the floor of my empty house after leaving a bad situation." Stream it here
– Live From Home is Live Nation's virtual music hub where fans can find the live-streams, artist content, new music and more from around the globe. Available in over 30 countries, fans can stay connected to their favourite artists and search through hundreds of performances and other videos now at livenation.com/livefromhome 
– Steve Waxman has launched Season Two of The Creationists, a well-received podcast about people who create. Each episode features an interview with a different creator talking about their creative process and the road they travelled to get to where they are. NOW Magazine founder Michael Hollett kicked off the new season yesterday (July 8) of the podcast. New episodes are released every two weeks. Season one spent a few weeks in the Top 10 of the Apple charts in Canada and Top 20 in the US. 
– Friends and fans of Pukka Orchestra frontman Graeme Williamson are advised that a funeral service for him in Glasgow can be streamed today (July 9). The service will be at 10:30 am Toronto time, 3:30 pm Glasgow time. The link is here
– Quebec comedian, writer and composer Julien Corriveau launched The Final Score just a few days before the death of its key inspiration, film composer Ennio Morricone. Corriveau's debut solo album, it evokes the sound of the western spaghetti soundtracks pioneered by Morricone.  
– On Global Forgiveness Day (July 7), rising Canadian country star Lindsay Ell released a new song, make you. Co-written by Ell and Grammy-nominated singer-songwriter Brandy Clark, make you is the first time Ell publicly addresses being a survivor of sexual violence. It will be featured on her forthcoming sophomore album heart theory (out Aug. 14). In conjunction with the release of make you, Ell has launched the Make You Movement, a charitable fund whose mission is to help organizations that support at-risk youth, domestic abuse and sexual assault survivors by provided funds on an as-needed basis. Ell has committed to donating all her proceeds from "make you" to the Make You Movement. 
– The LIVE Balcony concert series at Toronto's Senator Restaurant continues every Friday in July, from 4-6 pm.  Tomorrow (July 10) features Ori Dagan, Nathan Hiltz and Alison Young, July 17 has Laura Hubert, Hiltz and Shawn Nykwist, the 24th has Dagan, Michael Shand and Alexander Brown, and Natasha Buckeridge and Steve John Dale close out the month on July 31.
– Comedy Records, Canada's first record label dedicated to releasing stand up and sketch comedy albums, celebrates its tenth anniversary this month including the release of Comedy Records Presents 10 Year on July 10. The album features such label comedy artists as Arthur Simeon, Clare Belford, K Trevor Wilson, and more.
Obits
Ennio Morricone, an Oscar-winning Italian film composer, died on July 6, aged 91. He had broken his femur some days ago.
Shortly after Morricone's death was confirmed, Italian Prime Minister Giuseppe Conte tweeted: "We will always remember, with infinite gratitude, the artistic genius of the Maestro #EnnioMorricone. It made us dream, feel excited, reflect, writing memorable notes that will remain indelible in the history of music and cinema."
The Italian maestro's estimated 500 scores for films and television, composed over more than 50 years, are believed to constitute a record in Western cinema for the sheer quantity of music.
Morricone's symphonic scores helped define the western, but he went on to work across all film genres, including romance, horror and sci-fi films.
Born in Rome in 1928, Morricone took up the trumpet and wrote his first composition aged six. He studied classical music and after graduating began writing scores for theatre and radio. He was hired as an arranger by the label RCA in Italy and also began writing for pop artists; his songs became hits for Paul Anka, Françoise Hardy and Demis Roussos, and he later collaborated with Pet Shop Boys. He also made boundary-pushing avant-garde work with Gruppo di Improvvisazione di Nuova Consonanza, a collective of experimental, improvisational composers.
But it was his film scores that brought him the most fame. He began in the mid-1950s as a ghostwriter on films credited to others, but his collaborations with Luciano Salce, beginning with IlFederale (The Fascist), established his name.
Morricone went on to work in almost all film genres, and some of his melodies are perhaps more famous than the films for which he wrote them. Jerzy Kawalerowicz's 1971 film Maddalena is little remembered today, but Morricone's two pieces for the film, Come Maddalena and Chi Mai, are among his most loved, the latter reaching No 2 in the UK Top 40 following its reuse in the BBC drama series The Life and Times of David Lloyd George.
His 1960s scores for Sergio Leone, backing a moody Clint Eastwood in the Dollars trilogy, were huge successes and came to define him: with their whistling melodies, and blend of symphonic elements with gunshots and guitars, they evoke the entire western genre. "The music is indispensable because my films could practically be silent movies, the dialogue counts for relatively little, and so the music underlines actions and feelings more than the dialogue," Leone has said. Morricone has said his own best work was for Leone's 1984 film Once Upon a Time in America.
Those films, and Morricone's scores, were a clear influence on Quentin Tarantino who hired him for his western The Hateful Eight. It earned Morricone his first Oscar outside of his lifetime achievement award. Tarantino also used his music in Kill Bill, Inglourious Basterds and Django Unchained, with Morricone writing an original song for the latter.
Other films he scored include The Thing (directed by John Carpenter), Cinema Paradiso (Giuseppe Tornatore), The Battle of Algiers (Gillo Pontecorvo), Days of Heaven (Terrence Malick), The Untouchables (Brian de Palma) and the La Cage aux Folles trilogy (Édouard Molinaro).
He frequently toured highlights from his catalogue and was still conducting his orchestra in 2019. He sold more than 70m albums, and as well as his two Academy awards, he won four Grammy awards and six Baftas.
Read an extensive tribute in The Guardian here. Sources: The Guardian, Variety, BBC
– Charlie Daniels, a US singer, songwriter and instrumentalist whose fusion of traditional country and Southern rock made him a popular cross-genre artist during the '70s and '80s, died July 6 of a hemorrhagic stroke in Hermitage, Tenn. He was 83.
Born in Wilmington, N.C, he was adept on fiddle, guitar, banjo, and mandolin, and he played bluegrass music with an act called the Misty Mountain Boys, later branching into playing rock 'n' roll.
A major professional break came in 1964 when It Hurts Me, a song he co-authored with his friend Bob Johnston, was recorded by Elvis Presley for the flip side to his No. 12 single Kissin' Cousins." Daniels remained close to Johnston, who became a staff producer for Columbia Records in Nashville. After the musician moved to Music City in 1967, Johnston employed him as a session player on three Bob Dylan albums, the singer-songwriter's 1969 country debut Nashville Skyline and 1970 releases Self Portrait" and New Morning.
Daniels also played fiddle behind Leonard Cohen, another of Johnston's production charges, at the Canadian singer-songwriter's chaotic 1970 appearance at the Isle of Wight Festival. He branched into production in 1969 with work on the Youngbloods' Elephant Mountain.
Daniels then attracted attention as a singer and bandleader in his own right with several singles for Kama Sutra and Epic Records – Uneasy Rider, The South's Gonna Do It Again, Long Haired Country Boy – that expressed kinship with the redneck rockers in the country audience.
Even before he scored a major national hit, Daniels was something of an icon among country-rockers, mainly thanks to his headlining appearances at the annual, star-studded Volunteer Jam concerts, launched in Nashville in 1974; the event ran through 1996 and was officially revived in 2015.
He is best remembered for The Devil Went Down to Georgia, his folk tale single that reached No. 1 on the country chart and crossed over to No. 3 on the pop side in 1979, shifting 1 million copies. The song, which received wide exposure on the multi-platinum soundtrack of the 1980 feature Urban Cowboy, captured a Grammy Award for best country vocal performance.
He later released Dove Award-winning gospel albums.
In the aftermath of Devil, Daniels scored further pop hits with the patriotic In America and Still in Saigon. Those singles lofted his albums Full Moon (1980) and Windows (1982) to No. 5 and No. 7 on the country albums charts, with the former collection reaching No. 11 on the pop side. His last top-20 country single, "Simple Man," peaked at No. 12 in 1989.
In later years, Daniels continued to play for the faithful but often was a lightning rod for controversy as he became an unabashed mouthpiece for right-wing political views. The musician was an especially devoted activist on behalf of America's military,) and making regular appearances before U.S. troops — sometimes in combat zones like Iraq.
Daniels, who joined the Grand Ole Opry in 2008, was inducted into the Musicians Hall of Fame in 2009 and the Country Music Hall of Fame in 2016 Sources: Variety  New York Times
– Nick Cordero, a Canadian singer and a Tony-nominated musical theatre star, died on July 5, age 41, from complications from covid-19.
Cordero grew up in Hamilton's west end and attended Ryerson University for acting. He performed in musicals locally as a teenager and was the frontman of the Toronto-based rock band Lovemethod, which released a self-titled debut album in the early 2000s.
He then hit the big time in New York in productions including The Toxic Avenger, Rock of Ages, Waitress, A Bronx Tale and Bullets Over Broadway. He earned a Tony Award nomination for his work in the latter and was also nominated for a Drama Desk Award for his role in A Bronx Tale.
More recently he was starting to carve out a career in Hollywood, with roles on shows including the series Blue Bloods.
He had started a new band, Creator Destroyer, with members of Lovemethod, and that group recently released a debut EP, Fore It All Fades To Black. A new single, We Need A Miracle, is available now, and the band requests donations to the Musicares covid-19 relief fund. 
A GoFundMe campaign to assist his family and cover Cordero's hospital bills has just reached US$1m. Sources: CP, Globe and Mail