FYI
Music News Digest, Jan. 8, 2018
Julian Taylor has a birthday, Inuit singer-songwriter Charlie Panigoniak finds friends, Pemberton Fest bites Ticketfly...hard, Edmonton Music Prize announces winners, Lindi Ortega goes on tour,  and it's a sad farewell to France Gall, Ray Thomas, and Chris Tsangarides.
Jan 08, 2018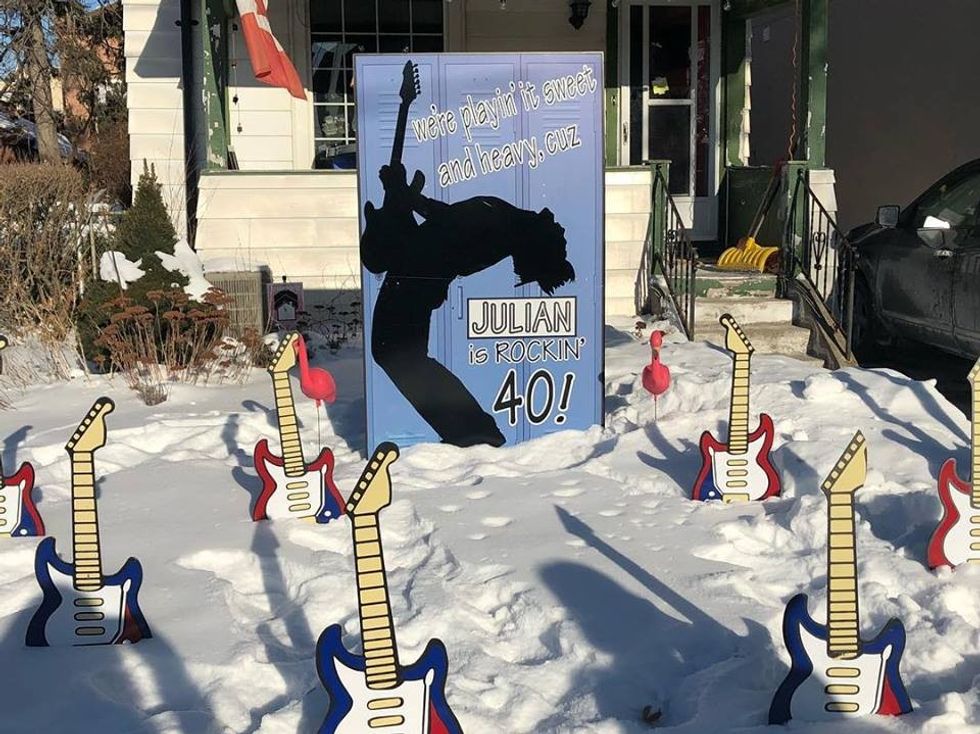 By Kerry Doole
Julian Taylor, undoubtedly one of Canada's hardest working, most affable musicians and songwriters, had himself a birthday and his sister went utterly bonkers celebrating the fact. The attached pic, courtesy of Taylor's Facebook page, captures what he confronted when he stepped outside his door a few days back. Humbled and chuffed, he's not telling what his gift-pack was, but if it's dinner for two at Barberian's Steak House, we're your new best friend, Julian.
---
–  Renowned Inuit singer-songwriter Charlie Panigoniak OC has raised more than twice the $5K he initially sought from a GoFundMe campaign that is necessary to make ends meet. The 71-year-old made his first recording in 1973 and now suffers from a variety of ailments, as does his wife and accompanist Lorna Tasseor. "Charlie is paying out of his pension to pay his own house monthly [expenses], and that isn't covering fuel/power plus groceries," his online plea reports, adding that Lorna was laid off work in August due to a job transfer and has not yet started to receive unemployment insurance. 
– The three finalists for the 2017 Edmonton Music Prize have been announced: 100 Mile House, Dan Davidson, and Nuela Charles. The winner takes home $10K, the two runners-up $1K each. The winner will be declared at a reception on Jan. 30. Now in its fifth year, the award is sponsored by the City of Edmonton and administered by Alberta Music.
– Ticketfly Canada has come out the loser in a court ruling related to the 2017 cancellation of BC's Pemberton Music Festival. Ticketfly's assignee, Pandora Media Inc., had argued in front of the BC Supreme Court that "the debtors [the Pemberton Music Festival promoters] misled the ticket-purchasing public .. "by authorizing the sale of tickets when they had no firm intention of proceeding".
Justice Paul Pearlman dismissed these arguments, concluding that the evidence fell short of "establishing bad faith or other misconduct." Therefore, Pearlman ruled that it was "unnecessary to decide whether the ticket sale proceeds, although co-mingled with other funds, constitute specific, identifiable property". The Georgia Straight reports that "this ruling means Ticketfly has been left holding the bag pending the outcome of bankruptcy proceedings unless this ruling is reversed on appeal."
– In case you missed it, the Golden Globes last night gave the Best Original Song-Motion Picture award to "This Is Me' from The Greatest Showman. The theme song is co-written by Benj Pasek and Justin Paul, the team that took the same award last year, for "City of Stars" from La La Land.
– Honkytonk singer Lindi Ortega is kicking off 2018 with an extensive headline North American tour. It begins on Jan 19 at The Basement in Saskatoon, closing out on May 12 at Queen's Grad Club in Kingston, ON. The tour features 15 Canadian shows. After a stint living in Nashville, Ortega is now based in Calgary. She recently recorded a new album in Music City. Details TBA. Tour dates here
– The Canadian Opera Company has announced five student players that join its annual mentorship program: Violinists Felipe Muñoz Garcia and Kimberly Durflinger, violist Lucas Alan Blekeberg, cellist Kimberly Miyoung Jeong, and bassist Freddy Speer. More info on the program here 
– Music BC has its AGM on Tuesday, Jan. 16. Those who would like to run for election to the Board of Directors can email paige@musicbc.org. 
–  Singer/songwriter Chloe Watkinson has cut her teeth on the Toronto circuit with Park Eddy and The Distillery and is now launching a solo career. She has been recording with Grammy-winning engineer George Massenburg (Randy Newman, Linda Ronstadt), and debuts as a solo headliner with a show at Toronto's Opera House on Jan. 20. Of note: She is the daughter of Max Webster keyboardist Terry Watkinson.
– Canadian pop artist Tyler Shaw is releasing a new single, "Cautious," on Jan. 26, on Sony Music, taken from a sophomore album to come out later this year. Shaw was nominated for a Juno as Breakthrough Artist of the Year in 2014 and has had hit singles with "House Of Cards" and "Wicked" (both gold) and "Kiss Goodnight" (platinum). Last year he starred in the feature film The Meaning of Life.
–  Curling supplies company Asham Curling is this year's Bonspiel Sponsor for the Manitoba Music Rocks Charity Bonspiel. The event raises money for the Kevin Walters Memorial Fund at the eighth annual bonspiel, taking place at the Granite Curling Club in Winnipeg on Feb. 10. Last year's Bonspiel netted over $4.2K. Registration and info here details here
– American soul singer Anita Baker has announced a farewell concert series to mark her retirement, beginning in March. The Grammy winner has four No. 1 Top R&B/Hip-Hop Albums to her credit, including the platinum-selling Rapture. 
RIP
France Gall, a French singer who rose to pop fame in the 1960s, died Jan. 7, after suffering from cancer for two years. Age 70. Gall won the Eurovision Song Contest in 1965 representing Luxembourg with the Serge Gainsbourg song Wax Doll, Rag Doll (Poupée de cire, Poupée de son).
She enjoyed international success in 1987 with her tribute to jazz legend Ella Fitzgerald, Ella, Elle l'a. Gall's father was singer and songwriter Robert Gall, who penned songs for Edith Piaf and Charles Aznavour, among others. Her career spanned 50 years, and Culture Minister Françoise Nyssen described her as "a timeless icon of French song". Source: BBC.com
Ray Thomas, a founding member, flautist and vocalist of the Moody Blues, died Jan. 4. Age 76. His passing was announced yesterday by his music label, Esoteric Recordings/Cherry Red Records. Thomas retired from the group in 2002, due to ill health. In 2014 he confirmed that he'd been diagnosed with prostate cancer.
Thomas founded The Moody Blues in 1964 with fellow musicians including Mike Pinder and Denny Laine. His flute solo was a key ingredient on one of its biggest hits, "Nights in White Satin." He was due to be inducted into the Rock & Roll Hall of Fame later this year with the band Source: AP
Christopher Andrew "Chris" Tsangarides, British record producer, sound engineer, and mixer passed away on Jan. 7 after a brief illness. Age 61.
He was best known for working with hard rock acts that included Judas Priest, Thin Lizzy, Gary Moore, Ozzy Osbourne, Mountain, though he also worked with pop and alternative artists that included Tom Jones, Depeche Mode, the Human League, Sisters of Mercy, and Concrete Blonde.
Tsangarides also worked on albums by Canadian artists Anvil, The Tragically Hip (Fully Completely), Sara Craig, and Matt Mays and El Torpedo (Terminal Romance). Sources: Wikipedia, blabbermouth.net