FYI
Music News Digest, Jan. 3, 2022
The Weeknd (pictured) teases a new album, Allison Russell receives critical love Stateside, and another record for Justin Bieber. Also in the news are the Maple Blues Awards, Music NL, Jason Cull, CIMVAs, and farewell Bobby Herriot, Terry McManus, Mikey Chung, J.D. Crowe, and Stephen J. Lawrence.
Jan 03, 2022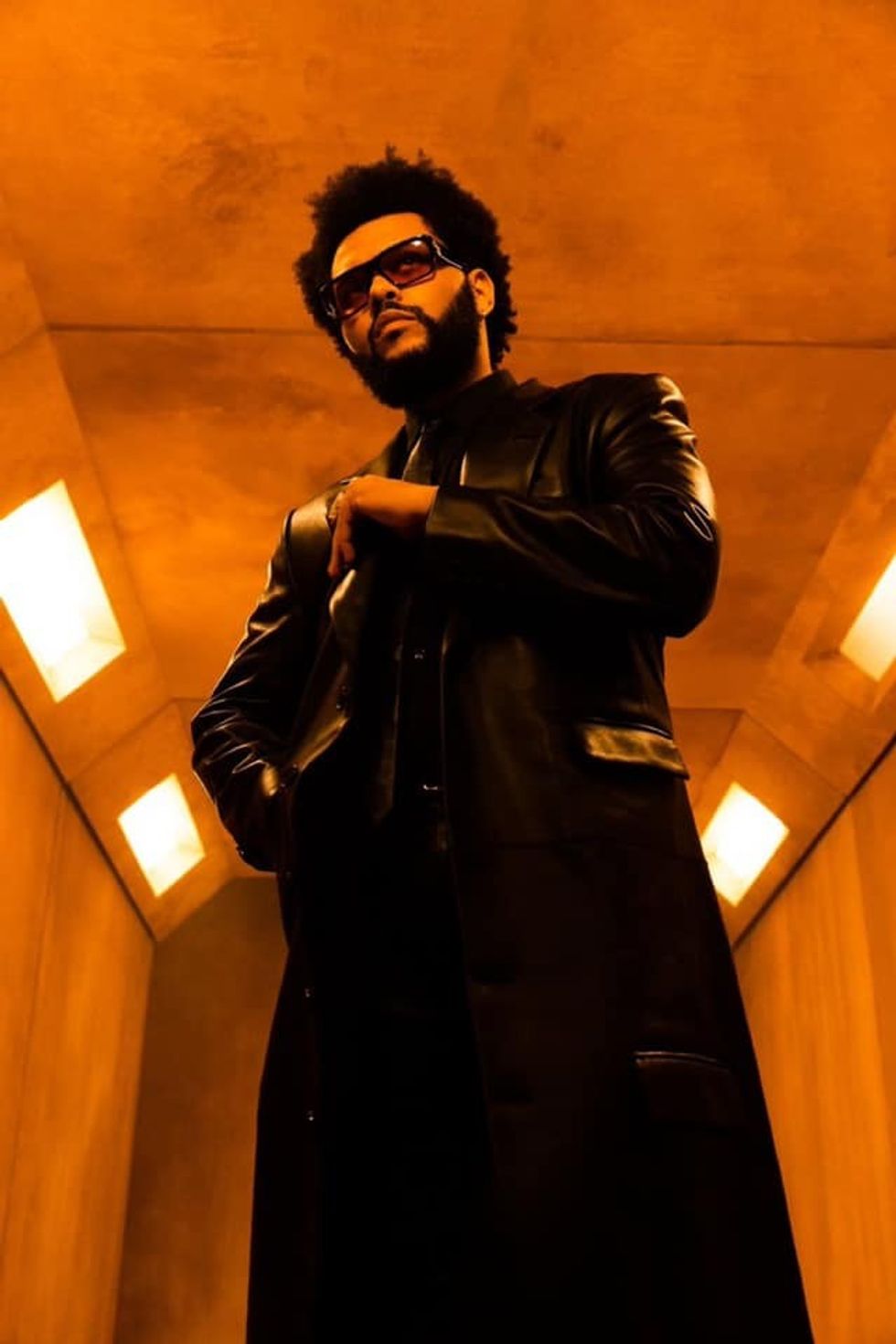 By Kerry Doole
Over the holiday period, The Weeknd hinted strongly that he'll welcome 2022 with a new album soon. Speculation was sparked by this Instagram post on New Year's Day: "Music can heal and that feels more important than another album rollout. Let's just drop the whole thing and enjoy it with the people," he announced. On New Year's Eve, he released another trailer for the album (below), and today (Jan. 3), it was confirmed Dawn FM will come out on Jan. 7.  Abel's last album, his fourth official full-length, After Hours, came out in 2020. 
---
– One of the company's top earners, Vinny Cinquemani has left The Feldman Agency where he was Sr. VP for the past decade (and president of the firm started by its namesake before that). Acts in his portfolio included stadium acts such as Johnny Reid, Bryan Adams, and Tom Cochrane. The virus has had a harsh impact on talent agencies in the past two years and as a result, companies such as TFA have sizeably reduced headcounts to reflect ongoing business conditions. Cinquemani's exit has not been formally acknowledged so retirement or a new opportunity is unknown at this time. News of his departure was first mentioned earlier today by Larry LeBlanc, filing in Celebrity Access.
– One of the most acclaimed artists of 2021, Canadian roots music singer/songwriter AllisonRussell closed out the year on a high note. Leading roots music publication No  Depression noted that "The top 10 picks on each of our 2021 lists have only one album in common — Allison Russell's Outside Child. It tops the critics' list and was tied for 8th/9th place in the readers' poll results." Russell is also a multiple 2022 Grammy award nominee. The only other Canadian release on the critics' Top 20 was Le Ren's Leftovers. Check the No Depression playlist of the critics' picks here. 
– New dates for the 2022 Maple Blues Awards and TBS Blues Summit have now been announced. The awards will return to Koerner Hall in Toronto on June 20, with the Summit now booked to run June 17-20. The original early 2021 dates were postponed because of the worsening Covid situation. Current tickets for the Awards will be valid for the new date. More info here.
– MusicNL is partnering with the Canadian Mental Health Association, Newfoundland and Labrador (CMHA-NL) to launch the Master Corporal Jason Cull Scholarship. This is open to students from or residing in Newfoundland and Labrador studying music full time, and will support students to practice good mental health. Newfoundlander Cull is an Afghanistan War Veteran who released his debut album Stranger in 2020 to remember his fellow soldiers and as a way to heal. Application info to follow.
– Justin Bieber has broken many records over his career, but we're not sure how much pride he'll take in the latest. Billboard reports that Peaches, the Biebs hit featuring Daniel Caesar and Giveon, has set a Grammy Award record for the most songwriters credited on a song nominated in the Grammy Song of the Year category. Peaches is the work of 11 songwriters, two more than found on the previous record holder, Beyoncé's Black Parade.
– Nominations are now open for the Fourth Annual Canadian Independent Music Video Awards (CIMVAs), presented by Dropout Entertainment. Submission info here.
RIP
Bobby (Robert Allan) Herriot, a Canadian trumpeter, bandleader, and conductor, died on Dec. 19, in his home in Burlington, Ontario.
Through his military career and in civilian life, Herriot performed as a trumpet soloist and was a member of untold big bands, a bandleader and conductor.
Born in Scotland, he came to Canada in 1957. His formal music study was at the Royal Military School of Music (Kneller Hall), the Royal Academy of Music, the Royal College of Music in London, England and the Canadian Forces School of Music in Victoria, BC.
Before coming to Canada he served in the Bands of the Blues & Royals. His service with the Canadian Forces (from which he retired with the rank of Lieutenant Colonel) included stints with the Royal Canadian Air Force and the Royal Canadian Artillery. During this period of service, he was Trumpet Soloist and Assistant Conductor with the NORAD Band in Colorado Springs, Colorado. This band consisted of members of the US Air Force, Army, Navy and the Royal Canadian Air Force. It was the only multi-unit international band in the world.
In the period after in military service, Bobby performed with the bands of Buddy Rich, Stan Kenton, Xavier Cugat, Lionel Hampton as well as with the Boss Brass, the Howard Cable Orchestra, Peter Appleyard's Swing Fever Orchestra, the Harry Waller Orchestra and regularly with various other orchestras and bands, in theatres and recording sessions in Toronto, New York, Los Angeles and Vancouver.
Herriot served as the Vice President from Canada of the American Federation of Musicians of the United States and Canada. His conducting roles included work with the Hamilton Concert Band, the Thornhill Concert Band, and the Ambassadors Jazz Band. He also wrote special arrangements and compositions for concert and jazz bands. Sources: NecroCanada, Hamilton Concert Band
–Terence "Terry" McManus, a singer/songwriter who became an important music educator, died on Dec. 18, at age 75.
An obituary in the London Free Press noted that "he began his career as a singer-songwriter and while he had some early success in the industry, he turned down the opportunity for a record deal in New York to be in Canada with his family, who meant more to him than the chance at stardom."
For 40 years, McManus taught hundreds of students in the Music Industry Arts program at Fanshawe in London, ON, and some of those students offered tribute. Mike Roth, Roth, a Juno-nominated songwriter who took on McManus's job at the college at his old teacher's urging, told the LFP that "Terry was a real inspiration to me and helped me launch my career. "He was the pinnacle of teaching – he was unrivalled. His influence on the students will last forever in the Canadian music and international music scene."
Another student who went on to major success, Emm Gryner called McManus "a guiding force for me" in a social media post.
He was instrumental in the founding of the Songwriter's Association of Canada and, for 40 years, taught hundreds of students in the Music Industry Arts program at Fanshawe.
A funeral Mass was held in London on Dec. 27. To honour McManus' memory, the family has created a scholarship/bursary in his name, for a student in the Music Industry Arts program at Fanshawe College. Anyone wishing for more details on how to contribute, please visit here. Source: London Free Press
International
– Mikey (Michael) Chung, a Jamaican musician who played keyboards, guitar and percussion instruments, died from myeloma on Dec. 28 at age 71.
.He was also an arranger and record producer of Jamaican music and worked with a wide array of musicians, notably Lee Perry and Sly and Robbie.
Chung began his career in music as the guitarist for the Mighty Mystics, The Virtues (1967–69), Generation Gap, and the Federal Studios house band the Now Generation Band, before playing with artists such as Jacob Miller and Inner Circle in the 1970s
As a member of Word, Sound and Power from 1978, along with Sly & Robbie, he backed Peter Tosh on Mystic Man, Wanted Dread and Alive, and Bush Doctor, playing guitar and synthesizer. He played for Lee Perry's band The Upsetters and the Compass Point All Stars . He often accompanied Sly Dunbar and Robbie Shakespeare on their recordings and played guitar for Black Uhuru on their albums Anthem, Red and Chill Out.
He worked with many Jamaican and international artists, including Maxi Priest, Grace Jones, the Rolling Stones, Serge Gainsbourg, Bette Midler, Art Ensemble of Chicago, James Brown, Garnett Silk, Joe Cocker and Sinéad O'Connor. Source: Wikipedia
– J.D. (James Dee) Crowe, an American banjo player and bluegrass bandleader, died on Dec. 24, of pneumonia, age 84.
He first became known during his four-year stint with Jimmy Martin in the 1950s. Before starting in Martin's band, Crowe played with Pee Wee Lambert and Curly Parker.
n 1961, he formed the Kentucky Mountain Boys, principally performing in the Lexington region.[6]  IIn 1971, Crowe changed the band's name to The New South and led the bluegrass group until his death.
As of 1975, the New South began to add jazz and rock influences to its bluegrass repertoire, as well as country and folk elements drawn from the work of Gram Parsons and Gordon Lightfoot.
Crowe stopped releasing new records between the late 1980s and 1992, when he founded a new band.
Kentucky Educational Television in 2008 aired a biography,  A Kentucky Treasure: The James Dee Crowe Story. Crowe received the Bluegrass Star Award, presented by the Bluegrass Heritage Foundation of Dallas, Texas, in 2011. 
– Stephen J. Lawrence, a musician, composer and producer whose credits included 1972's Free to Be… You and Me and a prolific run on Sesame Street, died on Dec. 30, age 82.
Lawrence is best known for his work as musical director and co-producer with Bruce Hart on the gold album Free to Be… You and Me. Lawrence composed the album's title song, as well as the tracks When We Grow Up and Sisters and Brothers.
He also served as composer, music director, arranger and conductor on the hit kids TV series Sesame Street for over 30 years, composing over 300 songs and scores for the program. He received three Daytime Emmy awards for outstanding achievement in music direction and composition during his tenure on the show.
Lawrence also worked with the Jim Henson Company, composing the score for The Wubbulous World of Dr. Seuss. Other credits from Lawrence include scores for 1979's Sooner or Later,  Bang the Drum Slowly, One Summer Love, Alice, Sweet Alice, Red Riding Hood, and the animated HBO musical The Tale of Peter Rabbit. Lawrence also served as music director at Temple Sinai in Stamford, Conn. from 2003 to 2021. Source: Variety