FYI
Music News Digest, Jan. 24, 2022
The Saskatchewan Music Awards winners are named, D.O.A. reprise a landmark hardcore album, and the Speak Music Be Kind Festival is announced. Also in the news are Adele, The Weeknd, Blue Rodeo, Bob Marley, Jay Douglas, SOCAN, the TRANZAC, Jacob Hoggard, and farewell Meat Loaf (pictured), Fred Parris, Badal Roy, Elza Soares, and Don Wilson.
Jan 24, 2022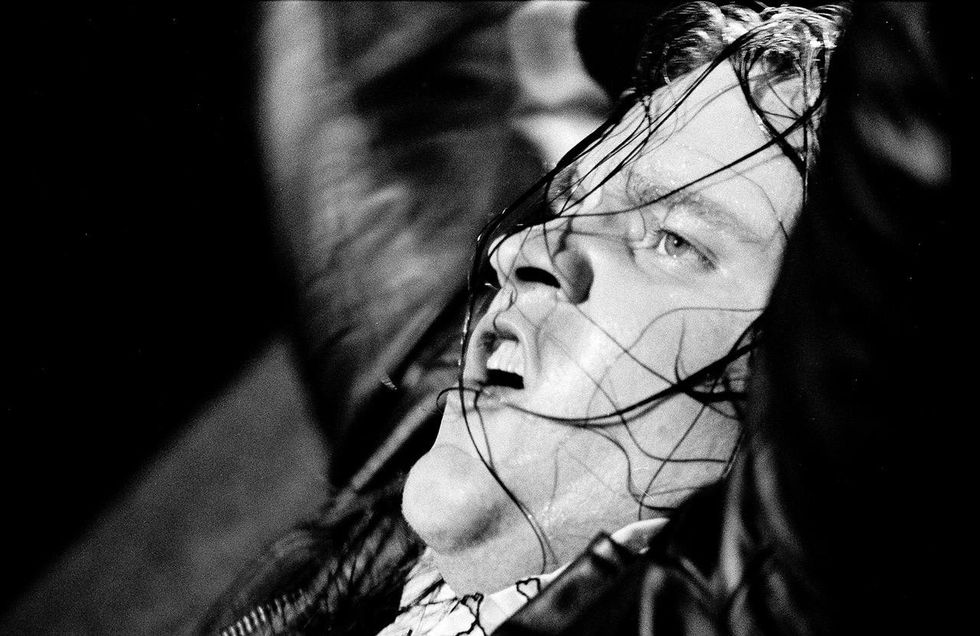 By Kerry Doole
SaskMusic announced the winners of the 2021 Saskatchewan Music Awards through a streamed event on its Facebook and YouTube channels on Jan. 20. The first Indigenous Music Achievement Award was presented to Sheryl Kimbley, while the R&B Artist of the Year category also debuted, with vbnd named the winner. Other notable award winners included Megan Nash, Jess Moskaluke, Jeffery Straker, The Garrys, and soso. See the full list here. Performers for the event included The Garrys, Katie Tupper with vbnd, Flash Back, and Jake Vaadeland and the Sturgeon River Boys.
---
– Following the awards, the fourth annual Very Prairie Music Summit was held online Jan. 21-23 featuring national and international presenters speaking to an array of topics and providing practical and straightforward information.
– Pioneering Vancouver hardcore punk D.O.A. is celebrating the release of its classic album Hardcore 81 by putting out a 40th-anniversary reissue and playing the record live in its entirety on tour. The group has BC shows in Nanaimo, Victoria, and Cumberland this week (Jan. 27-29 respectively), to be followed by UK and US dates. Mainman Joe Keithley's claim that the album "set the template for hardcore punk and defined the term" was vindicated in 2019 when it won the public vote for the Slaight Family Polaris Heritage Prize. Source: Nanaimo Bulletin
– Score one for The Weeknd over his Canadian comrade Justin Bieber.  According to a press release, Abel recently passed the Biebs with the most monthly listeners on Spotify. Thanks to the release of new album Dawn FM, Thee Weeknd had 85,667,564 monthly listeners on the app, the most currently for any artist. Bieber had held that distinction since last spring. Source: BET
– The third annual Speak Music Be Kind Festival takes place as a free virtual event on Feb. 12. An impressive roots-oriented lineup of artists includes Beny Esguerra, Kunle, Ian Lake, Sophie Lukacs, Moonfruits, Grainne Ryan, Tannis Slimmon, Julian Taylor, and Caroline Wiles, and the pre-recorded video performances will be streamed via the festival website, linking to the Speak Music Be Kind YouTube YouTube channel and Facebook. Donations will go to Toronto's Anishnawbe Health Foundation. 
– Last week Adele postponed her much-hyped postponing her Las Vegas residency just one day before it was set to begin at Caesars Palace on Jan. 21. The singer blamed Covid issues and delivery delays, but the move angered fans who had already paid for travel and accommodations and the costly ducats. Source: Reuters
– Also forced to postpone planned winter dates is Blue Rodeo, but the group has now announced the rescheduled Ontario and Quebec shows, now set for March and April. Jenn Grant has been named the support act. More info here. 
– NuFunk Concerts' Bob Marley Birthday Tribute is the longest-running Marley Tribute in Canada. Held in tandem with Rasta Fest & Uma Nota, the 16th annual edition takes place on Feb. 6 as a live stream and food drive for the Parkdale Community Food Bank in Toronto. Noted veteran soul-reggae singer Jay Douglas collaborates with Reggaddiction on Marley tunes and originals. Live-streamed from BSMT 245 in Toronto, 6-9.30 pm. Free. Event link here
– SOCAN is partnering with The Canadian League of Composers (CLC) and the Canadian Music Centre (CMC) to present a free online town hall presentation, Classical and Art Music in the Digital Landscape, on Feb. 9, from 3-5 pm EST. Info here.
– Popular Toronto music venue the Tranzac Club is now hosting an online silent auction of fine art, via its website, and featuring works by more than two dozen artists. The club is fundraising with a goal of $51K, needed to complete the renovation of the venue's two bars. The auction is curated by Bobby Wiseman, and notable artists featured include Matt James, Rae Johnson, Mendelson Joe, Al Runt, Kurt Swinghammer, Lewis Melville, and Sam Ferrara. Bid on a painting until Feb. 1. Silent auction page here, and Tranzac's GoFundMe page is here.
– The oft-postponed sex assault trial of Hedley frontman Jacob Hoggard is set to begin on May 2. The trial, which will be heard by a jury, is expected to continue until early June. It was postponed multiple times due to pandemic restrictions. The singer pleaded not guilty at his preliminary hearing to sexual assault causing bodily harm and sexual interference. 
RIP
Meat Loaf (born Marvin Lee Aday), a rock singer and actor best known for the smash hit album Bat Out Of Hell, died on Jan.20, at age 74. News reports cite Covid-19 as the cause of death and point out that Meat Loaf was outspokenly anti-mask and lockdowns.
Meat Loaf is best known for his mega-selling Bat Out of Hell trilogy. His 1977 debut album, Bat Out of Hell, written and composed by Jim Steinman, remains one of the biggest-selling albums in history.
The pair collaborated on a second album,  1993 album Bat Out of Hell II: Back Into Hell, and it produced the global hit single I'd Do Anything for Love (But I Won't Do That). Meat Loaf completed the Bat Out of Hell trilogy with The Monster Is Loose in 2006. The three albums have sold more than 65m copies worldwide.
In 2016, Bell Media partnered with legendary Canadian producer Michael Cohl's Iconic Entertainment Studios to produce Bat Out of Hell: The Musical, a theatrical spectacle that celebrated the 40th anniversary of the album with an international run. Read an FYI feature on the production here.
As an actor, Meat Loaf first made a splash with a breakout role in the 1975 film version of The Rocky Horror Picture Show playing Eddie, an ill-fated delivery boy who sings the song Hot Patootie. He went on to appear in more than 50 films and TV shows; among them Fight Club, Wayne's World and Spiceworld the Movie.
Read obits in The Guardian, The Globe and Mail,New York Times
– Fred Parris, lead singer of noted 1950s harmony group the Five Satins, died on Jan. 13 after a brief illness, age 85.
He was the composer of the classic doo-wop ballad In the Still of the Night. Released in 1956, that song only reached No. 24 on the Billboard pop charts but became a multimillion seller through reissues and appearances on compilation and soundtrack albums and, as AP observes, "it now helps define an era of harmony groups."
It was featured in such period films as Dirty Dancin' and The Irishman and has been covered by The Beach Boys, Boyz II Men, Debbie Gibson, and many more. Sources: AP
– Badal Roy, a tabla player who worked with both Miles Davis and Ornette Coleman as they explored trailblazing electric sounds, died on Jan. 18, age 82. 
In 1968 Roy moved from East Pakistan to New York City. While playing tabla at an Indian restaurant in Manhattan, he was spotted by guitarist John McLaughlin, who hired him for his celebrated 1971 album My Goal's Beyond,  Roy's first time on record.
The following year, Roy played on the Miles Davis album On the Corner, and on Get Up With It in 1973.
He appeared on the 1982 Yoko Ono album It's Alright (I See Rainbows), and in 1988, he joined Ornette Coleman's Prime Time, featuring on their final album, 1995's Tone Dialing. Sources: NPR
– Elza Soares, hailed as one of the greatest Brazilian singers of all time, died last week, at age 91.
Over a career spanning six decades, she released more than 30 albums, and was dubbed 'the queen of Brazilian samba."
Soares also used her music to campaign against racism and other forms of discrimination. Her talent was appreciated by figures including Queen Elizabeth, whom Soares met during a 1968 visit to Brazil. Sources:BBC, The Guardian
– Don Wilson, co-founder and rhythm guitarist for the influential instrumental rock band The Ventures, died on Jan. 22, at the age of 88.
The Ventures, formed in 1958, are credited with raising the profile of the electric guitar across the world and remain a popular live act in a number of territories, notably Japan. They're best known for their hits Walk, Don't Run – which they self-released in 1960 – Telstar, Perfidia, and a cover of the Hawaii Five-O theme. They were inducted into the Rock and Roll Hall of Fame in 2008. Wilson was the last remaining original member until he retired in 2015.
The group also released seven instructional albums, starting with Play Guitar With the Ventures in 1965, and these influenced many rock guitarists. Sources: Ultimate Classic Rock, Rolling Stone