FYI
Music News Digest, Feb. 13, 2019
q - Live at the Junos in London features Bahamas (pictured), Avril Lavigne teams up with Nicki Minaj, and Joni attends Grammy festivities. Also in the news are UMG, Ingrooves, Hilario Durán,  Cadence Grace, Larry Stanley, Jackie Washington, JV's Boogaloo Squad, and farewells to Joe Hardy, Darryl Weeks, and Phil Western.
Feb 13, 2019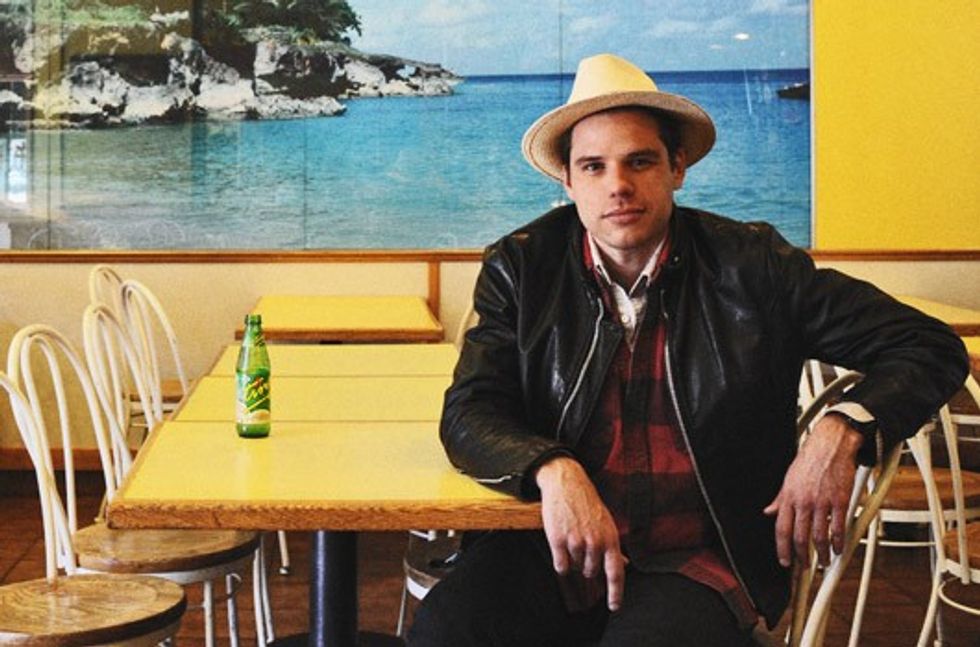 By Kerry Doole
CBC Music presents q - Live at the Junos in London on March 14 at 7 pm at the London Music Hall. Hosted by Tom Power, this year's lineup includes performances by Bahamas (four 2019 Juno nominations), Donovan Woods (Two 2019 Juno nominations) and Kaia Kater (2019 nominee for Contemporary Roots Album of the Year), as well as a comedy set by Chanty Marostica (also a nominee this year) and a feature interview with Londoner Emma Donoghue - the author and Oscar-nominated screenwriter of "Room." Tix now on sale here. Additional guests TBA.
---
– Avril Lavigne has teamed up with fellow star Nicki Minaj for her brand new single, "Dumb Blonde." Released yesterday (Feb. 12), this is the third advance single from Lavigne's upcoming Head Above Water album, skedded for release this Friday. Lavigne tweeted that "As soon as I recorded #DumbBlonde, I knew she'd be the perfect artist to collaborate with on it. When she said yes it was like a dream come true!!!" Source: Billboard
– To many, a highlight of the Grammy Award festivities last weekend was a rare public appearance by Joni Mitchell. She was an honoured guest at record mogul Clive Davis' Pre-Grammy gala show/party at the Beverly Hilton Hotel on Saturday night. Mitchell later took multiple Grammy winner Brandi Carlile out to dinner, with Carlile later posting that "Joni's wisdom is unearthly." Source: CBC
– Universal Music Group is acquiring Ingrooves Music Group, MBWreports. UMG has been a minority investor in Ingrooves since 2006 and is thought to currently hold approximately 20% in the independent music distribution and marketing company. By buying the remaining 80% in Ingrooves – which is HQ'd in Encino, Los Angeles – UMG will gain sole control of the firm's approximate 2% market share in the United States. Ingrooves was initially believed to be up for sale in the first half of last year, with an asking price in the region of $100m. Ingrooves CEO Bob Roback will continue to lead the company as a standalone unit within UMG.
– Cuban-Canadian pianist/composer/bandleader Hilario Durán is this year's recipient of the Louis Applebaum Composers Award. The $15K award recognizes excellence in a body of work by an artist in the field of jazz and was presented on  Feb, 9 at the Royal Conservatory of Music's concert featuring Hilario Durán and his Latin Jazz Big Band at Koerner Hall in Toronto.
Since arriving in Canada after achieving success in Cuba and beyond, Duran has been a multiple Juno Award winner and nominee and a Grammy nominee, and recipient of the 2007 Chico O'Farrill Lifetime Achievement Award from Latin Jazz USA for his outstanding contributions to Afro Cuban Jazz and Latin Jazz.
– The Academy of Canadian Cinema and TV recently announced the nominees for its 2019 Awards. Notable nominees on the music side include Mark Korven, Todor Kobakov, Laurel MacDonald and Phil Strong, Amin Bhatia, and Ari Posner. Specials featuring Leonard Cohen, Gord Downie, and Jann Arden were also cited. A full list here
– Ontario country singer/songwriter Cadence Grace (Runaway Angel) is suffering from Chronic Myeloid Leukaemia (CML), and her peers are rallying in support. On March 3, An Opry-style benefit concert, Country Kicks Cancer's Ass, will take place at the Rock 'N' Horse Saloon in Toronto. Performers include Jessica Mitchell, Eric Ethridge, Leah Daniels, Genevieve Fisher, Kris Barglay and many more. Tix are available now.
– Larry Stanley was a songwriter, singer, keyboardist, and playwright active on the Toronto scene until his death in 2000. He led his own groups Modern Heart and Twisters and The Family Jewels, and accompanied such notables as The Time Twins, Daisy Debolt, and Barbara Lynch. Stanley's comrades recently launched a website devoted to Stanley's music. Check it out here.
– On Feb. 15, from noon to 1 pm, the Hamilton Central Library hosts a celebration of the life and music of Hamilton's own Jackie Washington. Blues master, musical pioneer and performer and Canada's first black disc jockey, Washington remains an influential part of Hamilton's music scene, and 2019 marks the 100th year since his birth. Music is provided by the Jackie Washington Combo, led by Margaret Stowe and featuring guest performers Mose Scarlett, Chris Robinson and Ginger St. James.
– JV's Boogaloo Squad is a Toronto-based jazz-funk trio led by Hammond B3 player Joel Visentin. A debut album, Going To Market, is being released on Feb. 15,, and guests include Kelly Jefferson, and Juno nominees Alison Young and Marc Rogers. It is being promoted by Ontario shows starting Feb. 15 that end at Burdock in Toronto, Feb. 21. 
RIP
Joe Hardy, longtime ZZ Top collaborator, and Ardent Studios engineer/producer Joe Hardy, died on Feb. 12, age 66, following a brief illness.
Although perhaps best known for his decades as a close collaborator with ZZ Top, Hardy's resume ran the gamut of artists and styles, from hard rock to contemporary Christian music.
During his 45 year career, he worked with Steve Earle, Al Green, Alice Cooper, Booker T. & the MGs, Tom Cochrane, Ry Cooder, The Georgia Satellites, Jason and The Scorchers, Green on Red, The Replacements, Tommy Keene, Carl Perkins, and many more. 
His resume featured many Canadian artists. Aside from producing Tom Cochrane's international smash "LifeIs A Highway," he worked extensively with Colin James, The Jeff Healey Band, and Kim Mitchell. He worked on two Leslie Spit Treeo albums, Book of Rejection and Hell's Kitchen, and singer Laura Hubert tells FYI that "one of the many colourful lines Joe said during recording. was 'there's a fine line between rock and roll and a felony!' He was a generous and very funny man."
On FB, Coln James posted: "When Joe Hardy produced my second record Sudden Stop in 1990, I felt that and I was in the best possible hands. When you worked with Joe it was you and Joe against the world.  An artist's producer for sure. I was always in awe of his intellect and unworldly computer skills. Modest, funny as hell and irreverent as they come.... in the best of ways."
Hardy's work with ZZ Top — he worked on nearly every project by the Texas band from 1983's Eliminator up through 2018's solo album by front man Billy Gibbons, The Big Bad Blues — helped define the group's multi-million selling sound. 
"My friend Joe Hardy played a huge role in our lives," said Gibbons. "He was a true innovator in a field where many just did it 'by the book.'"
A native of Kentucky, Hardy started out as a musician. He was attending Centre College in Illinois when he first came to Memphis in 1975 to record with his band, The Voice of Cheese, at Ardent. After the group's short-lived deal with Ardent's Stax-distributed record label fell apart, Hardy eventually moved to the other side of the glass. 
For more than two decades, Hardy would be among a cadre of elite Ardent staff engineers/producers, nurtured by studio head John Fry. Often working with producer Jim Dickinson, or his friend and frequent partner, John Hampton, Hardy was considered one of the most technically brilliant studio minds of his era, an expert at using then-cutting edge technology like the Fairlight sampler.  
In addition to his skills at the board, Hardy possessed a comically cantankerous persona and a razor sharp wit. It was a combination that served him well working with the pugnacious rock and alternative bands that he often recorded.
Moving between his role as an engineer and producer, Hardy would helm projects for Green on Red (1989's Here Come the Snakes), Steve Earle (1990's The Hard Way) and Tom Cochrane's 1992 LP Mad Mad World.
In the early-00's, Hardy left Memphis and Ardent, moving to ZZ Top's home base of Houston, where he continued to work with the band, including on recent projects like 2012's La Futura and 2016's live album, Greatest Hits from Around the World, as well as Alice Cooper's 2017 studio effort, Paranormal.
As Hardy told Billboard magazine in 1994, summing up his philosophy about the record business, "To me, you play music. You don't work music. No one starts off doing this thing to make money. You got into music because it was fun, and it's important to never lose sight of that."  Source: Memphis Commercial-Appeal
Darryl Weeks, a Toronto music publicist, died suddenly on Feb. 10. No cause of death has been revealed.
 
Weeks started his music industry career as the Marketing Supervisor at Toronto's HMV Superstore before becoming a publicist at Outside Music.

After five years at Outside, he founded StageFright Publicity, where he acted as publicist for artists including the Acorn, Art D'Ecco, Austra, Born Ruffians, CFCF, the Charlatans, Elliott Brood, Frog Eyes, KASHKA, the Luyas, Michael Rault, The Sadies, Oh Susanna, Preoccupations, PS I Love You, Royal Canoe, the Rural Alberta Advantage, Tim Burgess, Tim Hecker, Wolf Eyes, Yamantaka // Sonic Titan and Yves Jarvis, among many others.
News of his passing was quickly met with heartfelt tributes from peers and artists in Canada and beyond, all testifying to Weeks' kindness and genuine love of music.
One of StageFright's long-time clients, Paper Bag Records, wrote: "We are devastated by the loss of our friend and colleague Darryl Weeks. Darryl was a wonderful person, husband, father, respected publicist & member of the music community. We were lucky to count him as a friend & part of the Paper Bag family, representing the label & artists."
FYi last spoke to Weeks at a gig at Toronto club The Baby G a few months ago. He had driven from his home in Barrie to see one of his clients play, and he spoke enthusiastically of having recently worked with one of his favourite bands, The Charlatans.
That band's leader, Tim Burgess, tweeted that " We lost a true and beautiful friend at the weekend. Darryl Weeks was a shining star - always so positive, he lit up any room he was in."
Our condolences to his family and friends. Sources: Exclaim!, Facebook
Phil Western, a Canadian electronic and post-industrial artist and engineer, died Feb. 9 of a suspected accidental drug overdose. He was 47. Western worked on several projects with Skinny Puppy's cEvin Key, including Download and PlatEAU, and also engineered, remixed or played on tracks for Nine Inch Nails, Metallica and Bryan Adams.
He also released several solo albums, including 2017's Neuro-Plastique, and is featured on the Download album, Unknown Room, scheduled for release March 8.
Western released work dating back to the early 90s. He started as a drummer and percussionist, and, in 1996, credited as "Philth," he played keyboards ("wave manipulation") on two tracks on Skinny Puppy's The Process.
Key, Adams, and Rhys Fulber all paid tribute to Western in social media posts. Sources: Billboard, Georgia Straight