FYI
John Borra Album Shines A Light On An Epoch Of Toronto Songsmiths
John Borra has quietly held claim to being one of the most influential figures within Toronto's roots-rock scene, born out of the '80s Queen Street alt-rock movement and forging a solo career durin
Feb 01, 2023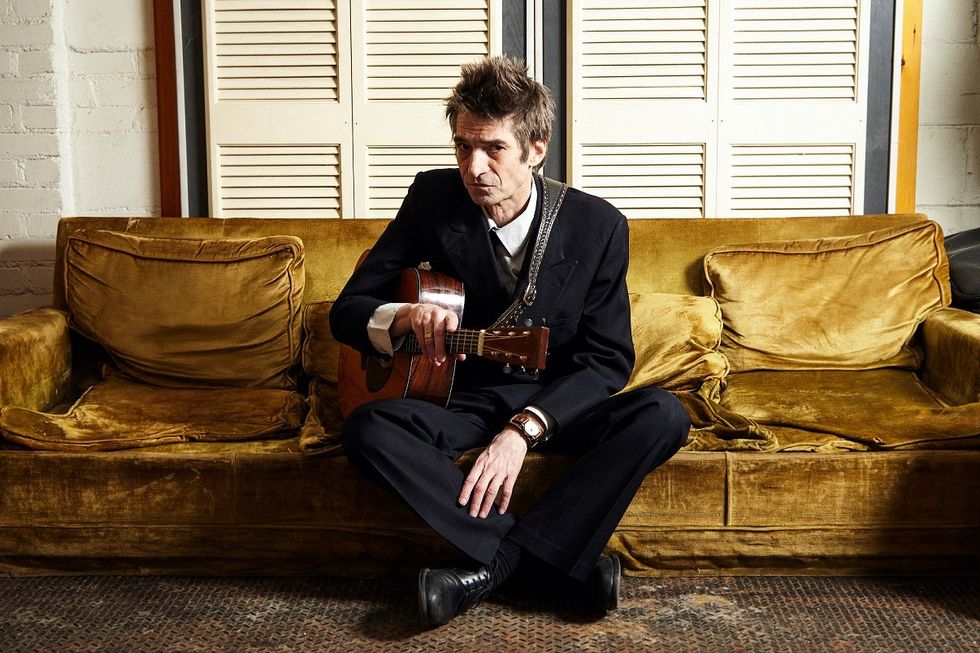 By Jason Schneider
John Borra has quietly held claim to being one of the most influential figures within Toronto's roots-rock scene, born out of the '80s Queen Street alt-rock movement and forging a solo career during the roots music renaissance that gave rise to acts such as Cowboy Junkies and Blue Rodeo.
---
His new album, Cassettes In Common, pays tribute to virtually all of those eras by presenting Borra's new interpretations of 10 songs by fellow singer/songwriters who helped build the scene. Assisting Borra in the studio was another group of Toronto underground legends, including Michael Timmins of Cowboy Junkies, Blue Rodeo keyboardist Mike Boguski, original Blue Rodeo drummer Cleave Anderson, Doughboys/Rusty guitarist Scott McCullough, fiddler extraordinaire Miranda Mulholland, Handsome Ned guitarist Steve Koch, and Borra's longtime friends and collaborators Sam Ferrara and Johnny MacLeod.
"These are songs by people I know or have known, which gives it an extra specialness for me," Borra says. "Some of them have never had a commercial release, and some others are pretty obscure—or at least not in the popular consciousness. I think all of the songs and artists here are top-notch and deserve recognition. It's also how we keep songs alive. By doing them. It's part of the folk tradition."
What follows is a track-by-track breakout of Borra's Cassettes In Common, available through his website and Bandcamp.
Honestly Ed (written by Keith Whittaker and Steven Davey)
Keith Whittaker was lead vocalist for the seminal Canadian punk band The Demics, but following their break-up in 1982, not much was heard from him until the early '90s when Whittaker and Steven Davey (The Dishes/Everglades) recorded a batch of acoustic tunes, including Honestly Ed. Whittaker succumbed to cancer in 1996, but by then, his influence had been celebrated in songs by Cowboy Junkies and Blue Rodeo. His solo recordings can be heard on the 2016 Bullseye Records compilation, Drink To Me.
Wedding Bell (written by Pat Madden)
This song was originally done by a band called Luther Victim, formed by Pat Madden and future Doughboys/Rusty guitarist Scott McCullough. Although based in Montreal, they eventually moved to Toronto, where they enlisted Change Of Heart's Ian Blurton to play drums and recorded their only official release, a 1988 cassette entitled Fraught! Borra gives Wedding Bell a classic honky tonk feel that wouldn't be out of place on an early '70s Rolling Stones album.
Marie (written by Sam Larkin)
Many of the artists Borra chose to cover have ties to Fat Albert's coffee house, home to Toronto's longest-running weekly open stage. Sam Larkin was a regular and became somewhat of a mentor to up-and-comers such as Ron Sexsmith and Bob Wiseman. Although he never ventured much out of Toronto, his easy-flowing lyricism—bridging the Irish and Texas songwriting schools—was unforgettable to those who heard him. Marie was originally on Larkin's 1994 album Ransom. He passed away in 2013.
October Night (written by Frank Nevada)
Borra and Nevada shared a long history, as the former explains when talking about choosing October Night for Cassettes In Common. "In 1991, Frank and I went to Europe to try our hands at playing music on the streets and hopefully have a fun summer in a far-off land. We'd heard that Europeans had a greater respect for street musicians and that you could make decent money playing music for the public at large. This turned out to be true, and we had a wonderful adventure that lasted six months for me and turned into four years for Frank. At some point, we acquired a benefactor who bought us each a little cassette recorder. After I got home, there was a period where we would send each other audio letters we'd record on our little cassette players. Frank sent me a recording of this song he'd written after I'd left, and I've always loved it. It addresses our time together, the seasons changing, and expresses a loneliness of being on his own with an uncertain future ahead. Or at least that's my take on it. He's never recorded it, and I'm glad that I was finally able to."
Old Nova Scotian (written by Bob Snider)
Another Fat Albert's alumnus, Bob Snider, became a beloved figure among many within the emerging Toronto alternative scene at the start of the 1990s for his down-home tales that never failed to elicit smiles or extract tears. With word-of-mouth generated by his 1989 debut album, You, he landed a deal with EMI and was even honoured with a tribute concert featuring bands like Change Of Heart (for whom Borra played bass at the time) alongside members of Kids In The Hall. However, never one for the spotlight, Snider opted to return to a quiet life in rural Nova Scotia in 2009.
Crying Heartache Misery (written by Ronny Azzopardi and Jim Masyk)
Borra is often credited for carrying on the spirit of Handsome Ned, aka Robin Masyk, who led the wave of Toronto punk rockers embracing country and rockabilly during the early 1980s. Ned remains a legend within that community, so it was natural for Borra to cover one of his songs. Crying Heartache Misery was originally done by Ned's early band, The Sidewinders, which included his brother Jim on lead guitar and bassist Azzopardi. They would often open for punk bands like The Viletones before establishing the Handsome Ned legend with a weekly residency at the Cameron House on Queen Street West.
Sleep (written by Art Bergmann)
Although Bergmann is known as one of the founders of the Vancouver punk scene, the times he has spent in Toronto proved equally influential. Sleep appears on arguably Bergmann's best-loved album, 1990's Sexual Roulette, and its dark story of two star-crossed lovers remains as poignant today as it did then.
Old Grey House (written by Kyp Harness)
The incredibly prolific Harness has sometimes been described as the Bob Dylan of the Fat Albert's scene, and his ability to put out consistently thought-provoking material with a hard edge seems limitless. Old Grey House comes from Harness's 1998 album Houdini In Reverse, and the starkness of its imagery—and his performance—can easily put listeners in the mind of Bruce Springsteen's Nebraska.
Sunk In Glue (written by Sandy Filteau)
Not much is documented about Sandy Filteau or his band, The Hacks, but they clearly had a huge impact on Borra. Although they only released one cassette around the turn of the '90s, Borra's rendition of Sunk In Glue gives a good indication of The Hacks' approach that seamlessly combined country and power pop in much the same way Blue Rodeo was doing at the time.
Trains (written by Ron Sexsmith)
Of course, the most commercially successful figure to emerge from the Fat Albert's scene was Ron Sexsmith, but Borra's choice to record Trains takes us back to Ron's 1991 independent debut album Grand Opera Lane, produced by Bob Wiseman. There's clearly magic in these early songs that would soon be drawing praise from Paul McCartney and Elvis Costello. It took some courage for Borra to cover "Trains," but as someone with a close connection to Ron, he pulls it off beautifully.
– Cassettes In Common and a digital reissue of Borra's eponymously titled first cassette, originally released in 1997, can be purchased on his website.