FYI
FYI At The CMBIAs: All The Winners Named From Last Night's Big Tent Event
A former Prime Minister, global superstars, and Canadian rock royalty were all in attendance at the highly entertaining Canadian Music and Broadcast Industry  Awards gala in Toronto last night.
May 11, 2018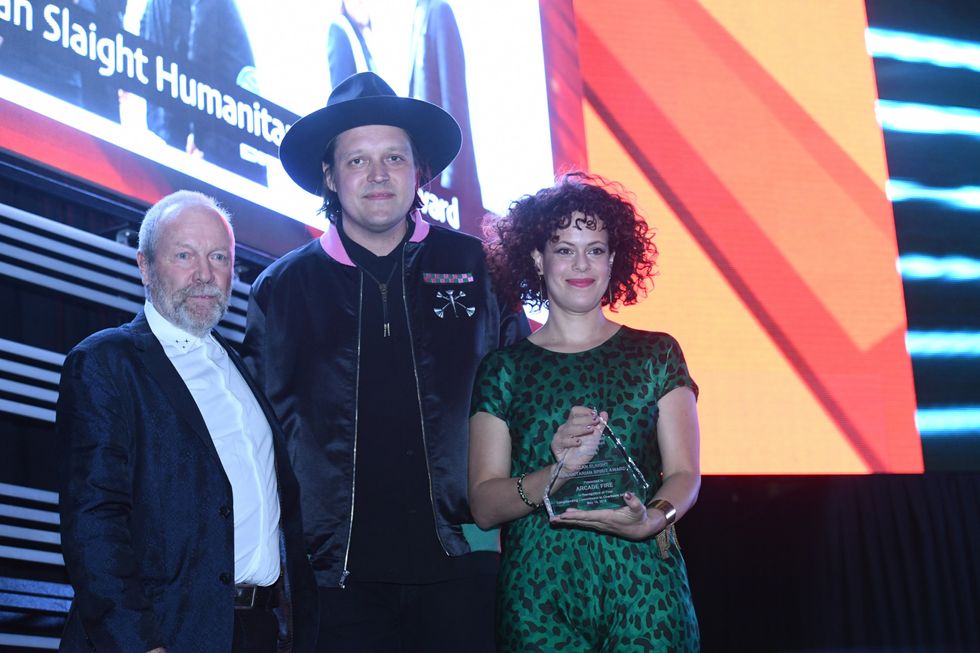 By Kerry Doole
Last night (May 10) the Canadian Music and Broadcast Industry Awards (CMBIA) were held at Rebel Entertainment Complex in Toronto as part of Canadian Music Week (CMW). Present at the gala was a former Prime Minister (Jean Chretien), global music superstars (Michael Buble, Arcade Fire), Canadian rock and pop royalty (Barenaked Ladies, members of The Tragically Hip, Andy Kim), and enough music and broadcast industry heavyweights to capsize an ocean liner.
---
The result was a thoroughly entertaining evening at which the central focus was the induction of an illustrious grouping into the Music Industry and Broadcast Industry Hall of Fames.
The first presentation of the evening saw Arcade Fire receive the Allan Slaight Humanitarian Spirit Award. Gary Slaight introduced them by noting that "like so many fans, I can't help but be impressed by what they've achieved. Not just the No. 1 albums, but in the help, they have given to others less fortunate."
The group's Plus 1 initiative in which one dollar from every concert ticket sold has gone to the Partners in Health charity was cited, along with their partnership with KANPE, a foundation that stands with the most vulnerable Haitian families to work towards their financial independence. Accepting the Award with grace were Win Butler and Régine Chassagne. Butler stated that "we are inspired by the work of the Slaight Family," adding that "we are doing this for art and humanity. We want to encourage the industry to join us and become the most giving industry."
Returning host Jessi Cruickshank then saw her Hedley and Jian Ghomeshi ("true pioneers of sexual assault in Canada") jokes fall a mite flat, but a classier tone returned with the presentation of the Rosalie Award to Toronto radio favourite Maureen Holloway (Standard, Q107, and now CHFI). Praised as a trailblazer, she joked that she is "putting the broad back in broadcasting."
Next up was the induction of FYI Music News founder David Farrell into the Canadian Music Industry Hall of Fame. He was introduced by friend and fellow industry veteran Richard Flohil, who praised Farrell's "major contribution for over 40 years in holding up a mirror in which we can see ourselves more clearly. With FYI, he keeps us all informed, writing tens of millions of words that have helped build a community."
Others testifying to the importance of his contributions included Randy Lennox, Ralph James, Lisa Zbitnew, Frank Davies, and Chuck McCoy.
In receiving the honour, Farrell joked that "I thought I'd made a career of pissing all of you off!" He then eloquently reflected upon "a wild ride," reminisced about his manual typewriter and treasured collection of '45s, and declared "I've had a blast and I have made wonderful allies and friendships."
Barenaked Ladies then took to the stage for a short and typically entertaining set, followed by the induction of veteran show promoter/agent Jeff Craib into the Hall of Fame. Doing the introduction were Paul Langlois and Gord Sinclair of The Tragically Hip, while clients paying tribute via video included Alessia Cara, Barenaked Ladies, Paul Anka, Philosopher Kings, Nelly Furtado, Scott Helman, and Matthew Good.
Long a vital part of The Feldman Agency team, Craib estimated he has worked 10,000 shows with 200 artists, and he singled out his involvement with The Hip's final Man Machine Poem tour as a career highlight. His mantra? "No artist, no music, no fans, no job."
The next Hall of Fame inductee onstage was Ticketmaster Canada COO Patti-Anne Tarlton. A veteran of the concert biz as a promoter, venue operator and ticketing provider, she reminisced about a career that began at age 14 with a summer job at Perryscope Concerts, then continued with stints at Donald K. Donald Concerts (DKD is her uncle), MCA Concerts, MLSE and now Ticketmaster.
Indie rock heroes The Pursuit Of Happiness then energized proceedings with spirited versions of "Hard To Laugh" and "I'm An Adult Now," followed by the HoF induction of famed Montreal radio host Robert Wagenaar, best known to all as Too Tall.
He reflected upon an amazing run of 40 years at CHOM in Montreal that included groundbreaking work on the L'Esprit competition. Artists offering praise in a video tribute included Debbie Harry and Chris Stein of Blondie and Chris de Burgh.
The show then came to a triumphant and crowd-pleasing climax with the presentation of a Lifetime Achievement Award to Paul Anka, an artist to whom the overused adjective legendary does indeed apply. He is, after all, the only artist to have an album make the Billboard Top 100 Chart in seven consecutive decades.
Presenting the honour was Michael Buble, who termed Anka a close friend, mentor, and inspiration. "In a biz full of so much BS, Paul is the real deal," stated Buble, whose impersonation of Anka raving about Drake was hilarious.
Anka does indeed have friends in high places, as evidenced by the presence of Jean Chretien at the gala. Those offering videotaped congratulations included Bruce Allen, David Foster, Jim Brown, and Warren Buffett.
The singer's acceptance speech was by turns sincere ("I was blessed to be born and raised in Canada") and self-deprecating. He joked about "the profound lyrical content" of smash hits like "Diana" and "She's Having My Baby," and his fitness kick ("I've been on Jenny Craig more than Mr. Craig"). He also dropped the curious news that he has just collaborated on a track with Drake, coming next month.
Anka then turned philosophical, stressing that "I have tried to live a life that matters." To paraphrase the words of his signature tune, he has always done things his way. To round out this memorable night in totally fitting fashion, he then serenaded and farewelled the crowd with a knockout version of "My Way."
Here is a complete list of 2018 Canadian Music and Broadcast Industry Awards winners.
 
MUSIC DIRECTOR MAJOR
JULIE JAMES, CHFI, TORONTO
 
MUSIC DIRECTOR SECONDARY
(TIE)
SARAH CHRISTIE, 105.3 VIRGIN, KITCHENER
MARK CAMERON, FM 96, LONDON           
 
MUSIC DIRECTOR SMALL
SCOTT MCGREGOR, 98.1 THE BRIDGE, LETHBRIDGE                       

ON AIR TALENT MAJOR
GARNER ANDREWS, SONIC 102.9, EDMONTON           
 
ON AIR TALENT SECONDARY
BIGGS & BARR, HTZFM, ST CATHARINES                       
 
PROGRAM DIRECTOR MAJOR
CHRISTIAN HALL, X929, CALGARY
 
PROGRAM DIRECTOR SECONDARY
KAREN STEELE, 105.3 VIRGIN, KITCHENER                       
 
PROGRAM DIRECTOR SMALL
JEFF WINSKELL SUN 99.9, KELOWNA                       
 
PROMOTION
SECRET BOARDING PASS 102.1 THE EDGE, TORONTO
 
STATION OF THE YEAR MEDIUM
FM96, LONDON                                   
 
STATION OF THE YEAR AC
98.1 CHFI, TORONTO
 
STATION OF THE YEAR CHR
99.9 VIRGIN, TORONTO                                   
 
STATION OF THE YEAR CLASSIC/GOLD
BOOM 97.3, TORONTO                                   
 
STATION OF THE YEAR COUNTRY
COUNTRY 105, CALGARY
 
STATION OF THE YEAR MULTICULTURAL
CHIN, TORONTO                       
 
STATION OF THE YEAR NEWS/TALK
680 NEWS, TORONTO                                               
 
STATION OF THE YEAR ROCK
INDIE 88, TORONTO
 
STATION OF THE YEAR SMALL
(TIE)
K ROCK 105.7, KINGSTON & COUNTRY 104, WOODSTOCK

BOOKING AGENT
THE FELDMAN AGENCY
 
MANAGEMENT COMPANY
INVICTUS ENTERTAINMENT GROUP
 
MAJOR FACILITY OVER 8000
THE AIR CANADA CENTRE, TORONTO
 
MAJOR FACILITY UNDER 8000
THE ROGERS K ROCK CENTRE, KINGSTON
 
CASINO/SPECIALTY VENUE
GREY EAGLE CASINO, CALGARY
 
PERFORMING ARTS CENTRE OVER 1500
MASSEY HALL TORONTO
 
PERFORMING ARTS CENTRE UNDER 1500
THE VOGUE THEATRE VANCOUVER
 
PROMOTER
LIVE NATION
 
INDEPENDENT RECORD STORE
SONIC BOOM TORONTO
 
MAJOR RETAILER
SUNRISE RECORDS           
 
DIGITAL MUSIC STREAMING SERVICE
SPOTIFY                                   
 
RECORDING STUDIO
THE WAREHOUSE STUDIO VANCOUVER                       
 
CANADIAN INDEPENDENT LABEL
DINE ALONE RECORDS           
 
INDEPENT DISTRIBUTOR
eONE DISTRIBUTION
 
MUSIC PUBLISHER
UNIVERSAL MUSIC PUBLISHING                       
 
MUSIC SCHOOLS
FANSHAWE COLLEGE LONDON           
 
MUSIC JOURNALIST
SARAH MURPHY, EXCLAIM
 
PUBLICIST
DAVE STELLING, WARNER MUSIC
           
MAJOR LABEL
UNIVERSAL MUSIC CANADA