FYI
Five Questions With… Jeremy Widerman of Monster Truck
With a new album waiting in the wings, the guitarist of Hamilton's Juno-winning hard rock heroes reflects upon his early listening habits, his most embarrassing performance ever, a love of Bad Company, and the favourite song he has written.
Sep 07, 2018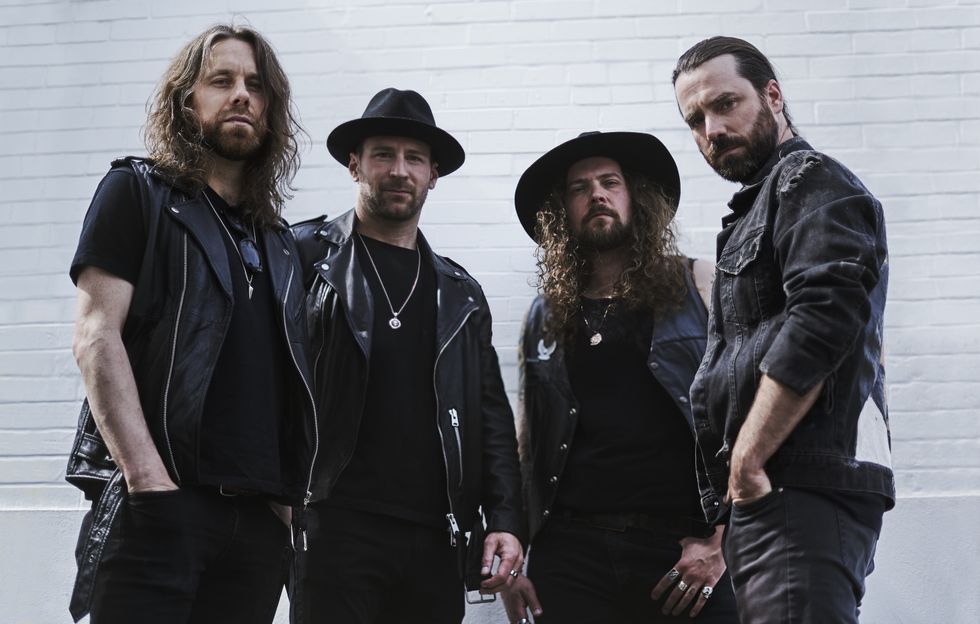 By Jason Schneider
Hamilton, Ontario's Monster Truck have been keeping rock's flame burning bright over the past decade, with numerous Top 10 Canadian Rock radio hits, a 2013 Juno Award for Breakthrough Artist of the Year, a 2014 Juno nomination for Rock Album of the Year and countless tours to their credit. They return on Sept. 14 with their latest album True Rockers (Dine Alone Records), and as the title suggests, the band's third full-length effort doesn't aim to fix what isn't broken.
---
Produced by Dan Weller, with select tracks handled by Gavin Brown and Maia Davies, True Rockers is the sound of the band letting loose and having fun, evident from the opening title track that features guest vocals by Twisted Sister's Dee Snider. Other standout cuts including "Thundertruck" and "Devil Don't Care" display Monster Truck at full throttle, while songs like "Undone" and "The Howling" showcase their introspective side.
Expectations have been raised considerably since the band's previous album Sittin' Heavy debuted at #3 on Canada's SoundScan chart, but Monster Truck's unabashed dedication to creating killer riffs is sure to keep pleasing their fan base. Add to that their tireless touring regimen that has brought together several generations of rock fans and you get a band that's definitely in it for the long haul.
Monster Truck guitarist Jeremy Widerman spoke to us as the band prepares to spend the remainder of the year on tour in Europe with Black Stone Cherry, with more Canadian dates set for 2019. Get more info at ilovemonstertruck.com
What are your fondest musical memories as you were growing up?
It was probably listening to music on my Dad's awesome stereo system. I'll always remember hearing "Surfin' USA" by the Beach Boys on cassette for the first time which eventually turned into the 1000th time before my parent's "lost" the tape. When I got into vinyl, I'd listen to Led Zeppelin III and spin that cutout album artwork disc around over and over. I think that was the beginning of me realizing the relationship between an album's artwork and the music.
What do you recall about your first time performing in public?
It was a disaster. I don't mean like a bad or embarrassing performance. I mean a full-blown five-alarm tire fire from hell. It was a talent show at my high school and my horrible band Purple Slush was somehow allowed to perform between lip syncers and legitimately talented acoustic performers. We were allowed to do two songs in front of the 1,400-person student body who were forced to listen. The amps weren't mic'd. The drums—which I was playing—weren't mic'd. The gymnasium was MASSIVE. The only thing mic'd was the Kurt Cobain wanna-be, screechy, unintelligible, ratty vocals… which were on 11.
So we're nearing the end of the second song and the crowd is obviously hating it. The sense of dread I felt knowing that, combined with the fact that our lead singer was secretly planning on blasting into a third unwelcome song, still makes me feel sick. We finish the second song and he looks back at me, smiling and excited, obviously oblivious to the fact that all 1,400 people are disgusted with us. Before I can plead with him to stop he starts the third song. I have no choice but to put my head down and blast along.
Somewhere in the middle of the song, and unknown to me, the power gets pulled on the whole performance. I can't hear anything other than my horrible drumming, so I just keep plugging along until the drama teacher who was organizing the event is standing over me scowling and red-faced. I realize what has happened is that I just did what was essentially a 20-second drum solo in front of the entire school. It was probably the most embarrassed I've ever been, and I don't know how I ever ended up getting back on stage again!
What song in your catalogue means the most to you and why?
Probably "The Lion" [from debut album Furiosity], partly because I wrote most of the key musical parts but more because it marks a point in the band where we figured out what we wanted to do musically. It represents to us deciding to take the band on the road and really "go for it" as opposed to the original plan of just playing in Hamilton and getting drunk.
What song by another artist do you wish you had written?
"Ready For Love" by Bad Company.
If you could fix anything about the music industry, what would it be?
Instead of the artists making less money than almost everyone else I'd probably put them somewhere in the middle.