FYI
Canada's Walk Of Fame To Induct 13 Rock Of Famers
A baker's dozen of iconic Canadian musical acts from the '70s and '80s are to be celebrated by Canada's Walk of Fame (WoF) at a Massey Hall event on September 28 that is marqueed as Canada's Rock of Fame. On-sale tickets start this Friday.
Jul 11, 2023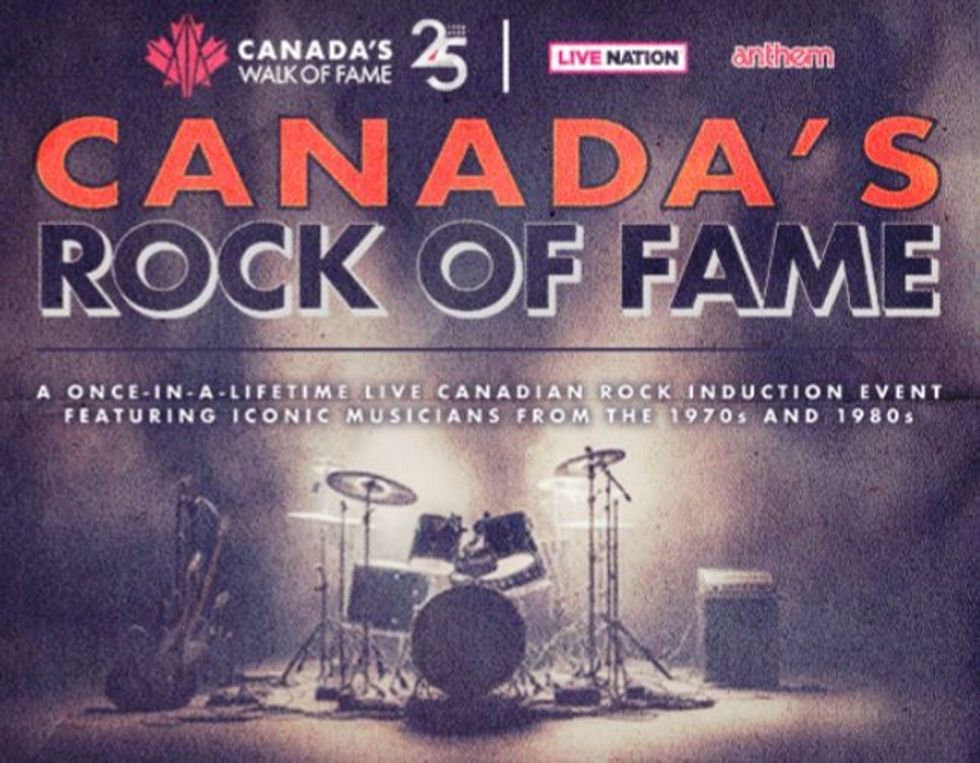 By FYI Staff
A baker's dozen of iconic Canadian musical acts from the '70s and '80s are to be celebrated by Canada's Walk of Fame (WoF) at a Massey Hall event on September 28 that is marqueed as Canada's Rock of Fame.
---
Organizers of the Walk of Fame have partnered with Anthem Entertainment and Live Nation for the Sept. concert. The Massey Hall event, open to the public with on-sale ticketing available this Friday (July 14) is the first of two induction events that cap the organization's 25th anniversary. The main induction ceremony where notable Canadians past and present are to be honoured and inducted is on Dec. 2 at the Metro Toronto Convention Centre with a CTV broadcast of the night TBA.
Nine of the inductees are yet to be recognized by the Juno Hall of Fame, the four exceptions being Loverboy (2009), April Wine (2010), Chilliwack (2019), and Prism (in 2023).
In making the announcement, WoF CEO Jeffrey Latimer stated: "These trailblazing musicians have had an extraordinary impact on our Canadian rock landscape. Their longevity, many of whom still tour and sell out venues, is inspiring and we are proud to welcome them."
All 13 acts will be in attendance for the event, which will feature live performances, special guests, and a reunion of Canadian DJs. Lou Pomanti is the musical director.
It is expected that future induction ceremonies organized by the WoF will focus on acts that have earned popular success in genres other than rock.  
As per the announcement:
 
April Wine
Hometown: Halifax, NS
Years Active: 1969-1986, 1992 - present
April Wine is a legendary Canadian rock band known for their infectious melodies and timeless hits. With over 10 million albums sold worldwide, their extensive discography includes over 20 studio albums, with classic hits like Bad Side of the Moon, Roller, I Like to Rock, and Just Between You and Me, which was the first video by a Canadian artist to be played on MTV. Their fifth album, Stand Back, has gone double platinum in Canada, cementing their status as a national treasure. In 2009, April Wine was inducted into the Canadian Music Industry Hall of Fame and received the Juno Lifetime Achievement Award. The following year, they were also inducted into the Canadian Music Hall of Fame.
 
Chilliwack
Hometown: Vancouver, B.C.
Years Active: 1970-1988, 1997 - present
The award-winning, gold and platinum-selling west coast act produced some of the most enduring Canadian rock songs of the 1970s and '80s. Among the band's Canadian and international hits are Lonesome Mary, Fly at Night, California Girl, My Girl (Gone Gone Gone) and Whatcha Gonna Do. Releasing 12 albums over a 14-year period, Chilliwack's catchy, easygoing hooks and bright, melodic style were distinguished by the falsetto vocals and tasteful guitar playing of lead singer and songwriter Bill Henderson. In 2019, Chilliwack was inducted into the Canadian Music Hall of Fame.
 
Glass Tiger
Hometown: Newmarket, ON
Years Active: 1983 – present (hiatus 1993-2003)
Grammy Award nominees and five-time Juno Award winners (13 times nominated), Glass Tiger formed in the early '80s out of Newmarket, Ontario and has become one of the most successful bands in Canadian music history with over 5 million albums sold. Their 1986 debut album, The Thin Red Line went multi-platinum in Canada, gold in the U.S. and led to the hit singles Don't Forget Me (When I'm Gone) and Someday. Throughout their illustrious career, Glass Tiger has shared stages and performances with some of the world's leading acts, such as Rod Stewart, Tina Turner, Bryan Adams, Journey, Julian Lennon and Cheap Trick.
 
Lee Aaron
Hometown: Brampton, ON
Years Active: 1980 - present
One of Canada's most iconic vocalists, songwriters, producers, and fearless re-inventors with a catalogue of 18 albums and multiple hit singles, Lee Aaron has undertaken successful forays into rock, pop, jazz and even opera in a career that now spans more than 40 years.
A pioneer of female-fronted rock in Canada, Aaron released her debut album, The Lee Aaron Project, in 1982. Her sophomore release, 1984's Metal Queen, established her as a trailblazer for women in the genre, elevating her to icon status with legions of rock fans worldwide. The title track is a genderless anthem of empowerment for all fans. A 10-time Juno Award nominee, Aaron's 1989's BodyRock and 1991's Some Girls Do achieved multi-platinum status and included hit singles like Whatcha Do to My Body, Hands On, and Some Girls Do.
 
Lighthouse
Hometown: Toronto, ON
Years Active: 1969 - present
Lighthouse's brand of free-wheeling, jazz-rock-classical fusion took Canada by storm following their debut in May 1969 at Toronto's Rock Pile. Touring up to 300 days a year across Canada, the US, Europe and Asia, Lighthouse was recognized as one of the best-performing acts of their time. Fifty-five years later, they are still touring and creating that same high-spirited excitement for fans, old and new. Lighthouse has received multiple awards and honours, and their impressive catalogue of 23 albums, several reaching Diamond, Platinum and Gold status, have produced hits such as Sunny Days, One Fine Morning, Pretty Lady, Take it Slow (Out in the Country) and Hats Off (To The Stranger), all of which continue to receive daily radio play and covers.
 
Loverboy
Hometown: Calgary, AB
Years Active: 1979-1988, 1989, 1991 - present
For more than 40 years, Loverboy has been delighting audiences worldwide with their trademark red leather pants, bandannas, big rock sound and high-energy live shows. Loverboy has sold more than 10 million albums, earning four multi-platinum plaques, a trio of double-platinum releases and a string of rock staples, including Working for the Weekend, Lovin' Every Minute of It, and Turn Me Loose, still heard on many classic rock radio stations around the world. The multiple Juno Award winners and Canadian Music Hall of Famers were the first Canadian group to earn Columbia Records' exclusive Crystal Globe Award, celebrating the sale of over five million albums. Loverboy's reputation as an incredible live act has always been its calling card as the group continues entertaining fans of all ages.
 
Max Webster
Hometown: Toronto, ON
Years Active: 1972–1981, 1990, 1995–1996, 2007
Canadian rock band Max Webster was formed in Toronto in 1972. With frontman Kim Mitchell at the helm, the band released seven albums from 1976-1981 -- six of which received Gold status certification and one Platinum certification in Canada. Max Webster cranked out a string of Canadian hits that include Hangover, High Class in Borrowed Shoes, Diamonds, Diamonds, Let Go the Line, A Million Vacations and Paradise Skies.From the mid-1970s to the early '80s, the band toured heavily, playing up to 250 dates a year and opening for rock music heavyweights such as Bachman-Turner Overdrive, Blondie, The Cars, Cheap Trick, Peter Gabriel, Genesis, The Guess Who, Kansas, Ted Nugent, Rainbow, Rush, REO Speedwagon and Styx.
 
Michel Pagliaro
Hometown: Montreal, QC
Years Active: 1966 - present
Singer-songwriter, producer and guitarist Michel Pagliaro rose to fame in the 1970s with his English and French language rock albums and bridged the gap between anglophone and francophone Canada. His classics include the French hits Fou de toi, Si tu voulais, Louise, L'espion and J'Entends Frapper, which was inducted into the Canadian Songwriters Hall of Fame in 2010 and became the bestselling single in Quebec history, and English favourites Lovin' You Ain't Easy, Rainshowers, Some Sing, Some Dance and What The Hell I Got. Among his many accolades, Pagliaro received the Governor General's Performing Arts Award in 2008 and was the first artist in Canada to have hit singles and gold records in both English and French. Pagliaro still performs today to crowds of loving fans.
 
Platinum Blonde
Hometown: Toronto, ON
Years Active: 1980-1990, 2010 – present
Known for meticulously arranged coifs and sturdy new-wave hooks, Platinum Blonde was founded in 1980 by British-born musician, composer and producer Mark Holmes. The band quickly rose up the charts in 1983 with their self-titled EP before releasing their debut album Standing In The Dark while on tour with Bryan Adams and Billy Idol. In 1985, they released their sophomore album Alien Shores, which received multi-platinum status and delivered hits that included Situation Critical, Somebody Somewhere and Crying Over You. Their third studio album, Contact, exceeded the ten times platinum sales mark (Diamond status) and a Gemini Award for Best Music Video. Platinum Blonde's new wave sound defined a decade in Canadian music. In 2010, the band was Inducted into the Music and Broadcast Industry Hall of Fame, and in 2012 released the critically acclaimed album Now & Never. Holmes continues to record and tour, with a new record set for 2024.
 
Prism
Hometown: Vancouver, B.C.
Years Active: 1977-1982, 1988 – 2011
Prism was formed in 1977 by producer Bruce Fairbairn, songwriter Jim Vallance, guitarist Lindsay Mitchell and singer Ron Tabak. The founders very quickly recruited John Hall (keyboards) and Rocket Norton (drums), followed by Al Harlow (bass) who joined in 1978. On the strength of eight albums and 21 singles, including Spaceship Superstar, Armageddon, and Night to Remember, Prism's live concerts sold out the country's arenas, holding attendance records at many venues. Prism won Group of the Year at the 1981 Juno Awards.
Rough Trade
Hometown: Toronto, ON
Years Active: 1974-1988
Rough Trade was formed in Toronto in 1974 by multi-instrumentalist Kevan Staples and vocalist Carole Pope. Notorious for the openly sexual nature of their songs and the burlesque theatricality of their live performances — which often included bondage and sexual satire — the band was one of the first mainstream musical acts to include explicitly gay and lesbian references. Four-time Juno Award winner Rough Trade is best known for the risqué, controversial hit single High School Confidential, which was inducted into the Canadian Songwriters Hall of Fame in 2020. Rough Trade: The Musical, written by Pope and Kate Rigg and starring Chilina Kennedy, is being workshopped in New York. A documentary on Pope's life, based on her autobiography, Anti Diva, is in development with the CBC, produced by Michelle Mama and Gay Agenda.
 
The Parachute Club
Hometown: Toronto, ON
Years Active: 1982-1989
Toronto-based music collective The Parachute Club was active from 1982-1989. Formed by lead vocalist/guitarist Lorraine Segato and drummer Billy Bryans, the four-time Juno Award-winning group emerged from the artistic fertile breeding ground of the Queen Street West neighbourhood that exploded throughout the '80s. Known for lyrics that embraced feminism, anti-racism and LGBTQ2S+ causes, they were one of the first mainstream acts in Canada to integrate world music influences into their sound, such as reggae and soca. Having performed throughout Canada, the U.S. and Germany, The Parachute Club released several top 40 hits, including At the Feet of the Moon, Love Is Fire, Love & Compassion and Rise Up, which is celebrating 40 years of being an anthem for social justice causes.
 
Trooper
Hometown: Vancouver, B.C.
Years Active: 1975 - present
Vancouver-based Trooper has spun out platinum albums and crowd-pleasing hits since 1975 with classic radio staples Raise a Little Hell, Boys in the Bright White Sports Car, and We're Here for a Good Time (Not a Long Time).  With its blend of upbeat pop and energetic rock, the Juno Award-winning group has sold millions of records, recorded a couple of dozen hits, and is recognized as one of Canada's top five-selling bands of all time. Trooper's ten studio albums have earned multiple gold and platinum awards, and their multi-platinum greatest hits, Hot Shots, continues to be one of the country's most enduring party soundtracks.