FYI
Bryan Adams, Jim Vallance Headed To Songwriters Hall of Fame
On the eve of his 15th studio album and a four-plus decade career, Bryan Adams and frequent co-writing partner Jim Vallance are named as the two newest inductees to the Canadian Songwrit
Mar 08, 2022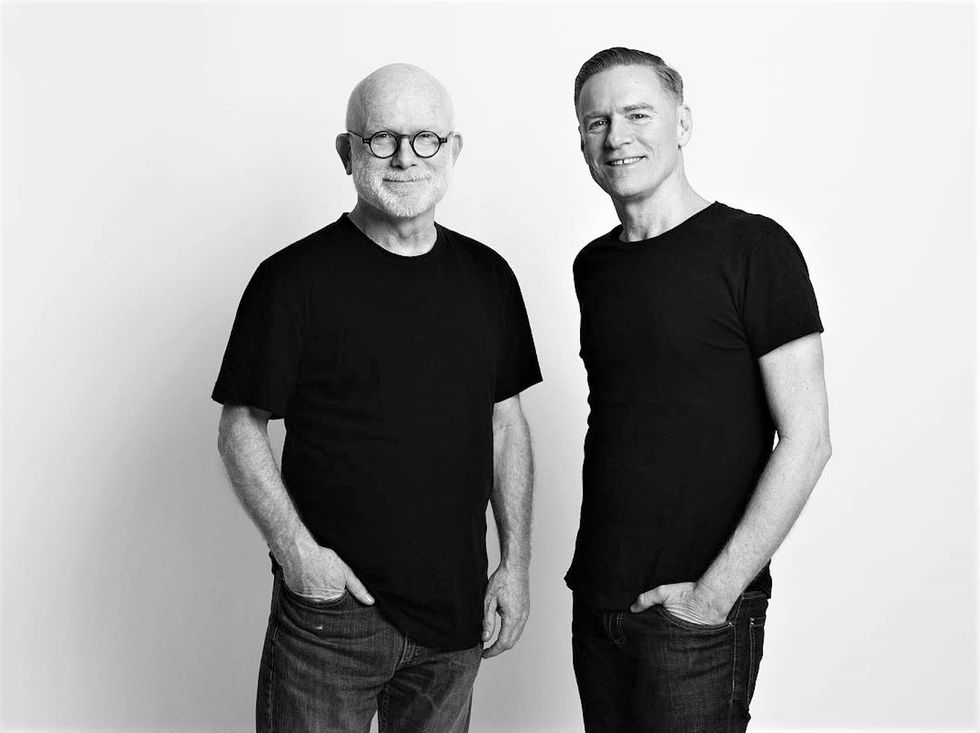 By External Source
On the eve of his 15th studio album and a four-plus decade career, Bryan Adams and frequent co-writing partner Jim Vallance are named as the two newest inductees to the Canadian Songwriters Hall of Fame (CSHF).
---
The Adams/Vallance songwriting partnership has also created a portfolio of songs recorded for other artists that include Prism (of which Vallance was a founding partner), Loverboy, Payola$, Lisa Dal Bello, Joe Cocker, Kiss, Bonnie Raitt, Carly Simon, Celine Dion, Rod Stewart, Tina Turner, Rod Stewart, Bonnie Tyler, Ted Nugent, Juice Newton, and Neil Diamond.
"I'm delighted to see Jim Vallance get the acknowledgement he deserves, he's a masterful songwriter and an incredible musician," Bryan Adams said in a statement on Tuesday.
"It's a thrill to see my name added to the list of songwriters I idolised when I was starting out 50 years ago, and who I still idolise today - Joni Mitchell, Neil Young, and Robbie Robertson, among others - and I'm especially pleased to be inducted along with my friend and songwriting partner Bryan Adams," Vallance stated.
Having pivoted to virtual induction presentations over the past two years, the CSHF presentation returns to an in-person gala with presenting partner El Mocambo, at Toronto's Massey Hall on Saturday, Sept. 24. The bilingual live show will honour Adams, Vallance, and the rest of the class of 2022 inductees with tributes and performances from fellow Canadian and international stars and recording artists.  
"The collaboration between Bryan Adams and Jim Vallance is one of the most prolific music partnerships in Canadian rock history, and we're so pleased to honour them distinctively for their incredible talent and craft as songwriters," CSHF Board Chairman Stan Meissner said in a statement.  "Today's announcement kicks off what will be an incredible year for the Canadian Songwriters Hall of Fame as we get ready to celebrate the return of our live gala.  Music has helped many of us through the past few challenging years, and we can't wait to gather once again as a community to share in the joy and universal connection of storytelling through songs."
It was a chance meeting with Jim Vallance at a music store in Vancouver that would launch his solo career – and a lifelong friendship and collaboration.
"It was an incredible ascension from having to borrow bus fare, to having hit records. It was also the first time I'd ever eaten boiled cauliflower," Adams said.
Vallance also recalls, "Right from the first day I was impressed with Bryan. It was obvious he had enormous talent coupled with extraordinary drive."
1983's Cuts Like a Knife kicked Adams' career into high gear with a series of singles that included Straight from the Heart and This Time and garnering Juno Awards for Best Male Vocalist for Adams, and Composer of the Year for Adams and Vallance.
The follow up Reckless album reached No. 1 on the Billboard and Canadian album charts, yielding another string of Adams-Vallance hits including the duo's first Billboard Hot 100 No. 1 single, Heaven; the SOCAN Classic and No. 1 Mainstream Rock track, Run to You; and the now-classic favourite, Summer of '69. 
Adams' songwriting includes 1991's (Everything I Do) I Do It For You, written with Robert "Mutt" Lange and Michael Kamen, which won a Grammy Award for Best Song Written for Motion Picture. The song is among countless No. 1 hits by Adams including Have You Ever Really Loved a Woman, All for Love, Please Forgive Me, Don't Give Up, Can't Stop This Thing We Started, Thought I'd Died And Gone to Heaven, and Let's Make a Night to Remember.  Many of his songs have been in feature films, garnering him three Academy Award nominations and five Golden Globe nominations throughout his career.
While continuing to collaborate with Adams, Vallance became a coveted producer and songwriter for some of music's biggest icons including Ozzy Osborne, Aerosmith, and The Go-Go's, making him one of the best in the industry for his ability to pen hit songs across the entire music spectrum from country to hard rock.
In 2018, Adams and Vallance reunited to collaborate on the music and lyrics for Pretty Woman - The Musical, which made its record-breaking Broadway run and is now touring around the globe. Meanwhile, Adams is getting ready to release his 15th studio album So Happy It Hurts on March 11 and will be embarking on a world tour later this year.
Just ahead of that release, Adams has also just released his own versions of the songs from Pretty Woman - The Musical.
Adams and Vallance will be honoured during the Canadian Songwriters Hall of Fame Gala planned for September 24 at Toronto's newly renovated Massey Hall. Additional Inductees and details for the gala will be announced in the coming months. 
The CSHF has its permanent home at the National Music Centre in Calgary, which features a celebrated catalogue of inducted songs that fans can listen to in addition to displays, exclusive artifacts and one-of-a-kind memorabilia celebrating Canada's greatest songwriters and Inductees.
This year's CSHF gala sponsors are the El Mocambo, RBC Emerging Artists, Sirius XM, Slaight Music, Boucher Guitars, Hargraft Schofield, EllisDon, and Gowling.