FYI
Brett Kissel's Charm Heats Up His Winter Tour
The kid who grew up on an Alberta beef ranch and cut his first album before he was out of his teen years is every manager's dream: sharp, smart, sociable, charismatic, talented, and born with a work ethic that's tough to match.
Feb 02, 2018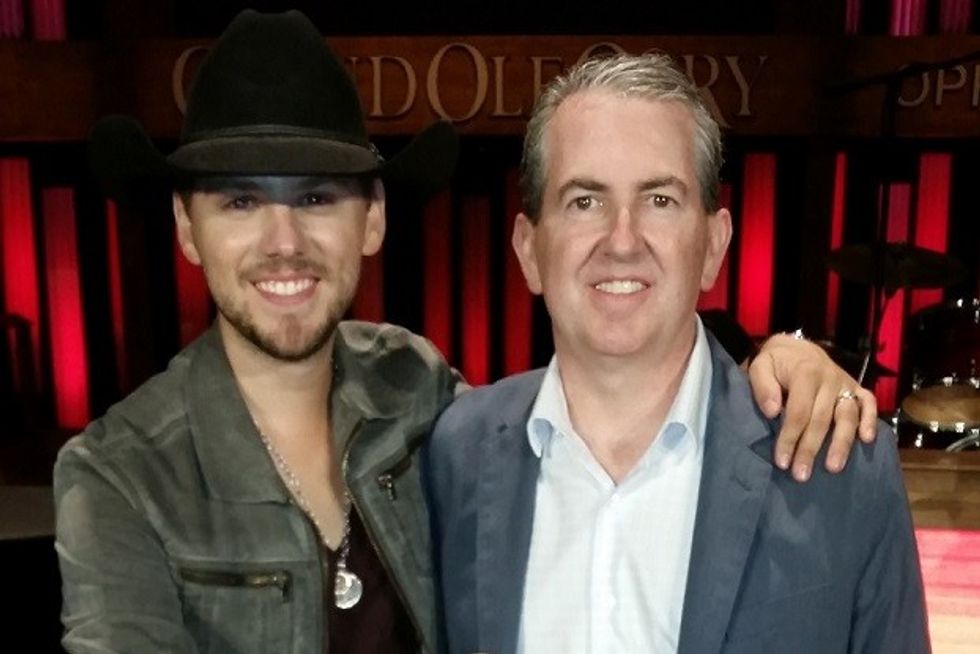 By David Farrell
It's late afternoon in Regina and manager Louis O'Reilly is eyeing the time as Brett Kissel glad-hands all 100 head-office staff at jewellery company Hillberg & Berk as a scheduled rehearsal for a concert this evening at Conexus Arts Centre draws closer.
---
"Brett loves people," O'Reilly tells me. "He wants to meet everyone. What's remarkable is he can come back here (to Hillberg & Berk) in six months, or two years, and he's going to remember everyone's name."
The same goes for tour stops where Kissel will stay to chat and shake hands until the last fan has left the building.
The twenty-seven-year-old is just warming up on his 50-plus winter concert-tour that moves him west to east as far as Ontario, and then the plan is to extend it by 20-plus dates this fall to take him east through Quebec and the Maritimes.
There's also a package of high-profile summer outdoor shows and, through William Morris Endeavour, Kissel's US agency, an undetermined number of soft-ticket dates warming up the US heartland playing fairs and festivals.
The kid who grew up on an Alberta beef ranch and cut his first album before he was out of his teen years is every manager's dream: sharp, smart, sociable, charismatic, talented, and born with a work ethic that's tough to match. Look at his trophy chest of awards and 10 Top 10 hits and one starts to think the guy is invincible. Hell, he even sweet-talked Garth Brooks into taking him on tour in Canada. And these two hat cats hit it off like they were best of friends.
The tour, efficiently named after Kissel's third Warner Music Canada album, We Were That Song, is a big undertaking with a cast of 17, including his five-piece band, playing 500 to 2,000-seat halls from BC through Ontario. Included in this first leg are matinee and early-evening concerts at the 1500-capacity Danforth Music Hall on Feb. 15 in Toronto. One show in a city without a marquee country station is noteworthy. Two is significant.
Guesting on the tour is fellow Alberta country music star Dan Davidson who, like Kissel, is part of Jim Cressman's Invictus Entertainment machine that does everything, from bookings to management and arena shows. Heck, Invictus even has a recording imprint, Big Star Recordings.
But back to Kissel and his tour. Hillberg & Berk is one of a number of major brands that O'Reilly has roped in as tour sponsors, or "partners" as O'Reilly likes to call them.
Others include Driving Force Vehicle Rentals and Sales ("Brett Kissel proudly drives a Dodge Ram 2500 courtesy of"), BRP, Action Care & Truck Accessories, Spartan Controls, Shure Audio, and Gibson Guitars.
The Hillberg & Berk deal is a contest where fans get to nominate a woman who sparkles in their life. One lucky winner per show gets to do a meet-and-greet with the star, and receive a gift bag of H&B-branded jewellery.
Cressman put the tour together with O'Reilly, and they are guestimating that as many as 70,000 tickets will be sold before the tour is over. O'Reilly again pushes the fact that Kissel loves getting in front of an audience. "He lives to be on the road," he tells me. "This tour is an example of that. A lot of artists at his level might not do shows in certain markets but Brett will play every nook and cranny in Canada if he can meet people."
The strategy in the US is more of a hard-sell, even though the strategy is to soft-sell his presence. SiriusXM airplay is an ally in a market that is a tough nut to sell to, but the new album offers an accessible path to getting noticed with a mix of tracks that fill the mainstream and the title track that gives a shout-out to John Mellencamp's "Jack and Diane." But the teeth of the matter, asCalgary Heraldcolumnist Eric Volmers notes, are two tracks with two notable guest artists.
Kissel enlisted 83-year-old country icon Charley Pride "for help rebooting 'Burgers and Fries', a sadly wistful Ben Peters chestnut that Pride took to No. 1 back in 1978."
"On the driving 'Damn!', one of the tunes Kissel co-wrote, Megadeath leader Dave Mustaine offers some fiery guitar crunch to the mix."
Kissel tells Volmers that the two have been friends for some time in Nashville and that he has written songs with Mustaine's country-crooning daughter, Electra. But he says he was "surprised when the heavy-metal guitarist, after a few cocktails one night, asked why (he) had never asked him to play on one of his albums."
So Kissel did.
"'His only stipulation was that it needed to be the most bad-ass track I'd ever written,'" he tells the reporter. "'So, I went back through my database and said 'Well I've got this one, what do you think?' He loved it and played his guitar work while he was on tour somewhere in Asia I think. That's the power of technology. He played his guitar work and we built the track around him."
Attention to detail is just one of the things that get Kissel noticed. Having Pride and Mustaine on the new album are not only attention grabbers and talking points but strengths that make the new album stand out.
Natch, the Regina show is a big success, as are more since– and now he has two hits on the Country Top 40 charts, with the lead-single title track slowly sliding down at No. 32 this week, with the album's second single, "Anthem," bulleting 44-37.
Tonight, Kissel and entourage with Dan Davidson are at the Thunder Bay Community Auditorium. It's -23C with a real feel of -28 and afternoon flurries expected.
To him, this is just a part of the package that comes with being a road warrior and a way to making new friends.
He'll be working local media, chatting up a storm and it's all but guaranteed his fans will be ecstatic with the show.
The guy's a workhorse with charm, confidence and the ambition of an Alberta boy who had a dream and is making it happen one day at a time.