Rock
The Tragically Hip Reunite In Toronto To Discuss 'Phantom Power' Reissue
The legendary Canadian rock band made a surprise appearance at a listening event for the 25-year-old album and went deep into their music and their legacy.
Nov 09, 2023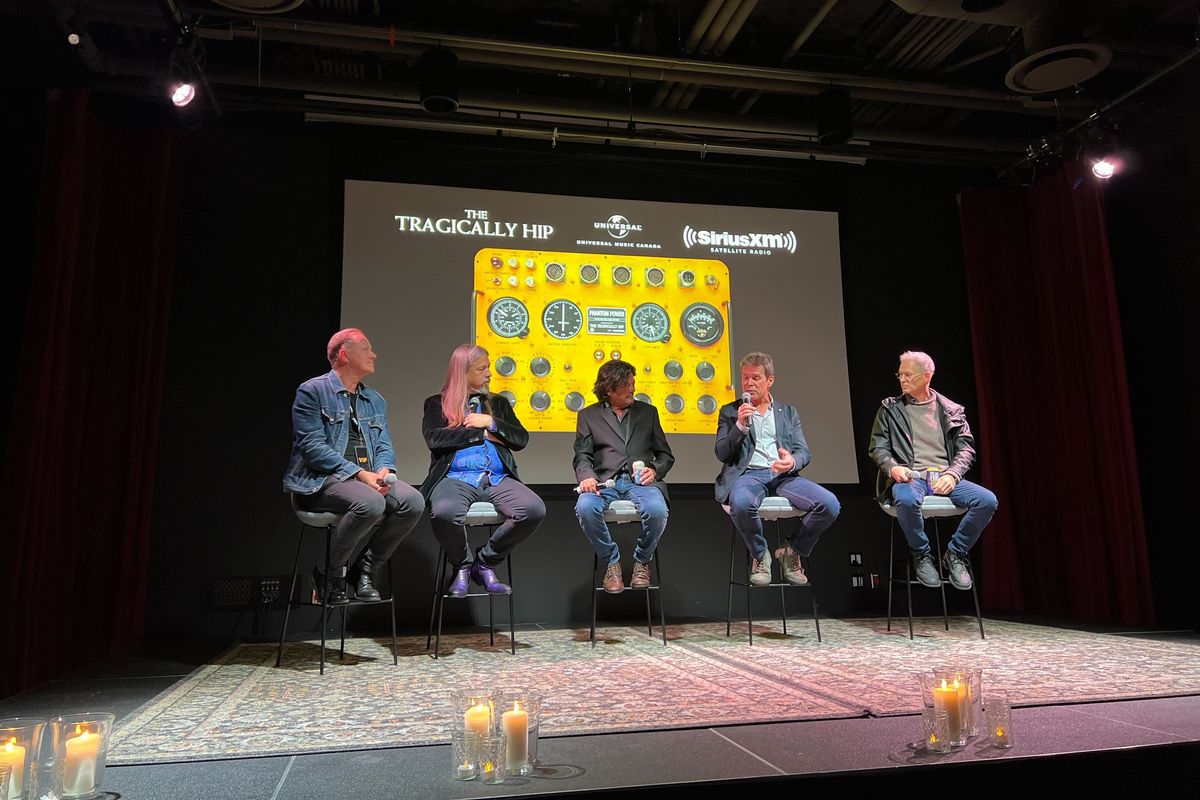 The Tragically Hip are alive and well. They haven't been an active touring rock band since the death of lead singer and Canadian icon Gord Downie, but they've kept their music and legacy ever-present through archival releases, re-mixes, live albums and a treasure trove of exclusive material on their social media and SiriusXM station The Tragically Hip Radio.

That all came together last night (Nov. 9) at The Academy, an intimate venue within Universal Music Canada's office, where contest-winning superfans and industry players got together to listen to the new 25th-anniversary edition of the Tragically Hip's 1999 album Phantom Power.
---
It was an audiophile feast listening to the album in Dolby Atmos in an acoustically-enhanced room built for it, but it was really just a lead-up to the night's surprise main course: an appearance by all four living members of the Hip: Rob Baker, Johnny Fay, Paul Langlois and Gord Sinclair.
First, the crowd was treated to a full screening of the Tragically Hip's masterful performance at the infamous Woodstock '99 festival. An exclusive audio-enhanced version with direct footage, not the more known video that initially aired on MuchMusic, it showed the band at the height of their powers: the band's locked-in rock groove and Gord Downie's literate rock hoser persona on full display.
Then, after the crowd watched and listened to that one-of-a-kind energy, SiriusXM Canada's Director of Music Programming, Jeff Leake, made their night with five words: "Please welcome The Tragically Hip."
Moderated by Leake, the onstage Q&A was a deep dive into the process of recording Phantom Power in the late '90s. The album was the second recorded at the Bathhouse, the band's studio they bought and built in Bath, Ontario (which they revealed cost $180,000). Working with producers Steve Berlin and Mark Vreeken, they got away from their "meat and potatoes rock sound" as drummer Johnny Fay put it to create something truly original. Mixed three times to get the sound perfect, they made an album full of fan favourites: "Poets," "Escape Is At Hand for the Travellin' Man" and especially "Bobcageon." The song's wistful, folky vibe and Ontario-referencing lyrics have made it a campfire classic.
"It was a high point of our creativity in a lot of ways," said bassist Gord Sinclair. The song was an addition to the ones they had already written, said guitarist Paul Langlois. The band's other guitarist Rob Baker started playing it, he said, and the rest of the band jumped on it immediately "almost in an R&B way." "I think we all knew this one is a bit different and we can vibe this one out," he said. "And obviously Gord [Downie] felt the same way because you need to feel that way if you're going to come up with lyrics out of the blue."
The album followed the band's well-remembered Another Roadside Attraction festivals, which they ran in 1993, 1995 and 1997. The idea was to pull into a Canadian city that might not have an event like it, put on a spectacular, and then go away like it was never there. Unlike festivals in the U.S. where you might have 12 folk bands or 12 death metal bands, they said, they wanted it to be truly eclectic. The Hip were great at introducing audiences to new bands they might not know, and this festival had a truly eclectic lineup: Midnight Oil, Sheryl Crow, Wilco, Eric's Trip and even Ziggy Marley.
"All these great bands, we were putting ourselves up against them," said Langlois. That meant they had to be at the top of their game. That's also where they met Steve Berlin, who played in Los Lobos and ended up producing Phantom Power. They bonded over "a taco and an ear of corn," said Fay.

They couldn't close without sharing a Gord Downie story, and Sinclair had one lined up. It twas New Year's Eve and they were playing "At the Hundredth Meridian."
"We had a trick all set up, this dragon was going to shoot a bunch of balloons," he remembered. "It didn't turn out the way Gord had hoped, and so he took it upon himself that he was going to fall and pop every single balloon that was on the stage. We jammed and jammed and jammed as he was popping every balloon. We played D for a very long time."
"You're looking at Gord and you're thinking 'I think he's melting down. I think he's in a bad place,'" Baker added.
But they were able to instinctually keep it going and play off of each other, he said, which is something they grew into by playing and growing together for so many years.
"That's the beauty of being in a lifelong rock band," he said. "And now next year we'll be 40 years old."