FYI
Triumph Honoured With Legends Of Live Award At CMW 2019
Triumph being feted with the "lifetime" Legends Of Live Award and Erin Benjamin's speech were the highlights of the 2019 Live Music Industry Awards, held Friday night at the Sheraton Centre in Toronto.
May 10, 2019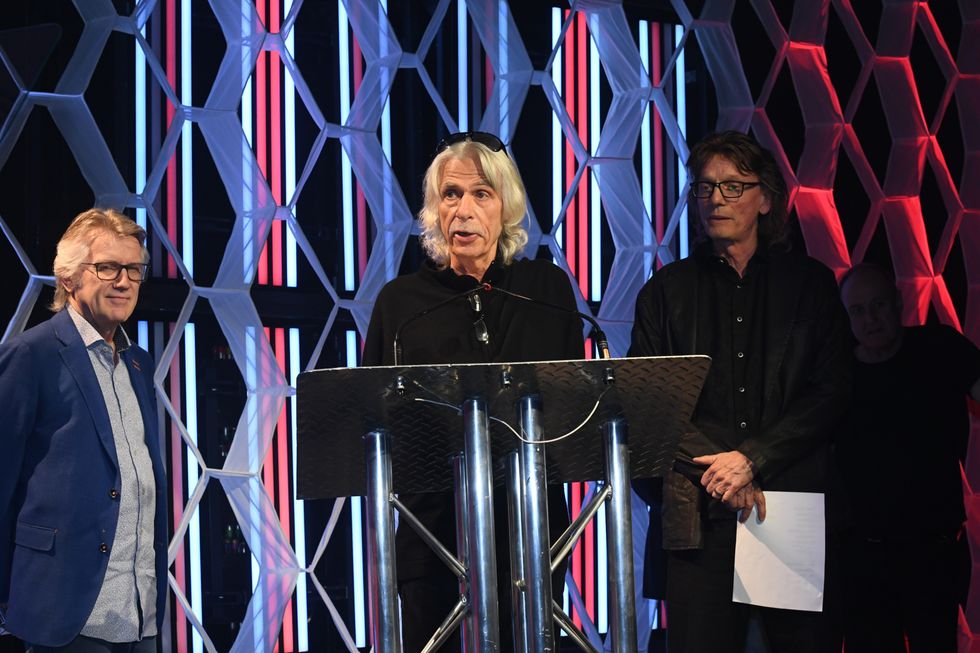 By Nick Krewen
Rik Emmett, Mike Levine, and Gil Moore -  best known as Mississauga-based hard rock trio Triumph - were named Legends Of Live at the 2019 Live Music Industry Awards at Canadian Music Week on Friday night.
---
Responsible for such hits as Magic Power, Lay It On The Line, Move On, Fight The Good Fight,  and a heavy rendition of the Joe Walsh classic Rocky Mountain Way, Triumph became an indie trailblazer during its 1975-1988 heyday as a popular arena and stadium act in North America and Europe, earning millions of dollars through touring as they quickly became a headlining act.
Earning 18 gold albums and 9 platinum albums from the two territories separated by a border, "Canada's Rock 'N Roll Machine" set the standards for other rockers with their elaborate sound system and lighting.
Speaking on behalf of co-presenter and fellow agent, Ralph James, Vinny Cinquemani - Triumph's agent "since the day their first album (Triumph, on Attic Records) came out - said he was proud to "present Mike Levine, Gil Moore and Rik Emmett - Triumph, Canada's Rock 'N Roll Machine - with the Legends of Live Award,."
But as they were called to the stage, the trio pulled a switcheroo and named all the people they were inducting into their own "Triumph Hall Of Fame" - and the boys have a long memory.
Their list included such legendary promoters and agents as the late Bill Graham, Harvey Weinstein (yes, that Harvey Weinstein), Michael Cohl and Steve Herman; former managers Neill Dixon and the late Steve Propas, Donald (K. Donald) Tarlton, Riley O' Connor and Norman Perry, Troy Blakely, and many other industry builders.
"Loyalty is something that's very important in this industry and if we're going to grow this industry, we need loyal people," said Gil Moore, before each member individually thanked their families for decades of support.
"I think we were the first indie band," Moore said of Triumph's legacy.  "We went out looking to (bond) with our audience, and the way we attempted to do that was to go to their hometown and rattle their cage in an uplifting, positive way and I think we succeeded at that."
The other big highlight of the Kim Stockwood-hosted awards show at the Sheraton Centre didn't come from any acceptance speeches - but from a pledge by Erin Benjamin, CEO and president of the Canadian Live Music Association, to continue her organization's advocacy on behalf of the domestic live music industry.
"Advocacy is at the root of absolutely everything that we do," noted Benjamin, who said a music study conducted by the CLMA resulted in the Amplify BC Music Fund being renewed at $7M. She also noted that the Federal Government announced a $60M increase to Canadian Heritage programs in March, "much of which will go to music-related activities."
Benjamin said the CLMA would continue fighting on behalf of the live music industry - and her rousing speech was received by loud applause as she outlined further goals.
Both her speech - and the Triumph recognition - made the night, which included performances by newcomers Lu Kala, Datsunn and host Stockwood herself, whose acoustic-guitar rendition of Lay It On The Line earned her a standing "o" from the people that mattered most that evening: the Legends Of Live themselves:  Mike Levine, Rik Emmett and Gil Moore.
Here is the complete rundown of the 2019 Live Music Industry Award winners: 
Small Festival of the Year- Hillside Festival (Guelph ON)

Medium Festival of the Year- Riverfest Elora (Elora, ON)
Major Festival of the Year- Festival d'été de Québec (Quebec, QC)
Family Program of the Year- Winnipeg Children's Festival (Winnipeg, MB)
Green Operations Festival of theYear- Skookum (Vancouver, BC)
Not-For-Profit Festival of the Year- RBC Bluesfest Ottawa (Ottawa, ON)
Best Teamwork in Soft Seat/Performing Arts Centre - National Arts Centre (Ottawa, ON)

Best Teamwork in Major Club – Danforth Music Hall (Toronto, ON)

Best Teamwork in an Arena - Budweiser Gardens (London, ON)
Best Teamwork in a Medium Club - Horseshoe Tavern (Toronto, ON)
Best Teamwork in a Small Club - The Dakota Tavern (Toronto, ON)

Concert / Club Talent Buyer of the Year - Craig Laskey (Collective Concerts)

Canadian Live Association Community Impact Award - PLUS1 Organization (Ottawa, ON)

SOCAN Licensed To Play Award - Jazz Bistro (Toronto, ON)
Agent of the Year - Julien Paquin (Paquin Entertainment Group, Management Team)

A/V Production Company of the Year - Solotech
Brand / Music Program of the Year - TD Music Junos
Production Manager of the Year - Simon Garner (Bryan Adams)
Road Warrior of the Year - Dave Gardiner (Arkells)
New Touring Artist - Loud Luxury

Manager of the Year - Bernie Breen/Jenn Pressey (Bernie Breen Management)
Festival Buyer of the Year - Evenko (Montreal, QC)
Legends of Live Award – Triumph
Music City of the Year - Quebec City, QC