FYI
RIP: 'Rompin' Ronnie Hawkins
On May 5,  2014, Hawkins was appointed an Officer of the Order of Canada and was so proud of the honour that he told The Peterborough Examiner, "I'm gonna be chasing them high-society girls, now!"
May 30, 2022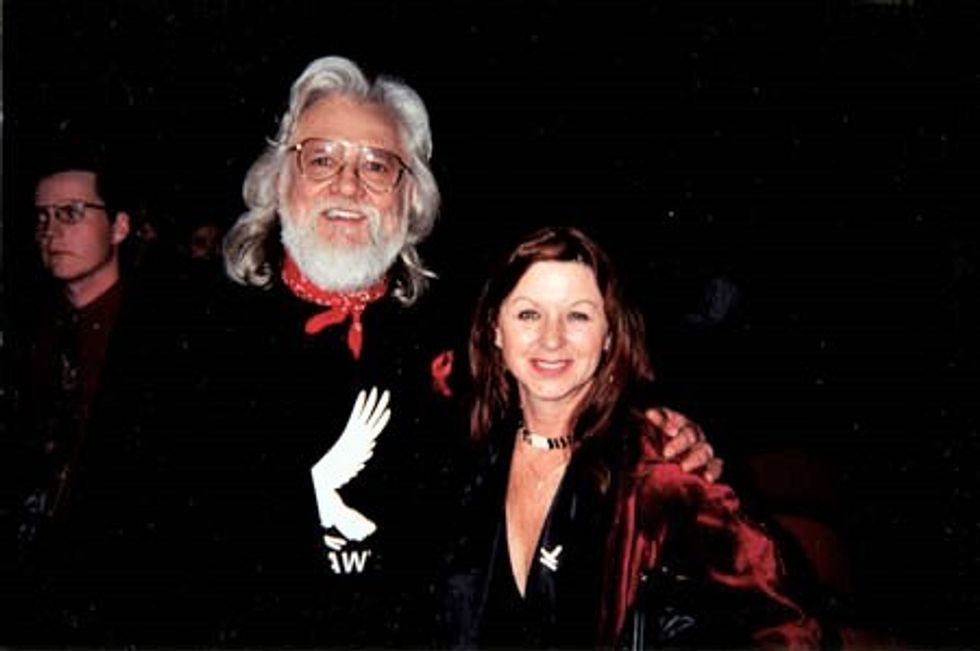 By Nick Krewen
When David Foster signed on to play piano for Ronnie Hawkins' Hawks "as a young cocky 19-year-old who really didn't understand rock 'n roll," little did the future multiple Grammy Award-winning composer and producer know that he'd be adding an unexpected occupation to his eventually stellar resume: bus driver.
---
"When I first joined the band in Edmonton, he bought a Greyhound bus for us to travel in while we were going to Toronto," Foster recalled over the phone recently from New York. "He drove ahead of us in his own camper, and we were excited - a bus with bunks.  Somebody said, 'well, who's driving the bus?' And Ronnie Hawkins pointed to me and said, 'you are.'  
"I was like, 'wait, I barely got my driver's license. How am I supposed to do it?' And he said, 'you'll learn as you go.'  
"We pulled out of Edmonton, and sure as shit, two hours into it, I went down the wrong road, backed into a ditch and we were there all night.  We made it across Canada with me driving. That was the way he rolled."
Foster's encounter with Canada's adopted rockabilly legend was just one of 1001 tales surrounding Ronnie Hawkins, a larger-than-life entertainer and personality who left an indelible legacy with his passing on May 29 in Peterborough, Ontario, from a long illness. He was 87.
Ronald Cornett Hawkins was also known, at least by reputation, as the Godfather of Canadian rock 'n roll for good reason: he kick-started almost as many careers as the number of one-liners that escaped from his lips.
Here's a partial list of the stellar talent that flew through the wings of the Hawks at one time or another and went on to achieve larger destinies: Blood, Sweat & Tears singer David Clayton-Thomas; the aforementioned David Foster (who says he got fired by Hawkins for adding an extra chord to the tune Bo Diddley), U.S. guitar legends Roy Buchanan and Fred Carter Jr., harmonica ace  Richard "King Biscuit Boy" Newell and fellow Hamilton rockers Crowbar, accomplished homegrown guitarists Domenic Troiano, Pat Travers, Jack de Keyzer and Bill Dillon; pianists Scott "Professor Piano" Cushnie, Stan Szelest, Janis Joplin keyboardists John Till and Richard Bell;  Lawrence Gowan (now the lead singer of Styx), and singers Bob McBride, Robbie Lane,  B.J. Cook and future actress Beverly D'Angelo.
"I will ...say that singing with Ronnie changed my life from being one aimless curiosity to having a purpose, based on honing whatever talent I could find within myself," D'Angelo recently wrote in a tribute to her mentor on Facebook. 
"He might have been a joker who could get a laugh out of a stone statue but he took talent seriously. It was his validation that allowed me to take myself seriously as a performer, and as an artist."
Of course, there was the most famous rendition of The Hawks: fellow American Levon Helm and Canadians Robbie Robertson, Rick Danko, Richard Manuel and Garth Hudson – who apprenticed with Hawkins and also backed up Sonny Boy "Rice Miller" Williamson in '65 before striking out on their own. 
Eventually, they were recruited by Bob Dylan in Toronto to accompany him on the controversial 1965 and 1966 tours that polarized folk music aficionados with the introduction of electric instruments and a rock feel into the mix.
Shortly thereafter, The Hawks morphed into The Band – and, in 1978, acknowledged Hawkins' role by featuring him in the Martin Scorsese-directed The Last Waltz swansong.
"Ronnie was the godfather. The one who made this all happen," Robertson recently wrote on Facebook upon learning of Hawkins' death. "He had us rehearsing constantly into the wee hours. We balked about it, but we got better and better. Our goal, whether we knew it or not.
"He was not only a great artist, a tremendous performer and bandleader but had a style of humour unequalled. Fall down funny and completely unique. Yep, God only made one of those. And he will live in our hearts forever."
Born in Huntsville, Arkansas on January 10, 1935, The Hawk, or Mr. Dynamo, or "Rompin'" Ronnie – as he was also known - was a popular fixture on the Southern U.S. "chitlin" circuit when he met Conway Twitty, who recommended that Hawkins should come to Canada in 1958, portraying the country as "the Promised Land."
Hawkins, the son of a barber and a schoolteacher, arrived at The Golden Rail Tavern and later The Grange, both in Hamilton, playing rockabilly six-to-seven nights a week in the Southern Ontario circuit. Booked by agent Harold Kudlats - or "The Colonel," as Hawkins tagged him -  Ronnie thrilled audiences with his hilarious jokes, his backflips and a camel walk that Michael Jackson may have pilfered decades later and rechristened as a "moonwalk."
In 1958, Hawkins and his Hawks moved into the Le Coq D'or, eventually securing a six-night-a-week residency at the Toronto Yonge Street nightclub, packing the house nightly for close to a decade, and providing a breeding ground for a plethora of future Canadian stars and superstars.
He also appeared at other Yonge Street clubs The Concord and the Nickelodeon.
Courted by New York's Roulette Records – which eventually signed him to a five-year deal -  Hawkins had some decent-sized hits with Mary Lou ( a Top 30 Billboard hit), Forty Days, Who Do You Love? and  Bo Diddley, but never sold a ton of records.
What he lacked in sales he made up for in charisma and influence, especially when it came to spotting talent.
On a personal note, Hawkins met his future wife Wanda in 1960, married her two years later (publicly revealed about five years in) and their partnership lasted 62 years, producing three children - Robin, Leah and Ronnie Jr.
Music wasn't his only forté: Hawkins dabbled in a little bit of everything during his lengthy career. 
In 1969, he hosted John Lennon and Yoko Ono at his Mississauga home during their Bed-In peace campaign and travelled to China and 14 other countries around the world with journalist Ritchie Yorke as the Lennons' peace emissary.
Hawkins, who co-owned Daffodil Records for a short spell, had an interest in The Hawk's Nest nightclub and also operated his own Hawk record label.
Hawkins' acting career began inauspiciously in the role of Bob Dylan in the 1978 four-hour Dylan-directed flop Renaldo and Clara before landing a role in another box-office disaster, 1980's Heaven's Gate. 
He also had appearances in a number of B-films in the '80s and hosted the CTV music variety program Honky-Tonk for one season (1981-1982.)
Hawkins had a memorable stint co-hosting a segment of The Juno Awards in '81 with country singer Carroll Baker. Both performers were driven out onstage in a Rolls Royce while performing Bo Diddley; while exiting the car, Hawkins ripped a sizeable hole in his pants in an embarrassing area and the crowd roared with laughter.
"At least the applause lasted longer than my part in Heaven's Gate,"  Hawkins quipped at the time.
Sometimes he went a little too far. In July 1996, the Canadian Press reported that Hawkins sent former Beatle Ringo Starr and country music legend Willie Nelson by limo unannounced to perform at a small benefit in a Peterborough park for 500 people for the Schizophrenia Society of Canada. 
The event scored worldwide coverage, with even the Los Angeles Times getting into the mix. A week or so later, when Starr's representatives stated that the drummer hadn't been to Canada in ages, Hawkins fessed up that he hired a couple of doppelganger impersonators to visit as part of  "a big surprise."
Despite that hiccup, Hawkins' generous support of the Schizophrenia Society of Ontario and other charitable organizations was well documented.
"When I did one of my foundation galas in Toronto about five years ago, I walked over to his table during the show and I got him to get up and sing and it was fantastic," David Foster recalls. "People went crazy. He sang '40 Days and 40 Nights' right from the table and I think that was probably the last time I saw him."
Hawkins also had friends in high places: In 1993, President Bill Clinton invited his pal Hawkins to play the Presidential Inauguration at the White House.
For his 60th birthday, Hawkins booked Massey Hall and was entertained by The Band (sans Robbie Robertson and the late Richard Manuel), Carl Perkins, Jerry Lee Lewis, Larry Gowan and Jeff Healey.
In 1996, The Hawk was recognized by the Canadian Academy of  Recording Arts and Sciences (CARAS) with the Walt Grealis Special Achievement Award, which accompanied his 1982 Juno Award for Country Male Vocalist of the Year. 
Other accolades over the years included inductions into the Canadian Music Industry Hall of Fame, Canada's Walk of Fame, the Arkansas Entertainers Hall of Fame and the Rockabilly Hall of Fame.
October 4, 2002, was declared Ronnie Hawkins Day in the city of Toronto. The same year, he was diagnosed with – and successfully fought – pancreatic cancer.
On May 5,  2014, Hawkins was appointed an Officer of  the Order of Canada and was so proud of the honour that he told The Peterborough Examiner, "I'm gonna be chasing them high-society girls, now!"
The Hawk was one of the Canadian music industry's most colourful and beloved characters, and as such, the final word on the man goes to the late Levon Helm, extracted from RonnieHawkins.com:
"From the beginning, I was The Hawk's right-hand man…. he's...a great leader, with an uncanny ability to pick the best musicians and build them into first-rate bands. He was immediately likable, trustworthy, and just naturally an entertainer; one of the funniest guys I ever met. The Hawk had been to college and could quote Shakespeare when he was in the mood. He was also the most vulgar and outrageous rockabilly character I've ever met in my life. He'd say and do anything to shock you. I'd grown up on crude country jokes, but Hawk's sense of humour was unbelievable."
On The Dick Clark Beech-Nut Show from May 9, 1959, with Levon Helm on drums, Will 'POP" Jones on piano and Jimmy Ray Paulman on guitar.
Ronnie Hawkins on George Stroumboulopoulos Tonight–Oct. 7, 2013
Down In the Alley, from 1995 with an all-star cast
Jerry Lee Lewis, Carl Perkins, Ronnie Hawkins, Levon, Helm, Rick Danko, Jeff Healey and Lawrence Gowan.
And here's The Hawk's complete 1995 Massey Hall 60th anniversary concert