FYI
Report Offers Strategy For Canada's Digital Future
At a press conference in Ottawa Tuesday, a long-awaited federal Broadcasting & Telecommunications Legislative Review Panel released its recommendations outlining a far-reaching digital roadmap
Jan 31, 2020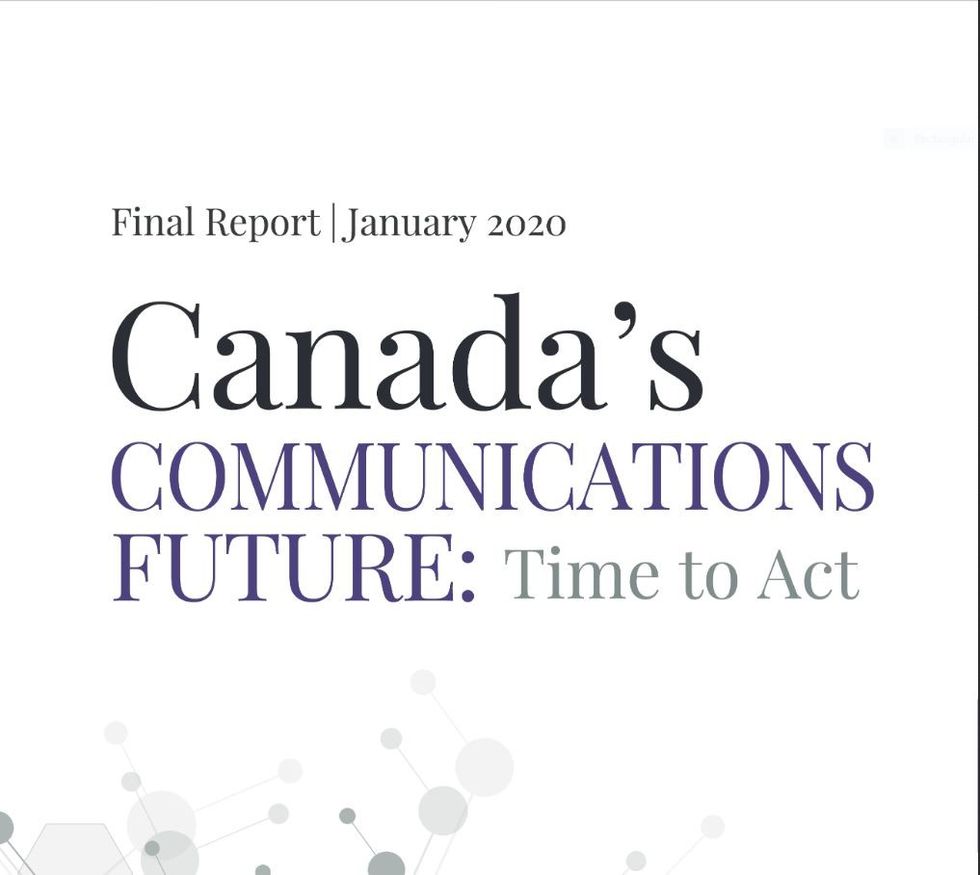 By David Farrell
At a press conference in Ottawa Tuesday, a long-awaited federal Broadcasting & Telecommunications Legislative Review Panel released its recommendations outlining a far-reaching digital roadmap for all media industries operating in Canada, and substantially broadening the mandate of the CRTC to include wide regulatory policing of all Internet services and news portals operating within our borders.
---
All told, the 235-page report offers 97 recommendations for the federal government to consider in bringing Canada's Broadcasting and Telecommunication Acts into the digital era. Among them, the panel suggests regulating online streaming services such as Netflix so that they comply with conventional broadcasters that are required to invest in Canadian programming as part of their condition of license.
The report's authors go a step further, recommending that any communication businesses that earn revenue from subscriptions or advertising in Canada must invest in the creation of Canadian content.
As part of an expanded regulatory role, online services would be required to formally register themselves with an agency that could be an expanded version of the CRTC.
"All licensees and registrants would be obligated to contribute to Canadian content in a transparent fashion," the panel suggests. Further: "Media curation undertakings brought under the regime – including Netflix and other online streaming services – would be required to devote a portion of their program budgets to Canadian programs. Media content aggregators and sharers would contribute through levies. All these financial contributions would be based on a simple calculation of the percentage of Canadian-derived revenues. The CRTC would determine the specifics – i.e. who contributes how much, based on which activities. It would also oversee administration and compliance. Entities with multiple lines of business would have varying obligations, depending on the nature of their activities."
Other discussion points include:
Big Data – the result of the massive amounts of personal information collected through this exchange – is creating tremendous value for the online platform providers. Yet, in the current environment, there is little control over the ways in which this personal information may be manipulated or shared, and little power to derive benefits for Canadians from this value.
Online platforms have also created forums that enable the dissemination of harmful content, fake news and disinformation, and violent and extremist content. The question of whether and how domestic and foreign technology companies should take responsibility for harmful content on their platforms must be addressed.
A new role for the CBC would transform Canada's public broadcaster into a public media institution with a singular focus on serving a public rather than a commercial purpose; one prepared to experiment and increase the diversity of its content while remaining committed to high-quality standards. Among our recommendations to achieve this is that CBC/Radio-Canada should gradually eliminate advertising on all platforms over the next five years, starting with news content.
The Act would also explicitly state that CBC/Radio-Canada should reflect national, regional and local communities to national, regional and local audiences, and reflect Indigenous Peoples and promote Indigenous cultures and languages. In this way, Canadians would have access to content from different parts of the country that reflects their values, cultures and perspectives.
Below, the full news conference by the Broadcasting and Telecommunications Legislative Review Panel after issuing its final report with recommendations to the government.
Michael Geist offers an informed opinion piece on the report, arguing its merits and contentious points, Eli Glasner offers a CBC spin, and readers can also find coverage on news sites including iPolitics, The Star, The Hollywood Reporter, and CBC president and CEO Catherine Tait offers an opinion on 'Why Canada still needs the CBC' in an op-ed feature published in the Globe and Mail on Jan. 29.
SOCAN CEO Eric Baptiste was fast off the mark, offering supportive words for the report's findings in a statement released yesterday.
 "SOCAN has long advocated that the government introduce legislation that will ensure all content providers, including internet giants, offer significant levels of Canadian content in their catalogue, contribute to the creation of Canadian content, promote this content and make it easily accessible on their respective platforms.
"We sincerely hope all parties will work together to support new legislation designed to strengthen copyright and cultural industry protection in Canada and increase and promote Canadian content. Streaming services have been great additions to the Canadian landscape, but they could contribute even more to building more Canadian choices and international audiences."
A Government of Canada press release briefly summarizing the report's findings can be found here, and the complete report can be downloaded here.