FYI
Raptor's Basketball and The Family Game!
It was around 1956 when pops put up a hoop and strung chicken wire high up the fencing in our southern Indiana back yard. He then went about spreading a thin layer of gravel.
Jun 21, 2019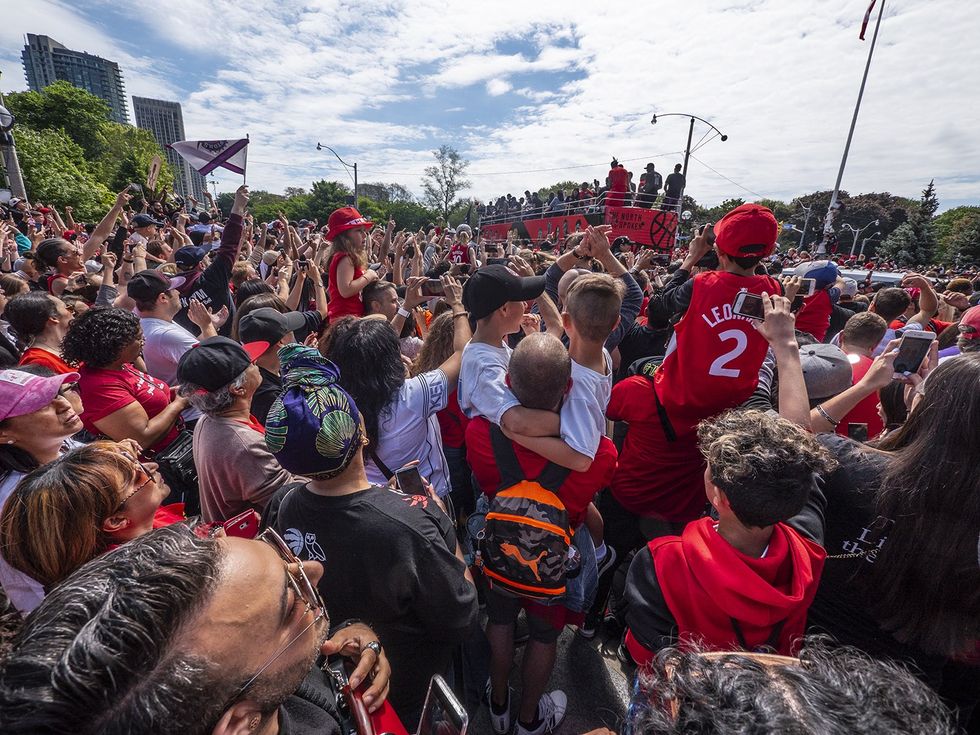 By Bill King
It was around 1956 when pops put up a hoop and strung chicken wire high up the fencing in our southern Indiana back yard. He then went about spreading a thin layer of gravel. This was all done as insurance his boys would stay far away from trouble and spend those few recreational hours away from studies shooting backyard hoops.
---
Monday past, as I stood outside the Princess Gates waiting to catch a view and a few passing photographs of our beloved Raptors, I thought about what this moment means to every kid with a dream. I thought about those early days when pop's beloved Boston Celtics skittered between the rolling black and white horizontal lines of his small Admiral television and guard Bob Cousy would flick a behind the back pass and how the Celtics went on to beat the St. Louis Hawks 4 games to 3 in the '56 championship finals.
I thought about those first Raptors games in cavernous SkyDome back in 1995 and the many nights I've been privileged to sit down front or in the stands, courtesy the Slaight family the past 24 years. I can still hear Gary in my ear, "why is Oliver Miller sitting on the scorer's table and out of breath again?"
Those seats brought me within a pinching distance of the great Allan Iverson's hind legs, Vince Carter inbounding the ball, LeBron – a pillar of mythic size, Michael Jordan's immense wingspan, and Boston Celtics' Eric Davis, who says to me, "I could sure use a cold beer right now." It's been one hell of a great ride for those of us who live and breath basketball as if this has been essential to good health.
My brother Wayne and I have much to celebrate growing up in Indiana. Our high school, Jeffersonville High, was a basketball powerhouse, one that showcased a basketball coach – Cliff Barker who was a member of the famed 'Fabulous Five' along with all-star Cliff Hagan - players who served under legendary Kentucky coach Adolph Rupp and the 1948 season when the Wildcats of Kentucky went 36-3 and copped a national title.
With basketball as a backdrop, much of this life has been spent on the world's ball courts; from New York to Los Angeles - outdoor courts at Arizona State to Toronto's Lakeshore – Spain, Germany, Mexico, and Japan.
When I arrived in Canada late 1969 and after seeking shelter and a paying music gig - finding a sweet game of hoops became imperative. It wasn't until sometime in 1970 when I hooked-up with filmmaker Don Shebib's gang at the Central YMCA. Shebib and posse played five days a week mid-afternoon. I'd jump in for a run or two and then hit the outdoor courts. This was b-ball absent fun and ripe with arguments. Then came the Americans – those draft dodgers I quickly called 'brothers', who occupied their own court and played an entirely familiar brand of ball.
Every Tuesday and Thursday evenings we'd scrimmage a few hours at the Settlement House on Grange Avenue. Conversations rotated around impeaching president Richard Nixon, the Vietnam War, amnesty, landed immigrant status and adjusting to this new country. Sundays we'd gather mid-afternoon for the NBA game of the week. You were either a Lakers or Celtics fan – little room in between, other than cursing those despised Knicks. Enter Rick James.
James and I would meet up and shoot hoops near the end of my street on Gothic Avenue in High Park. The first few months, I dominated Rick on the boards. Then James' legs returned to game strength, and he would come at me full force and make his presence felt; scoring at will and slipping past me. The second go-round at the Settlement House saw a more confident James sprint up and down the court and get his American game on - Buffalo, New York style.
James would arrive in locker room draped in a white fur coat, decked in gobs of turquoise jewelry and 'fly' pimp hat. If you didn't know Ricky, you'd think a drag queen was loose in the compound. James would change into a pair of red gym shorts and T-shirt, leave the costume jewelry tucked away in a locker, then mix with the common folks a flight above. If James hadn't been the only black man in the building, he would have never been noticed.
James became more assertive on the court. The both of us coming from competitive playgrounds taunted each other and brought a lot of fun to the game - a fusion of cool and skill – a must for court survival. A few fringe players didn't read it that way. The humourless bunch assumed James constant chatter was an invitation to fight. James would taunt, trash talk, and laugh them off.
Ricky and I would occasionally gig together and hang at my High Park digs - jam a bit and trade stories. Things were cooking for James and Hollywood was only a few steps away.
One evening I show up late for reserved basketball time at the Settlement House and walk into a nasty situation. A fellow player stumbles past me holding a blood-soaked towel to his mouth. An eerie silence blanketed the court. Then the guy turns and screams at James, "You're done, motherfucker, you're done - start running."
I had no idea what had just occurred until tongues started swinging. It seems Ricky and 'said player' had been jostling up and down the court and Ricky got in his face and the guy said something that lit his fuse. James slugged him in the mouth and busted a few teeth.
There's two kinds of court sense; one - understanding the game -- the second - understanding your opponent. If you can't physically handle a guy, then it's best to let things go - outplay him or walk away. In this case, the mouth was way to busy. Not long after the encounter, James disappeared.
A year or so passes and I'm walking along a Toronto side street when a stranger marches over and says, "Hey King, you know who I am?" I respond, "Not Really!" He then says, "I'm the cop your pal Rick James punched in the face. It's cost me a fortune for dental work. That motherfucker is going jail. There's a warrant out for his arrest."
James was long gone and living in the US. I doubt if he ever returned to Canada. To this day, even after his death, I seriously believe that warrant remains in place.
We lived in High Park and the serious basketball was played at Keele Street Public School. This is where I met the Rautins brothers – George, a college star at Niagara University in New York and ten-year-old Leo. The next five years we played pick-up ball on hot pavement – argued, elbowed and witnessed this talented ten-year-old outgrow all of us and move on to the Canadian National Team in a short period.
During those Gothic Avenue years, the street became a major hang for American musicians. Somehow, I hook up with aspiring songwriter Rodney Crowell. Rodney was in Toronto to get an audience with singer Anne Murray and play her some of his songs. Rodney dropped by our digs and hung out for a few days. It was big fun, and joy having Rodney around. In fact, I couldn't resist dragging Crowell the end of the street where that one lone hoop shared with Rick James stood silent amongst a cluster of over-reaching trees. The two of us talked music, shot hoops and then 'game on'. I nearly forgot this was a social occasion and banged my new-found friend around like it was the seventh game of an NBA championship season. Rodney forgave me, knowing I was lost in a hoop dream.
1976, I'm back in Los Angeles and its hoops galore. Just beyond the doorstep of Motown Records stands Poinsettia Park. This was basketball's Hollywood proving ground. Mostly all black and mostly the elite of the music industry.
This was seven days a week, four hours a day of blissful b-ball. Then nights under the lights at San Vincente park until four in the morning. This was what I call the park developmental league, where I learned to play basketball. The players came from all over the nation. You earned court time through team play and outmuscling the big men.
It's summer 1976 and I'm hired by the Pointer Sisters and soon touring Japan. Each city comes with a sound check and early concert. For us guys in the trio – Chester Thompson drums, Jeff Breeh bass, me - piano and road crew – Louis Lind, etc. – there's plenty of time to kill. "The girls" as they were affectionately called went about doing whatever they did during off hours. The rest of us were on a discovery mission. For me, it meant finding a game of "hoops." Tokyo was overwhelming, mostly given over to shopping and back-alley eating, yet when we hit those rails it was 'game on.'
In Osaka, I found a YMCA. I then begged a front desk clerk for the use of the gym. At first, she was apprehensive - reciting membership rules, but much like every stop throughout the country, people recognized us from television. The young woman eventually relents and hands me a child's size basketball and directs me to the gym. Before me four eight-foot goals. Nothing seemed right, but for this desperate young man, anything was possible. As I begin shooting, several young men began pushing me to dunk the ball. This I did for their amusement and with ease. Ten-foot goal? I could barely touch the rim. I truly play from beneath the rim – no lift in these shoes. I scored a round of applause each time I improvised a dunk. Even with a robust audience, this wasn't basketball.
A day or so later we find ourselves in the port city Kobe, known for its rare beef. I abandon the hotel and walk along the ocean side into a mist, eventually coming to an overpass and basketball goal situated mid-center a dirt floor - chicken feathers mixed in the blotches of mud. I look up at a rim absent a net and thought how fine it would be to just shoot a few against a backdrop of shipping vessels and expansive baseball netting another side of the overpass. Then it happens. A young man in baseball garb runs over, smiles and gestures at the goal, again smiles then runs back into a shed. Within moments he returns with a basketball and hands to me. My heart sinks. I'm grinning at the world, and it's smiling back. I begin shooting and dreaming I'm back in LA where Kareem Abdul-Jabbar is hanging out and notching a bucket here and there, when suddenly the shed turns into a clubhouse and a full cadre of baseball players, dressed to the nines emerge and start tossing and fielding baseballs. Then batting practice. You hear the whack of the bat and instead or a soaring 300 ft blast – a fifty-foot blast into netting. It's Japan – there's no space.
As time abandons me, I return the ball. It was then several players sprint over and hug me. My God; sports, players, passer-bys, friendship, - it was at that moment I knew the world was much smaller than imagined, and the things that link us all are the simplest and least complicated. A song, a ball, a location, and good people.
The late 70s', we registered our son Jesse in baseball leagues then basketball while living in the sports jungle of Marietta, Georgia. The atmosphere was different – it was live or die stuff – intense. I got caught up in being a sports parent and pushed too hard then, fortunately, listened to my well-adjusted wife and backed off. It was then I carefully thought what it was like being a sports absorbed parent and swore never to be that parent again.
In the early eighties, I started the youth basketball program at the Jewish YMHA, now Miles Nadal Centre and kept it rolling eight years – it's now Raptors Youth Basketball. I took kids 5-10 years old and taught them the basics and encouraged them to have fun. None of that mean stuff or cruelty common with young ones. I spent twenty years at the 'Y' loving my daily scrimmages and the stench of the weight room.
One Sunday afternoon a woman approaches in with her young boy who had cerebral palsy and asked if he could participate. I looked at him and saw nothing but sunshine in his eyes and agreed. The boy took his place on the floor and tried running a few steps one way and a few steps the other. I got the other kids to toss the ball softly to him and help him feel part of the team. We then worked him near the basket and encouraged him to take a shot. He tried his best. Moments later, it was over. The woman thanked us, and another child grinned and lived their dream.
Then the call comes. I'm at home and asked – "Janet Jackson and band are in town and they want to play ball – can you set it up?" I'm thinking YMHA. This I did with my close friend – bassist Bill Sharpe (Cher, Brenda Russell, Jeffrey Osbourne, Dave Koz).
Bill hails from Raleigh, North Carolina and is as wiry and tough a defender as Kawhi Leonard – at least he appeared that way the many times we fought near and under the basket.
The Y agrees and in comes Jackson's band – road crew decked out in Rhythm Nation garb. After a few warm-up shots it's full court. Plenty of trash talking and Laker nonsense and full court b-ball. Then the unexpected. Much like the Golden State Warriors Kevin Durant popping his Achilles against the Raptors, Jackson's drummer severely sprains an ankle and is carted off the court, unable to play the gig. A Toronto drummer is hired and filled in admirably. Jackson then puts a stop to all future band games.
It was 1985 and Toronto is chosen the inaugural site of the first World Master's Games. Seven thousand athletes from around the world – 35 years of age and up competing throughout the city.
Over the years a contingent of rowdy Buffalo music and ball fans used to invade our living room. It was all about soaking up as much of Toronto as possible, smoking fine weed, catching a concert or two, a Thanksgiving dinner courtesy Kristine King and game after game of hoops. Then came the invite. Please join our team, The Buffalo Coles and be our Canadian connection. This I did and man what a run. Eight games and eight victories led by former NBA great Randy Smith in the backcourt. Victories over Argentina, Estonia, Colombia, Vancouver, Ottawa, Detroit, Jacksonville and Clearwater, Florida and victory lap around a gym – world champions. Thirty-four years later the competition continues in various locales every four years around the globe.
My dream of father and son hoops materialized during the late 90s'. Jesse and I would show up every morning at Hillcrest Park north of Davenport Road - 9 a.m. sharp and play one on one until exhausted. This is how our day started. We'd talk music - family and laugh our souls empty. I'd win a few – then he'd dominate. I could feel his weight, the serious upper body strength – that determination and think to myself how grand this sport is. How much it brings us close together and bonds not only families – but whole communities.
Then we hook up with comic Max Korn from the YMHA, all 6'4" 250 pounds of Maccabiah basketball and the three of us begin touring parks and engaging in 3X3 pick-up ball. Now, ask any dad what a rush that is. We demolished teams – other times skimmed by, but rarely lost. Then one day Max is killed in a car accident. Those games made me think of the times I spent with my brother, running court to court or backing into each other down below the net. To this day, Jesse and I still hit the courts when we can. 
Jesse and I along with Mrs. King watched every Raptors game this past season and attended a few, even a couple playoff games, thanks to Gary, then the two of us took our radio chops and Soul Nation road showdown into the heart of the Raptors celebratory parade and did hits for Jazz.Fm91. I'm listening in for Jesse's reports and living on every word and thinking to myself how utterly out of body this moment is.'  I'm sure my dad was heavenly engaged and looking down from his 6'6" frame and smiling from ear to ear. The Raptors brought home the championship, and his boys were there to celebrate – commemorate, document and keep the family game in play. We the Jazz North!
If you get a moment, read Nick Krewen's excellent FYI recap of the Raptors' origins: In Retrospect: The Shared NBA Vision of John Bitove Jr. and Allan Slaight.