FYI
Personal Recollections About the Genius Of Mr. Allan Slaight
What was it about Allan Slaight's influence that those of us who worked for him (and even some who didn't) were inspired to do things well beyond our own self-imposed limitations? Simply put, Allan Slaight was a born leader as well as a daring innovator and entrepreneur. 
Sep 29, 2021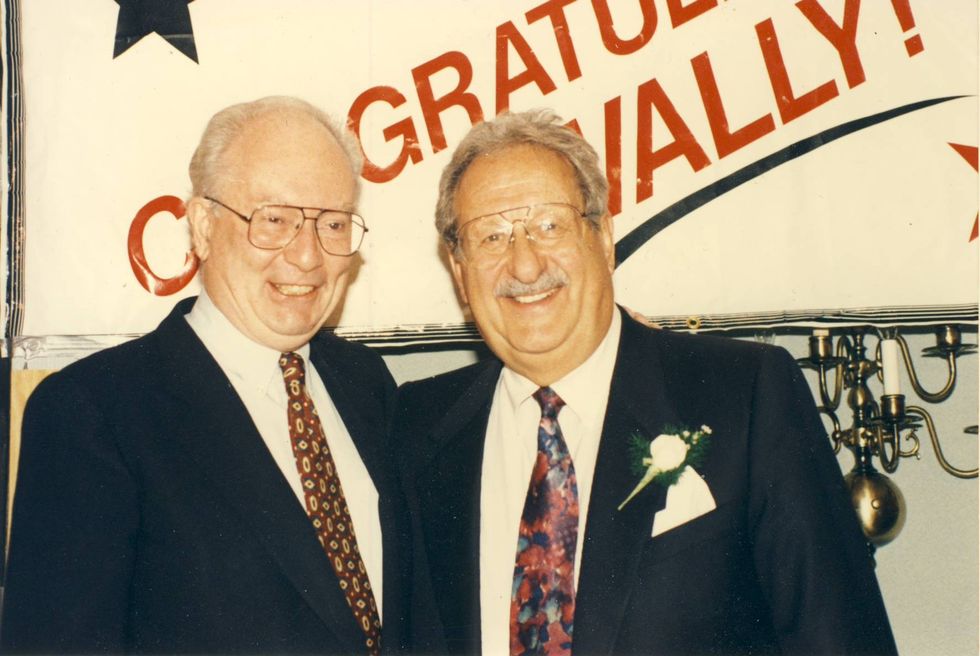 By Doug Thompson
What was it about Allan Slaight's influence that those of us who worked for him (and even some who didn't) were inspired to do things well beyond our own self-imposed limitations?
---
Simply put, Allan Slaight was a born leader as well as a daring innovator and entrepreneur. 
Allan didn't make many mistakes, although he did ban The Rolling Stones from being played on CHUM for a brief time.
Allan hired me as a board operator at CHUM in February 1965.  I had sent an tape of my operating in the studio, along with letters of recommendation from two CJCA Edmonton DJ's where I was working part time while finishing school.  Allan told me years later, he hired me because he had never before received an audition tape for a board operator position.  Allan had also worked at CJCA as well as CFRN and CHED.
Slaight came to CHUM from CHED Edmonton in 1959 and was hired as Program Director (later, he became General Manager and Vice President).  Along with owner Allan Waters, Promotion Director Allen Farrell and the entire staff, the team built CHUM into a radio powerhouse, respected around the world. 
Allan's mantras to the CHUM DJ'S were two-fold – "Sock in the hits" and "Be cute, clever and original in ten seconds or less".  This was years before Bill Drake turned those instructions into a highly successful radio format.  Slaight's focus was always on the music.  CHUM's previous Program Director had diluted the Top 40 format by playing many unknown records as well as a few older songs.  As Slaight told Allen Farrell in The CHUM Story book, "When I took over the job, one of my first concerns was to get the music formula right. I deferred to Jerry Forbes of CHED who reminded me that the Storz and McLendon stations, leaders in the U.S.A., just played the hits.  So, we went back to focusing on them, plus we initiated some truly wild promotions and CHUM took off again like an arrow."
Did it ever!  CHUM dominated the radio ratings with the youth of Toronto and Southern Ontario as well as adults.  However, if the CHUM DJs weren't following the format or slacking off even a little, a Slaight memo went out.  Some of those memos could be scathing.  Slaight pulled no punches.  When Allan left CHUM in 1966, the CHUM on air staff threw him a party and presented him with a bound volume of those memos.
 Allan took many of the CHUM contest ideas and promotions with him when he moved to England to work with Radio Caroline and what worked well in Toronto also worked well in Great Britain.
After the British Government banned the 'pirate radio stations', Allan returned to Toronto.  One of Radio Caroline DJ's, Keith Hampshire, also came back to Canada and sought Allan's advice. "I first met Allan when he came to help run 'Radio Caroline'.  He entrusted this snotty-nosed kid from Calgary with the breakfast show which had one of the largest audiences in England's history.  When the Government closed the ships in August of 1967, I made my way to Toronto and later realized Allan was here too.  Soon I was in a quandary, do I accept a swing shift offered by CHUM or afternoons at CKFH?  Allan suggested that at 21 years of age, I would have more fun at CKFH.  He was so right!!  Thank you for believing in me, guiding me and leading me in the right direction.  I could never thank you enough."
While at CHUM, I had met Bill McDonald, an incredible writer, and we decided to start a creative company that we eventually called 'That Commercial Place'.  But before we could do that, Allan Slaight entered my life again and hired Bill and I to be co-Creative Directors at CFGM, a country music station that he'd bought in Richmond Hill (not too far north of Toronto). Bill and I did that for two years until we left to finally start our production company. 
But Allan Slaight wasn't done with us quite yet.  When he was running the Global Television Network, he called Bill and I to a meeting where he told us that he wanted our company to create and produce Global's radio campaign for the entire year.  It was a brief meeting after which he said "Come with me" and proceeded to lead us into the network's promotion department office.  He introduced Bill and I and told the staff that we were going to be doing all of the Global radio commercials for the next year.  The staff looked stunned.  Allan hadn't previously informed any of them of his decision.  He just decided that was the way it was going to be. 
Then…he left.
Leaving us in an awkward situation with the entire promotion department.  In the end, it all worked out and we created nearly 400 radio spots for Global that year.  It was one of That Commercial Place's most successfully financial years…thanks to Allan Slaight.
Allan went from success to success.  After CFGM, he launched Q107, then bought Standard Broadcasting from the Black brothers (Conrad and Montagu).  Peter Shurman was President of the radio division then.  "We got along quite well for awhile…and then, not so much.  The common industry gossip was that, after 22 years, I'd wind up out at some point because Allan had a son, Gary, who was pretty damn good at radio.  That was prophetic and that day did come [and we] parted company.  As time went on however, I came to understand what a brilliant businessman and radio entrepreneur Allan was…in a class by himself, actually.  He didn't have bags of money like Astral's Greenberg Family or Ted Rogers.  Allan earned his way into the top echelon of broadcasting by being plugged in and incredibly adept at seeing and seizing opportunity.  About 3 or 4 years after I left, I had difficulty in a business I'd started and I needed advice.  I thought of only one person who'd be able to offer it and that was Allan.  I called him and he immediately invited me up to his office.  He told me a story of mortgaging his suburban house to invest in CFGM and it resonated and made me go back to work and drive that little business along, ultimately becoming a big business which I eventually sold.
It's been over 50 years since I first pressed the microphone on-button at a 50kw radio station and I still love it.  A lot of that was the product of mentoring by the late and amazing H.T. 'Mac' McCurdy, but much of was through simply watching Allan Slaight be Allan Slaight.  He will always stand as one-of-a-kind in Canadian radio and a giant in the rough-and-tumble world of entrepreneurship.  He worked hard and now deserves to rest in peace."
John Donabie worked for the Slaight family several times.  "I worked for Allan three times in my career, under sons Gary and Greg.  One night at a social gathering [Allan} said, 'John, do you know why we keep hiring you?'.  I looked at him and he said, 'Because we like your wife' and gave out a big laugh.  When I went into the Hall of Fame in 2013, I said the following, 'I am proud to have worked for the Waters family and the Slaight family.  For those of you who have never worked for a broadcasting family, I can only hope [that] you get the chance one day'.  Very, very different from working for corporations."
Music Industry veteran and best-selling author, Paul Alofs has nothing but praise for Allan Slaight. "Allan was a truly transformative Canadian. His business successes were matched by his enormous generosity.  He was brilliant, funny, creative and kind.  He lifted people, companies, and causes for the benefit of all. His leadership was inspired and inspirational. He was talented in so many ways, including being a wonderful magician and student of magic. So many in fundraising and non-profit benefitted so greatly from Allan's generosity and gifts.  Business, media, philanthropy and all Canadians lost a truly magical hero."
Another Canadian record company pioneer and veteran Al Mair, who was also Gordon Lightfoot's manager for many years wrote: "Allan helped many people, including Tom Williams and I to find funding to start Attic Records.  I don't know if we would have raised the capital without his advice."
Although Chuck McCoy never worked for the Slaight Family, his broadcast career includes being on air at CKY Winnipeg, CKFH and CHUM Toronto, Program Director at CFUN Vancouver and until his retirement a few years ago, Chuck was Vice President, radio programming for the Rogers radio group.  "[Allan Slaight] was a true pioneer in the Canadian broadcast industry and a leader beyond compare.  He made a lot of us realize that we could attain anything and there really was a pathway to the top."
The late Larry Solway, he of CHUM talk radio fame, told author Allen Farrell, "Allan Slaight is the best radio man I ever met in my life.  He had an unerring sense of what would work.  I've never seen his equal".
Pat Holiday worked with Allan and Gary Slaight for many years as General Manager of the Toronto radio group. "When I was first hired by his son Gary to work for Standard, I didn't know anything about Allan Slaight. He was simply the owner.
That changed pretty quickly once I started and heard about his life up until that time.  Even back then, it was quite remarkable. The ensuing 30 years only added to the mystique.
I didn't interact with Allan very much other than 'hi's' in the hallways and chit chat at management meetings.  As I write this though, there are those one-off moments that stick with you when you're around a man like him.  The first real conversation [with Allan] was when Gary and I pitched him on blowing up his Toronto FM and turning it into The MIX.  Hardly something an owner wants to hear.  Then, without a lot of debate, he just said 'Do it!'.  The ensuing hand written note under my door after we launched said how much he liked the station.
There was a lot to admire about Allan. For me it was his risk taking. You can see it constantly in his business career, but then if magic is your passion and you're a magician, that's probably built into your DNA. Aren't all magic tricks a series of one risk after another? People are watching, maybe you're on a stage, and come hell or high water you need to pull the trick off.
He pulled business magic out of his hat for six decades. But then you likely know all that.
Here's something that'll surprise you. It did me and at the time I felt incredibly proud to work for him and his family.
We're at senior management meetings in Las Vegas and one of the nights we all pile into vans and go to one of the shows on the strip. I forget what hotel but it was one of the majors. The star of the show's face is plastered on giant billboards up and down the strip. He IS the big Vegas act. That was crystal clear.  It's halfway through the show and the guy just stops dead and addresses the audience, 'Forgive me but I'm pretty nervous tonight because one of my idols is in the audience.'
Huh?
He then proceeds to ask Allan to stand. HUGE grin on Allan's face as he gets up.  Wow, you don't see that everyday…if at all.  I wish I could remember his name but he was in the Doug Henning, David Copperfield stratosphere (I was told it was Lance Burton).
Yes, it was a magic show. Such was Allan's stature in magic too.
Not too many people get to be THAT big in two totally different arenas.
I would think that probably the perfect ending of any magic show is when the magician somehow vanishes from the stage. That's likely the one trick Allan won't pull off. His legacy is way too large to simply…. disappear.
Allan Slaight was inducted into the Broadcast Hall of Fame in 1997, he received an Honorary Doctor of Commerce from Ryerson University.  He was appointed as a Member of the Order of Canada in 2001 and received the Walt Grealis Special Achievement Award at the 2005 Juno Awards.  His name will continue on with the Allan Slaight Juno Master Class, the Allan Slaight Humanitarian Spirit Award at Canadian Music Week and as well as many other Allan Slaight awards.  His name is enshrined in many hospital wings across the GTA. 
Frankly, Allan Slaight's legacy should be taught in every broadcasting course across Canada.  Hell, they should rename Ryerson after Allan.  
Slaight University has a kind of 'magical' ring to it.