FYI
Paul Brandt's #NotInMyCity Receives Slaight Music Humanitarian Award
The Canadian country star is honoured with this prestigious award presented by the CCMA for his movement to end child sexual exploitation and sex trafficking in Canada.
Jun 27, 2019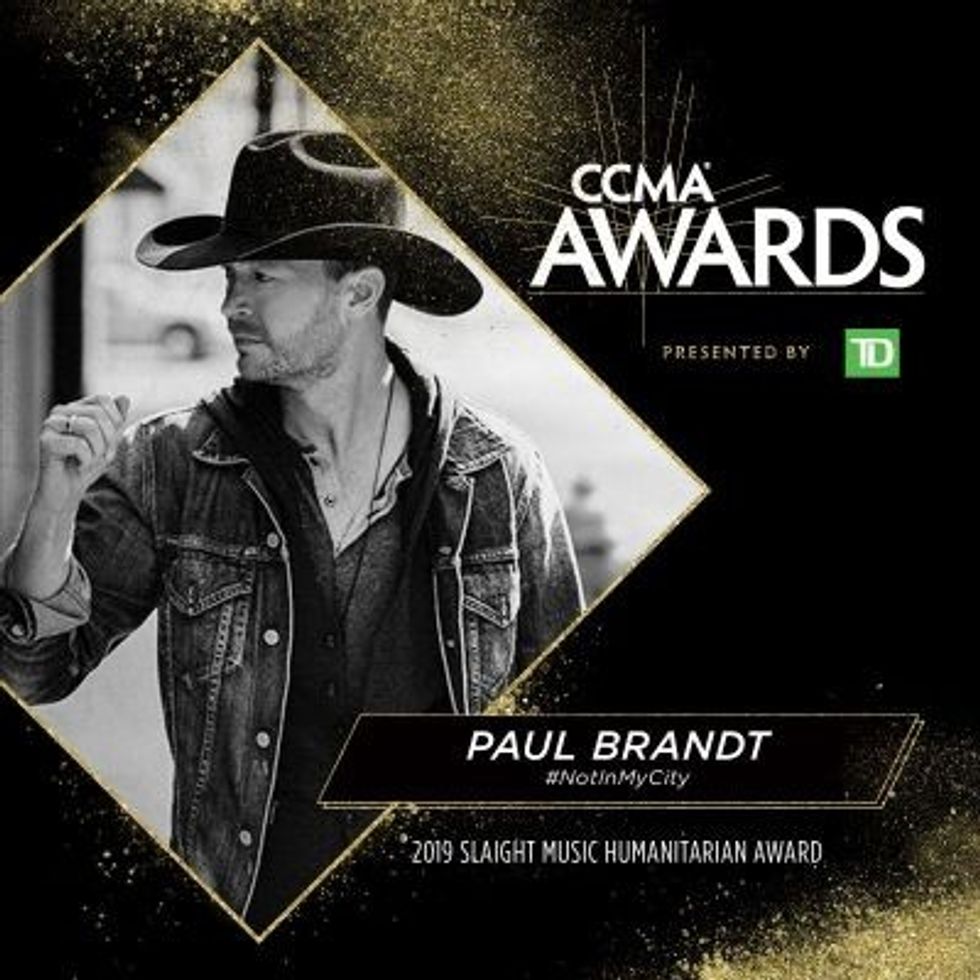 By External Source
The Canadian Country Music Association (CCMA) Board of Directors is honoured to present the 2019 Slaight Music Humanitarian Award to Paul Brandt for the leaps and bounds he has made in raising awareness and taking action to end child sexual exploitation and sex trafficking in Canada with his #NotInMyCity movement. Given out annually, the Slaight Music Humanitarian Award celebrates a person or organization who has made an outstanding contribution of time and energy in support of humanitarian causes. 

"Not only is Paul Brandt one of the greatest entertainers in our format and our country, but he is also an extraordinary humanitarian. Using his platform, he has become a strong voice for those affected by the horrible crimes of child sexual exploitation and sex trafficking in Canada and we are in awe of the change he is creating," said Tracy Martin, CCMA President. "The CCMA is honoured to recognize #NotInMyCity and Paul's remarkable efforts to bring attention to this urgent issue in our country."

Founded by Brandt in July 2017, #NotInMyCity serves to educate the public about the realities of human trafficking while also uniting Canadians in the fight to protect some of our most vulnerable citizens. Brandt and collaborative stakeholders recognized that many Canadians were unaware of the staggering facts surrounding trafficking. For example, 93% of Canada's trafficking victims come from Canada and more than 75% of people working in the Canadian sex trade began working as a child. More than a quarter of victims are under the age of 18 and, despite being only four percent of Canada's population, Indigenous Canadians represent half of all human trafficking victims. Today, #NotInMyCity is a strong, collaborative organization, working with established agencies and groups to raise awareness and take action to combat human trafficking.  

"Human trafficking is one of the fastest growing crimes in Canada today," said Brandt. "On behalf of the millions of human trafficking victims in the world, I am moved to be receiving the Slaight Music Humanitarian Award recognizing the #NotInMyCity movement. Our Allies have courageously stepped up and chosen to be on the right side of history. We must end the sexual exploitation and sex trafficking of children for profit occurring in Canada and around the world."  

Partners and supporters of #NotInMyCity include a growing list of visionary businesses and organizations along with First Nations groups, representatives from Ministries within the Provincial Government, the City of Calgary and City of Edmonton as well as sectors of Police, Justice, Health, Children's Services, Education and not-for-profit community agencies. The Calgary International Airport and Edmonton International Airport have also partnered with #NotInMyCity to help stop trafficking. 

"My father Allan and the Slaight family believe strongly in helping the communities we live in and supporting grassroots initiatives that raise awareness of deserving issues," says Slaight Communications CEO, Gary Slaight. "I congratulate Paul Brandt on both his #NotinMyCity initiative and his Buckspring Foundation that have helped to better lives. There's no question that Paul is richly deserving of the honour that comes with receiving the Slaight Music Humanitarian Award."

This CCMA Award of Achievement is named the Slaight Music Humanitarian Award in recognition of the generous donation made by the Slaight Music Foundation. The 2019 Slaight Music Humanitarian Award will be presented to Paul Brandt during a private industry event as part of Country Music Week 2019, taking place September 5-8 in Calgary, Alberta. For further details on the Slaight Music Humanitarian Award and other CCMA Awards of Achievement click here.

To learn more about #NotInMyCity visit notinmycity.ca.

For more information on the CCMA visit ccma.org.

About #NotInMyCity 
#NotInMyCity is an initiative championed by humanitarian and country music star, Paul Brandt, geared toward raising awareness and collective action on Human Trafficking in Canada with a focus on Sexual Exploitation and Sex Trafficking. Since 2017, #NotInMyCity has been working with community partners to bring awareness and collective action to this issue. The movement continues to unite key stakeholders locally, provincially and nationally to engage, commit and collectively build an action plan to prevent and end sexual exploitation and sex trafficking.

About Slaight Music
Slaight Music was started in 2011 with a mandate to support the Canadian music community through a variety of initiatives and to develop Canadian talent via strategic partnerships with industry peers. We work with artists from across the country and across the musical spectrum, helping to further careers and get great music heard. We're also invested in the technology sphere, helping Canadian music entrepreneurs develop the next generation of digital platforms and services. And we support a variety of music-related events, causes and charities.

About the Canadian Country Music Association (CCMA) 
Established in 1976, the CCMA is a membership-based, not-for-profit organization committed to the promotion and recognition of Canadian country music. Built upon the foundation to educate, elevate and celebrate Canadian talent, the CCMA progressively heralds the spirit, community and creativity that country music fosters through year-round initiatives, culminating every fall with Country Music Week and the Canadian Country Music Association Awards. Sponsors of Country Music Week and the 2019 CCMA Awards Show include FACTOR, Canada's Private Radio Broadcasters and the Government of Canada through the Department of Canadian Heritage's "Canada Music Fund", Radio Starmaker, the Government of Alberta, The City of Calgary and Tourism Calgary. 
---