FYI
Music News Digest: Nov. 12, 2020
Round 2 of First Up with RBCxMusic is announced, power fiddle couple Natalie MacMaster and Donnell Leahy schedule a virtual Xmas tour (pictured), and CZN win the Jim Beam National Talent Search. Also in the news are The ARC Sound, Kandle, Mississauga Music Awards, The Connected Music Series, Sound + Vision, The Fugitives, Lhasa, TSO, Brett Kissel, Toronto Jazz Festival, Whitney Rose, Mon Doux Saigneur, and Circulart.
Nov 11, 2020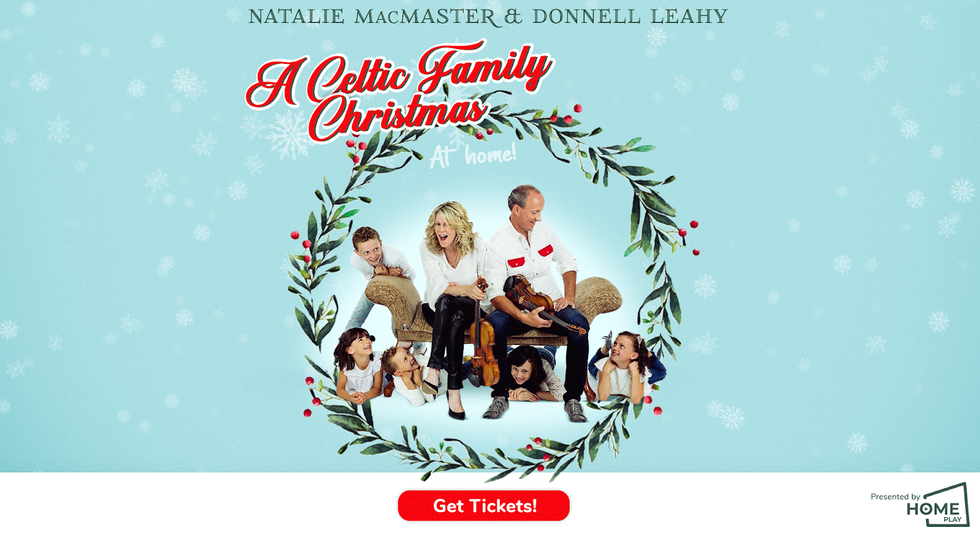 By Kerry Doole
RBC has announced Round 2 of First Up withRBCxMusic, with a planned commitment into the new year. The program spotlights emerging Canadian musicians and recording artists and helps support homegrown talent through the challenging circumstances brought on by the pandemic. For the second round, 27 emerging musicians and recording artists along with nine alumni from Round 1 will be selected to participate. Each artist will receive a $1K stipend to perform a short virtual set hosted on the artist's personal Instagram channel, with media and promotional support from RBCxMusic, and networking and mentorship opportunities with industry experts. A schedule of each week's musical performances will be shared on the RBCxMusic Instagram page every Wed, with performances taking place Fri through Sat evenings, starting Nov. 27.
---
Artist ambassadors named to boost the program are Ali Gatie, DVSN, and Tenille Arts, while The Remix Project will help host virtual community workshops with notable guest speakers.  Applications are now open here.
– CMW has announced CZN as the 2020 National Champions of the Jim Beam National Talent Search. In this clip, Josie Dye of Indie88 chats with the band.
– Toronto's famed Horseshoe Tavern was set to reopen its doors to live music this month, but new pandemic lockdown restrictions have sadly forced the postponement of recently scheduled shows. Ace local roots-rock combo The ARC Sound were meant to play their favourite club on Nov. 14. The band has just released a new tune, The 'Shoe, that demonstrates this love. It name-checks the likes of Stompin' Tom, Colin Linden, Rick Danko, Mary Margaret O'Hara, and Townes Van Zandt, plus a couple of regular barflies (ahem!). Check it out here.  
– The 4th annual Mississauga Music Awards aired virtually on Nov 7. Supported by the City of Mississauga's Culture Division, Living Arts Centre & Canadian Community Arts Initiative, this year's event boasted 13 award categories & 56 nominees. Each category was voted on by an industry panel, based on the judging criteria of artistic merit, creativity & impact of work. More info here
– TD Bank and Canada's Music Incubator have partnered to present The Connected Music Series. This will showcase Black, Indigenous and South Asian music performers and content creators at culturally significant spaces across Canada, and features the production and streaming of 20 performances over five weeks. These will be streamed on the Connected Music Series YouTube channel from Nov. 19 to Dec. 20. Info here 
– Canada's revered fiddle power couple Natalie MacMaster and Donnell Leahy have announced A Celtic Family Christmas At Home Tour. Partnering with Homeplay.live, the concerts will continue to be part of the duo's annual tradition for their extended family across North America, while encouraging audiences to support the local theatres who are also struggling with the quarantine. Through Homeplay.live, the community theatres will sell tickets for the concerts, which will be screened online to ticket-holders. Supporting the music venues that have hosted these concerts previously is a priority for MacMaster and Leahy. Itinerary here.  For all upcoming shows and ticket links, visit here
– Presented by the Guild of Music Supervisors Canada, the inaugural Sound + Vision is a free educational sync conference taking place Nov. 16-20. Invited are anyone and everyone, from around the globe working in the 'sound + vision' space; including songwriters, artists, filmmakers, producers, directors, ad execs and content creators. Each day, there will be educational panels and creative workshops breaking down the many layers of sync in multiple media platforms.  The Sound + Vision seminars will include some top Canadian business professionals. Although admission is free, donations to one of two partnering charities, Black Mental Health & Black Youth Helpline, are encouraged. Panelists and guests will be announced shortly. Register here.
– Canadian folk group The Fugitives has just released Ridge, a musical documentary covering the Battle of Vimy Ridge, featuring doco style monologues along with performances of songs written during WW1, reimagined by the group in honour of Remembrance Day. Initially commissioned as a monologue by band member Brendan McLeod to be performed on The Chan Centre's stage, due to Covid-19, it morphed into a feature film with the accompanying historical music. Ridge was released yesterday (Nov. 11), along with a complementary 14-track album, Trench Songs.
– On Nov. 15 (noon to 2 pm) Mundial Montreal presents a Facebook Live session entitled Lhasa de Sela : 10 ans plus tard /10 years later. The work of the late and much-missed world music star is remembered by Derek Andrews, Nicholas Jennings, and Fred Goodman, a renowned US music journalist who recently wrote a book on Lhasa. Read the FYI feature on Goodman here.
– The TSO is partnering with Against the Grain Theatre for a new, innovative version of Handel's Messiah, entitled Messiah/Complex. The 70-min filmed performance of the Messiah/Complex is co-directed by Joel Ivany, the Founding Artistic Director of AtG and Reneltta Arluk, Director of Indigenous Arts at Banff Centre for Arts and Creativity. It will showcase multilingual translations, and feature a diverse cast of soloists (Jully Black and Leela Gilday included) and choirs (including the Toronto Mendelssohn Choir) representing every province and territory across Canada, accompanied by the musicians of the TSO and conducted by Johannes Debus (Canadian Opera Company). Messiah/Complex will premiere online on Dec. 13 at 8 pm EST. 
– Cancountry star Brett Kissel has premiered the music video for a new version of his hit song A Few Good Stories, featuring Walk Off The Earth, who also star in the video along with a cast of superstar dogs with special appearances from Connor McDavid's pal Lenny, Kaitlyn Bristowe and Jason Tartick's golden retrievers Ramen & Pinot, and Kissel family pet Charlie. 
– Each week, the TD Toronto Jazz Festival profiles a local musician in a new online weekly series, Stories From Home. Through personal stories, video and music, artists will provide a unique perspective on the pandemic experience from a musician's point of view. The first three participating musicians are Juno-winning bandleader/composer Ernesto Cervini, Alex Pangman ("Canada's Sweetheart of Swing"), and vocalist Dione Taylor. Catch the series on Facebook here.
– Canadian honky-tonk heroine Whitney Rose has been making a splash on the Austin scene in the last few years. On Nov. 15, she plays her first live-streamed webcast. The show will be available for three weeks to watch and re-watch through Veeps. Tix here.
–  Adventurous Juno-nominated singer/songwriter Kandle (Osborne) releases a new single, Lock & Load, today (Nov. 12), accompanied by an eye-grabbing video. She celebrates the release with a virtual cocktail hour on Nov. 13 at 5 pm PST.
– Quebec's Mon Doux Saigneur has released a new single and video, L'eau, from the current album Horizon, recently nominated for Alternative Album of the Year at the Adisq awards. The group will also give a concert on March 6, at MTELUS, sharing the bill with Bon Enfant. Tix are on sale here.
– Choir! Choir! Choir! partners with the Canadian Cancer Society (CCS) for a virtual fireside sing-a-thon in support of the CCS Holiday Campaign. Taking place live on Facebook and YouTube on Nov. 26 at 7:30 pm EDT, the event reflects on the Holiday Campaign's theme "Love is Stronger than Cancer." This digital event marks the second partnership between Choir! Choir! Choir! and CCS this year. In April, a one-hour sing-a-thon raised over $80K in support of the Daffodil Campaign.
– The Circulart industry conference has gone digital in 2020, broadcasting live from Medellin, Colombia, this week.. A Canada Spotlight is highlighting Canadian talent and opportunities during the event. A panel is entitled The Canada-Colombia Connection: Understanding market strategies and creating the opportunity for cross-cultural exchange, while there are showcases by Nomadic Massive (Nov. 13, 22:20 CT) and Alysha Brilla (Nov 15, 18:00 CT). Tune in here