FYI
Music News Digest, March 30, 2020
The 2020 CMAOntario Awards announce a new date,  Reuben Bullock (pictured) boosts social distancing, and Deborah Holland and Dana Gavanski release new albums. Also in the news are Luminato, SaskMusic, John Prine, Bob Dylan, Anthony Gomes, and farewell Joe Diffie, Krzysztof Penderecki, Alan Merrill, and Bob Andy.
Mar 30, 2020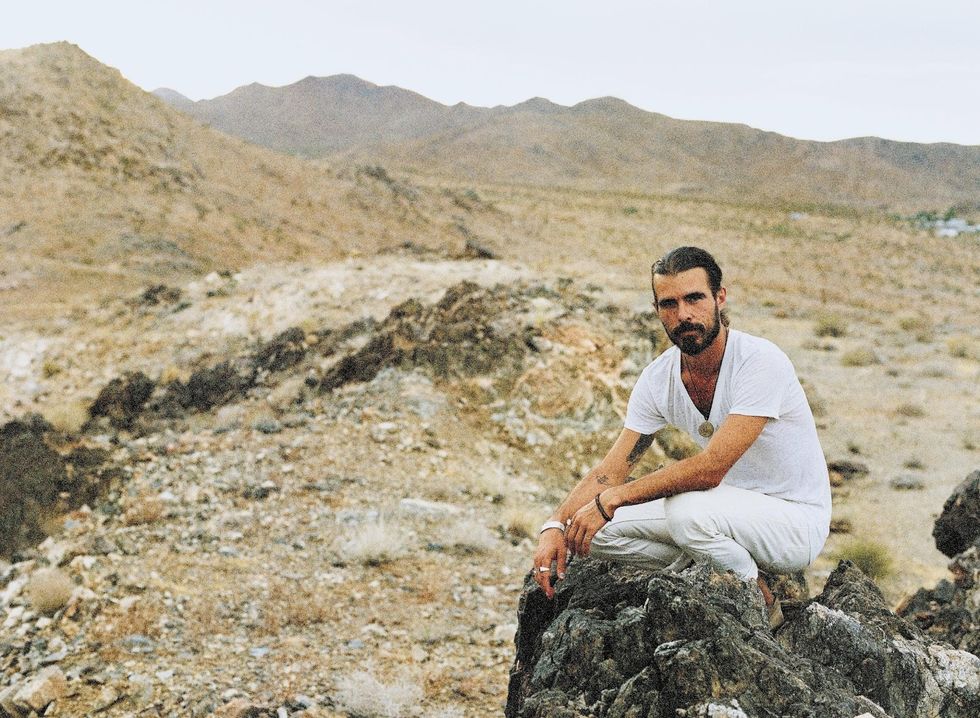 By Kerry Doole
The Country Music Association of Ontario (CMAOntario) has rescheduled the 2020 CMAOntario Awards for Sunday, Oct. 4 at Centennial Hall in London. Presented by Slaight Music with support from Ontario Creates, the 8th Annual CMAOntario Awards will close out the Festival & Awards Weekend in the city. The event, previously scheduled for May 28 -31, was pushed back because of COVID-19 fears.  
---
– Reuben and the Dark frontman Reuben Bullock is doing his part in creating community solidarity amidst the COVID-19 global pandemic. While on an Instagram Live Stream, Bullock sang fan favourite, Hold Me Like A Fire, a song that beckons fans to join him on stage and sing along to create a mass choir at each show. After the live session, fans flooded Bullock's inbox with videos of them singing along to the live video. With the help of filmmaker Kaelen Ohm, Bullock edited each video clip and created a mass virtual Social Distancing Choir. "It's just an attempt to remind people we are all still connected," explains Bullock. 
– Now based in BC, singer-songwriter and multi-instrumentalist Deborah Holland released her sixth solo album Fine, Thank You! on March 27.  She is best known for fronting late '80s super trio Animal Logic, alongside Police drummer Stewart Copeland and legendary jazz bassist Stanley Clarke. Copeland guests on the new album, as does Shari Ulrich. Here's a new video.
– Toronto's international and multi-disciplinary Luminato Festival has announced the cancellation of its June event due to the COVID-19 pandemic. It plans to return in 2021.
– SaskMusic is inviting member artists to apply for one of the available spots to go live on its Facebook page. Selected artists will receive an honorarium of $200 and during their broadcast are encouraged to share a method/link by which fans can also donate. There are plenty of slots available in April. Apply here
– The news that legendary folk singer/songwriter John Prine is critically ill in hospital with COVID-19 is causing great concern in the music community. More details here
– On Friday, Serbian-Canadian singer/songwriter Dana Gavanski released her new album, Yesterday Is Gone, on Flemish Eye. She launched it that day by performing two live sets on her Instagram page, recorded from her family's home in Serbia where she is currently staying in quarantine. 
– In this turbulent and near-apocalyptic time, who better to release a new song than Bob Dylan? He has just delivered his first original composition in eight years, a sprawling 16-minute epic built around the assassination of JFK. It is already sparking fierce debate (The Guardian calls it a masterpiece), and you can check it out here.
– For a lighthearted look at a very serious situation, check out Containment Blues, a timely new track from Toronto blues guitarist/singer Anthony Gomes.
Obits
Joe (Joseph Logan) Diffie, a US country hitmaker in the '90s, died on March 29, due to complications related to COVID-19. He was 61.
The Oklahoma native charted five Number One singles in the first half of the Nineties -  Home, If the Devil Danced (In Empty Pockets), Third Rock From the Sun, Pickup Man, and Bigger Than the Beatles.
In all, Diffie charted 18 Top Ten singles, with the majority reaching the Top Five, including the 1993 radio staples Prop Me Up Beside the Jukebox (If I Die) and John Deere Green.
Diffie learned about harmony singing by working in gospel and bluegrass groups, including, respectively, Higher Purpose and Special Edition.
Diffie also played bars, VFW halls, and honky-tonks as a solo act in Duncan, Oklahoma, where he lived with his wife and children while working in a local foundry. He also partnered with his father to run a small recording studio.
He relocated to Nashville in 1986, taking a job with the Gibson guitar company, singing on countless demos and writing songs. In 1988, country legend Hank Thompson cut the Diffie composition Love on the Rocks. In 1989, Diffie co-wrote and sang backing vocals on Holly Dunn's Top Five single There Goes My Heart Again.
Signed to Epic Records, Diffie released his debut LP, A Thousand Winding Roads, in 1990. The album produced his inaugural hit, Home, which set a record by becoming the first debut single to reach the top of the country charts on all three trade publications at the time: Billboard, Gavin, and Radio & Records.
In 1993, the year he was inducted into the Grand Ole Opry, Diffie released the million-selling LP Honky-Tonk Attitude, followed by 1994's Third Rock From the Sun, which was also certified platinum.
He later signed to Rounder, returning to his bluegrass roots with Homecoming. In 1998, he won a Grammy award for Best Country Collaboration With Vocals for the all-star recording Same Old Train with Merle Haggard, Clint Black, Emmylou Harris, and more.
In July 2019, he released the honky-tonk tune As Long as There's a Bar, and in November issued his first-ever vinyl LP, Joe, Joe, Joe Diffie, featuring updated versions of 11 of his hits. Sources: Rolling Stone
Krzysztof Penderecki, a Polish-born composer and conductor, died on March 28 at the age of 86 after a long illness, his family announced.
He was a major figure in contemporary music whose compositions reached millions through celebrated film scores, which included music for William Friedkin's The Exorcist, Stanley Kubrick's TheShining and David Lynch's Wild at Heart.
Penderecki's stated aim as an avant-gardist in the early 1960s was to "liberate sound beyond all tradition", and his emotionally charged experimental 1960 work Threnody to the Victims of Hiroshima, for 52 strings, brought him to international attention and acclaim when he was only 26. Over a long career, he also wrote operas, choral works and concertos, and won multiple awards, including four Grammys, most recently for best choral performance in 2016.
One of his best-known fans is Radiohead's Jonny Greenwood, who collaborated with the composer in 2012. Source: The Guardian
Alan Merrill (born Allan Preston Sachs) an American vocalist, guitarist, songwriter, and actor, died on March 29, of COVID-19, at age 69.
In the early 1970s, Merrill was one of the first Westerners to achieve pop star status in Japan. He was the lead singer and co-writer of the first released version of the song I Love Rock 'n' Roll by the Arrows in 1975. The song later became an anthem for Joan Jett.
Merrill was born in The Bronx, New York City, the son of two jazz musicians, singer Helen Merrill and saxophone/clarinet player Aaron Sachs. He started his semi-pro career in New York City aged 14 when he began playing in Greenwich Village's Cafe Wha? with the bands The Kaleidoscope, The Rayne, and Watertower West. The groups played the club during the 1966-1968 period.
In the late '60s, he moved to Tokyo, fronting The Lead, then going solo. He recorded one solo album with Atlantic Records, Alone in Tokyo, and another for Denon/Columbia, Merrill 1 in Japan. His next band, Vodka Collins, which became Japan's top glam rock act.
In 1974 in London Merrill formed the band Arrows, and they had a Top 10 UK hit that year with the song Touch Too Much. With Arrows Merrill sang three chart hit records as the band's lead singer, all produced by Mickie Most. They made one more single that would be an important one,  I Love Rock 'n' Roll (1975), a song that started out as a b-side to the 45 rpm Arrows single Broken Down Heart. The song was composed by Merrill and Arrows bandmate Jake Hooker.
 Arrows got their own weekly TV series Arrows in 1976, taking over the Bay City Rollers Granada TV series Shang-a-Lang, but a dispute with Mickie Most prevented them from releasing new material and the band soon broke up.
In 1977, Merrill formed a new group, the album-oriented rock act Runner, to moderate success. In 1980, he joined forces with Rick Derringer as a guitarist/vocalist in New York City, writing for and appearing on three Derringer albums.
In 1982, Joan Jett released a cover of I Love Rock 'N Roll that placed number one in the US Billboard charts for 7 weeks. The following year Lou Rawls recorded Merrill's song When The Night Comes as the title track of his 1983 Epic Records album. In 1985, Polydor released a compilation, entitled Alan Merrill,
In 1986, Merrill joined the Meat Loaf band and stayed for several years. He also acted in the television series Encyclopedia Brown.
In 1990, Vodka Collins reunited and regained popularity in Japan. Merrill also had a side project in New York, starting with a tribute to Don Covay he began recording with R&B producer Jon Tiven. He later released a series of solo albums, performed internationally, and continued to act. Sources: Wikipedia, Jamie Vernon.
Bob Andy (born Keith Anderson), a Jamaican reggae star, died on March 27, aged 75.
He is best known for a 1970 hit version of Young, Gifted and Black as part of the duo Bob and Marcia. His death was confirmed by his collaborator on that song, Marcia Griffiths.
The duo also reached No 11 in the UK 1971 with Pied Piper, which spent 13 weeks in the charts.
Andy began his career in the groups the Binders and the Paragons before going solo in the mid-1960s. Recording in the legendary Studio One under producer Coxsone Dodd, he cut songs that would become reggae standards, such as I've Got to Go Back Home and Too Experienced.
He also wrote songs that would be recorded by reggae stars including Gregory Isaacs, Ken Boothe and Delroy Wilson, along with solo numbers for Griffiths, although their partnership ended when she joined the I Threes, Bob Marley's group of backing vocalists.
Andy suffered from health issues, including migraines, and put music to one side for a number of years from the late 1970s onwards, broadening into acting. He also became an A&R for Tuff Gong Records, the label founded by Marley.
As his health improved, Andy returned to music in the 1990s. In 2006, he was awarded Order of Distinction by the Jamaican government for his services to music. Source: The Guardian