FYI
Music News Digest, March 26, 2018
Paul McCartney marches in honour of John Lennon, and digital downloads are on the decline. Those also making news include SOCAN, Juno Week, Nile Rodgers, The Slits, Ed Sheeran, Adele, Sinead O'Connor, TassNata, and a farewell to John Crossen. Videos added for your enjoyment.
Mar 26, 2018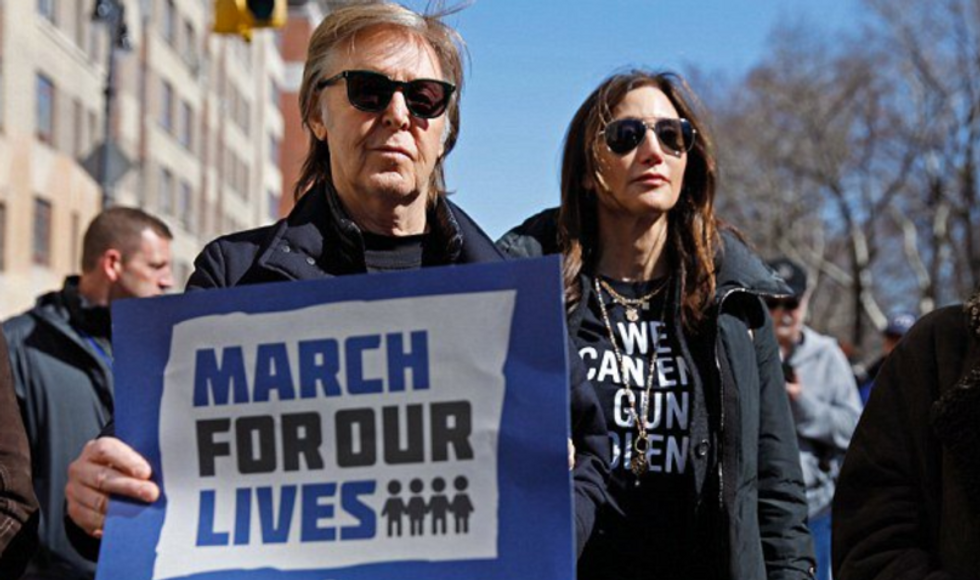 By Kerry Doole
The headlines-grabbing March for Our Lives protests across the US on the weekend drew many celebrity participants. The most prominent star to lend his voice to the fight for gun control was Paul McCartney, who marched in New York City. "One of my best friends was killed in gun violence, right around here, so it's important to me," McCartney told CNN, referencing John Lennon.
---
Also marching were Jennifer Hudson, Kanye West, Cher,  plus many notables from the film and TV worlds. Common, Miley Cyrus, Andra Day, Vic Mensa, Demi Lovato, Lin-Manuel Miranda, Ben Platt and Ariana Grande performed in Washington, and Rita Ora took to the stage in Los Angeles. Source: The Guardian
– Figures from the Recording Industry Association of America (RIAA) show digital downloads again being outsold by CDs and vinyl, reversing a six-year long trend. Digital downloads had a short run as the top-selling format in the music industry for it took until 2011 for their sales to surpass those of CDs and vinyl records, and downloads were overtaken by music streaming services just a few years later. The RIAA released its 2017 year-end revenue report last week, showing that revenue from digital downloads plummeted 25 percent to $1.3 billion (US) over the previous year. Revenue from physical products, by contrast, fell 4 percent to $1.5 billion. Sources: Washington Post, RIAA
– Last week The Canadian Academy of Recording Arts & Sciences (CARAS) received another major Licensed To Play designation from SOCAN. The label indicates that the live venues in Vancouver used to host Juno Week concerts have been licensed by SOCAN. Juno Week 2018 was presented with a special designation, a version of the emblem that over 40,000 Canadian music-using businesses have so far received to show off their support of fair compensation for music creators.
– Recently inducted Rock & Roll Hall of Fame musician/producer Nile Rodgers (Chic) has been appointed to the specially created role of Chief Creative Advisor at the famed Abbey Road Studios in London. In this role, he will nurture new talent, as well as recording with some of rock and pop's most prominent artists. The 65-year-old, who is recording a new Chic album, will also use the studio as his primary creative base in the UK. Source: BBC News
– All-female punk meets dub combo The Slits were an important part of the late '70s/early '80s UK scene. Their fascinating career is explored in a documentary film, Here To Be Heard. It gets a screening at Toronto's Royal Theatre on May 14, the only Canadian screening.
–  An English country mansion formerly rented by Adele can be yours - for a cool $13M (Canadian). The star reportedly paid around $24K (Can) a month for the 20K sq ft mansion, known as Lock House and situated in a remote area of West Sussex.
–  Another English pop star with a country estate is Ed Sheeran. His plans to build a 12-metre-tall chapel in the grounds of his Suffolk mansion are in danger of being neutered because construction might threaten a protected species, the great crested newt.
– Sinead O'Connor is returning to live performance shortly, after a three year absence. Two US dates, in Portsmouth NH and Northampton MA, have been announced for late April, with more expected TBA. O'Connor's struggles with depression and mental health have been well-documented. Source: VVN News
– BC rapper TassNata (real name Justin Nerling) broke out in 2016 with the track "Let's Go," featuring Rich Kidd and Tona, and an MMVA-nominated video that has racked up over 1.5 million streams. He has teamed up with Tona again for the new cut, "Bring The Horns." This hockey-themed clip was filmed by Jeremy Cox in TassNata's hometown of Vernon, using 16mm film.
RIP
John Crossen, a lyricist best-known for co-writing The Littlest Hobo theme song "Maybe Tomorrow," passed away at the age of 73 on March 22, after a long illness.
Crossen worked in the jingles business and collaborated with his musician and friend Terry Bush on many songs, including the internationally popular "Maybe Tomorrow." The tune was written in 1977
Crossen was also a renowned astronomer and educator who founded and operated the Buckthorn Observatory in Ontario, from 2002 to 2014.
There will be a drop-in celebration of his life at the Buckhorn Community Centre (1782 Lakehurst Rd., Buckhorn) from 12 to 3 p.m. on Sunday, April 8th. Sources: Kawartha Now, Terry Bush