FYI
Music News Digest, March 22, 2019
Toronto's main HMV store (pictured) goes to pot, CMAOntario Awards announces more performers, and CIMA heads to Reeperbahn 2019 in Germany. Also in the news are Neena Rose, The Indies, Mustafa The Poet, Music Nova Scotia, Kristjan Randalu, Now Hear This Festival, Aaron Campbell, OMF, TBS, Bryan Adams, and Sonic Boom fest. Videos added for your enjoyment.
Mar 22, 2019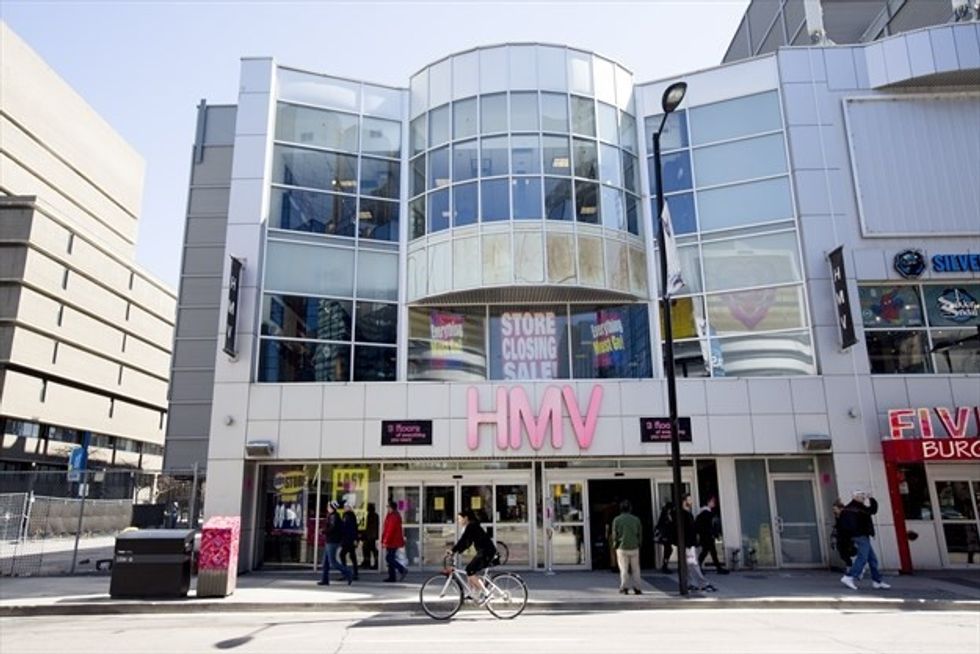 By Kerry Doole
The Country Music Association of Ontario (CMAOntario) has announced the second wave of performers for the 7th Annual CMAOntario Award Show, set for June 16 at the National Arts Centre in Ottawa. Hosted by Jason McCoy, the show will include performances by Tim Hicks, Tebey, Kira Isabella, and The Western Swing Authority, joiniing previously announced acts Jason Blaine, Meghan Patrick, The Reklaws, and The Washboard Union. Awards nominees will be named in April. The CMAOntario Awards are presented by Slaight Music with support from Ontario Creates.
---
– The Yonge Street site of Toronto's former flagship HMV store is now designated to come back to life as a pot shop (cue jokes). The Toronto Starreports that cannabis retailer Tokyo Smoke, operated by Canopy Growth Corp., is teaming up with a newly licensed local pot seller to take over the joint.
– CIMA is hosting the eighth installment of Canada House and presenting showcases at Reeperbahn 2019 in Germany. Applications for bands/artists to showcase are now being accepted. Deadline is May 3. The event runs Sept. 18-21, with a pre-event in Berlin, Sept. 16-17.
– On March 19, 17-year-old Hamilton singer Neena Rose appeared at the California Copyright Conference in LA, in the "Young Guns–Innovative and Thriving in the New World Music Order" event. Rose has earned streaming love for her singles "Games" and "Circles," and is also working on an EP with producer and writer 80 Empire. Here's her new low-fi R&B single "Rewind". Source: The Gate
– The 19th Canadian Independent Music Awards  (The Indies) is presented by Jim Beam with Indie88 at the Phoenix Concert Theatre in Toronto on May 11, as part of CMW. The submission deadline for nominations is March 31.
– Music streaming services generated more than half of the income earned by record labels in the UK last year, as CD sales continue to plummet. The streaming platforms made 54% of the £865.5m total recorded music income in the UK.
It is the first time that subscription streaming revenues, which grew at 35% year-on-year in 2018, have accounted for more than half of total recorded music revenues for labels. The most streamed tracks in the UK last year included Drake's "God's Plan," Calvin Harris and Dua Lipa's "One Kiss," and George Ezra's "Shotgun." The figures were reported by the BPI. Source: The Guardian
– Last week, Toronto artist Mustafa The Poet released Remember Me, Toronto, a short film dedicated to various artists, and people they've lost. It asks artists how they want to be remembered, and what keeps them going, and it addresses the issue of gun violence in the 6ix. Local artists featured in the film include Drake, Baka Not Nice, Pilla B, Pressa, and Mustafa himself. Noah "40" Shebib scored it, with Mustafa credited as Executive Producer alongside Sol Guy. Source: HipHop Canada
– Music Nova Scotia has a showcase at Tallinn Music Week in Estonia, March 28. Maritime artists featured are Port Cities, Nick Faye, Megan Nash, Hello Delaware, Respectfulchild, and 3peat. The event runs March 25-31.
– Speaking of Estonia, tonight (March 22) acclaimed Estonian pianist Kristjan Randalu performs in Hamilton at the Cotton Factory, with Canadian sax star Mike Murley as a special guest. On March 23, he performs at Gallery 345 in Toronto, with Murley and TSO cellist Winona Zelenka as guests. The concerts are promoted by veteran producer/agent/manager Tom Treumuth, as part of his new EMW Culture Club (EMWCC) initiative. It is a membership-based exclusive club set up under the umbrella of Estonia Music Week, headed by Treumuth, to support and present Estonian music and culture. He intends to import artists from that country for shows in Canadian and US cities.
– This year's Now Hear This Festival, presented by New Music Edmonton, runs March 21-24, focused on the adventurous fringes of classical music. It has a strong female component, with three world premieres by women composers in the final concert, and each of the four days of music-making including a major work by a Canadian woman. Multimedia elements are also stressed in the fest. Composers and performers featured include Anna Pidgorna, Emilie Lebel, Roger Admiral, Arlan Vriens, Hypercube, Katelyn Clark, and UltraViolet. Source: Edmonton Journal
– Ontario Creates (formerly OMDC) welcomes Aaron Campbell as its new Chair. A new Board member, Campbell succeeds Mark Sakamoto, who served as Chair from Feb. 2016. Campbell is currently the Chief of Staff at the Liquor Control Board of Ontario. He has held senior roles with the federal government, including with the Prime Minister of Canada and the Minister of Canadian Heritage, and has worked with the Toronto International Film Festival.
– The Music Industry Development stream of the Ontario Music Fund has a rolling deadline, with application evaluations and funding decisions occurring throughout the year, until Oct. 24, 2019. Applicants are strongly encouraged to submit applications in advance of the program closure date.  All applications must be submitted via the Ontario Creates portal
– The Toronto Blues Society (TBS) presents a free Digital Boot Camp at Small World Music Centre on April 8, from 5 - 9 pm. it features four in depth panel sessions to help musicians navigate the shifting landscape of marketing, distribution and revenue generation in the digital age.
– Bryan Adams heads a strong CanCon lineup at the  2019 Thunder Bay Blues Fest. Other acts announced for the three-day fest include Burton Cummings, Johnny Reid, Tom Cochrane, Jann Arden, 54-40, The Trews and Amanda Marshall. The event runs July 5-7, with tix going on sale today.
– Friends and colleagues of popular author/DJ/VJ Kim Clarke Champniss will be pleased to learn he is now out of hospital, after major throat cancer-related surgery. On Wednesday he posted on FB that "After two hospital stays, three operations, and almost five weeks of bed fatigue I am going home to Niagara Falls tomorrow. The next phase is healing. I have no voice, but feeling strong. It has been a battle." Read the full post here 
– Vancouver's annual Sonic Boom Festival runs four nights this year, March 22-24. Based at Pyatt Hall and Orpheum Annex, it focuses on the new music genre, showcasing the community of composers in BC. This year Rodney Sharman and the Turning Point Ensemble are in-residence. More info here