FYI
Music News Digest, March 21, 2018
Kiefer Sutherland co-headlines Sirius XM House at CMW, the iHeart Radio FanFest announces its lineup, and Classified will perform on the ECMAs. Also making news are Searchlight, Aquakultre, Indigenous Music Awards, Drake, Danielle Bourjeaurd, A3C Festival, Patrick Watson, Sugar Brown, Joe Keithley, Steven Tyler, CMTTF, and Battle of Santiago. Videos added for your enjoyment.
Mar 21, 2018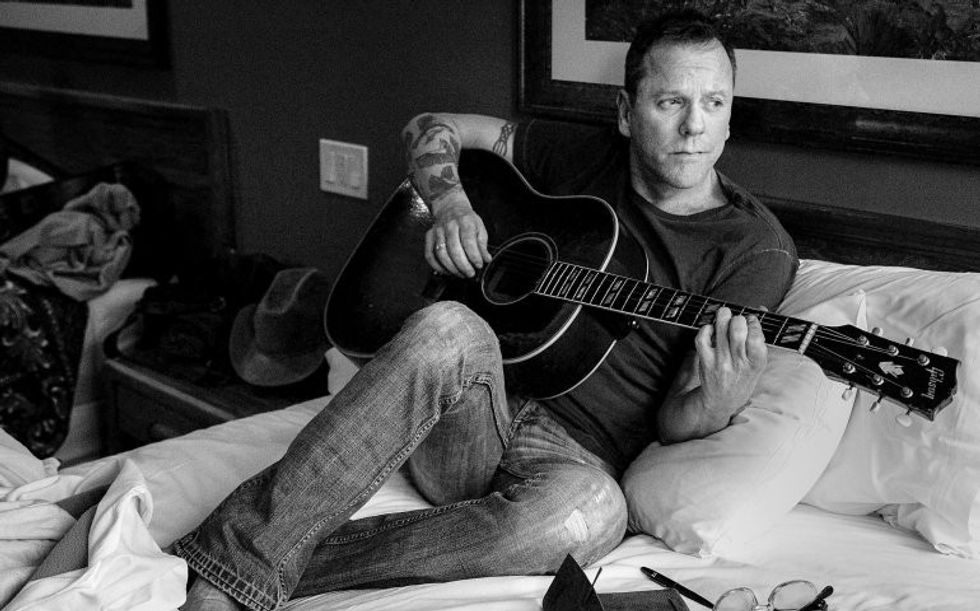 By Kerry Doole
iHeartRadio Canada has announced the lineup for the annual iHeartRadio FanFest, set for Friday, May 11 at Rebel Nightclub in Toronto. In partnership with Canadian Music Week (CMW), it will feature performances from Allie X, Belly, DVBBS, Elijah Woods x Jamie Fine (The Launch), French Montana, Marianas Trench, Ria Mae, Shawn Hook, and Tyler Shaw. Tix go on sale Friday. Held in conjunction with this is the Sirius XM House event, May 10 and 11 at The Phoenix Concert Theatre. It features headlining performances by Kiefer Sutherland and Monster Truck, plus Crown Lands, Blackie Jackett Jr., and more TBA.
---
–  The East Coast Music Awards (ECMAs) has announced that multiple ECMA and Juno Award-winning rapper Classified joins the 2018 ECMA Show on May 3 at the Scotiabank Centre in Halifax, NS.  Previously named performers include Sloan, Measha Brueggergosman, Joel Plaskett, Rose Cousins, The East Pointers, Port Cities, The Once, The Barra MacNeils, Universal Soul, Les Hay Babies, and Quake Matthews.
– The ECMA has also announced the lineup for the 2018 SOCAN Songwriters' Circle. Hosted by Alan Doyle, it will feature Adam Baldwin, Reeny Smith, Rose Cousins, Jenn Grant, Carleton Stone (Port Cities), and Lennie Gallant. The event is on May 6 at 2:30pm in the Schooner Room at Casino Nova Scotia. Tix on sale March 22 here
– CBC Music Festival brands itself "the largest, all-Canadian music festival." In its sixth year and in partnership with Live Nation, it returns to Echo Beach in Toronto on May 26, with a just-announced lineup headlined by July Talk. Others on the bill include A Tribe Called Red, Charlotte Day Wilson, The Rural Alberta Advantage, Northern Touch All-Stars, Yukon Blonde, Busty and the Bass, The Jerry Cans, Milk & Bone, Fortunate Ones, Boogat, Midnight Shine, Caveboy and Aquakultre. This year's fest will stream live on cbcmusic.ca. Tix on sale here
– Halifax hip-hop artist Aquakultre (Lance Sampson) has won the 2018 CBC Searchlight competition for his song "Sure." This annual online contest aims to find the best unsigned talent in Canada. Part of his prize includes a week's recording residency at Studio Bell in Calgary's National Music Centre, and a slot at the CBC Music Festival.  A plumber by day, Sampson told The Coast in November, "I just let it come how it comes" in terms of his music career. He reportedly took up music during a term in prison. Check out the announcement here.
– Nominees for the Indigenous Music Awards have been announced. Awards will be handed out in 19 categories at the ceremony, to be held at Winnipeg's Club Regent Event Centre and coinciding with the Manito Ahbee Festival. In addition to the competition awards, Redbone will be honoured with a lifetime achievement award.
– You won't see him at The Junos this weekend, but Drake is still riding high globally with his current smash track "God's Plan." It remains on top of Spotify's Top 200 chart, registering 47.1M streams for the week ending March 15. That is a huge lead over the runner-up, Post Malone's "Psycho," with 33.1M streams. Drizzy is also featured on the No. 7 entry, "Look Alive," by Bloc Boy JB, with 21.4M streams.
– ole label group has announced the addition of Canadian country singer-songwriter, Danielle Bourjeaurd, to its red dot roster. The Sharon, ON native's debut EP, Country Sorta Way, is now available with distribution through ole label group with publishing via ole and Frank Davies' Let Me Be Frank. The second single, "Happy Hour", will be released to radio on Friday. The Nashville-based Bourjeaurd won Best Emerging Artist at Toronto Indie Week 2017. She had a co-write on Tom Cochrane's radio hit, "Sunday Afternoon Hang," and started off 2018 with a Top 15 single for her Petric co-write "18 Ends."
A very important event on the hip-hop calendar, The A3C Festival & Conference will be held in Atlanta, Oct. 3-7. The fest is booking at least 50 Sonicbids artists in 2018. Through the #ThisIsMyYear campaign two artists will be voted onto the 2018 stage each week. Artist submissions are free until March 23. More info here
– The Polaris Prize-winning Montreal band Patrick Watson has announced a return to Massey Hall in Toronto, with a June 15 concert date just announced. This will be part of the Live at Massey Hall live concert and concert film series, with special guests La Force (Ariel Engle). Tix on sale March 22.
–  Still best known as DOA leader Joey Shithead, BC punk rock veteran Joe Keithley is again entering the political ring. He announced this week that he'll run for mayor in Burnaby, BC, representing the Burnaby Civic Green Party. Keithley has had plenty of previous bids for office, Last year, he ran to become Burnaby-Lougheed MLA as part of the B.C. Greens, but came in third, behind NDP and Liberal candidates. He has run unsuccessfully as a candidate for both the NDP and Green Party in past provincial elections. Keithley was inducted into Vancouver's Hall of Fame in 2016. 
– Steven Tyler has announced a 13-date US summer tour, with Nashville's Loving Mary Band as his backing group. The trek is in support of the Aerosmith frontman's country-flavoured 2016 solo album, We're All Somebody From Somewhere. There are no Canadian dates, but the June 12 show at Lewiston's Artpark is in close proximity to southern Ontario.
– Toronto blues singer/songwriter Sugar Brown is releasing his third album, It's A Blues World, this month, launching it with a Hugh's Room Live show in T.O. tonight (Wed. 21), on a bill with Ray Bonneville. Brown cut his teeth in the Chicago blues scene and is now a popular member of the Toronto music community. Guesting on the album is top US blues guitarist Johnny Burgin.
– On March 29 at the Cameron House in Toronto, students from Harris Institute and Confidential Records are putting on a showcase to benefit the Canadian Music Therapy Trust Fund. Acts playing are Whiplash Girlchild, Liberty, and Dylan Cohen. Tix here
– The genre-hopping Toronto group Battle of Santiago is nominated for a Juno Award in the World Music Album of the Year category for its album La Migra. BOS is heading to Vancouver for the Awards, and is playing a JunoFest concert too. This takes place on Friday March 23 at Celebrities Nightclub. The Battle of Santiago band members are half Canadian, half Cuban (including members of Maqueque and Okan), and their sound mixes art-rock, dub and Afro-Cuban jazz. Here's a sample.