FYI
Music News Digest, July 28, 2022
Hill Kourkoutis wins a prestigious industry award (pictured), Shawn Mendes and Stars cancel tours, and Drake and The Weeknd each receive multiple VMA noms. Also in the news are the CCMAs, MacKenzie Porter, CIMA's Canada House, EMV, The SOCAN Foundation, VIFF AMP, Radio & Records party, Dave Bookman, Big Rude Jake, Allegories, NMC, Music Nova Scotia, Dean Brody, Wilfred N And The Grown Men, and James Favron.
Jul 26, 2022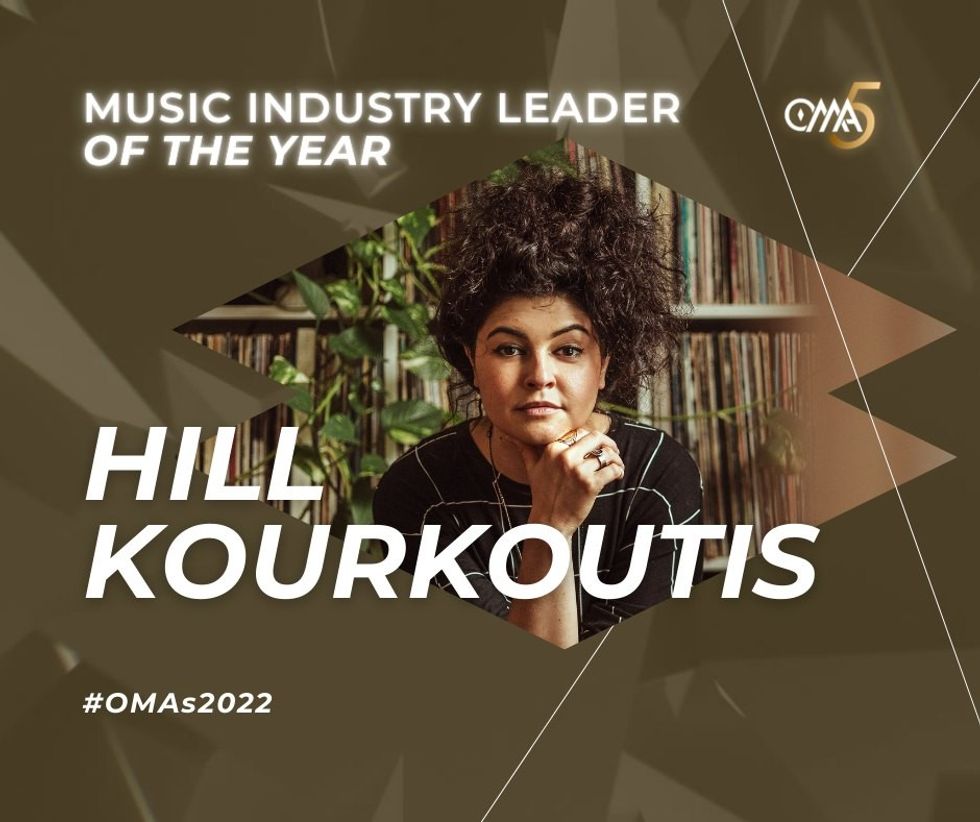 By Kerry Doole
Awards news
---
Drake and The Weeknd each received five nominations for the upcoming MTV Video Music Awards.  Lil Nas X, Jack Harlow and Kendrick Lamar top the noms list with seven apiece, Doja Cat and Harry Styles earned six each, and Billie Eilish, Dua Lipa, Ed Sheeran, and Taylor Swift joined the Canadians with five nods. The Awards take place on Aug. 28. More here.
– Singer/songwriter, multi-instrumentalist and producer Hill Kourkoutis has been named the 2022 Industry Leader Award recipient at this year's Oshawa Music Awards. She recently made history as the first woman to ever be nominated for and win a Juno Award for Recording Engineer of the Year. She will be honoured this Sept. 29 at the event's fifth annual ceremony celebrating music in Durham Region for her contributions to the community — both locally and nationwide. Larry LeBlanc recently interviewed Kourkoutis for his regular Celebrity Access In The Hot Seat feature. Read that here.
– Following a review of eligibility-period data, the Canadian Country Music Association has added two additional noms to the previously released list of nominees for the upcoming 2022 CCMA Awards presented by TD. Both MacKenzie Porter and The Reklaws will receive additional nods withPorter being added to the Spotify Female Artist of the Year category and The Reklaws receiving a nod in the Amazon Music and Alexa Fans' Choice Award. Winners will be announced on Sept. 11 as part of the 2022 CCMA Awards show.
Festivals and conferences news
– CIMA, in partnership with BreakOut West, Alberta Music, Manitoba Music & SaskMusic, will be returning to Nashville for a business & showcasing mission at the 2022 edition of Americanafest in Sept. The Canada House showcase there is at InDo (632 Fogg St) on Sept. 16 from 12 - 6 pm. The event is open to conference attendees as well as the public. The 9 Canadian artists just announced as performers there are Amanda Rheaume, Del Barber, Desiree Dorion, Kyle McKearney, Last Birds, Les Hay Babies, Megan Nash, Michael Bernard Fitzgerald, and Mikhail Laxton.
Canadian companies representing the showcasing artists will get the opportunity to participate in a morning of business events in partnership with Sounds Australia, British Underground and Americanafest. Those interested in taking part in the business events can contact Jenia Schukov (jenia@cimamusic.ca) for more information.
– Early Music Vancouver's Bach Festival runs from July 26 to Aug. 5. Check out the sked here.
Industry news
– The SOCAN Foundation has announced the participants for the fourth edition of the TD Incubator for Creative Entrepreneurship. The incubator program provides emerging music creators with seed funding, mentorship, and the opportunity to participate in a progressive webinar series that will hone their entrepreneurship skills while providing them with the tools and resources needed to turn their talent into a sustainable career. More info and a list of participants here. 
– Last week VIFF AMP announced the first wave of world-class speakers joining the VIFF Amp Music in Film Summit from Oct. 6–8, 2022. These include composers, music supervisors and other industry representatives that work within the film & music industries. More info here. Applications are now open for SoundOff, which is a platform for local BC musicians to perform live in front of world-class music supervisors and learn about song placement and sync licensing in film and TV. Apply here by July 31.
– As my colleague Bill King eloquently observes in today's edition of FYI, last week's Radio & Records party of industry veterans in Toronto after a three-year gap was a lovely and heart-warming affair. My thanks to the party committee and sponsors. Looking forward to the next one.
 –Dave Bookman (aka Bookie), a much-loved and much-missed presence on the Toronto music scene as a radio host, show promoter, musician and all-round music fan, passed away in 2019. He is now being remembered via a commemorative Heritage Toronto plaque at The Horseshoe Tavern, his main stomping ground for many years. An unveiling event was held there on Tues, with words of tribute from members of Billy Talent, July Talk, Lowest Of The Low, and The Bookmen. On Sept. 6, the Horseshoe hosts a free show entitled The Words & Music of Dave Bookman.
– National Music Centre (NMC) in Calgary is bringing back its free outdoor Sundays in the C-Square concert series. Featuring a lineup of notable local names across a spectrum of genres, including Dueling Piano Kings, The Steadies, Kate Stevens, and The Corey Hotline, these family-friendly performances run each Sunday (weather permitting) from 1-4 pm, Aug. 7-28, at the corner of 7 Avenue and 4 Street SE in East Village. More info here
– The Music Nova Scotia Artist in Residence Program returns to celebrate the province's best new acts. The Grand Oasis Stage in Halifax will host the MNS Artist in Residence finals on Sept. 9 with performances by the top five and the 2021 winner KXNG Wooz.  The winner will walk away with a $10K cash prize, mentorship, coaching, and more. The event returns with support from Halifax Regional Municipality, Light House Arts Centre and Canada's Music Incubator at Coalition Music. Applications (free) are open now here until Aug. 1.
Artists news
– Shawn Mendes has just cancelled the rest of his Wonder world tour, citing the need for a mental health break. As reported here, the pop star had initially postponed the tour for 3 weeks. "It has become more clear that I need to take the time I've never taken personally to ground myself and come back stronger," the 23-year-old singer explained. More than 70 performances were cancelled, including four in Canada: two shows in Toronto on July 31 and Aug. 2, and two shows in Montreal on Aug. 15 and 16.
 –Another cancellation just announced via social media is the Sept. tour of veteran Montreal indie rock band Stars. The post reads in part "We are devastated to announce the cancellation. We do this with a heavy heart and our mental health in mind. Stars has previously cancelled one show in our 22-year career and it was because of a heavy storm."
– Multi-platinum selling Cancountry star Dean Brody returned to his hometown area of the East Kootenays this past weekend for a sold-out show in Fort Steele Heritage Town. He surprised fans when he was joined on stage by Cranbrook-native and 2022 Stanley Cup Champion Bowen Byram and a rep from the National Hockey League Players' Association Goals & Dreams fund to make a $60k donation to the local minor hockey community. Seeking to make it possible for more kids to participate in organized hockey in the area, the donation from NHLPA and Brody's partnership will provide complete sets of new hockey equipment and help cover registration fees to support the local community and deserving children. 
Hamilton, ON electronic-pop duo Allegories took some 13 years to release the sophomore album Endless, the follow-up to an acclaimed debut. It is also being warmly received, and a video for the track Tell Me Before I Forget, has just come out.
– Last Sunday, a Celebration of Life was held in Hamilton's Laidlaw United Church for singer/songwriter Jake Hiebert, who died of cancer on June 16, at age 59. As Big Rude Jake, he was long a popular fixture on Toronto's live music scene.  The Celebration began with a New Orleans-style procession into the church, led by his bandmates. His family, friends, and musical comrades then paid tribute to Hiebert in an eloquent and moving fashion. E-transfer donations toward a trust for his young daughter are still being accepted at  hopeforthefuture.brj@gmail.com
– Indie rocker Wilfred Kozub has long been a notable fixture on the Edmonton scene. His current band, Wilfred N And The Grown Men, has just released a new album, Impossible World. Here's one of its tracks.
– Hamilton singer/songwriter James Favron recently made his first foray into rapping with the track Better Days. With the aid of local hip-hop luminary LTtheMonk, he has come up with a cool remix version. Check it out here. More info here