FYI
Music News Digest, Jan. 14, 2021
Geddy Lee (pictured) is part of a star-studded VSO benefit event, registration for ShiftChange 2021 is open, and Music Canada is surveying artists. Also in the news are the Raise Your Voice Concert Series, The Tragically Hip, Unison, SOCAN, Silverstein, Creative Manitoba, CIMA, MusicOntario, Small Sins, Tokyo Police Club, k-os, and farewell Shingoose, Tim Bogert, and Howard Johnson.
Jan 13, 2021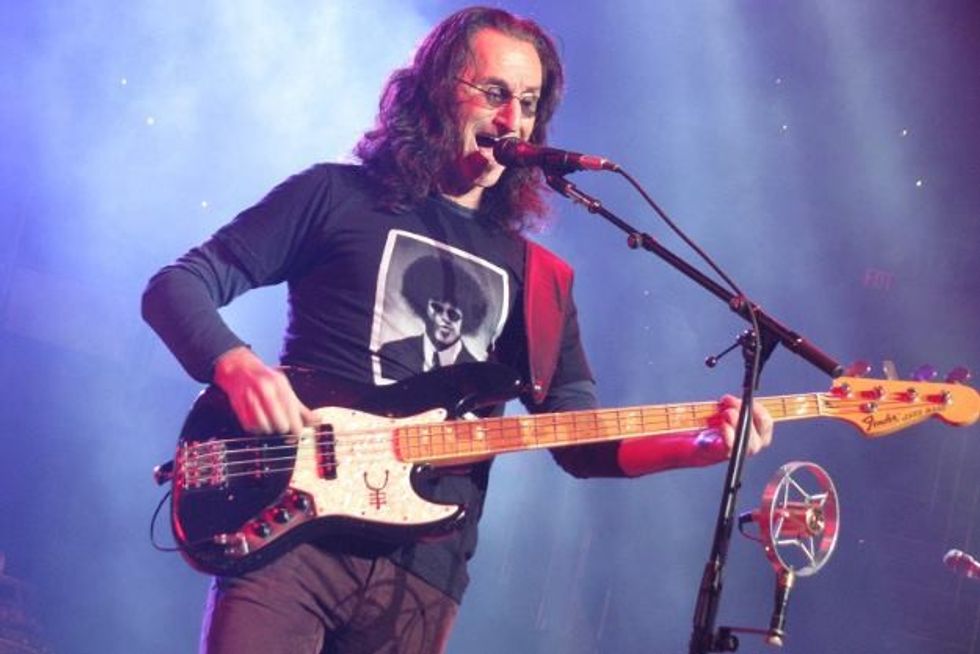 By Kerry Doole
Geddy Lee, k.d. lang, Steven Page, and violin virtuoso Itzhak Perlman have all been announced as participants in The Show Must Go On: Stories of Resilience. Described as a virtual music and storytelling event organized by the Vancouver Symphony Orchestra, it takes place on Feb. 18, 9:30 p.m. to 11 p.m. ET. Tickets start at $100 CAD; for an additional "Gala in a Box" charge, wine and charcuterie will be delivered to the buyer's home. Tix here  
---
– Registration for ShiftChange 2021, presented by the Atlantic Presenters Association, is now open. The APA states that "things are still up in the air on whether we can meet in person for a HYBRID event in Halifax, or if we flip the switch and go all ONLINE. We've decided on a deadline of Jan. 29 to make the call.  If we cannot meet in person for the intended three days (Feb. 19-21, 2021), we will offer all the sessions throughout the month of February instead. We will adjust your registration fees accordingly." Register here.  
– Noisemaker Presents and the National Arts Centre has announced the Raise Your Voice Concert Series, a new virtual series celebrating some of Canada's best indigenous artists and artists of colour. The four-part series will be broadcast from Paris, ON, and it features Maestro Fresh Wes (who will also act as host of the series) on Feb. 4, Crown Lands (Feb. 11), Logan Staats (Feb. 18), and Nuela Charles (Feb. 25). Tix here. The idea for the series came out of the music industry's Blackout Tuesday event last June. 
– Music Canada has partnered with Abacus Data to get a renewed understanding of how artists' perspectives continue to be impacted, ten months into the pandemic. The survey will hear directly from artists on the financial implications they are experiencing, how the pandemic is impacting their ability to create music, and how they are building or evolving skill sets to help them get by. "As we quickly approach a year of restrictions preventing the normal activities of artists, it is important for Music Canada to check in with artists again," said Patrick Rogers, CEO of Music Canada. "Their voices and experiences shape our message to government and industry partners, as we find ways to help support the music community's recovery." Canadian artists are encouraged to add their voice by completing the survey here. 
In a separate survey, Music Canada is also asking Canadians about how their relationship with music continues to evolve. Data from these two studies will continue to shape Music Canada's advocacy with government and industry partners in 2021. The results will help give decision makers a complete and up-to-date picture of the recovery phase in the music industry. This research will be made available publicly as soon as possible.
– The Unison Benevolent Fund is benefiting to the tune of $40K (and counting) thanks to The Tragically Hip. The band is donating proceeds from the sale of their Courage Masks to Unison's Financial Assistance program. The reusable non-medical cloth masks are still available for purchase here 
–  As per an earlier announcement, SOCAN has sold off its music services subsidiary MediaNet to Audible Magic for an undisclosed sum. The deal includes a forward partnership with Audible to help the PRO "improve operational accuracy and reporting to publishers and songwriters."
"The acquisition of the MediaNet services by Audible Magic creates long-term benefits for SOCAN members and clients" says Jennifer Brown, Interim CEO of SOCAN. "Audible Magic is a knowledgeable and skilled company and we're looking forward to working together to improve the accuracy of reporting and to publishers and songwriters."
– After a milestone 20th anniversary year in 2020 that featured the release of their ninth album, A Beautiful Place To Drown, Ontario hardcore faves Silverstein will kick off 2021 with an immersive livestream event series in February.  Across three weekends the band will perform unique sets spanning their extensive catalogue, and virtual "meet and greets" and special merch offers will be featured. The three Saturday events run Feb. 6, 13, and 20. Info and tix here 
– Creative Manitoba is seeking member participation in its annual survey. Feedback on the org's training activities is important. Only past participants and/or current members will be eligible to enter the draw for an 8-inch Samsung Galaxy Tablet. Respond by Jan. 31 here.
–  CIMA, MusicOntario, and Stayoutlate have partnered up to present a three-part webinar series called Mother Mother. This features thought-provoking conversations with notable and expert panelists alongside members of the Canadian independent music community looking to acknowledge, learn, and gain inspiration from international music markets.  Following each panel session, participants can mix and mingle during an officially sponsored virtual DJ set hosted on Twitch. Register for all three panel sessions here
– Small Sins is the pet project of noted Toronto singer/songwriter/producer Thomas D'Arcy. After a very long hiatus, he returns with a new album, Volume II (it is actually Small Sins' fourth release) due out on Feb. 12. Expect melodic synth-pop offerings of a high standard.
– Tokyo Police Club released a new remix of the Champ album cut Gone by Matt and Kim to announce a live-stream celebration for the release of the 10th anniversary edition of their beloved sophomore album, March 5. The Newmarket quartet will perform the album in full live, broadcasting via Bandcamp from the Dine Alone Records office in Toronto, 9pm EST/6pm PST, $10. Tix here.
– A reminder that the Kinaxis InConcert series, one produced by the CLMA and Kinaxis, is accepting applications here until Feb. 28. The series features up to 30 concerts live-streamed from stages across Canada. Venues and other music orgs can apply for up to $6K to mount a livestream concert. More info here.
– Rufus Wainwright continues his album-oriented virtual tour on Jan. 15, when he presents side two of 2007's Release the Stars from his living room in LA's Laurel Canyon. Tix for the 5 pm show go for US$20-$25 at Veeps.
– Fans of Toronto hip-hop star k-os will be pleased to hear he's back with a new track. Rediscovering an old demo set his creative juices flowing, and he enlisted top production duo MSTRKRFT to collaborate on Supernovas. Check it out here.
RIP
Shingoose (Curtis Johnnie), an Ojibwa singer and songwriter from Canada, died on Jan. 12, at age 74, of Covid-19.
Shingoose was born in Winnipeg, and at the age of four, he was adopted by a Mennonite family in Steinbach as part of the Sixties Scoop.[He began singing in church choirs, and joined the Nebraska-based Boystown Concert Choir after moving to the United States at age 15. In the late 1960s and 1970s, he performed with several rock and R&B bands in Washington, DC and New York City, including a stint in Roy Buchanan's band.
He  returned to Winnipeg in 1973. Inspired by the contemporaneous American Indian Movement, he began performing as a singer-songwriter, adopting his great-grandfather's name. His first recording, Native Country in 1975, featured contributions from Bruce Cockburn.He toured extensively across Canada, performing shows in clubs and university campuses and on the folk festival circuit.
In the early 1980s, Shingoose collaborated on the First Nations musical play InDEO, in which he starred. He later cofounded Native Multimedia Productions, a television production company which created the First Nations current affairs program Full Circle, later retitled First Nations Magazine, for CKND-TV, and the 1989 television special Indian Time for CTV. He was the host of the former program, and was one of the performers in the latter. He was also a correspondent on First Nations issues for CTV's Canada AM.
He also worked in aboriginal programming and policy development for TVOntario, and as director of education for the Canada Arts Foundation. One of his biggest impacts on the industry was working with Buffy Sainte-Marie and Elaine Bomberry to push for the creation of an Aboriginal music category at the Juno Awards in the 1990s in order to raise the profile of First Nations artists. He later served as chair of the Juno Awards committee administering the Aboriginal Album of the Year category, and raised funds for an aboriginal cultural centre in Winnipeg. His song Treaty Rights was adopted as an anthem of the 2007 Aboriginal Day of Action.
Shingoose had a stroke in 2012 that left him with partial paralysis. He was inducted into the Manitoba Music Hall of Fame that year.
Silver River, a track he recorded in collaboration with poet Duke Redbird for Native Country, is featured on the 2014 compilation album Native North America, Vol. 1. The album was nominated for a Grammy Award. He released four albums in all, the last being T-Bird in the Lake (2007). Sources: CBC, Wikipedia
International
Tim (John Voorhis) Bogert, bassist in Vanilla Fudge, Cactus, and Beck, Bogert & Appice, died on Jan. 13, age 76, of cancer.
He was an original member of Vanilla Fudge, performing their acid rock cover of the Motown hit You Keep Me Hangin' On'.
In 1972, Tim Bogert and Vanilla Fudge drummer Carmine Appice formed Beck, Bogert & Appice with Jeff Beck. Together they recorded just one studio album, Beck, Bogert & Appice, released in 1973.
Bogert also played with Bo Diddley for his 20th Anniversary of Rock 'n' Roll' album on 1975.
He was also a member of Bobby & The Midnites, the side-project of Bob Weir of the Grateful Dead. In 1999 he was honored on the Hollywood Rock Walk of Fame.
He retired from touring in 2008. In 2011 he released the album Vargas, Bogert & Appice with Spanish guitarist Javier Vargas. He also participated in the Hollywood Monsters albums Big Trouble (2014) and Capture The Sun (2016). Source: Noise11
Howard Lewis Johnson, an American jazz musician, known mainly for his work on tuba and baritone saxophone, died on Jan. 11, age 79, following an undisclosed long illness.
The multi-instrumentalist, who could also play the baritone saxophone, bass clarinet, flügelhorn, electric bass and penny whistle. The Mercury News reports that "Johnson will be remembered for helping to elevate the status of the tuba in both contemporary jazz and pop music, smashing expectations and going well beyond what many believed to be the limitations of the instrument."
He was known for his extensive work as a sideman, notably with George Gruntz, Hank Crawford and Gil Evans. As a leader, he fronted the tuba ensemble Gravity and released three albums during the 1990s for Verve Records.
Others he worked with included Charles Mingus, Hank Crawford, Rahsaan Roland Kirk, Archie Shepp, Hank Mobley, Gil Evans, Taj Mahal, The Band, Levon Helm, Gary Burton, Carla Bley, Gato Barbieri, John Lennon and Yoko Ono, Muddy Waters, David "Fathead" Newman, John Scofield, Chet Baker, and Canadian Jane Bunnett (on her Juno-winning 2005 album Radio Guantanamo (Guantanamo Blues Project Vol. 1). Sources: Mercury News, Wikipedia