FYI
Music News Digest, Dec. 10, 2020
The francophone SOCAN Awards winners included Jean-Phi Goncalves (pictured), Variety names Sal Slaiby Manager Of The Year, and the CLMA's new board is announced. Also in the news are Steve Waxman, MusicNL, Suzie LeBlanc, Ronley Teper, MMF Canada, Chilly Gonzales, Make Music Matter, Tara MacLean and Adam Brazier, Raj Ramayya, Rhye, Oh Susanna, Manitoba Music, and farewell Harold Budd.
Dec 08, 2020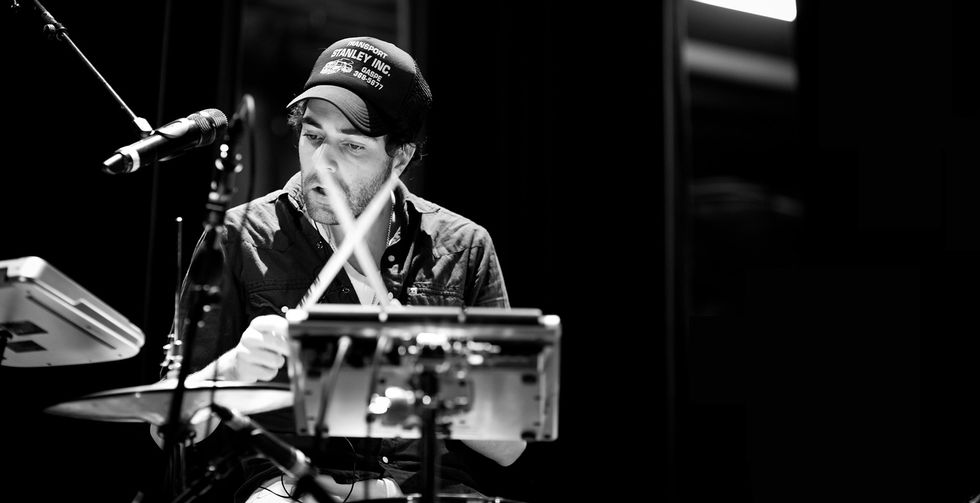 By Kerry Doole
Nearly 100 SOCAN Awards in 23 musical categories were presented on Dec. 7 to Canada's most successful francophone songwriters, composers, and music publishers through a special virtual presentation of the 31st annual Gala de la SOCAN. A week-long celebration of the award winners is taking place @socanmusique on Facebook, Instagram and Twitter (#GALASOCAN). Videos featuring acceptance speeches, trophy unboxings, Apple Music playlist and interviews are being presented throughout the week via a dedicated website at 2020 SOCAN Awards. Big winners include Jean-François Pauzé, Jean-Phi Goncalves, Kaytranada, Ruffsound, Editorial Avenue, and DRTWK. 
---
– Top US entertainment trade magazine Variety has named Wissam (Sal) Slaiby 'Manager Of The Year. The Lebanese-Canadian entrepreneur, philanthropist, music manager, and record executive manages artists The Weeknd, Bebe Rexha, Doja Cat, French Montana, Belly, Nav, Massari, and Sabrina Claudio, among others. Slaiby announced the news on Instagram, saying: "…..we been grinding for 20 years. I'm grateful to our management teams and clients that trust in us. 2020 has been rough for all of us. It feels good for an immigrant to get this type of recognition. Thank you @variety for the Manager Of The Year Award! XO! FAMILY FIRST!"
– Yesterday (Dec. 9), The Canadian Live Music Association's voting members elected its 2020-2021 Board of Directors. See the full Board here. Board Chair Jesse Kumagai noted that "It's been an unexpected, unprecedented, and challenging year for the live music industry, resulting in a need for even more tireless advocacy, communication, and professional development from our association. We are proud of our members, their resilience, and their efforts to adapt." 
– Music NL Awards nominees in over 30 categories and details of MusicNL Week 2020/21 will be announced today (Dec. 10), 10.30 - 11 am, via Facebook and Zoom.
– Steve Waxman's well-received podcast series The Creationists began its third season yesterday (Dec. 9), and he informs us that "all of the episodes this time are music-related." Yesterday's two episodes were Creating Songs with Gordon Lightfoot and Creating They Just Seem A Little Weird with Doug Brod, who discussed his book about how KISS, Aerosmith, Cheap Trick and Starz remade rock and roll and influenced hair metal and grunge. Future episodes feature music doc master Ron Mann, producer Susan Rogers (Prince), Darryl Hurs (Indie Week), Shaun Verreault (Wide Mouth Mason), Ebonnie Rowe (Honey Jam), Shauna de Cartier (Six Shooter Records), and Ira Robbins (Trouser Press). Listen in here.
– Juno-winning singer/songwriter Tara MacLean (Shaye) and acclaimed PEI tenor Adam Brazier have teamed up for a new version of Gordon Lightfoot's seasonal classic Song For A Winter's Night. Their fresh take was produced by Bill Bell (he also adds guitar) and features cellist Kevin Fox. 
– Top-tier UK producer Toddla T puts his very own spin on Chilly Gonzales' classical album A Very Chilly Christmas with a very festive mixtape, The Coldest Crimbo. Gonzales is one of the guests featured. Watch a snippet here.
– Make Music Matter is a Canadian non-profit that uses the creative process as a tool to empower marginalized individuals and communities. It's Healing in Harmony program for trauma survivors around the world has served over 5k individuals to date. MMM has now enlisted the help of major Canadian stars to fundraise for the program via the #TogetherWeGroove online auction. Those contributing items include Corey Hart, Three Days Grace, Billy Talent, Sam Roberts Band, and The Trews, while one-on-one mentoring sessions with Grammy Award-winning producer David Bottrill and producer Hill Kourkoutis are also up for grabs. The auction opened on Dec. 7 and closes on Dec. 17. Info here.
– Indo-Canadian artist Raj Ramayya released a new album, Spicy Beats, last Friday, on Hopeful Tragedy Records. Helped by national CTV News exposure, it has quickly placed high on the iTunes Charts and a new music video of the song Himalayan Sky is grabbing eyeballs. His sound fuses rock, electronica, and Indian elements.
– Early Music Vancouver has named Suzie LeBlanc as its new Artistic & Executive Director. She will be the first woman to hold this position in the history of the organization since its founding in 1970. A member of the Order of Canada, LeBlanc is a Grammy-winning internationally celebrated soprano, educator and administrator. She has worked with Cappella Antica since 2018 and co-founded and served as Artistic Director of Le Nouvel Opéra from 2005-2019. Her tenure officially begins Jan. 4, 2021.
– Highly-rated London-based multi-instrumentalist and producer SG Lewis will soon release a debut album, times, and he turned to star Canadian vocalist Rhye to feature on the opening track Time. In a press release, Lewis explains that "Rhye has one of the most unique and distinctive voices out there, and I've been a fan for so long. We wrote the song at Rhye's studio after watching the sun set in Topanga Canyon, a memory which makes this song even more special to me." Streaming links here. 
– Symphony New Brunswick is forging ahead with its Winter Delights concert series, planned for Dec. 16, 18 and 19 if at all possible. If necessary, concerts will be pushed into Jan, with any tickets already purchased valid for any new date. Special members of the NB orchestral community featured in this eclectic offering. More info here.
– Set for Dec. 13 (5 pm PST),  Christmas in the Round is a seasonal concert featuring veteran singer/songwriters Barney Bentall, Bill Henderson, Murray McLauchlan & Shari Ulrich, and hosted by Terry David Mulligan. The event raises funds for three community social services organizations, Potluck Café Society, Yonge Street Mission and Salt Spring Island Community Services Society. Tix here 
– Now based in BC, award-winning roots songstress Oh Susanna is reprising her almost annual Oh Susanna & Friends seasonal concert on Dec. 12. The star-studded lineup features Jill Barber, Jim Bryson, The Jim Cuddy Band, Samantha Parton, Cam Giroux, and Michael Johnston. Suzie promises four holiday songs only! Tix here 
– A freewheeling creative spirit, singer/songwriter/puppeteer/videomaker Ronley Teper is excited to contribute a puppeteer performance sketch to Concrete Cabaret's Online Holiday Edition on Dec. 13, 7-9 pm. She promises "lots of fantastic puppet artists and moving object shorts, music and more." Guests include Kith&Kin. Facebook invite link here. Teper's latest track is New Love.
– On Dec. 16, 5-6:30 pm EST, Music Managers Forum Canada presents MMF Connect - The Holiday Edition, an online gathering to celebrate and catch-up with friends old and new. Meet the board and staff, and get to know a couple of featured artists. Register here. Artists (or their managers) are invited to submit a one-song performance video for consideration, with two chosen to be featured during the event. The deadline is Dec. 11.
– Manitoba Music is now accepting submissions for its new Music Business Mentorship Program, one that supports the development of music companies and industry working in our province. The deadline is Dec. 21 at noon. Application details here
RIP
Harold (Montgomory) Budd, a US pianist and composer who collaborated with Brian Eno, Cocteau Twins and more, died on Dec. 8, age 84, of Covid-related causes.
His death was confirmed by his close collaborator Robin Guthrie of Cocteau Twins, who wrote on Facebook that he was "feeling empty, shattered lost and unprepared for this".
Budd's work straddled minimalism, jazz, dream-pop and more, and was oft-termed ambient.
Born in 1936 to a poor family in Los Angeles, Budd's first musical love was jazz – "black culture that freed me from the stigmata of going nowhere in a hopeless culture", he later said – and after being drafted into the US army he played as a drummer in a regimental band alongside the saxophonist Albert Ayler, who would also go on to become an icon of avant-garde American music.
After leaving the army, Budd studied music at the University of Southern California, graduating in 1966. He composed minimalist drone works in this period partly influenced by John Cage and Morton Feldman as well as abstract expressionist painters such as Mark Rothko; one piece in this period, Lirio, is simply notated: "Under a blue light, roll very lightly on a large gong for a long duration." He continued composing alongside teaching but suddenly became disenchanted and quit composition in 1970, having "minimalized myself out of existence".
In 1972, he "resurfaced", in his words, working on a body of music that would eventually become the 1978 album The Pavilion of Dreams, produced by Brian Eno and featuring calmly beautiful compositions with piano and choral vocals. Budd described it as "the birth of myself as a serious artist" in a 2014 interview with the Guardian, saying Eno had given him "absolute bravery to go in any direction".
The pair composed together on 1980's Ambient 2: The Plateaux of Mirror, which continued the "ambient" series that Eno had started with the landmark album Music for Airports, and 1984's The Pearl, with Eno producing further Budd works thereafter. Budd became associated with the term "ambient" but frequently rejected it: "Being called something – anything – annoys the hell out of me," he said in 2014.
​A self-confessed Anglophile, he lived in the UK between 1986 and 1991, a period that produced some of his most high profile work. ​In 1986, he collaborated with Cocteau Twins, a dream-pop band, on The Moon and the Melodies, the beginning of a long-running partnership with Guthrie – their most recent album together, Another Flower, was released last week. He and Guthrie also composed the scores to two films by Gregg Araki, Mysterious Skin (2005) and White Bird in a Blizzard (2014).
He also collaborated with XTC's Andy Partridge, Ultravox's John Foxx, Public Image Ltd's Jah Wobble and more. A retrospective of his work, Wind in Lonely Fences 1970-2011, was released in 2014. Source: The Guardian