FYI
Music News Digest, Aug. 2, 2019
Chris Hadfield (pictured) to be honoured in Sarnia, Sappyfest and Sawdust Cty Festival begin today, and a celebration of life for Bernie Solomon. Also in the news are Rock the River, Monkey House, Woodstock 50, Sophia Chang, The Dirty Nil, SOCAN Song House, Brian May, Sony Music Masterworks, Erin Benjamin, Shotgun Jimmie,  MusicOntario, and farewell Hal Prince. Videos added for your enjoyment.
Aug 02, 2019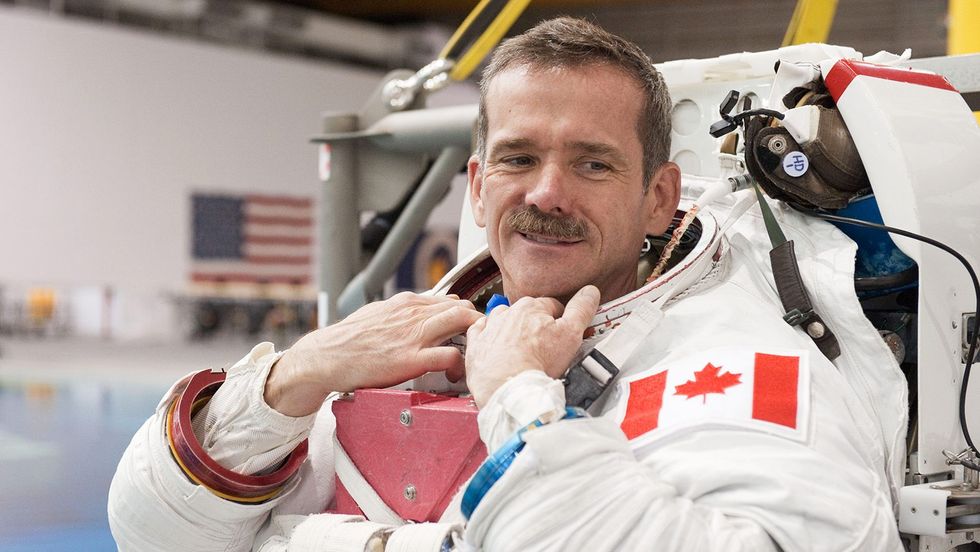 By FYI Staff
The first Canadian astronaut to walk in space, Col. Chris Hadfield celebrates his 2018 Induction into Canada's Walk of Fame with a free public hometown ceremony in Sarnia at Bayshore Park on Aug. 6. The event, part of Canada's Walk of Fame Hometown Stars series, features performances by Canada's Walk of Fame Inductee Andy Kim and Sarnia native Emm Gryner (she has collaborated musically with Hadfield). In addition to unveiling a plaque that will remain in Sarnia, the event will celebrate the hometown hero's 60th birthday (actual birthday is August 29), with a special rendition of The Arrogant Worms' birthday song, a favourite of Hadfield's.
---
– Rock the River, Saskatoon's three-day annual riverside music festival, has sold out for the sixth consecutive year. The outdoor festival's organizer, SaskTel Centre, has announced all single-day and three-day passes for the event are spoken for. Rock the River launched in 2014, and this year's acts include Colin James, Streetheart, Loverboy, and Platinum Blonde. The event runs Aug. 16 to 18 in the Delta Bessborough Gardens.
– The annual Sappyfest in Sackville, NB, is on this weekend, Aug. 2-4. The strong lineup, featuring multiple Polaris Prize shortlisters, includes Fet.Nat, The Weather Station, Snotty Nose Rez Kids, Haviah Mighty, LAL, Julie Doiron, Yves Jarvis, Jose Contreras, and more. Details here
– Flamboyant Canadian music industry lawyer to the stars, Bernard Huntley Solomon, died in May of last year but Michael J. Nadel is organizing a ceremony at Dawes Road Cemetery in Toronto at 2 pm on Sun., Aug. 18. Nadel can be reached on Facebook and invites attendees "to add to the celebration of Bernie the Attorney's life by bringing pictures, memorabilia, or anything else that you would like to share with us."
– Sawdust City Music Festival, presented by TD, returns to Gravenhurst, ON, Aug. 2-4. The third annual multi-venue fest features headliners Bill & Joel Plaskett, with other performers including musician/actress Maria Doyle Kennedy (Downton Abbey, The Commitments), The Sadies, Emm Gryner, and Shakura S'Aida. The weekend includes two evenings at the Opera House, a Songwriters' Circle, Music on the Barge, Sunday Kids Zone, and a vendor village. Full details here
– LA/Toronto-based sophisticated pop band Monkey House released a new album, Friday, last week, and had a successful show at Hugh's Room Live in Toronto. Now comes word that that Academy Award winner (The Shape Of Water), and long time Monkey House fan, J. Miles Dale is directing a video for the album track Shotgun. Friday debuted at #1 on the iTunes charts in Canada, Norway and a number of other territories, #4 in the US, and #5 on the pop charts in Germany. Here's an EPK on the album.
– There will be no Woodstock 50 anniversary concert. The on-again, off-again saga that was bordering on farce came to an end Wednesday with the news it is cancelled. The three-day festival was originally scheduled for Aug. 16-18, but holdups included permit denials and the loss of a financial partner and a production company. Last week Jay-Z, Dead & Company and John Fogerty announced that they wouldn't perform at the event after organizers said it was moving to Maryland from New York. This hastened the cancellation. Source: AP
– Korean-Canadian Sophia Chang has had a prominent role in hip-hop as manager of genre trailblazers Wu-Tang Clan, and has been dubbed "the first Asian woman in hip-hop." Her fascinating life and career is explored in an audiobook memoir, The Baddest Bitch in the Room, releasing Sept. 26 through Audible. 
– Want to impress your pals by appearing in a music video for hot Hamilton rockers The Dirty Nil in Toronto the evening of Aug. 12?  You'll need skills in one of the following roles though: Reptile Guy, Sword Swallower, Skateboarder/BMX Biker, Hula Hoopist, Contortionist, Gymnastics, Fire Breather, Breakdancer, Magician, Clown, Competitive Eater. Email a video of your talents to thedirtynil@gmail.com 
– Today (Aug. 2) is the deadline for submissions for the SOCAN Song House at BreakOut West Oct. 2-6, in Whitehorse Yukon. Twelve songwriters will be selected to participate in this 2-day interactive songwriting workshop led by renowned professional songwriter Stephen "Koz" Kozmeniuk (Kendrick Lamar, Nicki Minaj). More info here
– Allan Cross reports that Queen guitarist Brian May took time out in Toronto on July 24 to receive The Royal Canadian Geographical Society's Lawrence J. Burpee medal. May holds a Ph.D. in astrophysics. 
– Sony Music Masterworks has acquired Milan Records, an international leader in film and television scores and soundtracks. Founded over 40 years ago by Emmanuel Chamboredon, Milan Records has released the soundtracks to renowned classics such as Diva, Ghost, Backdraft, and Benny & Joon as well as recent hits including The Revenant, Deadpool, Chef, Under The Skin,Birdman, Midsommar, and Hereditary. As part of this transaction, Sony Music Masterworks also acquires Milan's sister label Jade, which comprises more than 500 liturgical and classical albums. Under the agreement, JC Chamboredon, Senior Vice President, Milan Records, will continue to run Milan Records, reporting to Mark Cavell, Sony Music Masterworks U.S. Label Head and COO International.    
– The Ottawa Film Office has appointed Erin Benjamin, Christina Ruddy, Lise Sarazin and Frédéric Thibault-Chabot to its board of directors. Benjamin is president and CEO of the Canadian Live Music Association.
– East Coast-raised, Manitoba-based Shotgun Jimmie releases his new album Transistor Sister 2 today (Aug. 2) and launches it with a Sappyfest show. In October, he plays six Western Canada shows, as support on a Thrush Hermit tour. He has just unveiled a mini-documentary chronicling the making of the record.
– MusicOntario offers members an exclusive discount toward CD Baby's services, with members eligible to receive a free standard worldwide distribution for a single song. To access the CD Baby offer, contact MusicOntario's Membership Services Coordinator Sam Rayner.
RIP
Harold "Hal" Prince, the legendary Broadway producer and director who brought some of the modern theatre's best-loved musicals, such as West Side Story, Fiddler on the Roof, and Phantom of the Opera, to life, has died on July 31, age 91.
Prince, who won an astounding 21 Tony Awards throughout his storied career, played an outsized role in shaping the modern era of musical theatre.
He was also known for his collaborations, working with a veritable Broadway hall of fame, including luminaries such as Stephen Sondheim, Leonard Bernstein, John Kander, Stephen Sondheim, and Andrew Lloyd Webber, Bob Fosse, Susan Stroman, Jerome Robbins, Boris Aronson, and more.
Prince, who was born in Manhattan, graduated from the University of Pennsylvania and did a stint in the US. Army in post-war Germany before he returned to New York where he began working as an assistant stage manager to theatrical producer and director George Abbott.
In 1962, Prince ventured out on his own, directing the John Kander musical A Family Affair, but failed to find commercial success until the debut of Cabaret in 1966.
Four years later, Prince struck a working relationship with composer Stephen Sondheim, marking a period of commercial and critical achievement, and spawning theatrical productions such as Company (1970), Follies (1971), A Little Night Music (1973), Pacific Overtures (1976), and Sweeney Todd (1979).
He also collaborated with Andrew Lloyd Webber, staging now-iconic productions such as Evita (1979) and The Phantom of the Opera (1986).
Some productions were termed failures, including  Merrily We Roll Along (1981), Grind (1985), and A Doll's Life (1982).
Prince worked for the  Canadian impresario Garth Drabinsky, overseeing productions of the Tony-winning Kiss of the Spider Woman (1993), a lavish remounting of Show Boat (1994) and a short-lived revival of Candide (1997).
His final theatrical role was directing Prince of Broadway (2015) a musical revue featuring material drawn from his long career as a producer.
In 2006, Prince was awarded a Special Tony Award for Lifetime Achievement in the Theatre. He was also the recipient of a Kennedy Center Honors award in 1994 and a National Medal of Arts in 2000. Sources: Celebrity Access, AP