FYI
Music News Digest, April 6, 2020
Two major Montreal summer fests are cancelled, Choir! Choir! Choir! (pictured) partners with the Canadian Cancer Society, and changes for the Prism Prize. Also in the news are 8 Til Faint, Hamilton Artists Relief Fund, Tory Lanez, The Trews, John Lennon, and farewell Bill Withers and Barry Allen.
Apr 06, 2020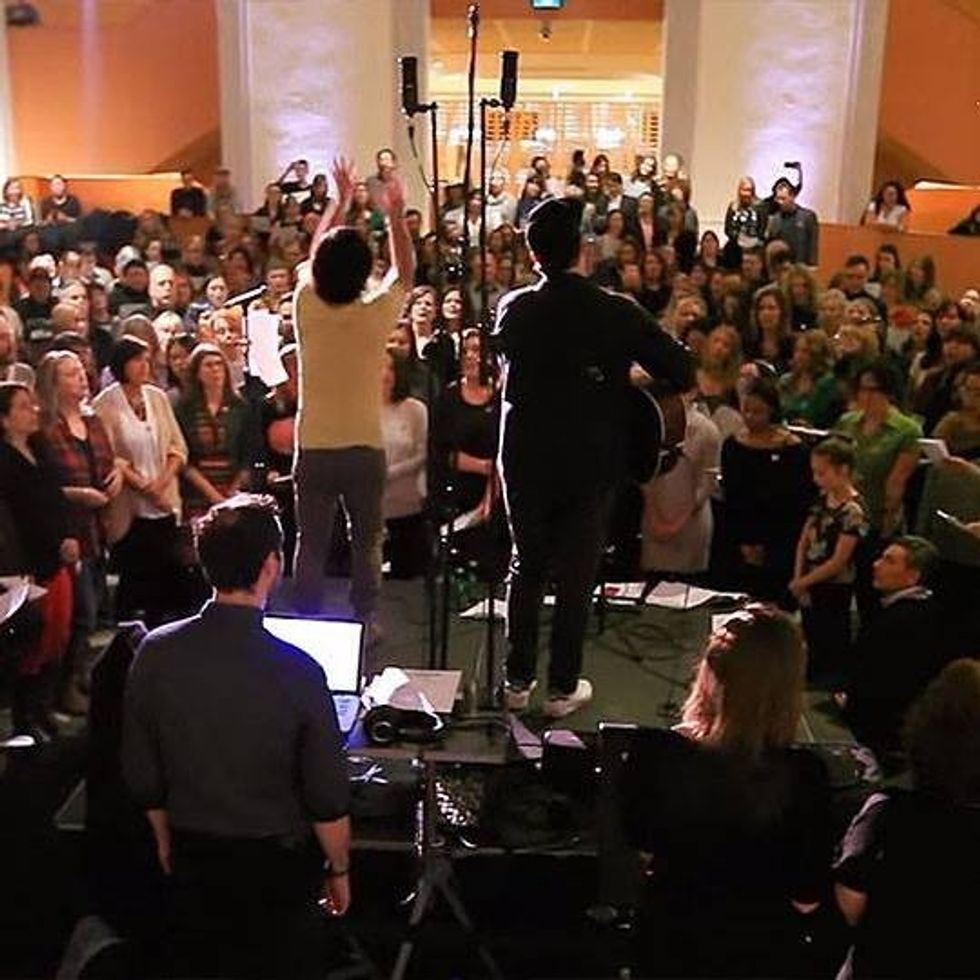 By Kerry Doole
Two of Montreal's flagship summer events, Les Francos de Montréal and Festival International de Jazz de Montréal, have been cancelled because of the COVID-19 pandemic. In a press release, fest producers L'Équipe Spectra explained that "this decision, which was made with our private partners and the government, had become necessary in order to protect the public, the artists and our employees."  Les Francos de Montréal was to begin on June 12, with the Festival International de Jazz de Montréal originally set to open on June 25. 
---
– The pandemic crisis is sparking the creation of virtual choirs around the globe. One such venture, Project Choir-antine, is the brainchild of Canadian siblings Mikey and Tricia Jose and has brought together 150 strangers currently stuck at home due to COVID-19 together in perfect harmony. Project Choir-antine also encouraged participants and donors to raise $2K for Food Banks Canada and $1K for the B.C. Women's Health Foundation COVID-19 relief fund to support healthcare workers on the front lines in BC. Source: FreshDaily
–  Toronto's now famed Choir! Choir! Choir! Is partnering with the Canadian Cancer Society (CCS) for a virtual sing-a-thon in support of the Canadian Cancer Society Daffodil Campaign. Taking place live on Facebook and YouTube on April 11 at 3 pm EDT, the event connects people from around the world to have fun, spread hope, and unite through song. RSVP here. 
– The 2020 Prism Prize Grand Prize screening and awards presentation in Toronto, originally planned for May 11, has been cancelled, in light of the COVID-19 pandemic. The award honours the best in Canadian music videos and their creators. A Prism press release states "We look forward to celebrating our Grand Prize winner and yet-to-be-announced Special Award honourees at a later date. Until then, we are working on several virtual programming initiatives. More on that soon."
– Today (April 6), 8 Til Faint hosts a virtual music panel and Q&A that will examine the state of the industry from the perspective of the artist manager. Curated by Mauricio Ruiz (Jessie Reyez / Mad Ruk), and co-hosted by  Melissa MacMaster (902HipHop - Quake Matthews), it features an impressive line-up of top artist managers, including Byron Wilson, Jordan Evans, Matthew Burnett, Chris Smith, Sascha Stone Guttfreund, Christina Cassaro, Cory Litwin, Tyler Henry, Milan Ackerman, and  Laurie Lee. The virtual session will run from 7-8:30 pm on the video conferencing app Zoom and is open to the public. Join here with ID number 486 649 415. 
– The Hamilton Artists Relief Fund and Online Performance Series, a new financial relief fund aimed at helping Hamilton artists struggling through the COVID-19 crisis, has been set up by the Hamilton Arts Council (HAC), with support from the Hamilton Public Library. The fund is generating and distributing emergency money and also furnishing an online platform for local artists to present and perform their work for a virtual audience. More info here Source: The Hamilton Spectator
– Toronto hip-hop star Tory Lanez and Tyga guest on Still Be Friends, a new track and video from G-Eazy, out via Vixen Media Group. The video has both an explicit and non-explicit version. Check out the clean(er) one here. 
– The COVID-19 pandemic poses challenges for bands wanting to create new music videos. Rockers The Trews turned to virtual meeting app ZOOM for a clip for  their latest track, God Speed Rebel.  Colin MacDonald, lead singer notes in a press release that "Spring is in the air and we're in quarantine, so here's a new song to help you along these unprecedented days. A song for your soundtrack of solitude. Stay safe, stay healthy, stay home." In a nice gesture, the band is donating all revenue generated from sales and streams of the song to Unison.
– If you're a John Lennon fan and are feeling flush, Toronto's Liss Gallery has an impressive section of Lennon's artwork now available for purchase. More info here
Obits
Bill (William Harrison) Withers Jr, a US soul singer/songwriter and inductee in the Rock & Roll Hall of Fame, died on March 30, of heart complications, at age 81.
Musical peers quick to pay homage included Chance The Rapper, Talib Kweli, Kacey Musgraves, Brian Wilson, Raekwon, Nile Rodgers, Karen O, and Mark Ronson.
An influential soul singer, Withers wrote Lean on Me, Ain't No Sunshine and Lovely Day, all major hits. He wrote and recorded several other major hits including Use Me and Just the Two of Us, before retiring in the mid-1980s and staying out of the public eye.
The Guardian writes that "Withers' songs are some of the most beloved in the American songbook. Ain't No Sunshine is regarded as one of the all-time great breakup tracks, while Lean on Me, an ode to the supportive power of friendship, was performed at the inaugurations of presidents Barack Obama and Bill Clinton. Heavily influenced by the church hymns and gospel music of his childhood, it was his first and only No 1 single on the US Billboard pop charts, in 1972. It has also become an anthem during the coronavirus outbreak, sung by schoolchildren and in impromptu balcony renditions to show support for one another."
Withers spent nine years in the US Navy before pursuing a career in music. After moving to Los Angeles in 1967, he found a job making toilet seats and recorded demos through the night.
Over the span of eight years, Withers recorded seven studio albums, beginning with Just as I Am in 1971 and followed by Still Bill in 1972. He released just one final album, 1985's WatchingYou Watching Me, in his brief but important career.
Withers' legacy extended beyond his recording career. Lean on Me became the title theme of a 1989 Morgan Freeman film, and Withers was the subject of the 2009 documentary Still Bill. His music was also widely sampled in hip-hop: Blackstreet and Dr. Dre sampled Withers' Grandma's Hands for No Diggity, and Kanye West sampled Rosie for Late Registration's Roses.
Withers was inducted into the Rock and Roll Hall of Fame in 2015. Listen to his induction speech here. Sources: The Guardian, Pitchfork 
Barry Allen Rasmussen (known professionally as Barry Allen), a rock musician and record producer/engineer from Edmonton, died on April 4, at age 74, of cancer.
His career in music began as a guitarist and backup singer for Wes Dakus & The Rebels. In the early 1960s, producer Norman Petty (of Buddy Holly fame) secured recording contracts recordings for both Wes Dakus & The Rebels, and solo releases for Barry.
In 1965, Allen signed with Capitol Records in Canada and Dot Records in the US. That year, he won Canada's Gold Leaf Award for Most Promising Male Vocalist.
In 1966, the title track from his second album, Lovedrops, went gold. In 1967, he recorded two more singles, to less success.
He released a third album in 1970, this time produced by Randy Bachman and Wes Dakus via MCA Records. That year he also hosted a television show out of Calgary called Come Together with various Canadian bands and his own band Cheyenne Winter.
In the early '70s, Allen was also in Calgary rock band Painter. That group's biggest hit, West Coast Woman, from the album Painter, came out in 1973. 
Shawn Nagy's Super Oldies label reissued Allen's original material along with unreleased tracks on a two-CD set Clovis Collection in 2012. A CD release concert featured a reunion of members of The Rebels. Allen then formed the New Rebels with local musicians to do the occasional performance. He returned to solo recording with Speed Of Dark,  released in November 2019. Sources: Wikipedia, Greg Simpson