FYI
Music Biz Headlines, Aug. 26, 2019
Feist (pictured) was a hit on Sesame Street, Massey Hall regains former glory, and Neil Young advocates for immigrant children. Others in the headlines include Dan Boeckner, Fred Fortin, Lisa Bell, Northern Haze, George Canyon, Orville Peck, Martha Argerich, Eminem, Motown, Miles Davis, Aretha, Art Pepper, Billie Eilish, Taylor Swift, and K-pop.
Aug 26, 2019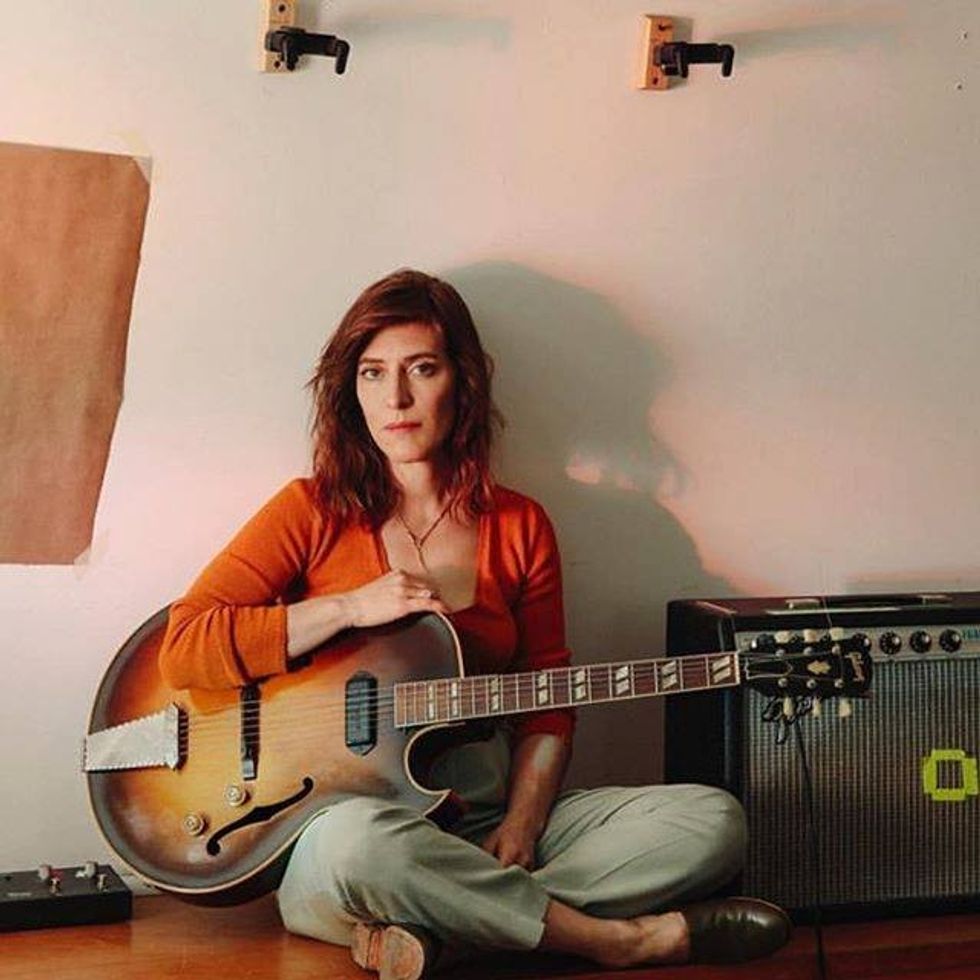 By FYI Staff
As part of the building's extensive renovations, 93 of the venue's original stained-glass windows, dating back to the early 1890s, are being restored. A team of 10 glazers at EGD Glass and Vitreous Glassworks are painstakingly cleaning and fixing the decorative glass in time for the building's reopening in 2020. – Brad Wheeler, Globe and Mail
---
The Toronto singer/songwriter's 2008 appearance on the show brought her closer to 3-year-olds — and the Muppet Telly — than she ever imagined. – Melena Ryzik, NYT
The Grammy-winning singer-songwriter is calling on artists from across the music industry to highlight the plight of immigrant children at the U.S. border, using the children's own words published in court filings. – Allie Yang, ABC News
Boeckner — whose Operators project is signed to Last Gang Records, a subsidiary of eOne —pointed out the ridiculousness of Hasbro acquiring the company "for 4 billion US dollars so they can have the rights to a cartoon pig." – Calum Slingerland,  Exclaim!
What started as an EP ended up as a full album. When gathered together, those songs, lying in the bottoms of drawers, seemed to go with his new ideas and resonated like a rough and dirty melody. – Élise Jetté, Words & Music
Lisa Bell, an actress and singer from Winnipeg, debuted the music video to the theme song "STAND" from the new movie musical of the same name. This film, which has been nominated for Best Score (composer Danny Schur) at the Burbank International Film Festival, transports us to Winnipeg, 1919 in the grips of violent anti-immigrant riots and a general strike.– Nerds and Beyond
The indie event's second edition is prioritizing accessibility and features a pool party, a youth/elder social and the inaugural Crip Rave. – NOW
The Nunavut band released its debut in 1985 — the first rock album ever recorded in Inuktitut. – Luke Ottenhof, CBC Music
Country music singer George Canyon is causing a stir ahead of the federal election by throwing his cowboy hat in the ring for the rural Nova Scotia riding he left after his celebrity breakthrough. Opponents called into question the process by which he earned the Conservative nomination. – Taryn Grant, Star Halifax
Meet the next generation of classical music stars.They're winning big competitions and prizes, making exciting debuts, graduating from top music schools — and we think they're amazing. – Robert Rowat, CBC
Jonas Brothers Toronto concert ends in disappointment after band skips encore
Fans ultimately left the show disappointed after the Jonas Brother concert came to an abrupt ending due to technical difficulties. – Narcity
Orville Peck is a new kind of country outlaw: he's a musical traditionalist who happens to be both Canadian and queer. –  Mike Usinger Georgia Straight 
International
The controversial upcoming biopic film Stardust stars musician-turned-actor Flynn in the role of Bowie. it will focus on Bowie's first tour of the US in 1971. –  Far Out
Her performances are at once thunderous and skilful, transcendent and human. –  E.H., Economist
The publishing company for Hip-Hop icon Eminem has filed a lawsuit against Spotify in Nashville, Tennessee's District Court. Publisher Eight Mile Style, LLC. owns and controls Eminem's compositions and claims in the suit Spotify is unauthorized to use his music and in violation of the Constitution. – Adrian Mojica Fox News
Trombonist and music teacher Steve Thompson on why the quality of practice is the key to success, not the quantity, and Russ Denton on Art Pepper's unpractised genius. – Guardian
The best Motown songs are timeless soul classics that capture everything it means to be in love, to suffer heartbreak – and to want to dance with abandon. – UDiscovermusic
Ahead of this year's VMAs, we dive into the revived category. – Sarah Fones, CR Fashion Book
As legend has it, Miles Davis assembled a supergroup of jazz musicians in a New York studio and recorded a bunch of songs without retakes. Jimmy Cobb, 90, of New York, is the last survivor of the musicians who assembled for Kind of Blue: saxophonists Cannonball Adderley and John Coltrane; pianists Bill Evans and Wynton Kelly; bassist Paul Chambers and trumpeter Davis and drummer Cobb. – David Sharp, AP
Bitter squabbling has surfaced as the singer's four sons and others debate whether any of the handwritten documents found in her house qualify as valid wills. – Ben Sisario, NYT
Billie Eilish is one of the first pop stars of a new epoch, in which the oft-repeated challenge of staying alive can only be counterbalanced by an interest in the absurd.  – Amanda Petrusich,  New Yorker
Ryu Hee-Jin was brought up to perform patriotic songs praising the iron will, courage and compassion of North Korea's leader at the time, Kim Jong Il. Ryu is one of many defectors who say K-pop and Western popular music opened their eyes, convincing them that North Korea was not the paradise it was made out to be and that their best prospects lay abroad. –  Simon Denyer and Min Joo Kim, Washington Post
Taylor Swift has made her armour-plated "superstar" record. Now it's time to get back to being human again. She has delivered a likeably personal record that she has referred to as "very much a celebration of love, in all its complexity, cosiness and chaos." – Ben Rayner, Toronto Star
The Radiohead frontman has teamed up with editors at Crack Magazine to create the new 'zine', I See You, which feature interviews with artists, activists and musicians. –  Music News
Music video essay maestro Polyphonic's latest upload explores Dave Brubeck's groundbreaking jazz album Time Out. This is an album that regularly tops best-of lists, gets reissued constantly, and is so ubiquitous in some circles that it's hard, like Led Zeppelin's fourth album, to hear the album with fresh ears. – Ted Mills, Open Culture 
The band dissolved at the turn of the century and were essentially resigned to becoming a footnote in rock history before getting back together for some reunion shows in 2015. –  Maggie Serota, Spin
The veteran's new studio album, "While I'm Livin'," is full of gut-punch single-size story songs that somehow assume universal proportions. – David Cantwell, New Yorker
The director's biggest hit was Wayne's World, but The Decline Of Western Civilization was a trilogy about punk that pioneered the art of the music documentary. – Ivana Brehas, Dazed Digital
If you've been following the Taylor Swift situation with her former label, you've probably seen the unsurprising news that Taylor plans to re-record some or all of her prior catalog.  This raises the issue of the customary "re-recording restriction" and "re-producing restriction" found in artist and producer agreements respectively. – Chris Castle, musictechpolicy
Taylor Swift says she'll re-record her entire catalogue to get back at Scooter Braun. Is that legally possible?
Experts said most standard music contracts have a clause disallowing an artist from re-recording their own songs for a set period of time. According to Swift, that period will end next fall for her first five albums. – Washington Post
The pop star talks Grenfell, getting beaten to No 1 by Ed Sheeran and her unconventional childhood. – Hattie Collins,The Guardian
The Taiwanese indie band blends '90s-style alternative rock with jazzy textures and traditional folk influences. – Adrian Mack, Georgia Straight
Jay-Z is a businessman. He may rap a bit as well, but from the off his singular focus on making money was what set him apart. He wasn't goofing around or panting to be popular. He was working. The rapper did some business with the NFL last week. In the process, he resuscitated the Colin Kaepernick mess and sent everyone to their battle stations. – Cathal Kelly, Globe and Mail