FYI
Music Biz Headlines, April 12, 2021
The Phoenix Concert Theatre hangs tough, Kardinal Offishall (pictured) pays homage to his roots, and Toronto concerts are announced. Others in the headlines include Justin Bieber, The Damn Truth, jooj, Garth Richardson, NFTs, Skratch Bastid, Soundcloud, Larry Mercey, Patreon, Margaret Atwood, Influence Media Partners, Eric Bloom, Merry Clayton, Taylor Swift, Dave Grohl, Prince, Pearl Jam, and Matt Gudinski.
Apr 11, 2021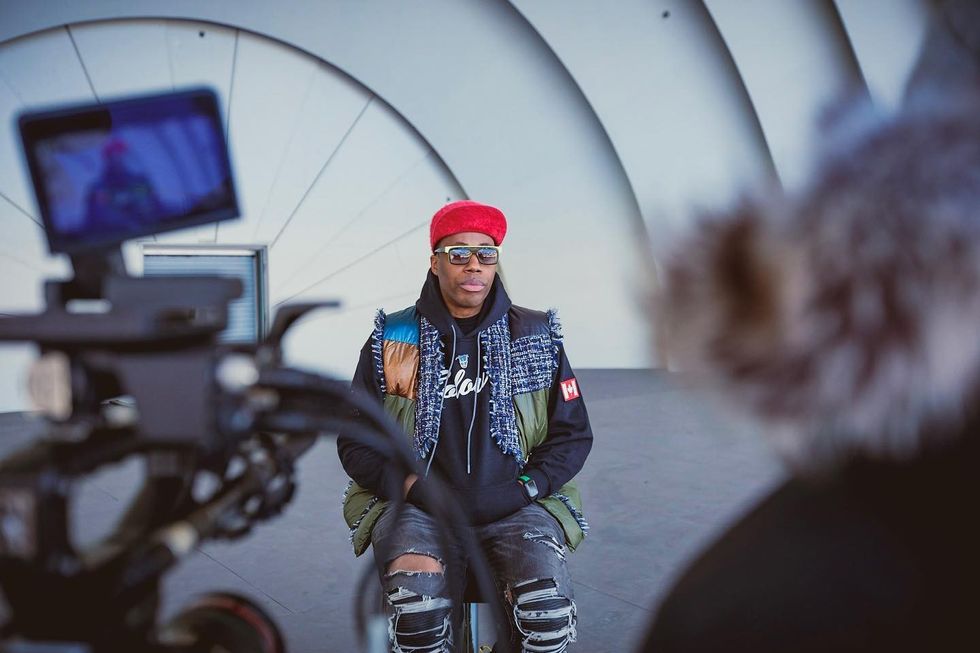 By Kerry Doole
The waiting game hasn't been easy on the usually optimistic Lisa Zbitnew, the owner of Toronto's Phoenix Concert Theatre. One of the last things predicted to come back as a result of the Covid pandemic because it involves large gatherings often inside enclosed spaces. She says if live concerts don't fully return until 2022, she'll likely survive. – Jane Stevenson, Toronto Sun
---
Over the last week, multiple musical artists have announced Toronto concert dates, with some scheduled as early as this year. Acts such as Jungle, Run The Jewels, Rage Against The Machine, Eric Church, and Roger Waters have all announced tours that will stop here. – Abby Neufeld, Narcity
Canadian deejay/rapper Kardinal Offishall took to Twitter to pay homage to Jamaica, the island of his parents' birth, after creating black history by being named Senior Vice President, A&R, for Universal Music Canada (UMC) recently. The promotion comes seven years after the multi-platinum, award-winning rapper and producer was appointed creative director for the company. – Claudia Gardner, Dancehall Mag
On Easter weekend, Bieber surprise-released Freedom, a six-track testimony to God and R&B that comes fast on the heels of his chart-topping pop album Justice, released less than a month ago. The new EP is mushy, preachy and adorably earnest. It's also mundane, the worst sin of all. Rev. Green took us to the river; Bieber brings us to a bible group in San Bernardino. – Brad Wheeler, Globe and Mail
With the April 9 release of "jooj two," Sook-Yin Lee is keeping the memory of her "twin flame" alive. Lee had formed the group jooj with her partner Adam Litovitz and released a self-titled album of their experimental electronic music in 2015. Towards the end of recording a second album, Litovitz died by suicide in June 2019. – Nick Krewen, Toronto Star
Nestled comfortably away on British Columbia's Sunshine Coast, Garth Richardson has spent years working on his state-of-the-art facility, The Farm Studios. The Juno Award-winning and Grammy-nominated producer carries a legendary reputation not only for his vast experience and mind-boggling list of credits, but also for the studio that he has been growing for nearly two decades. – Andrew Leyenhorst, Professional Sound.
In a press release – a pretty good indicator that what follows concerns commerce, not art – the Weekend talked about re-imagining "the archaic music biz." He praised NFTs for "allowing creators to be seen and heard more than ever before on their terms." One obvious problem with the NFT market is what the Weeknd sees as its virtue – it has no gatekeepers. – Cathal Kelly, Globe and Mail
The East Asian online distribution network has signed its first artist, Vancouver-based rapper/musician Shane Mac. – The Independent
Have Mercey: My First Sixty Years Making Music is a work that celebrates Canadian music icon Larry Mercey. Filled with photos, amusing anecdotes and experiences of the country music world he loves, Mercey said he hopes it brings back memories to the people who read it. – Pauline Kerr, The Walkerton Herald Times
Skratch Bastid, the Toronto DJ and producer — real name Paul Murphy — is accustomed to playing 100 shows a year. Here's how he pivoted during the pandemic, with the help of his record collection, and his wife and young daughter. – Max Mertens, Toronto Star
International
Now it's official: SoundCloud has confirmed that Seton has been hired as President of SoundCloud, effective May 1, 2021. He will report directly to Michael Weissman, Chief Executive Officer, SoundCloud. In this new role, New York-based Seton will manage SoundCloud's business strategy, oversee content partnerships and business development, lead mergers and acquisitions, and be responsible for the company's distribution and artist services businesses. – Murray Stassen, MBW
The Guardian has talked to 25 figures from the music world ahead of publication of a parliamentary report. – Lanre Bakare, The Guardian
San Francisco-based crowdfunding/membership platform Patreon has just raised $155 million in Series F financing, increasing its valuation to $4 billion. Patreon (which artists use to offer exclusive content) previously raised $90m in September 2020, valuing the company at $1.2 billion. According to Patreon, its 200K creators across podcasts, videos, music, visual art, writing and more are earning over $100M per month from 7M patrons. – Murray Stassen, MBW
The seminal album, with its extraordinary hit single O Superman, was unlike anything the writer had ever heard. As Big Science returns, Atwood pays tribute to its prophetic dissection of 80s America. – Margaret Atwood, The Guardian
New York-based music and entertainment investment firm Influence Media Partners has launched a new fund to invest in what it describes as "award-winning catalogs of some of music's most influential female music creators". – MBW
Blue Oyster Cult frontman Eric Bloom picks his records, artists and gigs of lasting significance, and reveals why he won't have (Don't Fear) The Reaper played at his funeral.  – Loudersound
Oscar contenders "Ma Rainey's Black Bottom," "Promising Young Woman" and Pixar's "Soul" triumphed in their respective categories at the 11th Annual Guild of Music Supervisors Awards. The ceremony celebrating outstanding achievement in the field of music supervision was held virtually, honoring the unsung heroes of film, television, documentaries, games, advertising and trailers. – Jazz Tangcay, Variety
Merry Clayton: 'I called my husband and said: "These boys want me to sing about rape and murder."' The singer who backed the Rolling Stones, Coldplay and more weathered a miscarriage, then the loss of her legs in a car accident – but her new album Beautiful Scars shows she refuses to give up. – Robert Ham, The Guardian
With her new album, the singer/songwriter teaches a powerful lesson: Don't dwell on what you can't change. Focus on what you can. – Justin Bariso, Inc.
Some unexpected free time in 2020 led Grammy winner Dave Grohl to put some thoughts and memories into words. Grohl's memoir "The Storyteller" will come out Oct. 5. The 52-year-old rocker will reflect on everything from his childhood to his years with Nirvana and Foo Fighters to times spent with Paul McCartney, David Bowie and many others. – AP
As songwriters have seen their leverage eroded by streaming — which pays a larger royalty for recorded music than publishing — artists, managers, producers and even executives have amped up their demands for credit and/or a percentage of the songwriters' publishing in exchange for the artist cutting the song, or even simply for bringing the song to the artist. – Variety