FYI
Media Beat: December 22, 2022
Dec 22, 2022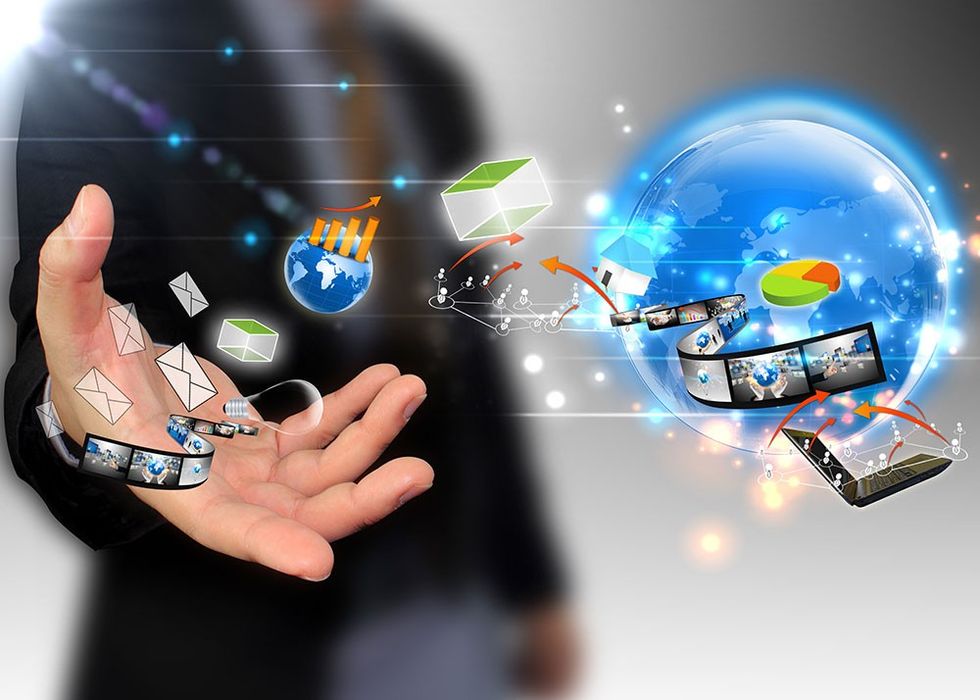 By David Farrell
Vicky Eatrides has been appointed as Chair and CEO of the CRTC, while Alicia Barin and Adam Scott are appointed as Vice-Chairs. These appointments are the result of the Government of Canada's open, transparent and merit-based selection process for Governor in Council appointments
---
The Honourable Pablo Rodriguez, Heritage Minister Pablo Rodriguez announced Monday, Dec. 19 the appointment of Vicky Eatrides as the next Chair and CEO of the CRTC with Alicia Barin and Adam Scott named Vice-Chairs for five-year terms effective Feb. 8, 2023. Eatrides' five-year term becomes effective Jan. 5, 2023.
Michael Melling, the head of CTV News who went on leave following the ouster of news anchor Lisa LaFlamme, has now been permanently replaced, CBC News has learned.
"We are pleased to announce that Richard Gray, Interim VP, News is assigned to the role on a permanent basis. Michael Melling has been reassigned to VP Shared Services and will not be returning to CTV's news operations," read an internal memo sent to staff.
The memo was signed by Rob Malcolmson, executive vice-president and chief legal and regulatory officer, and Nikki Moffat, CHRO and executive vice-president of corporate services.
Melling faced criticism over LaFlamme's abrupt departure from CTV, which raised allegations of sexism and ageism. He took over as vice president of the news division at CTV's parent company, Bell Media, in January.
Melling went on leave in August amid the furor over LaFlamme's exit, with an internal memo saying he had "decided to take leave from his current role effective immediately to spend time with his family." – CBC News
… Bell Media was created through Bell's acquisition of CTV (including TSN) in 2010 at a valuation of $3.8-billion, followed by its acquisition of Astral Media in 2012 for $3.4-billion. Unfortunately, analysts now value Bell Media at just $4-6 billion.
Globally, legacy media asset valuations have declined significantly owing to disruption from streaming services such as Netflix and YouTube. In 2019, AT&T paid US$ 85 billion for Time Warner. Earlier this year, AT&T decided to merge Time Warner with Discovery and spin out AT&T's stake in the combined entity to its shareholders at a valuation of US$30.5-billion. – Dvai Ghose, The Globe and Mail
The tech bro era of social media is in flames. That, more than anything, seems crystal clear here at the end of 2022.
Facebook, despite still being widely used, has seen the writing on the wall; CEO Mark Zuckerberg has all his attention set on virtual reality. Instagram is losing cultural relevance as it is also struggling to compete with TikTok, in part because that latter app isn't social media, but more akin to TV.
Meanwhile, Twitter seems to be careering about like a toddler just learning to walk, with new CEO Elon Musk lurching from one ill-considered new policy to another. – Navneet Alang, Toronto Star
Corus-owned Q107 Calgary's afternoon host 'Tarzan Dan' Freeman bid farewell to let the cat out of the bag on his show that aired on-air Dec. 16, telling his listeners that rock FM will be changing format on Jan. 9. "I am here to let you know that today will be my last show at Q107 and then I'm unemployed, so if anybody's got a job hey, give me a call," Freeman said in a video posted to Twitter. Midday host Cam Sullivan will remain with the company moving to sister "Country 105" CKRY as assistant PD. Mornings and nights on the station are fed from Rock 101 CFMI-FM in Vancouver.
Since launching in 1982, CKIK-FM has, at various times, postured as a Hot AC and CHR station and finally settled on its current classic rock brand in 2004. In recent Numeris surveys, the Corus FM has lagged in the ratings, thus ownership's desire to re-brand.
… the bill is about far more than struggling Canadian newspapers as it expands eligibility into broadcasters such as the CBC, foreign news outlets such as the New York Times, and hundreds of broadcasters licensed by the CRTC that are not even required to produce news. The end goal is negotiated payments for links, backed by the threat of a one-sided arbitration process overseen by the CRTC in which the arbitration panel can simply reject offers if it believes it fails to meet the government's policy objectives. That isn't a commercial deal, it is a shakedown. – Michael Geist blog
As the owner of one of the country's largest private companies, Jim Pattison has little desire to maintain a high profile, but on the rare occasion he appears publicly, it's usually with a massive cheque he's presenting to a British Columbia hospital foundation grateful for the cash. 
Pattison spoke with CTV News two weeks after his latest donation – $30 million towards an acute care tower at Royal Columbian Hospital – and was characteristically humble about his contributions, explaining that his father instilled the spirit of philanthropy when he was a young boy.
… AI translation is now so advanced that it's on the brink of obviating language barriers on the internet among the most widely spoken languages. College professors are tearing their hair out because AI text generators can now write essays as well as your typical undergraduate — making it easy to cheat in a way no plagiarism detector can catch. AI-generated artwork is even winning state fairs. A new tool called Copilot uses machine learning to predict and complete lines of computer code, bringing the possibility of an AI system that could write itself one step closer. DeepMind's AlphaFold system, which uses AI to predict the 3D structure of just about every protein in existence, was so impressive that the journal Science named it 2021's Breakthrough of the Year. – Kelsey Piper, Vox
The system … is the latest evolution of the GPT family of text-generating AIs. Two years ago, the team's previous AI, GPT-3, was able to generate an opinion piece for the Guardian, and ChatGPT has significant further capabilities.
In the days since it was released, academics have generated responses to exam queries that they say would result in full marks if submitted by an undergraduate, and programmers have used the tool to solve coding challenges in obscure programming languages in a matter of seconds – before writing limericks explaining the functionality. – Alex Hern, The Guardian
We used to think the conception and execution of art would be the last thing computers could replace. Now it seems it might be one of the first….
… For now, it might be hard to believe a bot could write a better love song if it's never had its heart broken, yet you might be surprised to know a virgin wrote the Kama Sutra, and Brian Wilson of the Beach Boys had never actually gone surfing.
The Infinite Monkey theorem suggests if you give an infinite amount of monkeys typewriters, eventually one of them will write the entire works of Shakespeare by accident. (It wasn't specified if this experiment also involved cocaine but it seems self-evident.) So given enough time, perhaps these algorithms will surpass Beethoven in their beauty. Maybe these technologies will even outlive us after a nuclear war, and the planet will be populated with bohemian machines impervious to radiation poisoning who just write symphonies and paint murals for a billion years until some other civilization discovers them, and that will be our legacy… We created the creators. – Charlotte Kemp Muhl, Talkhouse
Gen Z loses active attention to ads after just 1.3 seconds—less time than any other age group, according to a global study by Yahoo and OMD Worldwide. But most marketers haven't moved on from the mindset of 30-second appointment TV ads. There's a creative advertising opportunity for meeting Gen Z where they are. Here's how you can make the most of 1.3 seconds.
"Attention must be earned in an instant." That's according to our analyst Paul Verna, speaking on our "Attention! Trends and Predictions for 2023" event last week. – Sara Lebow, Insider Intelligence
Despite positioning itself for years as the ad-free way to watch TV, Netflix in October launched a lower-cost, ad-supported tier in many of its major markets. It wasn't the only one making these moves: HBO Max added an ad tier in June, and Disney+ followed in December, joining Paramount+, Peacock, and Hulu. Meanwhile, Amazon's Prime membership, Apple TV+, Disney+, and Hulu have all raised prices in 2022, while HBO Max is planning one for 2023, and Paramount+ may follow. As the cheap money disappears, we're starting to get a better picture of the actual price of streaming media. As it turns out, the business models look eerily similar to cable — that would hardly be a surprise if we'd paid attention to the history. – Paris Marx, Insider
… In his 2008 essay "1,000 True Fans", Kevin Kelly–a respected prophet of the West Coast techno-optimism scene and the founding executive editor of Wired–explained that he wasn't as excited about this new economic model as others seemed to be. "The long tail is famously good news for two classes of people: a few lucky aggregators, such as Amazon and Netflix, and 6 billion consumers," he writes. "But the long tail is a decidedly mixed blessing for creators." If your work lives in the long tail, the introduction of Internet-based markets might mean that you go from selling zero units of your creations to selling a handful of units a month, but this makes little difference to your livelihood. "The long tail offers no path out of the quiet doldrums of minuscule sales," Kelly writes. "Other than aim for a blockbuster hit, what can an artist do to escape the long tail?"
This question might seem fatalistic, but Kelly had a solution. If your creative work exists in the long tail, generating a small but consistent number of sales, then it's probably sufficiently good to support a small but serious fan base, assuming you're willing to put in the work required to cultivate this community.... – Cal Newport, The New Yorker
How is the weakening of traditional media outlets affecting democracy? A discussion moderated by The Agenda's Steve Paikin. Featured guests include Jordan Bitove, publisher, Toronto Star and co-owner of Torstar; Farah Nasser, anchor, Global News; Paul Rivett, CEO and co-owner of Torstar; Jay Rosen, associate professor of Journalism at New York University, author of the blog Press Think; The Honourable Pamela Wallin, Senator, former broadcast journalist and diplomat.
British investor and co-founder and chief investment strategist of Boston-based Grantham, Mayo, & van Otterloo, Jeremy Grantham explains the forming and breaking of the great bubbles and shares his thoughts on the current market crash with some suggestions on how one could potentially navigate this crisis.
National security threats this century can look quite different than last. So, when the prime minister recently called out China for "aggressive games" targeting Canadian elections, it sent a collective shiver down the spine of those concerned that Canada isn't quite on top of this complicated new reality. With us now for their assessments: Vincent Rigby, former National Security and Intelligence Advisor to the prime minister, and two senior fellows from CIGI, the Centre for International Governance Innovation: Bessma Momani and Wesley Wark.
Launched in 2015, Morning Brew is a free daily email newsletter delivered six days a week and currently has over 4M faithful subscribers who are drawn to the off-beat, informative and oftentimes amusing sidebars to life in the mainstream.
FOR SALE—ROBOT HEAD: Dyson announced its air-purifying headphones will cost $949. They include a bar that covers your mouth, guaranteeing you look absolutely deranged on your next flight.
–REALLY OLD PANTS OFF THE MARKET: A pair of Gold Rush-era miner jeans (oldest known pair in existence) sold at auction for $114,000. They were recovered from an 1857 shipwreck off the coast of North Carolina.
– CASTING CALL FOR COUGARS: TLC announced MILF Manor, a reality show that will pair eight women ages 40–60 with younger hunks on the beaches of Mexico. Jack Donaghy would be proud.
– FREELANCERS LOOKING FOR PROJECTS: 39% of workers in the US freelanced this year, up from 36% last year, per Upwork. That's roughly 60 million Americans stressing over quarterly taxes.