FYI
Maple Blues Award Nominations Continue To Celebrate Women
Canada's biggest blues event finds female artists leading the way as contenders for the honours on Feb. 3 in Toronto at Koerner Hall (pictured). . The list is headed by Sue Foley, Dawn Tyler Watson, Samantha Martin & Delta Sugar, and Miss Emily.
Nov 04, 2019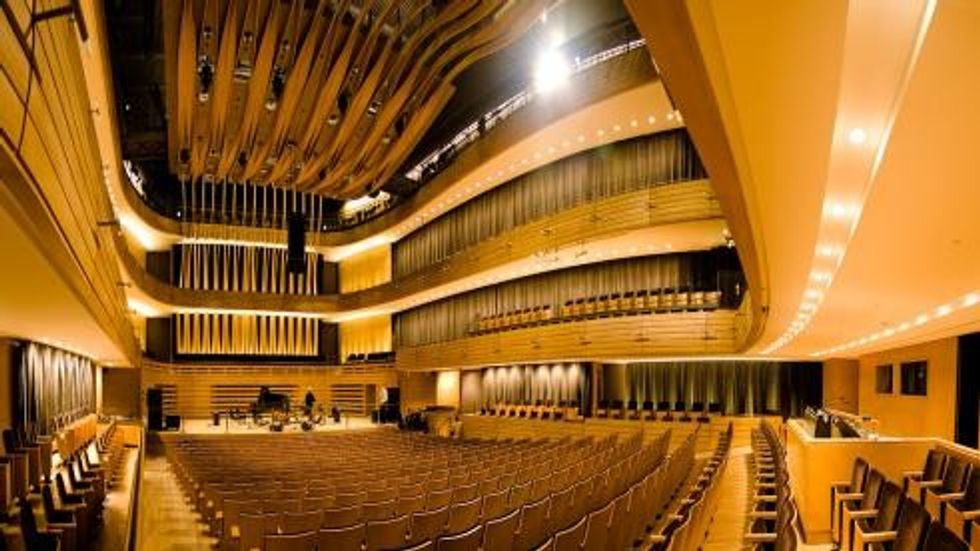 By FYI Staff
Female artists figure prominently in the list of nominees the 23rd annual Maple Blues Awards. Leading the way are Sue Foley and Dawn Tyler Watson, with four nominations apiece, followed by Samantha Martin & Delta Sugar, with three, and newcomer Miss Emily, with two. First-time nominees Robert Connely Farr and Matchedash Parish are each cited in two categories.
---
Matt Andersen (three noms) and Colin Linden, Jack DeKeyzer, Harpdog Brown, Paul DesLauriers, and Big Dave McLean (two each) are amongst the male contenders.
Registration and voting for the 23rd Annual Maple Blues Awards is open to the Canadian public through December 1st, 2019 at 11:59 pm Pacific Standard Time. Register at www.mapleblues.ca.
The Maple Blues Awards will be hosted by Raha Javanfar and held on February 3, 2020. The gala event is considered to be the premier Canadian blues event of the year. Tickets for the Maple Blues Awards are available online at rcmusic.com or at the Koerner Hall box office or by phone at (416) 408-0208.
Public tickets are on sale and TBS Charter Members can get the best available seats to the show for 25% discounted tickets anywhere in the hall. Tickets start at only $35.
Nominees for the 23rd Annual Maple Blues Awards
Entertainer of the Year
Dawn Tyler Watson
Downchild Blues Band
Miss Emily
Samantha Martin & Delta Sugar
Sue Foley
Electric Act of the Year
Colin James
Jack de Keyzer
Paul DesLauriers Band
Samantha Martin & Delta Sugar
Sue Foley
Acoustic Act of the Year
Big Dave McLean
Harry Manx
Manx Marriner Mainline
Matt Andersen
Michael Jerome Browne
Male Vocalist of the Year
Harpdog Brown
Harrison Kennedy
Matt Andersen
Steve Marriner
Steve Strongman
Female Vocalist of the Year
Angel Forrest
Dawn Tyler Watson
Miss Emily
Samantha Martin
Shakura S'Aida
New Artist of the Year
Bywater Call
Durham County Poets
Matchedash Parish
Miss Emily
Robert Connely Farr
Recording/Producer of the Year
Colin Linden & Luther Dickinson - Amour / Stony Plain (Colin Linden)
Dawn Tyler Watson - Mad Love / Self (François Thiffault & Dawn Tyler Watson)
Harpdog Brown - For Love & Money / Dog House (Steve Dawson)
Matchedash Parish - Saturday Night / Make It Real (Lance Anderson)
Matt Andersen - Halfway Home By Morning / True North (Steve Dawson)
B.B. King International Artist of the Year
Buddy Guy
Christone "Kingfish" Ingram
Ghost Town Blues Band
Larkin Poe
Mavis Staples
Songwriter of the Year
Big Dave McLean
Colin Linden
Dawn Tyler Watson
Robert Connely Farr
Sue Foley
Blues with a Feeling Award (Lifetime Achievement Award)
Alec Fraser
Brent Parkin
Danny Brooks
Joe Murphy
Ken Whiteley
Michael Fonfara
Michael Jerome Browne
Tom Lavin
Guitarist of the Year
Anthony Gomes
Garrett Mason
Jack de Keyzer
Paul DesLauriers
Sue Foley
Harmonica Player of the Year
Al Lerman
Harpdog Brown
Jim Zeller
Roly Platt
Steve Marriner
Piano/Keyboard of the Year
David Vest
Duane Blackburn
Jenie Thai
Jesse O'Brien
Kenny "Blues Boss" Wayne
Horn Player of the Year
Chris Whiteley
Kaven Jalbert (Ben Racine Band)
Loretta Hale (Andre Bisson Band)
Mat "Moose" Mousseau (Ben Racine Band)
Richard Thornton (Jack de Keyzer Band)
Drummer of the Year
Chris Nordquist (Steve Kozak, Cannery Row)
Gary Craig (Colin Linden, Steve Dawson)
Lindsay Beaver
Sam Harrisson (Paul DesLauriers Band)
Tom Bona (Sue Foley)
Bassist of the Year
Alec Fraser
Alec McElcheran (Paul DesLauriers Band)
Gary Kendall
Keith Picot
Leigh-Anne Stanton (Wicked Grin)
For more information contact: Sarah French, Sarah French Publicity,416-566-4188 | sarah@sarahfrenchpublicity.com