FYI
The Gord Bamford Foundation Tees Up $469K
Last week, the country star's philanthropic foundation raised a huge amount via its annual golf classic and star-studded gala. A cheque for $100K was presented to MusiCounts head Allan Reid (pictured) at the gala.
Aug 20, 2018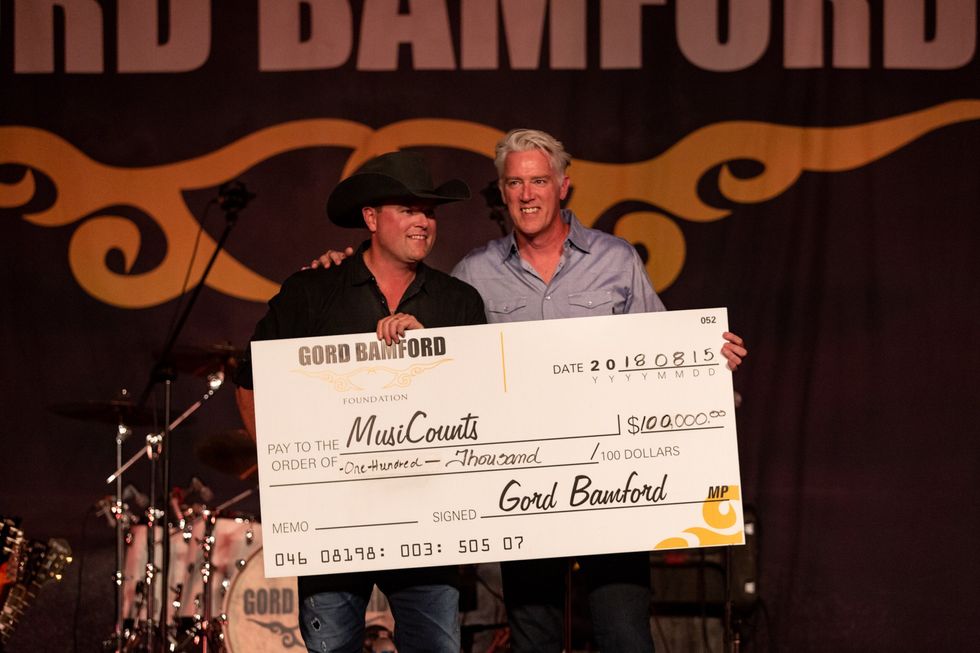 By FYI Staff
Very few Canadian artists can match the successful philanthropy of Gord Bamford.
---
Heading into its 11th year, The Gord Bamford Foundation continues to support its mission to provide funds to youth supporting charities across Canada that involve music, education, healthcare, sports, and multi-use facilities. 
The core of the Foundation's fundraising activities is its annual charity golf classic and an associated star-studded gala. Held last week, the events raised a total of $469,720 for the Foundation. The fundraiser was held at the Sheraton Hotel Exhibition Hall in Red Deer, Alberta, last Wednesday (Aug. 15), followed by the golf classic at the Lacombe Golf and Country Club on Aug. 16.
The private, invitation-only event evening saw more than 700 people take in an Old Wild West-themed event including country music, two-stepping, exciting auction items, a celebrity auction, and gourmet food.  Key performances included country superstar Dallas Smith, Tebey, Chad Brownlee, Aaron Pritchett and Beverly Mahood who also shared MC-ing duties.
"It's hard to believe that we are rolling into our second decade of working on the event. We have developed a wonderful event with our generous sponsors, volunteers and committee members. We've also established great partnerships with worthwhile charities. I love supporting organizations in the community that I grew up in and am happy that the Foundation's success has also allowed us to reach charities all across Canada," said Gord Bamford in a press release.
In its ten-year history, the event has generated over $3.1 million for the not for profit organization. Amongst those benefiting from the Foundation is MusiCounts, the CARAS-backed music education charity. Allan Reid, President & CEO of CARAS, The Juno Awards and MusiCounts, was on hand to receive a $100,000 cheque from Bamford at the charity golf classic gal, with Kristy Fletcher, Executive Director of MusiCounts, also in attendance. This is the second $100K donation that the Gord Bamford Foundation has made to MusiCpunts.
2018/19 will see three fundraising initiatives added to the GBF portfolio, including The Gord Bamford & Friends Jammin & Campin Weekend Getaway at Pelican View Estates, Buffalo Lake, and The Gord Bamford Pics & Sticks Charity Hockey Classic to take place in Red Deer, Alberta and South Okanagan, BC.
Learn more about The Gord Bamford Foundation here