FYI
Gimme Five, April 14, 2022
For this weekly FYI feature, Jason Schneider searches through new releases, books, TV, and more to find gems worthy of your attention. In this edition, Jack White gets anthemic, Martha Wainwright opts for candour, and Wreckless Eric travels the whole wide world.
Apr 13, 2022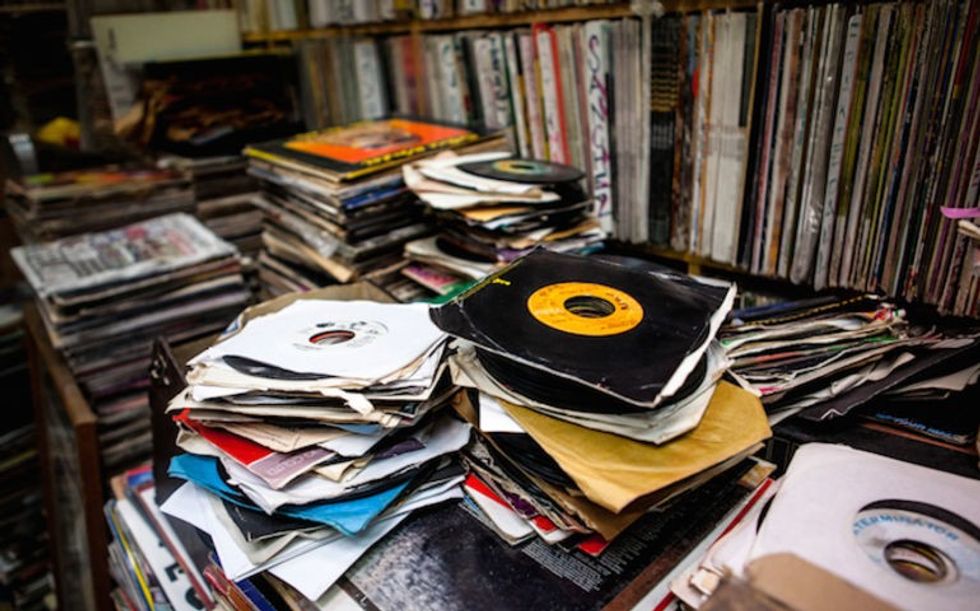 By Jason Schneider
Jack White, The Star-Spangled Banner, Comerica Park, Detroit, April 10
---
Few artists other than Jack White have the ability to make the most of opportunities, so when his new album Fear Of The Dawn came out last week, he typically had a whole host of tricks up his sleeve. The brashest turned out to be marrying his latest flame Olivia Jean of The Black Belles on stage in his hometown, Detroit, a move that now connects White to the likes of Sly Stone and Hank Williams who both tied the knot during concerts—not to mention Johnny Cash, who proposed to June Carter on stage in London, Ontario.
But it was White's performance of the U.S. national anthem for the Detroit Tigers' Opening Day game that was a reminder of his place as a quasi-caretaker of American culture. In choosing to play it on slide guitar, each note piercing the air and creating tension akin to watching a high-wire act, White echoed one of his primary inspirations, the Mississippi blues singer Eddie "Son" House, who spent his final years in Detroit after being silenced by throat cancer. House died in 1988 when White was 13, and it's too tempting to believe a torch was passed that day.
Ironically, the new collection of previously unreleased 1964 Son House recordings, Forever On My Mind, was put together by White's eternal rival, Dan Auerbach of The Black Keys.
Martha Wainwright, Stories I Might Regret Telling You: A Memoir (Random House Canada, 2022)
I first encountered Martha Wainwright in 1998 when her brother Rufus's self-titled debut album was released and he played at the tiny Jane Bond Café in Waterloo. As the younger sibling, she seemed to be on the tour as her brother's biggest cheerleader, and from that night I formed the opinion, obviously unfair in hindsight, that she was trapped in Rufus's shadow. Martha has since proven her own worth as a formidable singer/songwriter, carrying on in the tradition of her parents, Loudon Wainwright III and Kate McGarrigle, but with her new memoir, she seems to have accepted a more natural position as the chronicler of her famously dysfunctional family.
That's made clear at the outset of the book when she relates, matter-of-factly, how Loudon revealed to her that he'd pressured Kate to have an abortion, and then left the family mere months after Martha's eventual birth. "I was surprised when Loudon told me this story, and it also hurt my feelings," she writes with Joan Didion-esque restraint. "I had always felt a little out of place in the world, and knowing that I'd only just barely made the cut didn't help matters any."
Having such a start in life should entitle anyone to a pass in terms of how far they're willing to go to expose their emotional scars. The Wainwright-McGarrigle musical legacy has in large measure been built on that premise, and Martha's book can now serve as a suitable primer for the uninitiated.
Wreckless Eric, Whole Wide World (Stiff Records, 1977)
I got my first TV in over a decade when I moved recently, and turning it on felt almost like coming out of a coma. Familiar faces had aged, naturally, but what surprised me most is how engaged I was with commercials. One currently in heavy rotation is the ad for the Expedia travel site, featuring Ewan McGregor doing a middle-aged update of his Trainspotting role, imploring us to focus on the non-material things in life. The soundtrack is Wreckless Eric's 1977 semi-hit Whole Wide World, a song that for some reason slipped by me this entire time, but I hear now as the perfect marriage of punk and post-Beatle British garage rock. Lyrically though, Eric's quest to find his soul mate who "probably lives in Tahiti," is classic young male angst that can be traced back through The Coasters' Searchin' to Robert Johnson wailing on Dust My Broom, "If I can't find her in West Helena, she must be in East Monroe, I know." I've since discovered that Whole Wide World has been covered many times, but leave it to a television commercial to breathe new life into it. I wonder what Mark Renton would think of that?
Tami Neilson, Beyond The Stars (feat. Willie Nelson) (Outside Music, 2022)
Tami Neilson's retro leanings have always a double-edged sword in terms of gaining mainstream acceptance. On one hand, her explosive personality and equally powerful voice is always the right formula for an instant party. On the other hand, it's easy to get distracted by how everything about her is larger than life. Although it would be a shame for her to abandon that persona altogether, it's heartening that this first single from Neilson's upcoming fifth album Kingmaker is all about her voice, and the ease with which it blends with one of the most recognizable in music history.
The string-drenched Beyond The Stars is just as much a tribute to Willie—the unmistakable sound of his acoustic guitar should be a genre unto itself—and continues a resurgent trend in the kind of soaring ballads of the early 1960s that singers such as Roy Orbison and Conway Twitty seemed to challenge each other to pull off. Is it a reflection of a turn toward a more (small c) conservative society? Possibly, but as a response to an endless barrage of mechanically produced country music, Beyond The Stars offers a bottomless well of emotion.
Ben Sures, No One Will Remember You (Independent, 2022)
From his album The Story That Lived Here, a collection of songs that describe the end of the world in the gentlest possible way, this track may be the veteran Edmonton troubadour's crowning achievement. One of folk music's cornerstones is earnestness, and how much of that you're able to take generally defines your relationship to the genre. There is nothing earnest about No One Will Remember You, and that's comforting. Without any shred of malice, Sures lays out a fundamental truth, which is really what folk music has been, and should always be about.